How We Choose What Stories Are Featured as Staff Picks
Set your story apart from the rest.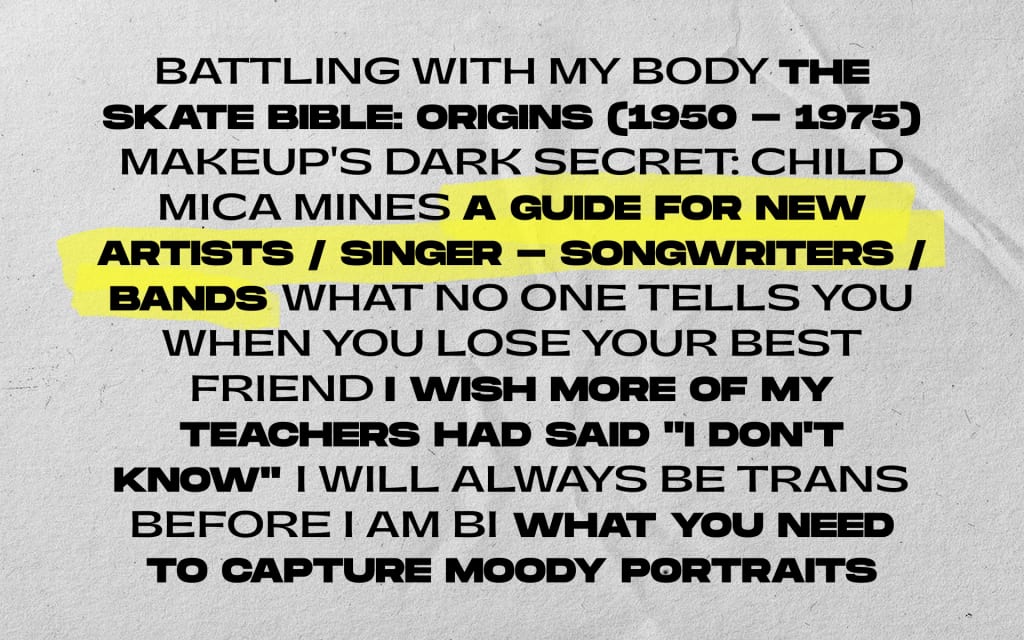 Have you ever scrolled through Instagram to see that Vocal shared another creator's story? Or maybe you were reading our Staff Picks or Vocal Verified roundups, and you wondered to yourself, "How do I get my story featured?" Every creator has been there—after all, isn't that what we all want? To be recognized for what we create and have more people see our work?
Whether it's a story featured on any one of our social media accounts or it's chosen as a Staff Pick, there's no one surefire trait that will get a story chosen. But luckily, there are a few things that our Curation Team looks for when highlighting exceptional content.
Stories that are emotionally moving.
One of the first things our team always looks for is an emotionally engaging story. It might seem a little obvious, but readers want to connect to what they're reading on a deeper level. A story that elicits a powerful, emotional response creates a connection between the creator and the reader, allowing them to be a part of something bigger. This story by Elizabeth Bert about tackling life with an invisible illness is a great example of that.
Stories that help others understand something better.
Another reason we might choose to feature a story is if it will help expand a reader's knowledge. Now, the topic can be just about anything; it can teach us about an event in history, or simplify a complicated subject, or, like this story by Harrison Galgut, offer authority in a specific field or technical skill. If it's educational, engaging, and informative, it'll do the trick—we love it when you teach us something new.
Stories that open up our perspective of the world.
Vocal receives hundreds and hundreds of submissions every single day. That's a lot for our team to read through, and it isn't always easy to stand out amongst all those stories. But every now and then, a story will surprise us. It's different, it's innovative, and it's unlike anything we've seen before. It makes us think deeper about the world around us. Stories like this one, by Rebekah B Lowri, force us to consider our place in the world and the impact we can have on our planet.
Stories that are media rich.
For the modern reader that's gotten used to mindless scrolling, even well-written and informative text can only go so far. Readers will always be looking for more. And luckily, Vocal has made it easy to add all sorts of media to keep them engaged. A featured video at the onset of your story will set the tone for the message you're trying to deliver. A playlist rounds out the reader experience. A product can add value for a reader off-platform.
Not only does this example include two forms of media, but also embeds a personal YouTube video that creator Shandi Pace created specifically to accompany this story!
Stories that convey how passionate you are.
We all have something that we're passionate about. For you, that might be music, or art, sports, cooking… the list goes on. No matter what it is, we want to hear why it matters and how it touches your life.
This story by Kit Vaillancourt is a great example; we see a ton of stories about movies all the time, but this isn't any old movie review or summary. Instead, this story is particularly special because it tells us about the family connection Kit has with classic film, and how it shaped their relationship with their father. It's unique, it's moving, and it convinces us that the creator really cares about the topic they're covering.
Stories that are timely.
We also love to see stories that take a more journalistic approach; stories like this one, by Anna Gooding Call, that are particularly relevant to timely news or a controversial topic. The idea isn't just to speak, but to take part in and contribute to a larger cultural conversation. If that's how you're using your voice—to call attention to something relevant, to educate and inform on a current event—we'll try our best to amplify it.
Stories that offer a new, funny take on a common topic.
Stories like this are some of our favorites to see; when you're reading as many stories in a day as our team does, things are bound to get a bit repetitive from time to time. But we love when a creator takes a topic that we see addressed over and over again—something like "dating advice"—and makes us do a complete double-take—by adding something like "from Rocky Balboa." The story is just as valuable and helpful as its more straightforward counterparts, but there's an element there that makes it unexpected and engaging.
And there you have it! These are just a few of the things our Curation team looks for in selecting which stories to feature and Staff Pick. This list may not be exhaustive—we're always on the lookout for stories that pique our interest in any number of ways—but it's a great guide if you're not sure where to start. If you go above and beyond, surprise us, or intrigue us, you're sure to make your story stand out.