A Platform's Responsibility to Act With Purpose
As individuals, we can only do so much. But with the power of a platform behind us, we can bring about real change.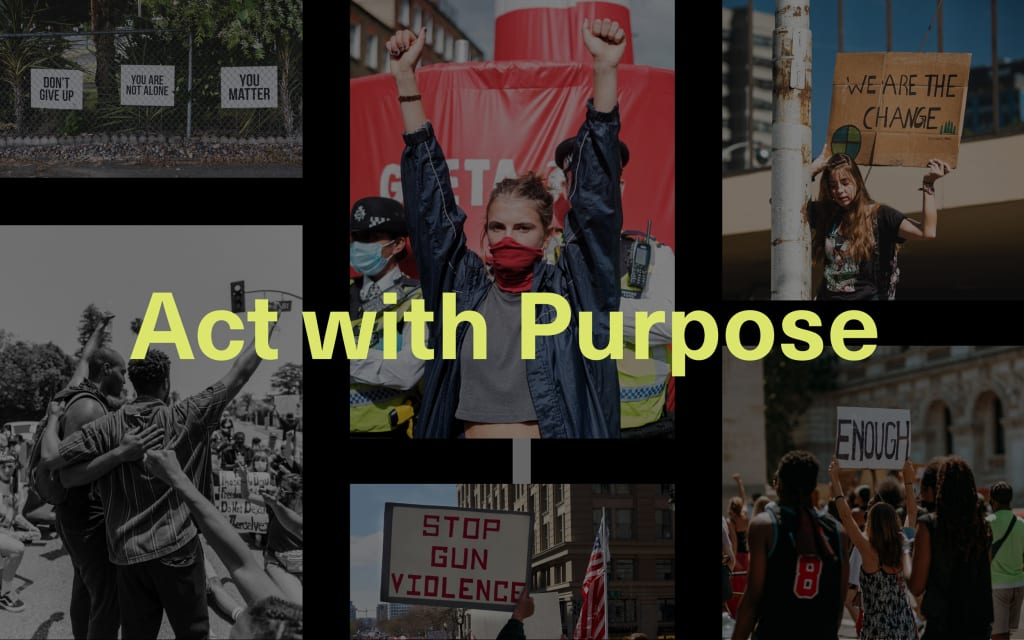 It's a conversation that my team and I find ourselves coming back to time and time again. When we talk about the future of Vocal, or conceptualize anything from new features to social media campaigns, it's essential that we can identify exactly why we're doing what we're doing, and exactly who we're doing it for. If we can't identify the answers to those questions clearly and concisely, or we aren't satisfied with those answers, then we know we have a lot more work to do. It's part of how we make sure that we are always putting our creators first in each and every decision we find ourselves making.
Vocal's president and founder, Justin Maury, has a background in design, and many of us on the team have been lucky to learn from the way he's approached problem solving since Vocal's launch. Having watched and worked with him as we've gone through major updates and redesigns, fixing bugs and building features, and even creative workshops over the past few years, I've been able to take some of the design thinking principles that Justin has operated under and instilled in the team, and learn how they can translate to and inform the way I do my own job as the Head of Creator Experience.
Design thinking is non-linear and process-focused, and is a useful framework not just for designers, but for anyone who has to solve problems with solutions that aren't always straightforward. And we're all working together on an incredibly fast-growing, dynamic platform, which means we spend a lot of time coming up with creative solutions. So, the model of design thinking has been incredibly valuable for every team that works on Vocal—not just those who spend their days thinking about the UX of the platform, but especially for those of us who focus our energy and attention on our creators' journeys as a whole.
As I've worked over the past couple years to build out features and processes under the Creator Experience umbrella, and learning from our president Justin, I've found that the insights I've gained from watching the platform grow under a design thinking framework have been invaluable.
Aside from the practice of identifying and mapping out problems, testing solutions, and being able to think strategically about processes step-by-step, there are two huge takeaways that I've gained from learning from someone who prioritizes the design thinking model. The first is that empathy is key. In design, this means to have empathy for your user—the ability to put yourself into the shoes of a user interacting with your product, knowing where they're most likely to click, or where their eyes are most likely to travel. It's the very first step of any design journey. But for my team, it's important that that level of empathy extends broader than the physical journey of the user, to thinking about questions like, if I was a creator, what would I admire about a product? What would it take for me to believe in and trust a platform? They're conceptual conversations, but they happen day after day amongst my team.
My second fundamental takeaway from watching the platform grow under a design thinking model brings me back to that same initial question: you should never stop asking "why." If I take a step back and think about the "why" of every single thing we build and every decision we make, am I satisfied with the answer? Does it help someone, somewhere solve a problem, or make them happier, or make them any more likely to have a positive experience in their interaction with Vocal, no matter how small?
For my team, the question of the "why" does more than help us inform our decisions. It keeps us mindful and grounded in who we're making those decisions for. When we think about content moderation, for example, our "why" is to keep the platform safe for creators and brands alike who interact with the Vocal ecosystem. When we think about our social media presence, the "why" always comes back to championing creators we particularly admire. And for every new feature we build into Vocal, the "why" is always to give back to and reward our creative community.
Finding our "Why"
This week marks one year since we first launched Challenges on Vocal. Since that time, we've rewarded over $210,000 to our creators in prize money, which feels incredible—our "why" since we first introduced Challenges has always been to offer another avenue through which creators can earn for the stories they share, and this number alone is proof that we've been able to do that. But when we launched Challenges, we also had a long discussion about the doors that this feature would open for us to enact real change, and partner with our creators to raise awareness and give back, too. What if we could simultaneously reward our creators directly, but also incentivize them to speak out on important issues, raise awareness for the matters that were important to us, and importantly, help creators who cared about a cause actually support that cause monetarily by funding donations? Putting myself in a creator's shoes, that would make for a platform that I could feel good about supporting.
We believe that as a platform with 850,000 creators, millions of readers, and hundreds of thousands of social followers, it wasn't just a nice thought; it was an obligation for us to do our part and contribute towards a larger purpose. When thinking about a feature that had so much power behind it—about 18,000 creators have participated in Challenges to date, and given the cash prizes we knew we wanted to award, we naturally had a dedicated budget to make the feature happen—our "why" had to extend beyond the reach of Vocal itself if we were to be able to feel confident that we were using the tool of Challenges to the fullest extent. Not just as a platform, but as individuals during an incredibly draining and tumultuous year who wanted nothing more than to make a difference, we were given an opportunity to make giving back a huge part of our careers. Conceptually, the "why" switched from helping our creators earn money to helping our community at large—the creative community on Vocal, and the wider communities of the world.
Being able to turn Challenges into an opportunity to enact change is something that I'm incredibly grateful for; the fact that over the past year, my team has been able to directly contribute over $25,000 to causes we believe in is proof that platforms can and should use their power to do something stronger than the sum of their parts. I have a feeling that there aren't many employees at any company who can say that their colleagues have afforded them as much trust or wholehearted supported in allocating company time and resources to doing things just because they knew they were the right thing to do. All I know is that on our own, as individuals in our free time, we never could have instigated this much change; but using the power of a platform, we were able to make it happen. It gave us our proudest "why" to date.
2020 was a tough year. 2021 hasn't been off to any easier of a start. But these charities put in the work every day to make the world a safer, fairer, kinder place. We're proud to have been able to support causes we truly believe in as a platform and as the individuals who build it, and we plan to do so exponentially in the coming year. For now, I'd like to highlight each of the charities we supported and contributed to in 2020 since the launch of Challenges. Give them some support if you're able, or raise awareness for them if you can, because the groups listed here are doing some amazing things.
National Resources Defense Council
The NRDC's mission is to safeguard the earth—its people, its plants and animals, and the natural systems on which all life depends.
From the bustling streets of Southeast Asia to the majestic forests of North America, NRDC's work takes us to communities across the globe—and in your backyard.
The NRDC was featured in Vocal's Speak Up Challenge in February 2020, and received a donation thanks to creator Austin Graham for his first place story, The Arctic Isn't Yours to Lease.
Environmental Defense Fund
One of the world's leading environmental organizations, the EDF's mission is to create lasting solutions to our biggest environmental challenges.
We take on climate change and other grave threats by identifying what's most urgent and where we can make the most difference.
The EDF was featured in Vocal's Speak Up Challenge in February 2020, and received a donation thanks to creators Lisa Ikin and Hannah B.
Crisis Aid International
Crisis Aid International's mission is to assist in sustaining life, bring encouragement to those suffering and collaborate with other relief organizations in bringing necessary foods, materials and medicines to people in times of crisis, particularly where life and death situations exist.
In response to the urgent needs created by the Covid-19 Virus, Crisis Aid has a local presence through its Love and Care Center. It is EXPANDING its current food programs by working alongside local leaders, schools, churches, and senior living homes. Crisis Aid is serving groceries and more to those with the greatest need.
Crisis Aid International was featured in Vocal's Everyday Heroes Challenge in February 2020, and received a donation thanks to creators Nikita Jenkins, Jay Cordero, and Marwah.
NAACP Legal Defense Fund
The NAACP LDF is America's premier legal organization fighting for racial justice through litigation, advocacy, and public education.
LDF seeks structural changes to expand democracy, eliminate disparities, and achieve racial justice in a society that fulfills the promise of equality for all Americans. LDF also defends the gains and protections won over the past 80 years of civil rights struggle and works to improve the quality and diversity of judicial and executive appointments.
The LDF was featured in Vocal's Voices for Change Challenge in the summer of 2020, and was contributed to thanks to each and every creator who participated in the Challenge.
The Okra Project
The Okra project is a collective that brings healthy, home-cooked, and culturally conscious meals to Black Trans individuals, many of whom face global crisis and food insecurity.
The Okra Project is all about taking luxury and making it something that's accessible to the most marginalized people and disrupting the idea that luxury is exclusive.

"For Black people, in particular, the kitchen is such a place of family lineage. It's a place of community. It's a place of love. Daily life occurs in the kitchen. And so to have that kitchen be filled with someone who looks, loves, and lives like you, is a luxury and a joy" - Ianne Fields Stewart, Founder
The Okra Project was featured in Vocal's Food for the Soul Challenge, and received a contribution thanks to first place winner Michelle Petties.
Spread the Vote
Spread the Vote is an organization dedicated to helping marginalized citizens in voter ID states get required IDs for election day.
At Spread the Vote, we work every day to ensure that people have what they need to vote. 77% of the people we work with have never voted before, and 100% of our clients cannot vote without us.
Spread the Vote was featured in Vocal's Beyond the Vote Challenge this past election season, and received a donation thanks to first place creator Donziikinz.
The future of giving back
Currently, Vocal has two Challenges running whose prizes include donations to good causes. The Goodbye Donald Challenge, which is open through Inauguration Day 2021, is running in support of Fair Fight, an organization dedicated to ensuring free and fair elections in the US. And the Good Deeds Challenge, which closes the final week of January 2021, is in support of World Central Kitchen, Chef Jose Andres's organization to use the power of food to heal communities through times of crisis. And throughout the remainder of this year, we'll continue launching Challenges and other initiatives that will help us at Vocal expand our "why" and continue to fulfill what we see as our responsibility to give back to something bigger than ourselves.
And as always, we couldn't do any of this without your support. To our 18,000 creators who've participated in Challenges, and our 850,000 creators who give the platform purpose, thank you for giving me and my team the opportunity to build these features with a purpose we can feel good about.