Introducing Challenges
Ongoing story contests to help you flex your creative muscles.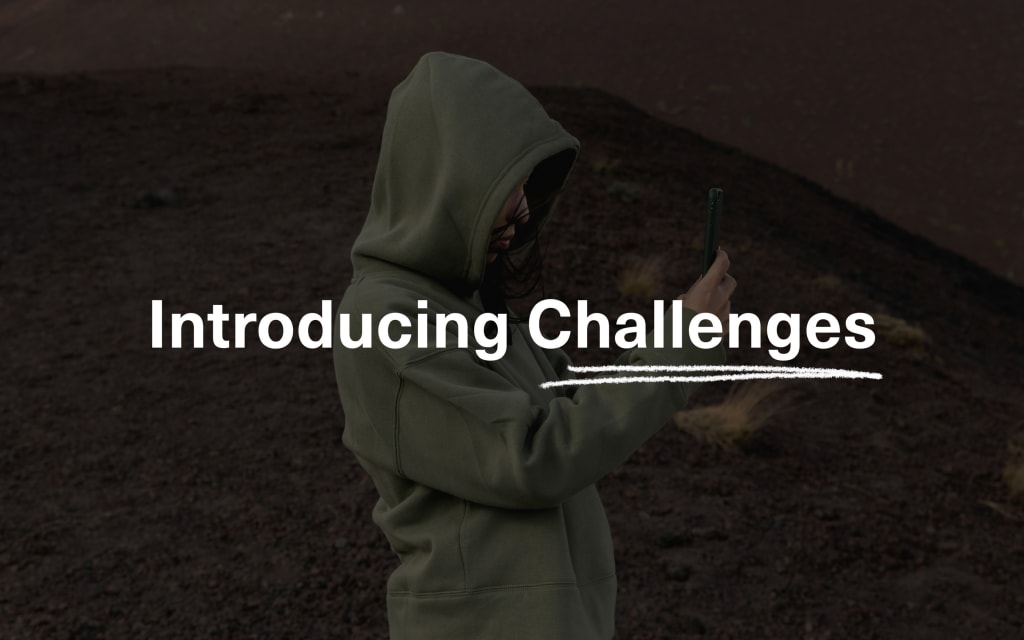 Today we're excited to introduce Challenges, a new way for creators to get inspired and join the rest of the Vocal community in some friendly competition. Starting this week, creators will be able to participate in various Challenges across a range of topics and interests for the chance to win cash prizes, experiences, and much more.
Why Challenges?
Challenges—themed story contests that we're inviting the entire community to take part in—are great for a number of reasons. First, of course, they encourage creativity! Sometimes as creators it can be difficult to find specific direction when we're given complete free reign; but when we're forced to push our boundaries and are given a prompt that's a little bit outside of our comfort zone, we can create amazing things.
Just as exciting, though, some Challenges will be in partnership with brands and organizations that we admire—brands that value building community and rewarding creativity just like we do. We work hard to bring you a completely ad-free platform for your stories to live on, and we'll never enable advertising on your content. By being able to sponsor challenges, brands are able to participate in the amazing creator community that we've built in a non-invasive, valuable way. It's an authentic, interruption-free way for you to engage and connect with brands you admire.
Plus, participating in Challenges can help you earn extra even if you don't win. We believe that all creators should be rewarded for their stories. That's why, just like everything you publish on Vocal, we pay you for the engagement on the stories you enter into Challenges. That means that you're earning and collecting tips from your fans on each story you create, regardless of whether or not you collect the grand prize.
How to participate
Entering a Challenge is as easy as submitting a story! First, take a look at what Challenges are live and decide which ones interest you. Then, be sure that you're eligible for that Challenge—some will be open to all Vocal creators, and some Challenges will be exclusive to Vocal+ members, so free members won't be able to participate unless they upgrade their account.
Get informed
Once you've decided to enter a Challenge, check out the applicable rules and terms and be sure you know how the challenge will be judged before you get started on your submission. You can also take a look through the Challenge page to see previous submissions and gather inspiration from your fellow creators.
If you have any questions about how Challenges work, take a look through our FAQ.
Start creating
If you don't have a Vocal account yet, the first step is to create one! Or, if you have a free Vocal account but you want to enter a challenge that's only open to Vocal+ creators, you'll need to become a Vocal+ member to enter. It's only $9.99 a month to become a member, and you can cancel at any time—no commitments.
Then, click "Create Story". Now comes the fun part: Start creating! Make it engaging, make it beautiful with rich media, and make it something you're proud of.
If it's your first time creating on Vocal, or you'd like a little refresher, you can find our guide to getting started here.
If you already have a story you've published on Vocal in the past that you think is a perfect fit for the Challenge, that's great! You're free to submit a previously published story to a current Challenge—just visit the Challenge page, and click the "Submit a Story" button in the "Submit an existing story" section of the page.
Publish
First, double check to ensure that you've fulfilled any requirements at this stage—if you're asked to submit your entry to a specific community, use a specific tag, or include an applicable embed, be sure that you're aware of those requirements so your story will be eligible for the Challenge. When you're ready, click "Submit for Review," choose the community you'd like to submit to, add any applicable tags, and select the Challenge that you want to enter your story in from the drop down list. Then, complete the submission.
Your story will be reviewed by our moderation team within 24 hours—if it meets all of our Community Guidelines and is a great fit for the Challenge, it will be approved. If it doesn't quite meet all of our guidelines, it'll be sent back to you for edits; if it meets all of our guidelines but isn't a fit for the particular Challenge, it'll be published on Vocal, but will be removed from the Challenge submissions and won't be eligible to win. If this is the case, don't worry! You can review the Challenge rules and then submit a new story that's a bit more applicable to the Challenge.
Promote!
You're not quite done just yet—now that your story has been entered into the Challenge, you'll need to promote it. This helps you earn more from reads and tips regardless of whether you actually win the Challenge, but it can also end up helping your chances of winning. Entries that receive a significant amount of likes or reads can really help catch the attention of judges, and can even be used as a tiebreaker at the end of the Challenge—so don't let the work stop after publishing! Share your story on your Facebook, Twitter, or Instagram, or get creative and share it in applicable online threads or email groups asking your friends and family to show you some support.
You can find some of our helpful tips on how to promote your story successfully here:
View the Challenges you can enter right now here.
We hope you're excited to put your creativity to the test! We can't wait to see what you create.
About the Creator
Founder and President of Creatd (Nasdaq: CRTD), the parent company of the Vocal platform.
Reader insights
Be the first to share your insights about this piece.
Add your insights