Challenges: Frequently Asked Questions
Questions about how Challenges work? Check here first.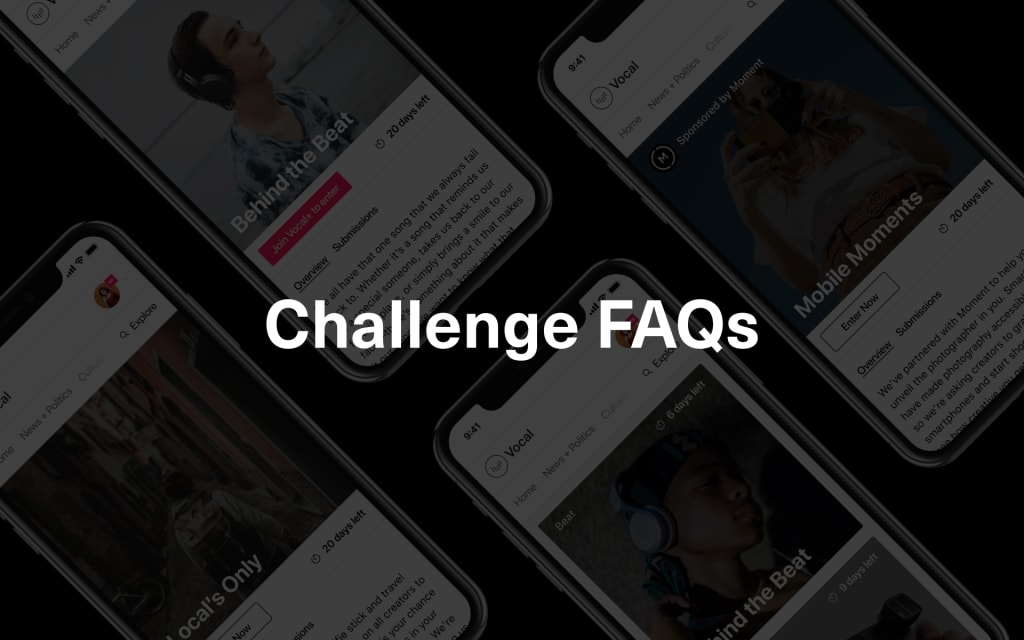 How do I submit a new entry to a Challenge?
You can submit an entry to a Challenge right from the Challenge page. Just click the "Create a story" button—then, when you're ready to submit your entry for review, just choose the Challenge you'd like to enter from the drop down Challenge menu, and complete the submission.
Can I submit a story I've already published?
Yes! You can submit a story that's been published in the past on Vocal. In fact, you can do so right from the Challenge home page. Just visit the Challenge you'd like to enter and click the "Submit a story" button. This will allow you to select from any of your already published stories and enter it into the Challenge.
Can I enter more than one story into a Challenge?
Of course you can! We encourage you to submit more than once—it can only increase your chances of winning.
Who can enter a Challenge?
To be eligible to win a Challenge, you must be over the age of 13, have an active Vocal account (or a Vocal+ account, if applicable), and be residing in a country where Stripe is available at time of entry. A complete list of countries where Stripe is available can be found here—winners will need to have a Stripe account created and connected in order to receive the prizes. For this reason, entrants located outside of any of these 32 countries will not be eligible to win.
Do I have to pay to enter?
You're not required to pay to enter Vocal's Challenges. However, some Challenges will only be open to Vocal+ members, and creators that do not have a Vocal+ membership won't be able to enter these exclusive Challenges. If you'd like to enter a Vocal+ only challenge, you will need to upgrade your account before you're able to submit an entry. You can read more about Vocal+ or upgrade your account here.
What's the difference between a regular Challenge and a Vocal+ exclusive Challenge?
The main difference is exactly that: A regular Challenge is open to any Vocal creator, while Vocal+ Challenges are only open to Vocal+ members. This can sometimes mean that since the pool of eligible submitters is smaller, your story might be up against less competition—and often, Vocal+ only Challenges have higher prize values than Challenges open to the entire community.
How do I receive my prize?
If you're one of our selected winners, you'll receive an email notification to the email address associated with your account. Someone from our team will also reach out to you via your email address to collect any necessary tax or shipping information that we'll need before we can send over payment. Once we have any applicable info we'll need from you, we can provide your prize.
If the Challenge has a cash prize, we'll send the prize money to your Stripe account, and it'll be automatically exchanged to your local currency if necessary. If the prize you've won is an item, we'll send it to whatever shipping address you provide.
If the Challenge had an experience-based prize, it may require a bit more information from you—we'll be in touch via email to gather any information we need to send you a trip or experience.
How are the Challenges judged?
You can find all the information on how winners are selected here.
I got an email that said my story was removed from the Challenge. What should I do?
There might be a few reasons that a story was removed from a Challenge you submitted to. Maybe it was missing one of the requirements we specified, or it didn't meet the word count minimum, or it was about a different topic than we asked for in the Challenge description. But just because an entry of yours wasn't eligible for the Challenge doesn't mean you're disqualified—we encourage you to review the Challenge requirements and then create a new submission that more closely matches the brief.
Where can I see who won a Challenge?
All of the Challenge winners will be visible on the Challenge page, and will be announced on our social media accounts. We'll also send out an email including a winners announcement to all of the Challenge participants.
How often will Challenges run?
Different Challenges will have different durations, but those will always be found on the rules for that specific Challenge. We'll always have at least one Challenge running, and you can always find the current active Challenges on Vocal's home page.
What if I don't have anything to enter for the current Challenges?
Don't worry! We'll be running new Challenges all the time—if none of the ones you see right now are your cup of tea, just keep an eye out for the next ones we launch. All active Challenges can be found right on Vocal's home page, and we'll be introducing new ones all the time, so you're bound to find one that appeals to you soon.
About the Creator
Founder and President of Creatd (Nasdaq: CRTD), the parent company of the Vocal platform.
Reader insights
Be the first to share your insights about this piece.
Add your insights