The Cake is in the Mail
Separated by circumstance, my mother sent her love the best way she knew how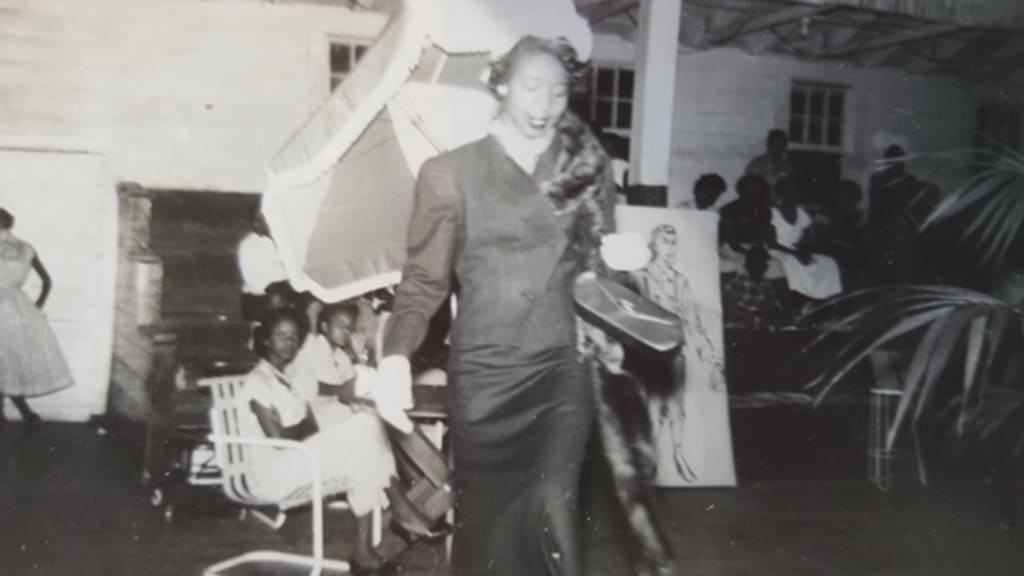 The author's mother, Sara Jean Petties Perdue, steps in a fashion show, circa 1954
LIKE MANY YOUNG CHILDREN, I grew up with a great love for the things my mother used to bake. The difference was I didn't grow up with my mother.
The affinity I developed for my mother's baking came about during the 1960s and 70s while growing up with my grandparents in Marshall, Texas, a small city near the Texas-Louisiana border, where my grandparents owned a farm on the outskirts of town.
Oh, sure. There was always plenty of good food – good soul food – to eat from the family farm: Sweet potatoes and collard greens. Chicken and dumplings. Pecan pie and peach cobbler.
But none of those things could compare to the one thing that would always bring me and my grandparents so much joy every holiday season, between Thanksgiving and Christmas. And that one thing was: the box.
For weeks, the house would become filled with excited anticipation about the box. When my grandmother would finally announce that Sara Jean had put the box in the mail – Sara Jean, that was my mother's name – the anticipation would build even more.
We all looked forward to the arrival of the box. Even my grandfather – a retired rail worker from the old Texas and Pacific Railway, as well as a church trustee and former bootlegger who was known to gamble on Saturday nights – eagerly looked forward to the box. And in those days, not too much excited my grandfather, at least not that I knew of.
The arrival
There was no FedEx or Amazon back then. So sometimes, the box would come by bus. Going to the bus station to pick it up was a big deal.
We'd all climb into my grandfather's pickup truck – or maybe it would be my grandmother's pale green 1960s Chevy Bel Air – and go down to the Continental Trailways bus station to pick up the box.
In between the time when my mother called to say the box was on its way and its actual arrival, my grandparents would warmly recall my mother's wide ranging adventures. I listened intently, hanging on to their every word, soaking up every detail that I could. My mother's essence filled us even before the box arrived.
Day after day during the holiday season I would ask, "Is the box coming today?" And my grandmother would always say something just to pacify me, like "We'll see" or "It's on its way."
Scents of sweetness
When the box would finally arrive, it would be neatly wrapped in plain brown paper. There would be so much joy in just opening the box, oohing and aahing, wondering what lay beneath the precision folds of aluminum foil.
As soon as we opened the box, beautiful aromas of cranberry bread, fruit cake, banana bread, lemon pound cake and my mother would fill the room. I remember the pleasure of deeply inhaling the distinct combination of my mother's scent and the vanilla and spice she used to bake her wares.
As the cakes were unveiled, I beamed with pride knowing my mother made the beautifully browned, golden mounds that I wanted to gobble up on the spot. Almost immediately my grandmother would be on the phone telling anyone who would listen about the box of goodies that Sara Jean had sent.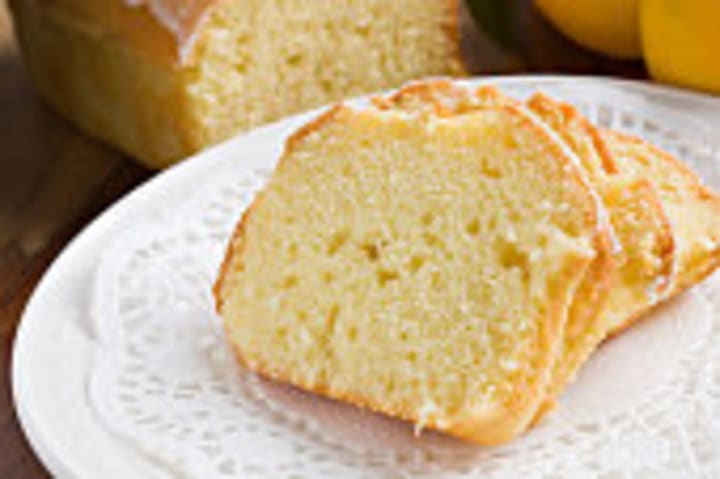 One or another of my mother's cakes would be prominently placed on display under a glass cake dome. So, for a short while – at least until the last piece was gone – that cake dome would serve as a centerpiece for our dining room table. And why shouldn't it? When my mother sent her homemade baked goods, she was sending her love one of the only ways she could.
A different time
It's not that my mother wasn't able or willing to care for me. The issue was she lived during a different time when society wasn't as accepting of women having children out of wedlock like how my mother had me.
Plus, my mother had the added responsibility of being a schoolteacher. Even today, teachers lose their jobs whenever it comes out that they did something that the community believes is socially unacceptable. Back then, it's a sure bet that having a child out-of-wedlock would have cost my mother her teaching position.
So she did what a lot of women and young girls did back then when they got pregnant while they were unmarried: She went away. My family made up a story that she had gotten "sick." She went away and had me. And once she had me, my family made up a story that she had gotten well again.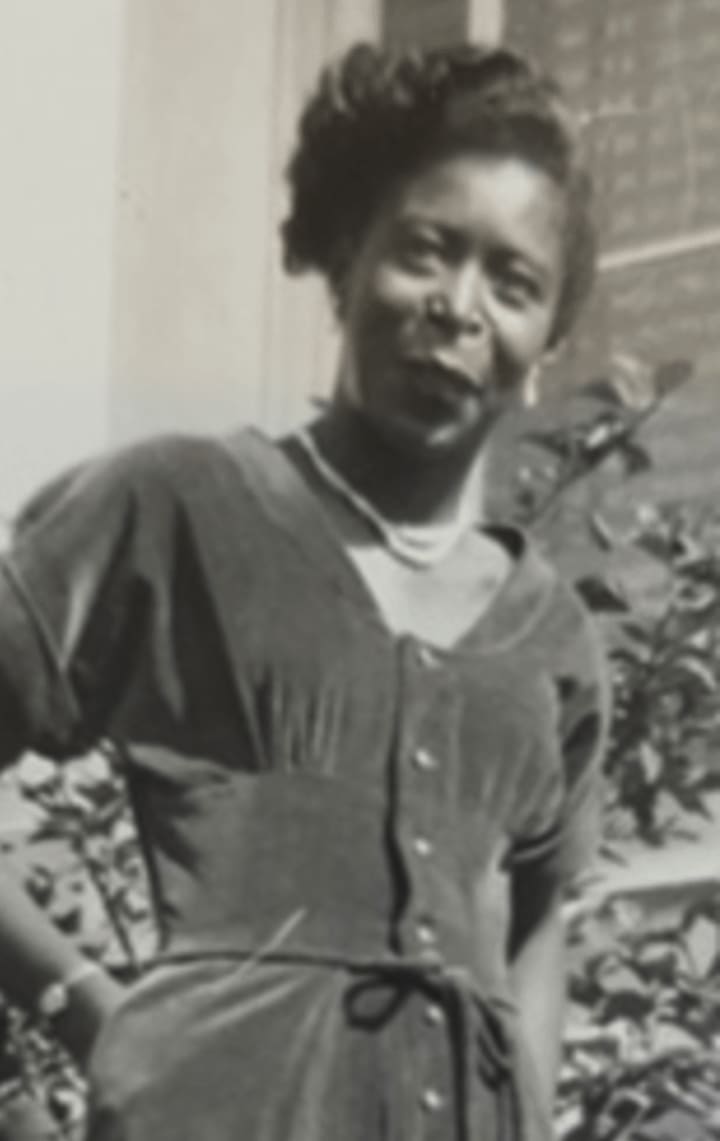 My grandparents kept me. They kept me and they loved me and they let my mother live her life. As time went on they, along with my mother, decided it was best that they adopt me, formally. I didn't understand or know all of this growing up. All I knew is that I missed my mother and I loved her dearly.
So when she sent those cakes back when I was a young child, eating and enjoying them was my way of connecting with my mother to fill the void.
Which is why I would often go back, sometimes sneak back, for slice after slice – until it was all gone. Eating those cakes became a way to try to keep myself filled with that joy.
For a long time, I held an empty space inside of me for my mother, a space I held open long after she passed in 1981. For many years I tried in vain to fill the emptiness with food, pound cake and other addictions. Thankfully, that emptiness was healed years ago. But make no mistake: Only after a lot of counseling and therapy was I able to come to terms with why I got separated from my mother.
Now, I am full of understanding, compassion and gratitude for the selflessness my mother displayed by allowing my grandparents to raise me. And I have fond memories of the cakes my mother used to make. I now know she made those cakes just to let me know that even though we may not have been together physically, she could still do one of the most important things that mothers do to show their children that they care.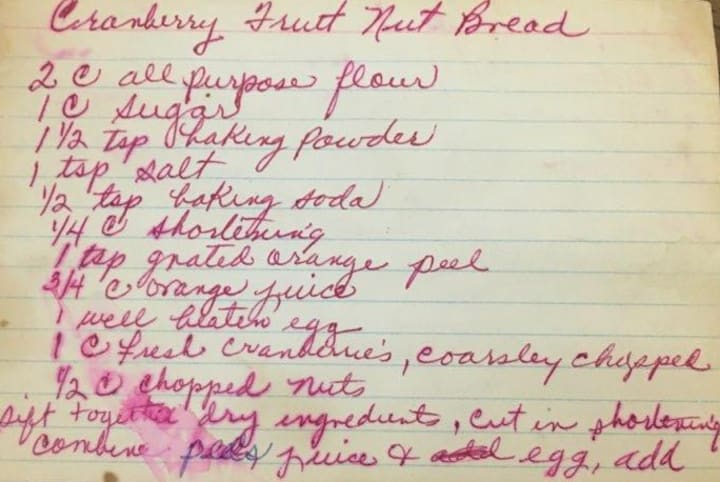 I recently found a few of my mother's recipes for the cakes she used to bake. They're handwritten on index cards. Some parts are hard to read because the ink has bled. But there's still enough there to make out what she wrote.
Here are the recipes:
Pound Cake
1 stick butter
1 c Crisco
3 c sugar
5 eggs
3 c flour (sift)
½ t salt
1 c milk
1 t vanilla
1 t Lemon
1 t orange or almond
Procedure
Cream butter, Crisco & sugar until light and fluffy, gradually add eggs one at a time, beat well after each. Mix salt with flour, add flour and milk alternately. Add flavoring. Mix. 350 degrees.
1hr 30 min.
Cranberry Fruit Nut Bread
2 c all purpose flour
1 c sugar
1 ½ tsp baking powder
1 tsp salt
½ tsp baking soda
¼ c shortening
1 tsp grated orange peel
¾ c orange juice
1 well beaten egg
1 c fresh cranberries, coarsely chopped
½ c chopped nuts
Sift together dry ingredients cut in shortening. Combine peels, juice & egg, add to dry ingredients. Mixing just to moisten. Fold in berries and nuts. Turn into greased 9x5x3 inch pan.
Bake 350 degree oven for 60 min. Cool. Wrap and store overnight. 1/4c Crisco
About the Creator
We all have unique stories that lead us. I speak to organizations, large and small, sharing unique perspectives and my story of hope, healing, and triumph. Need an engaging, thought-provoking, and transformative speaker? Ping me.
Reader insights
Be the first to share your insights about this piece.
Add your insights