Will You Make It to Immortality?
The Mad Genius of Ray Kurzweil's Cosmic Plan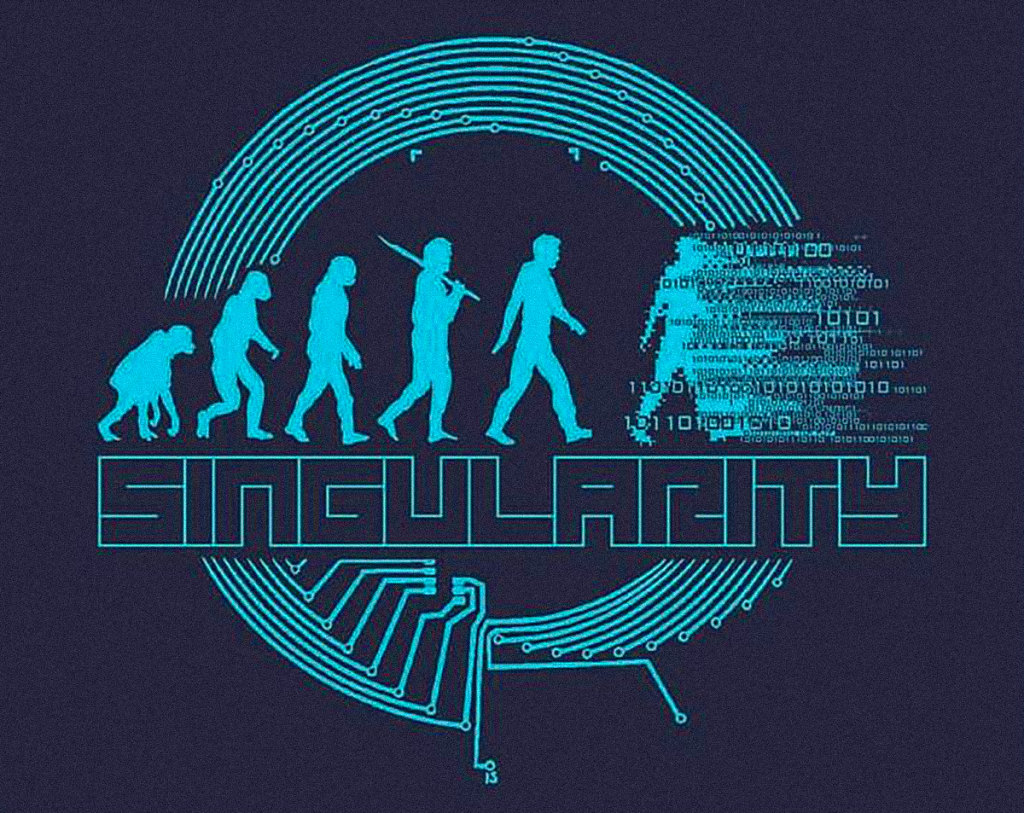 Othertees.com Singularity T-Shirt Design
You think you're going to die some day? WRONG!
Just hang in there; you've got this! This is already 2016…by 2045, give or take, we will all be immortal cyborg-things! No, really. We'll be immortal cyborg-things.
Ask Ray Kurzweil, Director of Engineering at a small upstart company known as Google.
Meet the Enigma, Ray Kurzweil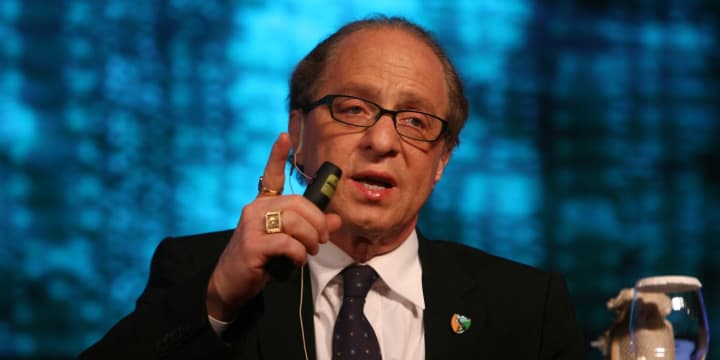 Kurzweil is practically immortal himself, or at least his persona is. While many kids of the '60's were building soapbox cars in the streets, he was inventing robots and computers at his home in Queens, New York, delving into early computer programming by age 15.
Two years later he was on television, demonstrating a program he'd written which could compose music (for which he later won first prize at the International Science Fair).
The arc of his accomplishments has inclined ever since those halcyon days. Young Kurzweil began founding and selling (for large profit) companies during his attendance at Massachusetts Institute of Technology. Later he started (and sold) Kurzweil Computer Products, Inc., and he invented the Kurzweil K250 keyboard for his own Kurzweil Music Systems. By the '90's he'd founded Kurzweil Applied Intelligence, the Medical Learning Company, and the Kurzweil Education company.
His entire life had been spent studying pattern recognition by both machines and persons and how to improve the interface between the two.
Bill Gates stated, Kurzweil is "the best person I know at predicting the future of artificial intelligence."
In 2012, the co-founder of Google, Larry Page, personally hired Kurzweil. The job description? Simply "to bring natural language understanding to Google."
Let's Transcend Together! 
Kurzweil sounds great, you say. A real mental Übermensch. But why all the biographical info on Ray? What's the angle?
To inform you of his abundant street cred, of course! In order to truly listen to someone, we want to understand their background, and the pertinence it has to our own interests. Otherwise, we blow them off, or assume they have zero to do with us. But what Kurzweil speaks of has to do with everyone on Earth...and, well, we're not talking SyFy Channel TV show writers here; Ray Kurzweil is the genuine article when it comes to predicting the future of information systems—our own brains included!
Okay, you say. Got that. But why is this article on Longevity?
Because Kurzweil also applies his proven genius to the science of life extension. And he's a major proponent of transhumanism. Below is a sampling of his books and videos to get you started learning how this Renaissance Man intends to not only live forever, but help the world cross that bridge with him.
On the surface it all sounds crazy, but so did a world running on electricity...before Nikola Tesla and Thomas Edison and their Battle of the Currents.
So did the space program before NASA landed men on the moon.
So did home computers before Bill Gates, Microsoft, and the PC revolution.
So did the smartphone, before everyone started carrying an iPhone in their pocket…or as Kurzweil puts it, "a kid in Africa has more technology at his disposal than the president of the United States did 15 years ago."
You get the gist... Now on to the good stuff!
The Law of Accelerating Returns
The rate of acceleration of technology continues to increase exponentially, with no signs of slowing. It is, therefore, very logical to conclude that at some point we won't be able to keep up.
Technology will surpass its creators…a situation we will learn to control by merging with that technology, increasing our own brainpower, sharing and collaborating and multiplying via collective brainpower. Kurzweil has faith this will happen within his lifetime…but only if he's able to extend his lifespan a bit beyond the average.
And as with everything, he has a plan to do that. Read on...
Transcend: Nine Steps to Living Well Forever, with Terry Grossman, M.D., is the specific outline Kurzweil follows for his own life plan. This is how he intends to live long enough to reap the benefit of tomorrow's immortalizing technological innovations.
"Transcend gives you the practical tools you need to live long enough (and remain healthy long enough) to take full advantage of the biotech and nanotech advances that have already begun and will continue to occur at an accelerating pace during the years ahead."
The Singularity Is Near: When Humans Transcend Biology is Kurzweil's 2005 magnum opus, a philosophical epic so wide in scope as to encompass the entirety of humanity's future.
Perhaps the Holy Grail for transhumanists, this book lays the essential groundwork for Kurzweil's universe-encompassing theories...which start with our lives and our interactions with the technologies we create--technologies which will one day outpace our ability to keep up, unless we merge with them (which, inevitably, we will...in fact, we're already doing it!).
Kurzweil "envisions an event—the "singularity"—in which technological change becomes so rapid and so profound that our bodies and brains will merge with our machines. The Singularity Is Near portrays what life will be like after this event— a human- machine civilization where our experiences shift from real reality to virtual reality and where our intelligence becomes nonbiological and trillions of times more powerful."
The book covers the topics of aging and the defeat of Kurweil's nemesis—Death itself. He also tackles pollution and hunger, and how these too might be overcome through the radical biotech transformations he envisions. Throughout not only this book, but his two previous ones as well, he's made concrete, quantifiable predictions about the future…
As Bookmarks Magazine put it, "Kurzweil is one of the world's most respected thinkers and entrepreneurs. Yet the thesis he posits in Singularity is so singular that many readers will be astounded—and perhaps skeptical. Think Blade Runner or Being John Malkovich magnified trillion-fold."
The book was also made into a related film:
Based on the best-selling book, here Kurzweil is able to do what he does best--present his often complex subject matter in compellingly watchable narratives.
The Singularity is a point in time beyond which we won't be able to accurately predict the future. The exponential rate of technological innovation will have become so advanced as to truly stump our limited fleshy gray matter. He's able to explain all this in the film much better than me...
But in a nutshell—enhanced as we'll be with nanotechnology, perhaps the computing power of our minds, or the shared computing power of our minds operating within the hub of a data cloud, will be able to analyze and extrapolate future scenarios. Perhaps the Singularity will not be one point, but many…a race, or rather a game of leap frog, where the tech pulls ahead and we catch up (thanks to the tech), and then we create new tech which pulls ahead and we catch up.
The possibilities are endless, which is the point. Or rather, points.
How to Create a Mind: The Secret of Human Thought Revealed
Here Kurzweil peers into the process of reverse engineering the human brain in order "to understand precisely how it works and using that knowledge to create even more intelligent machines." He boldly examines brain function and the "implications of vastly increasing the powers of our intelligence in addressing the world's problems."
Ever the rationalist, he's aware of the fact that he can't do this alone; that no human can fix the world on their own, or even as a team. We need to augment our natural brainpower, magnify our capabilities. But it all starts with understanding the brain. Once we can do that, we can replicate it, improve it, and exploit more fully its potential.
For those who'd prefer a audio-visual exploration of these concepts, have no fear.
The Transcendent Man offers up "his ideas about the merging of man and machine, which he predicts will occur in the not-so-distant future."
For a free sample of Kurzweil's lecturing style, YouTube is full of videos like the above...
Fantastic Voyage: Live Long Enough to Live Forever, offers more insight into Kurzweil's well-conceived plans to stick around Planet Earth long enough to become an immortal... You can see all the supplements they take (and sell) at
http://www.rayandterry.com/
.
As the site states, "We have moved from the old paradigm in which the progress in health and medicine has been unpredictable to enter a new era in which healthcare has now become an information technology. And, as Ray has written about extensively, a key characteristic of information technology is very rapid exponential growth.
"We've already started to reap the fruits of this new knowledge. We now have the means to dramatically reduce the risks of our biggest killers, heart disease and cancer, and to dramatically slow down the aging process itself."
The Age of Spiritual Machines: When Computers Exceed Human Intelligence is one of Kurzweil's early peeks through the looking glass...A classic of the genre (from 1999, but in tech years, that's a long time!) and still relevant today! Though it may strike non-indoctrinated readers as science fiction at times, Kurzweil's many predictions in the book have already begun to appear in reality.
A few of the predictions made for the year 2009 were:
Most books will be read on screens rather than paper.
Intelligent roads and driverless cars will be in use, mostly on highways.
People use personal computers the size of rings, pins, credit cards and books.
Personal worn computers provide monitoring of body functions, automated identity and directions for navigation.
Cables are disappearing. Computer peripherals use wireless communication.
People can talk to their computer to give commands.
Computer displays built into eyeglasses for augmented reality are used.
Computers can recognize their owner's face from a picture or video
Ray Kurzweil's ideas were so startling to me when I first came across them in 2009 or so that I completely revamped the plot for my own science fiction novel, Haveck: The First Transhuman, which I was working on at the time. But after its self-publication on Amazon last year, I allowed myself to neglect my studies of Kurzweil's philosophies...until recently, when I was trying to explain the book's outline to a friend.
I had to mention Kurzweil in order to show that my own work was based on actual currently-held scientific theory...and once I started talking Kurzweil and the Singularity, I soon found myself back in thrall...
Only the most die-hard skeptics can read his works or listen to his lectures and not come away with a profoundly different outlook on the future of humanity than that which they held prior to exposure.
That's the power of his vision. Like a black hole, it sucks you in, literally transforming the world of your own thoughts concerning tomorrow. And though it seems scary at time, in the end I think it's a good thing.
But regardless of the value we as individuals may choose to assign--good or bad--the Singularity itself pays us no mind.
It is coming...ready or not!