A Glimpse In The Life Of Meagan Dion: 3 times Vocal Challenges Runner-Up
Mariann Carroll's Vocal Interview Blog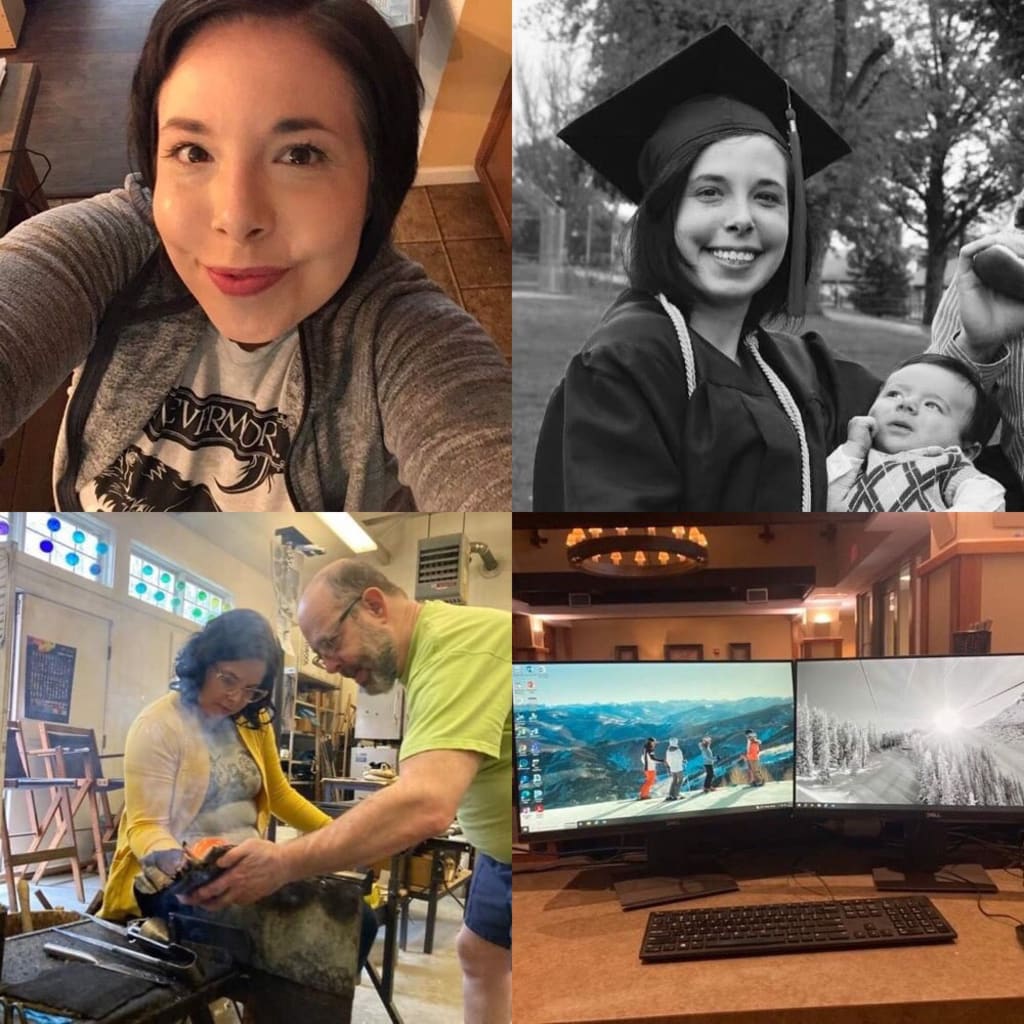 Meagan Dion's Photos
Meagan Dion is a mother to four children ages 11, 10, 8 and 6. She also home school her children. She has a degree in theology because she wanted to be a missionary but now her hope is to become a glass blower. She also can relate to Vincent Van Gogh because he left missionary work and pursued art.
She also have been awarded three runner-ups on Vocal Challenges, Dancing with Distraction Challenge, Past Life Challenge, and Micro Heist Challenge.
Mariann: Where are you from?
Meagan: I was born and raised in Ohio, but lived in PA for 6 years where I had two of my children, and then moved to Vermont 9 years ago, where the other two kids were born. So now, I'm "from" Vermont.
Mariann: What did you first write about?
Meagan: Good question. I recently tried to figure this out for the "Writers" challenge but didn't get too far. I seem to recall a stack of notebook paper tied with green fuzzy yarn when I was a small child. I don't remember fully what its pages contained, so putting that aside, I think the first thing I really wrote was a story about my brother when I was in High School. He had just enlisted to be a Marine when 9/11 happened. We were pretty emotional during this time and he gave me a ring to hold onto while he was at boot camp (and eventually war,) but I lost it. That story was about losing the ring and his loving response to that. I had a great English teacher at the time who encouraged us to be writers, so I wrote this little story and submitted it to "Chicken Soup for the Teenage Soul." It was rejected. LOL, but that was the first time I thought "Hey, I could be a writer."
Fun Facts: Meagan used to photograph weddings with a friend. One of the weddings she did was in Germany and she had a fabulous time staying with the bridal party at the Groom's family home. She learned a lot about the culture while she was there. It was such a special experience for her.
Mariann: What are your goals in writing on Vocal?
Meagan: I joined Vocal because I was trying to write a Memoir. I don't have a degree in writing, so I was doing a lot of research on story structure and becoming a writer. One of the tools I used was a Masters Class. I listened to every single class on writing they had to offer. The prevailing theme that I heard over and over again was to practice writing. I thought, "I have one thing that I want to write, how do I practice that?" Then I saw a Facebook ad for Vocal and decided that's how I would practice. So my goal is to practice writing in order to write my Memoir. I can safely say that Vocal has helped me do just that. I didn't realize I had 27 stories in me. Best of all, the last story I wrote, Scorched Places, for the Chapters Challenge is actually a chapter from the memoir I have been working on. Vocal has helped me practice, grow, and even fine-tune my WIP.
Mariann: What does your writing space look like?
Meagan: My writing space is the Front Desk of the hotel where I work. LOL, I don't have a lot of quiet time at home with four kids of my own, two that I babysit, and two cats, so when I come to work and it's not busy, that's when I write.
Mariann: What does your daily schedule look like and how do you fit your writing into it?
Meagan: I usually wake up around 8:30 a.m., take a ten-minute shower, and then take over babysitting duties for the one-year-old my husband and I watch. I babysit and homeschool simultaneously until 3:00 and then get ready/ leave for work, where I work until midnight. Sometimes it's busy and I don't get to write, sometimes it's quiet and that's when I just sit at my computer and get the bulk of writing done. Usually, it's that I'm pounding out a story for a challenge 30 minutes before the deadline. LOL Sometimes my co-workers proofread my entries. It's tight, but we make it work.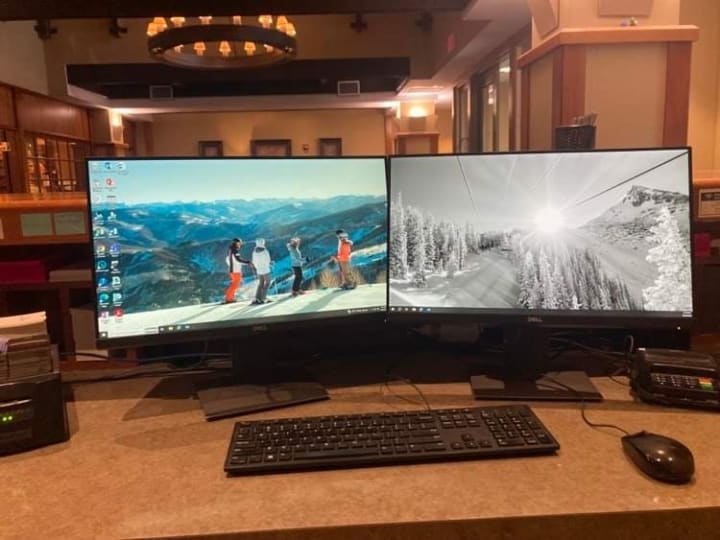 Mariann: If you were a book what title would you give yourself and why?
Meagan: "Lunch and paintbrushes" because I am ADHD and on more than one occasion I have realized that I was making lunch and painting something at the same time. Once it was a bookshelf. The image of my kitchen counter covered in both lunch prep things and paintbrushes sort of encapsulates how chaotic and fun my life has become, as well as my unique personality, which doesn't really adhere to a structure you would expect.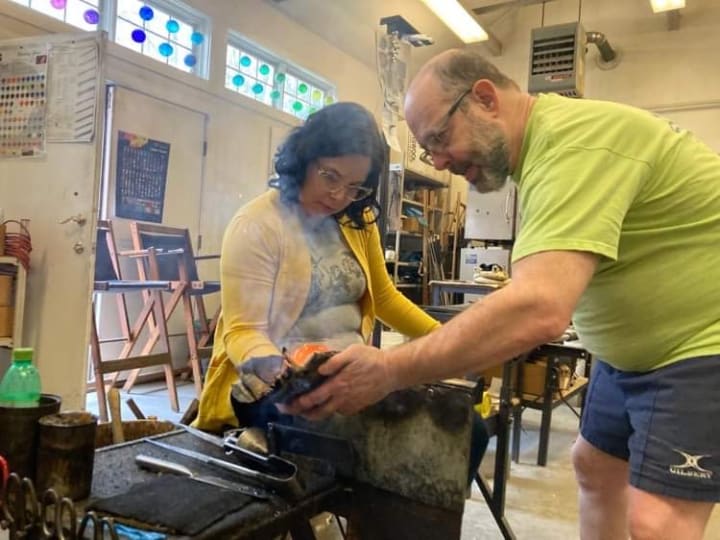 Fun Facts: Meagan has been to several glass-blowing demonstrations. She also has done a few workshops and She has 6 hours of experience under her belt.
Mariann: What accomplishment are you most proud of?
Meagan: I am super proud that I completed my degree while being pregnant with, giving birth to, and taking care of my first two babies in the first years of their lives. My mother got pregnant really young and always wished she could have finished her degree. So when I was in the middle of my college education and became pregnant with my oldest I was determined that I had to finish. My husband helped out a lot by working from home and watching my oldest while I took the younger one (just a month old) to classes.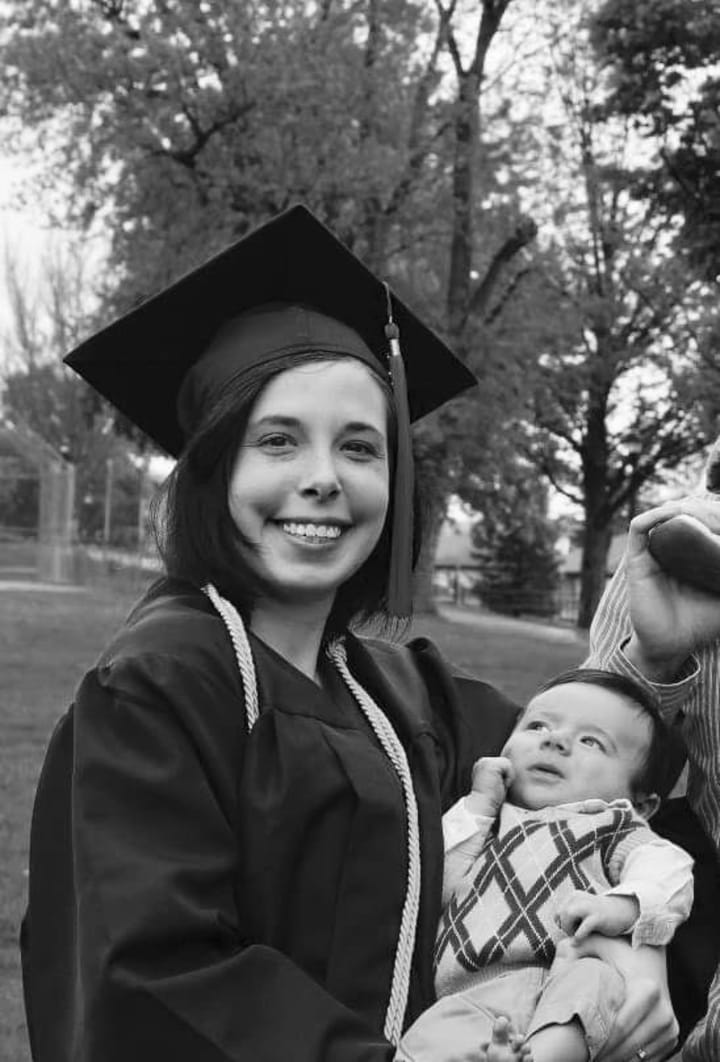 Mariann: What's the best part of being a mother for you?
Meagan: The best part of being a mother, oh man... hugs are pretty amazing, but I think the best is just watching them become their own person. Being a homeschool mom I get the privilege of watching them learn things and discover interests. I think that's my favorite. My kids are pretty incredible (even if I do say so myself,) they're all very creative and intelligent. I'm constantly surprised by what they know and what they've made. I actually had a discussion with my 10-year-old yesterday about the color of a giraffe's tongue. He was all "It's blue" and I was like "but they can be purple too," and he goes "I think I know more than you this time." Lol google helped us out with that one. For the record, it can be blue, purple or
Mariann: How long does it take you to write a story?
Meagan: Gosh that's a wild card. I have written stories in five minutes flat ( Attention Deficit, In the Night,) but I have also taken as long as a couple of days or weeks ( Hearths, The Great Salty Beast, Rapid) and then there's my novel, which I've been working on for years.
Mariann: What is your latest writing project about?
Meagan: My latest writing project is Scorched Places; an exvangelical odyssey, it's a chapter from my novel/memoir by the same name. The memoir itself is about how I came to a more balanced and healthy understanding of my faith during a time in which I was unearthing repressed memories, experiencing poverty, and dealing with postpartum depression. The chapter I submitted is about the death of a friend and how that difficult experience initiated my first suspicion that I was forgetting something traumatic.
Mariann: What message would you like to give your fellow vocal creators?
Meagan: Fellow Vocal Creators, hang in there. Practice really is key to writing, and the more you write the more you improve. So don't give up. It's a process.
Mariann: If you can change the world what would you change?
Meagan: If I could change the world, I would change how we discuss differences of opinion. Everyone is entitled to their opinion and while I do think there is a standard of truth, I think we can discuss our beliefs and opinions in a more compassionate and gracious way, as well as be open to the idea that maybe we don't know it all.
Fun Fact: Meagan Dion is an Artist in her own right, check up the cover picture of her No Raven Vocal Story.
Thank Meagan Dion, for the honor to interview you. It was a pleasure to get to know you more and I am sure your readers will enjoy reading a glimpse of your life and writing life.
About the Creator
Proactive for positive change.Born in the City of Chicago ,Illinois.
Multi race .Studied in a foreign country .Fluent in several languages .
fascinated by diversity.A Romantic and a dreamer.Interest in healthy living
Reader insights
Outstanding
Excellent work. Looking forward to reading more!
Top insights
Expert insights and opinions

Arguments were carefully researched and presented

Eye opening

Niche topic & fresh perspectives

Heartfelt and relatable

The story invoked strong personal emotions
Add your insights