Hottest New Porn Stars You Need to Watch
Whether you love busty blondes, slender brunettes, or exotic beauties, these are the hottest new porn stars that have gotten acclaim for their amazing on-camera action.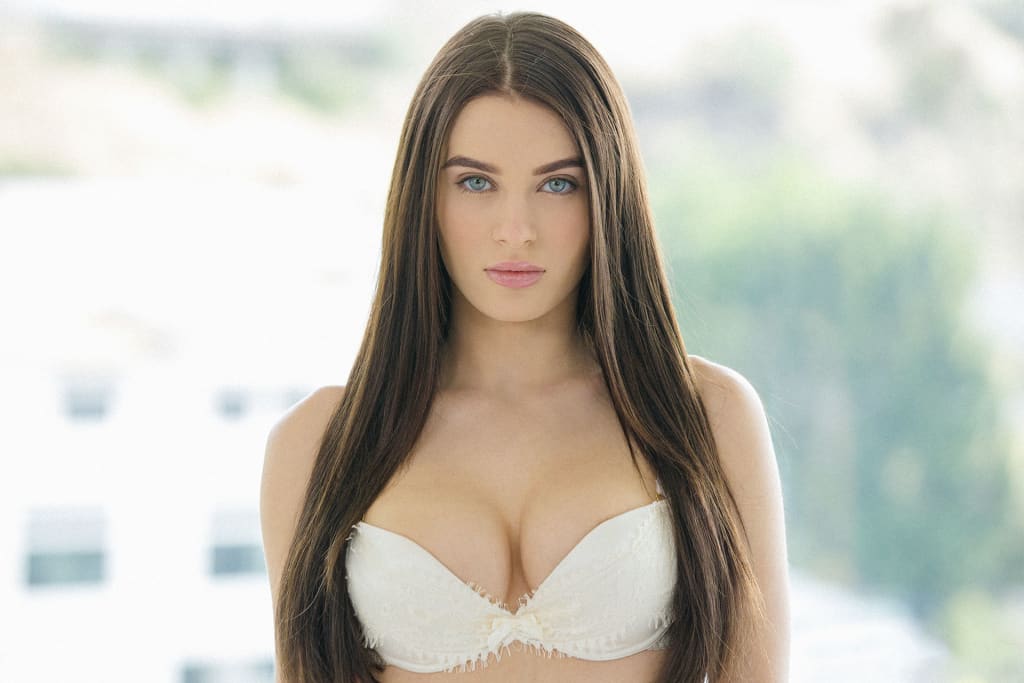 One of the best things about the porn industry is that there are always new porn stars to watch every single year. With a million changing faces, it's easy to lose track of which new porn stars you should scope out. Thankfully, you can always leave it to the internet to find the hottest new porn stars to watch year after year! Best of all, you can check out the hottest new porn stars on Instagram, Snapchat, or your own favorite adult industry website. Porn never looked better!
Love seeing your favorite porn star on social media? Then it's time to give True Snaps a spin. Their site is known for having Snapchat invites of the hottest girls on social media —and yes, that includes your favorite new porn stars. Give them a try, and you might get a little addicted.
For more information, visit True Snaps.
Adria Rae
She's adorable, she's petite, and she has one of those faces that make you get butterflies in your stomach—she's Adria Rae. This girl may look innocent, but that innocence isn't what you'll see when you check her videos out online. She's one of the hottest new actresses in the porn industry, and once you see her stuff, you'll be hooked.
Stay updated with Adria Rae on Twitter: @adriaraex
Alex Grey looks a lot more like a fashion model than a porn star, but don't be fooled. She's managed to make a serious splash on adult websites because of her amazing body and incredible oral sex skills. If you're a fan of blue-eyed babes with thin physiques, you're going to love Alex Grey.
Alex also appears on the Hottest Teen Porn Stars.
Stay updated with her on Twitter: @alexgreyxxx
Alexa Grace has a lot in common with 60s bombshells and Paris Hilton when it comes to both looks and attitude. Her flowing blonde locks and spicy attitude definitely give a "country club girl gone bad" vibe, and that's what makes her explicit videos so spicy. We expect to see her as a new queen of the adult industry within a matter of years, don't you think?
Stay updated with Alexa Grace on Twitter: @AlexaGraceXXX
Alina Li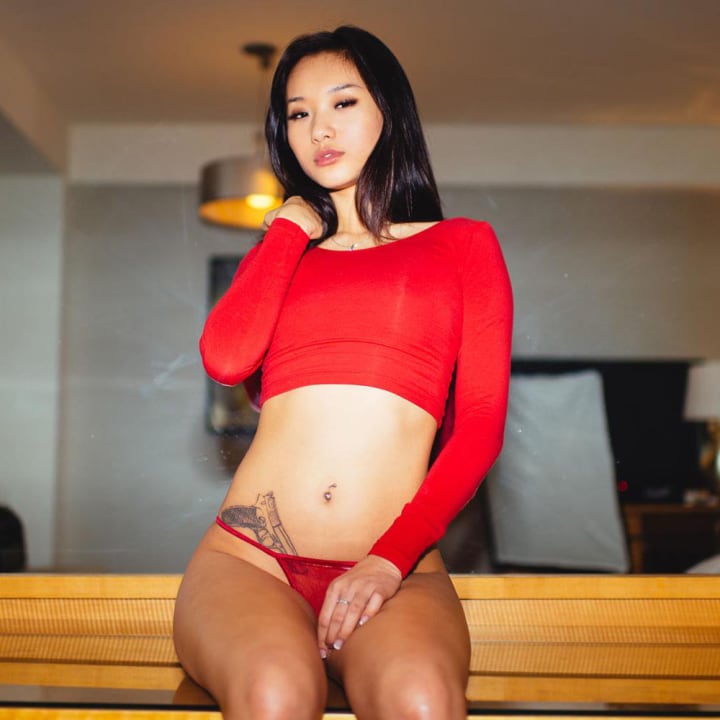 Don't let looks fool you with this list. Alina Li is another petite model who is very well known for her work in hardcore and extreme scenes, though she has moved onto more mainstream videos since entering the game. In fact, Li has been featured in scenes from Naughty America, Amateur Allure, BangBros, and Girls Try Porn. Because she quit the business back in 2014 and has since returned, she still has a place as one of the hottest new porn stars you need to watch as well as in our hearts.
Stay updated with Alina Li on Twitter: @alinalixxx
Alli Rae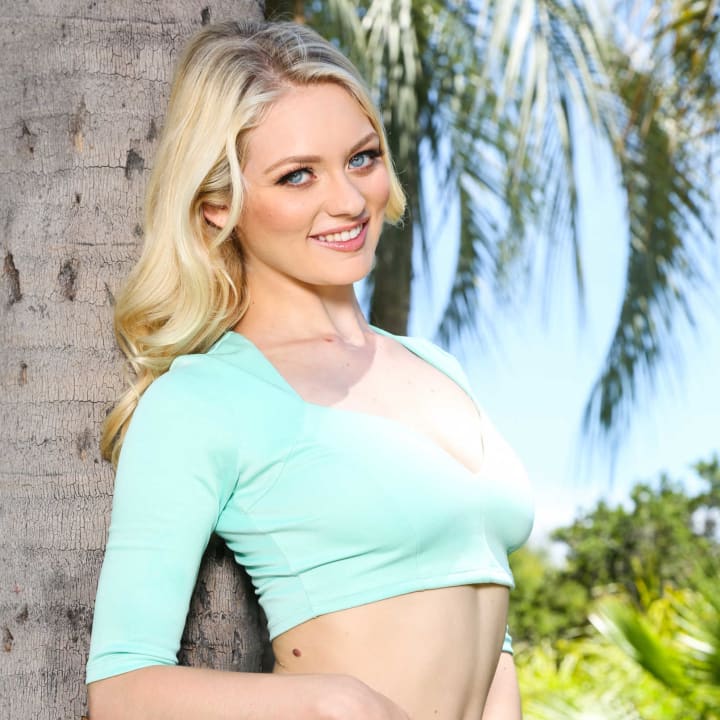 The perfect blend of athletic and buxom, Alli Rae pleases her fans in many more ways than one. Enjoying any role that allows her to be the more submissive of the pair (or trio) in her sex scenes, she has a number of films out from Brazzers, Team Skeet, Nubiles, Teen Fidelity, and more. Blonde, petite, and au naturale, Rae's emergence in the scene is a sight for sore eyes.
Ariana Marie isn't like most porn stars who have blindingly brilliant early careers and then fizzle out just as fast. Having won Pet of the Month for Penthouse and Twistys Treat of the Month in November 2014, Araiana Marie remains one of the strongest players in the game—at least, according to her 160 films and counting. Ariana Marie has since broken into the cam-girl scene, and consistently leaves fans begging for more.
Stay updated with Ariana Marie on Twitter: @ArianaMariexxx
Bailey Brooke has that cute, cheeky smile, a petite build, and an innocent look in her eyes that makes her give off that "peppy cheerleader" vibe in videos. But even if she might look like a girl next door type of model, you better believe that she has a side to her that will leave you drooling. Let's just say watching porn with Bailey Brooke is like poetry in motion, and her many features across a wide range of series will be more than enough to prove that.
Brandi Bae
Brandi Bae may be a household name for some people, but for those of you who are somehow unaware of this rising star, you're going to have your hands full. Her figure is a dream come true, her porn scenes are red hot, and her attitude is almost something we can't get enough of.
Stay updated with Brandi Bae on Twitter: @mssnewbooty
Chloe Temple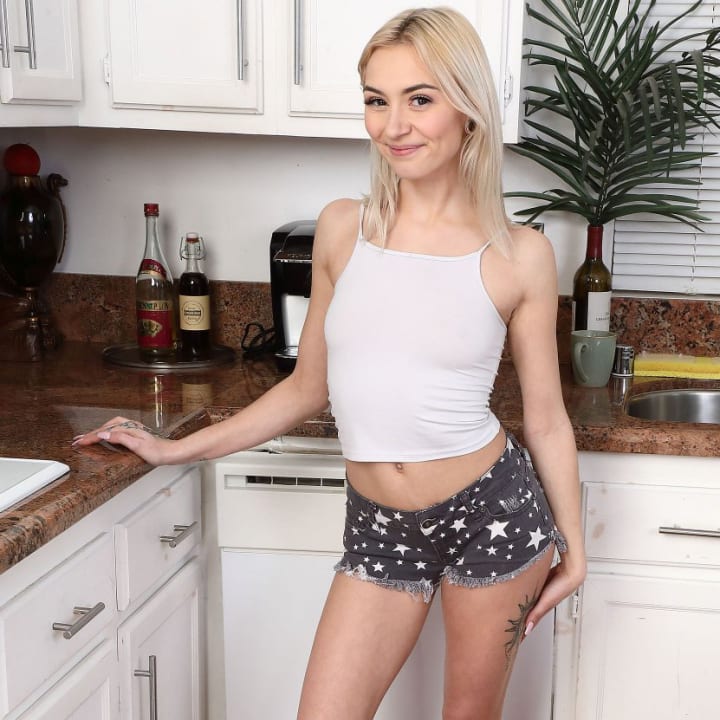 With only one year in the business, you might think that a lot of the hottest new porn stars wouldn't have a lot of name recognition. Then enters someone like Chloe Temple, and that misconception completely shatters. With her mischievous and bubbly personality, her petite build, and her incredibly adorable features, it's easy to see why a lot of guys love watching her get it on.
Stay updated with Chloe Temple on Twitter: @temple_xo
Even when you first lay your eyes on Dillion Harper, she looks too playful to be one of the hottest porn stars in the game right now. That is until she gives you her bedroom eyes, and has you eating out of the palm of her hands. After that, Harper is all seduction and sex appeal, two things she has mastered since her hardcore beginnings in 2012. If you're a fan of high energy and enthusiasm, you'll love what Harper can bring to a scene.
Stay updated with Dillion Harper on Twitter: @DillionHarper
Women who look like Ella Knox are rare, even in the fashion industry. She has curves, beautiful doe-eyes, and an overall sultry look to her face. And with that all-American look, there's something exotic about Knox that can't quite be put into words. Thankfully for fans, that exotic quality she has really comes through in her porn scenes—and that's why so many people are calling her one of the hottest porn stars you need to watch.
Stay updated with Ella Knox on Twitter: @EllaKnoxxx
Though she be but little, Elsa Jean is a queen on screen (which is pretty ironic, considering she got her nickname from Frozen when she started her career in adult entertainment). This tiny, cute blonde seems most comfortable when she's performing, and fans of her videos will attest to that. Her wild personality shines through in videos, and that's why she's a popular porn star on a variety of sites.
Stay updated with Elsa Jean on Twitter: @ElsaJeanxxx
Beautiful, tattooed, and always ready for a good time, Gia Paige is a welcome addition to any hottest new porn stars list. Getting her start in adult films at 25, she certainly did not lose any star power by beginning her career a little older than the average new girl on the scene. In fact, her hazel eyes will make most men fall in love, and there doesn't appear to be anyone complaining about that either.
Stay updated with Gia Paige on Twitter: @GiaPaige
Gina Valentina has a really awesome ability that most other porn stars don't have—she's a chameleon. One minute, she's a beach babe who just wants to have a wild threesome with some sexy beach-goers. The next, she's a clubland vixen who just wants to get it on with her man. That chameleon prowess is what makes her work so well with so many different adult videos—and incidentally, makes her such a sexy porn star. She's everyone's fantasy, no matter what your fantasy is.
Stay updated with Gina Valentina on Twitter: @gvalentinaxxx
Hannah Hays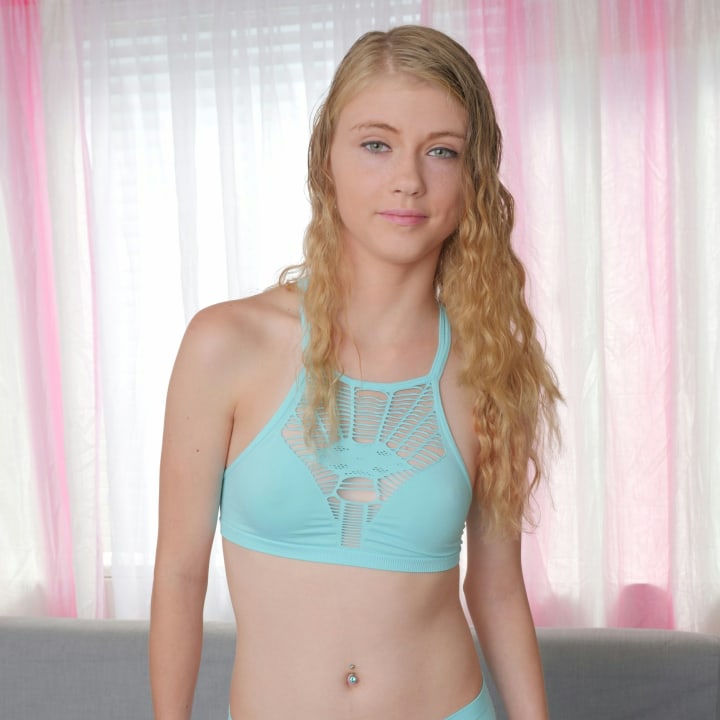 Hannah Hays is a Southern belle turned superstar, getting her start in the porn industry just three years ago. Now, only 20 years old, she is athletic, petite, and slowly becoming a huge name in adult entertainment. A lot of fresh faces in porn often get pushed to the wayside, but it looks like Hannah Hays is here for good time and a long time.
Stay updated with Hannah Hays on Twitter: @hannahhaysxxx
Hayden Winters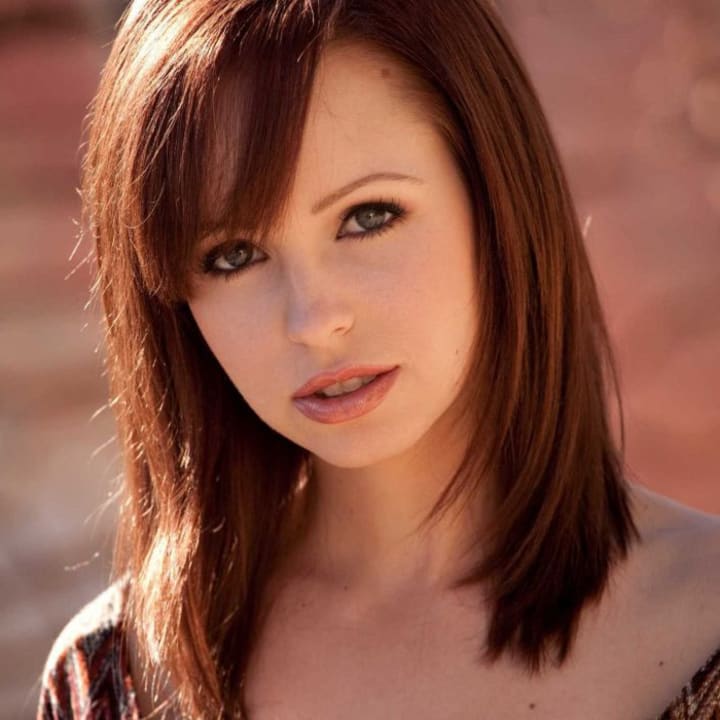 Hayden Winters is so hot, she'll leave you sweltering. With a pixie cut and full, luscious lips, this slim and sultry star will have you begging for more after the very first shot you see her in. If you were to meet her in person, you'd probably expect her to be in a college sorority, working a second job, or being generally wholesome; however, she's one of the few who channels that "girl next door" vibe perfectly.
Holly Hendrix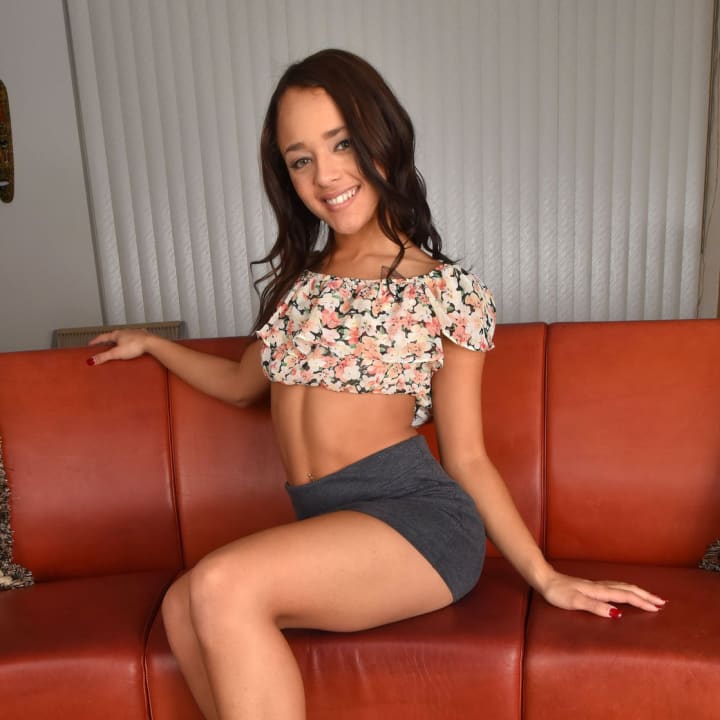 Holly Hendrix is the tiny club kid who everyone has wanted to be, or be with, at one point or another. She's bubbly, she's vivacious, she's unbelievably sexy, and she knows how to work her body in ways most girls can only wish they could. She has a very loyal fanbase, and once you see her videos, you'll understand why. Her knack for presenting herself as the sexy, crazy friend you always wanted to have while still being able to bring out her sensual side in every flic is a dream come true.
Stay updated with Holly Hendrix on Twitter: @hollyhendrix_
Sweet as, you guessed it, honey. Honey Gold has already been absolutely sensational in the porn industry for being such a fresh face in the biz. Having started just last year, she has already filmed over 100 scenes, and has already set herself apart from other newbies by working for sites like Brazzers. Tatted up and ride for action, Honey Gold sets the standard for the hottest new porn stars you need to watch.
Janice Griffith is sure to ring a bell for most, but there never seems to be a shortage of subject matter when it comes to checking out what this porn star is all about. Originally starting out on James Deen's website, she has since made a name for herself as one of the hottest porn stars you can find, tasting all of the different flavors the adult entertainment interest has to offer her. Seductive, sultry, and smoking hot, there's not a lot people won't do to see Janice Griffith in action.
Stay updated with Janice Griffith on Twitter: @rejaniced
Watching just one of Jessa Rhodes's many videos, you will not be hard-pressed to believe that Rhodes is a professional dancer. She got her start as a cam-girl, having turned down an offer to perform on BangBros after an agent saw her work there. A year later, she chose to, instead, star in her first adult film with Reality Kings; and ever since, she's been featured on Nubile Films, Naughty America, and Mofos, as well as several music videos and as a featured dancer all across the country. Her girl-on-girl scene are particularly stunning, sexy, and might even make you salivate.
Stay updated with Jessa Rhodes on Twitter: @MissJessaRhodes
It's a miracle! It's a real redhead in the porn industry. JoJo Kiss brings back that sexy, innocent-yet-mean girl vibe that Lindsay Lohan used to have before she became a mess... and a lot of guys have been missing that look. Seeing her on film is a quick way to get hooked on adult films, especially when you check out her amazing breasts and butt. We're willing to bet her career will send her to AVN Awards time and time again.
Stay updated with JoJo Kiss on Twitter:@missjojokiss
If you like piercings, tattoos, and an attitude, Kali Roses is exactly the porn star for you. Not only is she one of the hottest new porn stars you need to watch right now, she is bound to stay that way for a long, long time. You can find her in all her glory on Brazzers, Reality Kings, Wankz VR, and many more high-profile sites; and trust me when I say that after one look into her beautiful, doe-eyed, bedroom gaze, you will fall in love with her.
Stay updated with Kali Roses on Twitter: @kaliroses
She's got a friendly face, amazing skills on film, and she's got a beautifully youthful physique! She's Karla Kush, and she's been gaining a lot of applause for her wonderful play on film. With her adorable smile and approachable demeanor, it's easy to see why Kush is getting recognition for her work. She's a porn star that has what it takes to make it to the top, and there are a number of people who are incredibly excited to see her get there.
Stay updated with Karla Kush on Twitter: @KarlaKush420
You might already know about Kendra Sunderland; but if you don't, this bad school girl was discovered as a result of a little public indecency. Though this was the end of her time at Oregon State University, this was the welcome change she needed, coming into herself as one of the hottest new porn stars to watch right now. Slender, with curves and an eat-your-heart-out smile, Sunderland is poised to be a frequent flyer on many a hottest porn stars list.
Stay updated with Kendra Sunderland on Twitter: @KSLibraryGirl
This beautiful, ebony model has that innocent look and a svelte physique that makes you feel like she just graduated high school, but also boasts the skills that make her able to go tete-a-tete with veteran porn stars. The end result is that Kira Noir has the style and skills to make a smash hit series of any videos she stars in. If you adore slender porn stars with a cute twist, you'll definitely love what Kira Noir has to offer.
Stay updated with Kira Noir on Twitter: @thekiranoir
Kimmy Granger has an absolutely beautiful body with curves in all the right places, but that's not all she has. Her gorgeous honey-brown eyes, sweet dimples, and pouty lips make her a favorite among men who really love porn stars that have the "goody two-shoes" look down pat. With those eyes, a please-you attitude, and a great deal of enthusiasm, it is no surprise that Granger is expected to make waves in the porn industry for many more years to come.
Stay updated with Kimmy Granger on Twitter: @kimmygrangerxxx
This brunette porn star has pale blue eyes and some of the longest hair we've seen in the adult industry. In fact, it's her long, brown hair that helps her channel that 1960s "good girl" vibe that makes her so popular with viewers of all ages. Seeing Rhoades on film is a guaranteed good time, so we can totally see why she's going to stay popular for a while.
Stay updated with Lana Rhoades on Twitter:@lanarhoades
For many guys, there was a girl who looked a lot like Lyra Law in their high school—and they definitely had a crush on her. Lyra seems to be well-aware of this and uses her good looks to charm and seduce on set. That's actually what's making her such an unstoppable force in the adult film world—and that's why she won the AVN awards she did. It's safe to say that we're going to see a lot more about Lyra Law, and her sexy body, in the near future.
Stay updated with Lyra Law on Twitter:@lyralawxxx
Lucy Doll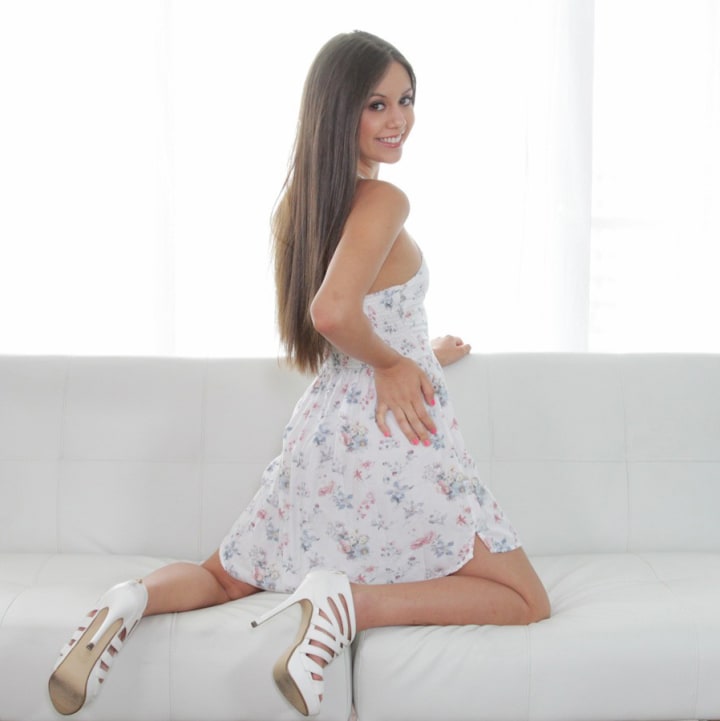 Pretty, petite, and ready to please, Lucy Doll is bound to be a mainstay on many a hottest porn star list. Her small structure is complimented by her curves, and her smile alone will leave you wanting to take her to your bedroom. Even though she's so eager to please, she's also got a little bit of an attitude, often highlighted by the Teen subset of porn that she typically stars in. Even if she starts out sour and then turns sweet by the end of her videos though, you can't help but fall in love with her.
Another seductive actress in the business, Marley Brinx will sooner have you doing her bidding rather than simply sitting back and watching porn. She's the type of performer that will have you excited to watch her films, and since she's one of the hottest porn stars you need to watch, you better believe that she delivers. Add that to the fact that she's taken home awards from AVN and XBIZ, and Brinx will soon be one of your favorite stars too—if she's not somehow already.
Stay updated with Marley Brinx on Twitter: @MarleyBrinx
If there was one girl who knows how to bring out her inner prep school teacher's pet in the dirtiest, sexiest ways possible, it's Megan Rain. She's a pro at it, and she knows how to make guys weak in the knees with a single glance on camera. It's her incredibly hot attitude, green eyes, and slender body that have gotten her so many fans, but we're willing to bet that people are going to take notice of her equally attractive personality soon enough.
Stay updated with Megan Rain on Twitter: @littlesexbuddha
Melissa Moore may be known as a Riley Reed look alike, but letting that define her is practically criminal. Getting her start back in 2015, she took home a handful of awards in 2017, and shows no signs of stopping on her way to the top of all the hottest porn star lists out there. Watching her coo is something her fans have come to love, and love to... well, you get the idea.
Stay updated with Megan Rain on Twitter: @OhMelissaMoore
Mia Malkova is no rookie when it comes to the porn industry, but that doesn't mean that she isn't one of the hottest new porn stars you need to watch. Not only did she start off strong, taking the title of Twisty's Treat of the Month in December 2012 and Twisty's Treat of the Year in 2013 as well as the AVN Award for Best New Starlet in 2014, she continues to impress fans with her sultry smile and on-screen acting ability. In fact, that exact acting ability got her a leading role in the documentary God, Sex and Truth, a huge win for adult entertainers and women everywhere.
Stay updated with Mia Malkova on Twitter: @MiaMalkova
Named a Vixen angel in April of 2019, Mia Melano is already well on her way to having a successful career in the porn industry. A true teen at 19 years old, Melano's slender, curvy body proves that the adult entertainment industry is bringing in new talent that is full of buxom women who know how to do what fans love to see. She is easily one of the hottest porn stars you need to watch, not because of her talent (although, she does certainly have that in folds), but because fans now have a rare opportunity to watch a truly new porn star's career explode.
Stay updated with Mia Melano on Twitter: @mia_melano
If you've ever watched The House Bunny, then chances are that you already understand the kind of Playboy-esque look that Naomi Woods has mastered. This curvy, wide-eyed blonde has that sorority-girl-turned-naughty look that always seems to strike a nerve with guys. Her classic good looks and her innocently seductive style virtually guarantee that she's going to continue to have a strong following for quite some time. In fact, some are even calling her the new Jenna Jameson.
Naomi also appears on the Best Premium Porn Star Snapchats and the Most Beautiful Trending Porn Stars.
Stay updated with Naomi Woods on Twitter: @lissapolooza
Though long gone are the days when Natalia Starr was working in BDSM and femdom fetish porn, her mainstream success has garnered her Hustler Honey of the Month in 2017, as well as a respectable fan base. This tall, Polish-born star seems to only be at the very beginning of her popularity, too. If you go and check out her moves on popular sites like Mofos, Digital Desires, and Brazzers, you'll be sure to see why she's one of the top porn stars in the business.
Stay updated with Natalia Starr on Twitter: @nataliaxstarr
Nia Nacci has been in the business for just about two years now, and she's already making headway as one of the hottest porn stars you need to watch by partnering with many big names in the business. She is slender and sexy, quick with a smile that lights up her eyes, and an excellent example of a success in the making. Whether she's one-on-one or working as part of a trio, fans are excited about what comes next from this new face in the industry.
Stay updated with Nia Nacci on Twitter: @NiaNaccixxx
Barbie-doll look alike Nicolette Shea is absolutely inspired, giving new breath to the porn industry and MILFs everywhere. No stranger to the lights and cameras, she was awarded Playboy's Cybergirl of the Month in 2011, but her critical acclaim came in 2017 when she was featured on Brazzers. Now that this actress is well known for her looks and appeal, there is seemingly no end in sight for this luscious beauty.
Stay updated with Nicolette Shea on Twitter: @Nicolette_Shea
Piper Perri has gotten a lot of attention for her cute pout and her ability to turn guys on with just a simple whisper, moan, or look. Her small frame and beautiful eyes make her every guy's fantasy—and that's why she's gathered so many fans in the adult industry. Fans have been regularly voting her up for awards, and it's clear to see why. Her fans are totally enamored with her platinum blonde hair and her totally seductive ways.
Piper appears on the Best Porn Stars to Follow on Twitter and the Best Porn Star Snapchat Stories to Follow.
Stay updated with Piper Perri on Twitter: @perripiper
Rebel Lynn has the body of a model, the hair of a mermaid, and the lips of a siren. Her amazingly hot scenes on film have gained her a very wide audience, particularly among guys who love slender girls with a sexy hipster twist to them. Her fan base is very much bisexual, since her lesbian scenes are undoubtedly some of the hottest ones currently being produced. Yowza!
Rebel also appears on the Cutest Porn Stars.
Stay updated with her on Twitter: @therebellynn
Riley Reid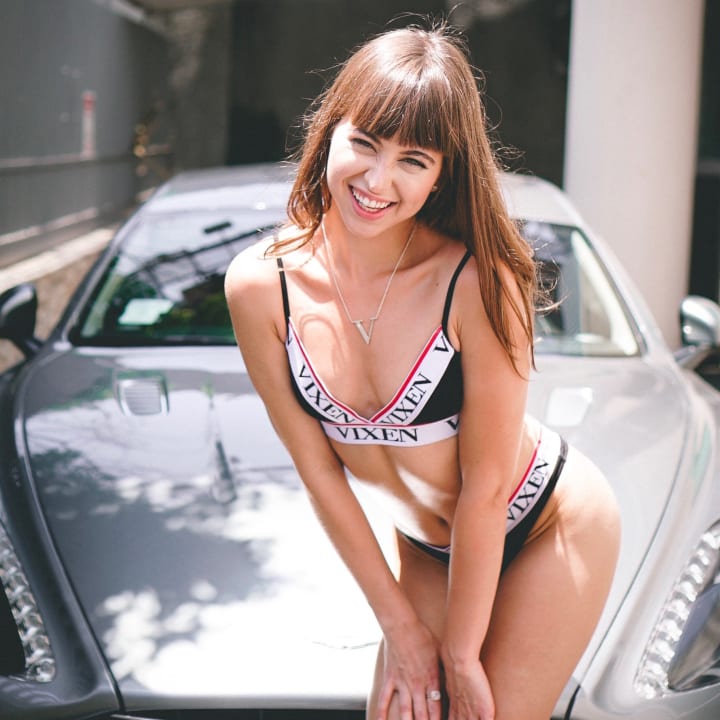 I know, I know. Riley Reid is, by no stretch of the imagination, new to the porn industry; but her success has certainly made her one of the hottest new porn stars you need to watch if you're on the lookout for legends in the porn industry. Highly celebrated by fans and award ceremonies alike, Reid has an enthusiastic and expansive approach to adult films, starring in no particular niche. It can absolutely be said that Reid, like fine wine, gets better with age, and everyone is excited about just how far her success can go.
Stay updated with Riley Reid on Twitter: @rileyreidx3
Scarlett Sage is the quintessential naughty, blonde girl—and that's what makes her so awesome. Her petite frame is one that she knows how to flaunt on video, and her acting also tends to be pretty good, too. If you love classic, American girls doing wild, nasty things on camera, you're going to love Scarlett Sage's work. She's a fun porn star to watch; and as such, deserves her up-and-coming status.
Stay updated with Scarlett Sage on Twitter: @scarlettsagex
Summer Day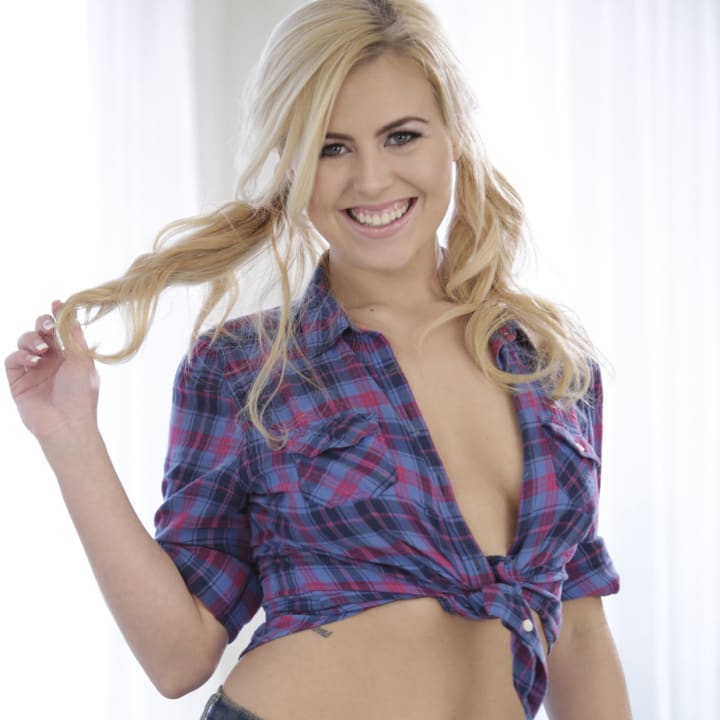 With such a cute and traditional veneer, you'd expect the porn that Summer Day makes to be very vanilla and gentle - but you'd be wrong. This "lady in the streets, freak on camera" porn star loves anal, and adores being choked. She legitimately has a lot of fun on set, and that enjoyment comes through in her films. Needless to say, she's going to be a mainstay in the porn industry soon enough thanks to her happy attitude.
Stay updated with Summer Day on Twitter: @summerdayxxx
In her first two years in porn, Sydney Cole starred in well over 70 films, and that wasn't even the height of her success. As one of the hottest porn stars in the business, you can expect for Cole to have worked for sites like Brazzers, BangBros, and Reality Kings, and you'd be right! Her angelic face quickly turns sexy at every opportunity, and watching any one of her videos will prove that this up-and-coming porn star is certainly not camera shy.
Stay updated with Sydney Cole on Twitter: @sydneycolexxx
Victoria June is another one of the hottest new porn stars who got their start in 2017, and what a year that was for fans of adult entertainment. Curvy, flirty, and a whole lot of fun, June has broken into more independent scenes as of late, but that doesn't mean that her star-power has diminished any as a result. In fact, her loyal fanbase and range of high quality films proves that she'll be a staple for many watching porn.
Stay updated with Victoria June on Twitter: @MunecaVictoria
Vienna Black's fans can tell you that she has one of the best bubble butts in the porn industry right now, and that this brunette makes sex look amazing no matter what she's doing. Her Twitter is particularly active, and occasionally has a funny joke or two. Her wit and super sexy porn scenes are, undoubtedly, going to make her a favorite porn personality sooner rather than later.
Stay updated with Vienna Black on Twitter: @itsViennaBlack
Zoe Parker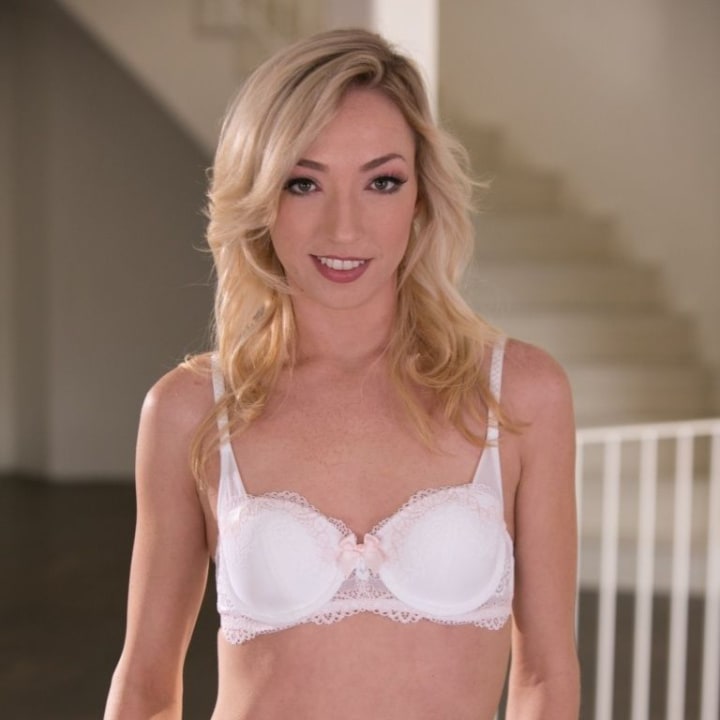 Zoe Parker has been in the running for the hottest newcomer to porn in a number of contests, and it's good to see that the AVN Awards have given her the attention she deserves. This curvy blonde babe has that winning personality, tits that are totally sexy, and a taut, round booty. Her best shots are definitely girl-girl, but you really can't go wrong with any of her work. She's sexy, she knows it, and her team-ups are often some of the hottest.
Stay updated with Zoe Parker on Twitter:@zoeparkerxxx
Zoey Foxx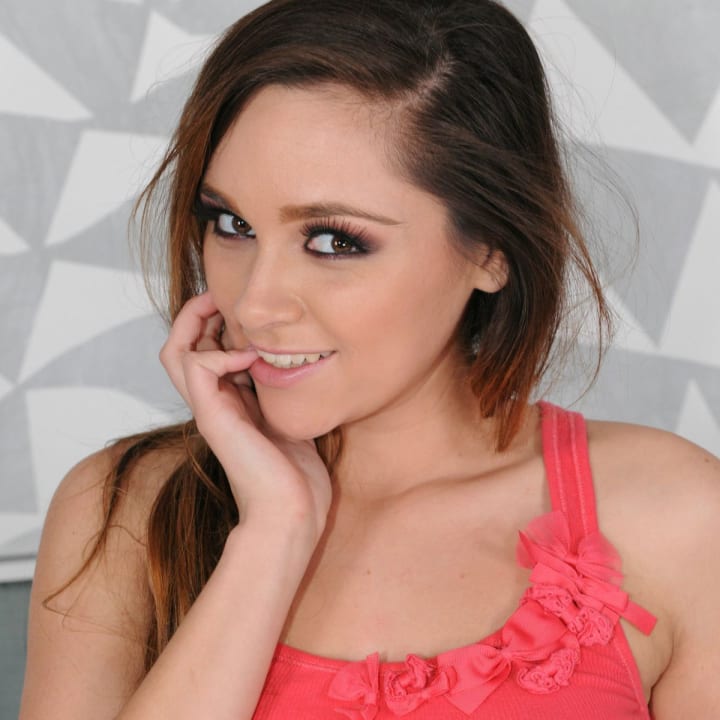 Slender and sultry, Zoey Laine is a young, Cali girl who brings that sunshine to adult films in the best possible way. As of right now, she's only got a handful of videos on mainstream sites, but we're willing to bet that that's going to change within a matter of years. She's cute, she's wild, and she knows how to pose in front of a camera. If you think about it, that's a winning combo from any of the hottest porn stars you need to watch, and Foxx just exemplifies greatness.
Stay updated with Zoey Foxx on Twitter: @Zoeyfoxx
Reader insights
Be the first to share your insights about this piece.
Add your insights