Hottest Teen Porn Stars
Once they are old enough to vote, they are old enough to be a teen porn star.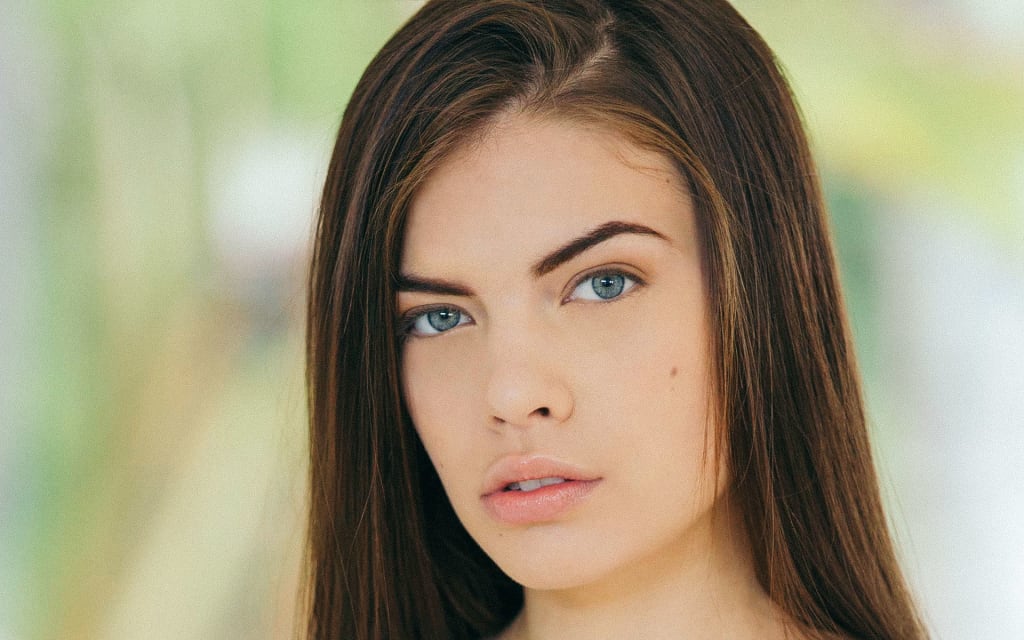 Youth will be served. Between their smooth skin, limber bodies, and all out enthusiasm, it is no wonder "Teen Porn" is the most sought out genre-specific term on the internet to date. That's right peeps, I too thought the award for most popular search would go to "Girl on Girl" or "Nastiest Gang Bangs" but nope, it's these innocent looking barely legal chicks that are taking over the adult industry at just 18 and 19-years-old. More importantly, why is it that men search teen porn almost more than any other search query.
Unlike another common query, "MILF Porn Stars," which also taps into a similar category of the "forbidden fruit fantasy," these barely legal babes possess a quality that no other adult stars or genre have and that is raw inexperience. Sure, some of these hot teens have already shot up to 200 scenes in their short career of a year or two, but compared to 2000 like some of their older porn peers, their bodies and eagerness are as fresh as you can get.
So, without further ado, here are the hottest new teen models. You better hurry up and get to porn Googling, because a few of these ladies are on the brink of turning 20 and God forbid you watch a 20-year-old having sex rather than an 18 or 19-year old teen. Oh, the disappointment!
Charity Crawford is the slender, sultry brunette that has a smile that'll melt your heart. Even though she looks totally inexperienced, you need not make any mistake about it—she's one of the most talented porn stars in the industry right now. Her long legs, sexy attitude, and gorgeously sunny skin tone can't be missed.
Charity is also known for having a pretty cool social media presence, and that means fans get to see cool outtakes of her daily life—and sneak peaks to the sexy films she makes. If that doesn't warrant a look-see, we don't know what does.
If you love girls who have an elegant, almost "Ivy League" look to them, you'll quickly understand why Anie Darling is considered one of the hottest teen mattress actress in the scene. She makes a point of making sex look classy and of wearing clothes that really flaunt her youthful, slim physique.
Fans who love petite brunettes that look like they just walked out of Prep School need to check out Anie Darling. She's the girl you always wanted to date, but had the dad that never let you go near her.
Dreamy-eyed, petite, and always sweet Alex Blake needs no introduction. She's one of the hottest teen girls stars currently working in the industry. Though viewers can recognize her thanks to her long legs, perky boobs, and epic BJ scenes, the fact is that there's more to Alex Blake than her smoking hot porn.
She's a known artist and 420 enthusiast who regularly discusses issues dealing with legalization online. When she's not modeling nude, she also loves to show her awesome fashion sense via her own selfies. You'll love her the moment you see her.
On film, Zara Brooks is one of the hottest porn stars to flaunt her booty. She's got that perfectly grabbable, epically perky booty that gets people going and an adorable face that makes her seem totally innocent—even when she's doing her thing on camera. Her skills in adult films are hard to match, making her a pretty awesome maverick in porn.
What we love most about Zara Brooks, though, is her online personality. She's an activist who speaks out against injustices she faces in society and regularly stands up for sex worker rights. It's a refreshing attitude, and it's one we love to see in people as beautiful as Zara.
Standing at only 4 foot, 9 inches tall, Briar Rose is proof that epic sexiness can come in super petite packages. Her beautiful blue eyes, perfect pink pout, slender build, and epic booty are what make her one of the cutest porn stars currently hitting the net. Every part of her looks amazing on camera, and her Boy-Girl scenes are not to be missed because of that.
When it comes to her online personality, Briar Rose has style, humor, and flair like few others do. She's a fan of synthwave-style art, humorous pics, and showing her fans the hottest clips from her upcoming work. You'll need to check her out if you love watching teen girls.
Chloe Carter is proof that you can be trending porn star while also being a smoking hot tattooed model, too. Fans who love alt girls who have that "barely legal" look can't get enough of her—and honestly, neither can we. Her long legs, curvy-but-toned figure, and sweet face makes her everyone's fantasy.
At only 19 years old, Chloe Carter is still just a teenager. Somehow, knowing that makes her even hotter, doesn't it?
Luna Rival is one of those girls who has a name that seems deceptively dark, considering how innocent, sweet, and downright kawaii she looks on camera. She's known for having an adorable face, beautiful petite breasts, and having long, lean legs that make most people feel a little hot under the collar.
Don't be fooled by the cuteness, though. She may look sweet, but she can turn up the heat—and regularly does kink on camera from time to time. Needless to say, she's the deceptive wild child we've all fantasized about at one point or another.
Let's just be real, here. Kylie Page isn't just one of the hottest young porn stars on the scene. She's one of the hottest porn stars, period. That's why she's got thousands of fans, why her blonde haired beauty has been imitated (but never duplicated), and why she's been featured on so many major names.
It's hard not to get turned on when you see Kylie Page's perfect behind on camera—or when you see those gorgeous lips doing things on video. We're major fans, and once you scope her work, you'll join that rank, too.
Jill Kassidy flaunts her piercing blue eyes and pearly white smile on camera. She's known for having a svelte yet curvy figure that gets everyone weak in the knees—all while having a face that looks downright angelic. We need not explain why this combination makes her an epic porn star, right?
The Vixen Angel has seriously devoted fans and has proven that she knows how to rock their world via her sexy videos. Her boy-girl scenes are amazing to watch, especially when it comes to BJ videos.
Scarlett Sage has done a good job of earning her reputation as one of the hottest blonde porn stars in the scene—and for her work with Vixen, too. The AVN Awards-winning and XBIZ favorite model has landed contracts with big names like Girlsway and Girlfriends Films.
She's a strictly lesbian porn star, but if you ask us, that's pretty awesome. Her girl-girl scenes are passionate, beautiful, and of course, as sensual as you can get. Her cunnilingus shots are definitely worth checking out at least once.
If you've watched porn, there's a fairly good chance that you've already seen Leah Gotti in action. Much of her fame comes from her notoriously pretty, modelesque face. Her body's known for being curvy in all the right places, and for winning awards from both XRCO and XBIZ.
Simply put, she looks beautiful regardless of what she's doing and has performance skills that earned her international fame. Her "O" face might just be one of the hottest in the industry, too. No matter what you've seen her in, it's easy to love Leah.
Though fresh-faced Kylie Quinn may be relatively new to the porn industry, but she's already been tearing up the stage and making a serious name for herself. She's worked with Reality Kings, Brazzers, POVD and Abuse Me—just to name a handful of the groups that have featured her in videos.
Her boy-girl scenes are smoking hot, and her bouncy booty is totally hypnotic. If you love petite teens with sexy high cheekbones and a bodacious bod, you'll adore what Kylie Quinn has to offer.
Zoe Wood, a Seattle native has been gracing the porn scene for over a year now. She started up the day after her legal birthday with an at-home webcam broadcasting a live feed of all her sexy moves. From there her career took off with dozens of offers and has been fulfilling the "all-natural blue-eyed brunette" teenage fantasy ever since. Her internet gallery includes everything from hot teen yoga-sex videos to hardcore group porn and would one day like to be on the other end of the camera once she fulfills all her inner teen desires.
Megan Rain lets it rain. This young girl loves when people recognize her. She openly admits her favorite place to be is in front of the camera with her clothes off. While not a big-chested woman, she uses other assets and almost freakish flexibility to perform what almost feel like martial arts of the porn industry. Born in 1996, this Gemini is an all-American, green-eyed brunette who stands at a shallow 5'1" and weighs 104 lbs. Her 32B-27-35 measurements make her the envy of most girls. A favorite of Howard Stern, she has appeared on his show for Sirius XM Radio promoting her Cherry Pimp website, MeganRain.com.
Alex Mae, oh sweet little red-headed preppy Alex Mae, is seriously the epitome of what you wouldn't expect a youthful porn star to look like. Looking more like an actress out of a Harry Potter film rather than a movie like, Little Alex Mae gets Gagged and Penetrated Hardcore, which is an actual clip she starred in. Not only is she known for being one of the sweetest looking porn starlets but also for having her first painful anal experience caught on camera (on purpose, of course). Obviously, she is not the first girl to struggle with this, but it was her dramatic performance that had viewers all riled up. Unfortunately, it is said that little Ms. 19-year-old Mae is currently out of the porn game, whether that status is permanent or not is unknown.
More than just the Irish are smiling when they watch blonde starlet Alex Grey perform sexual feats of magic. Born in 1996, this 5'3" 100 lbs. American girl has worked with production studio Bang Bros. and erotic photographer Holly Randall, daughter of famed Penthouse magazine photographer Suze Randall. While she may look like the girl next door, this elegant cutie is a hardcore vixen. Her kinky antics and sexual acrobatics keep the boys cumming. Having only begun working in 2015, she is already one of the most sought-after porn stars, especially when looking for the rough, raw, and raunchy performers.
Rebel Lynn from Denver, Colorado has been getting praise since her start in the industry just under a year ago. Her curly big hair, tiny frame, and insanely young looking body has racked up almost 100 scenes already, not to mention a few alongside another one of our mentioned teen porn stars. Rebel's fans are anxiously awaiting to see what she will do next and with a name like that, I am guessing she will not disappoint.