Most Beautiful Trending Porn Stars
Explore the most beautiful porn stars who are trending on the Internet.
How many anal sex scenes does it take for a porn star to start trending? An adult star's popularity may be quick and fleeting, but the trending porn stars on this list are sure to stand the test of time. From having thousands of Twitter followers to being the sexiest porn stars on Instagram, these women are a mixture of MILFs, the girls next door, and even tattooed beauties. But these women wouldn't rank as trending porn stars if they weren't able to keep their fans happy. Thankfully, with their constant social media connections, women like Kendra Sunderland, Mia Khalifa, and Valentina Nappi are fan favorites that maintain not only their beauty, but their trending success.
Valentina Nappi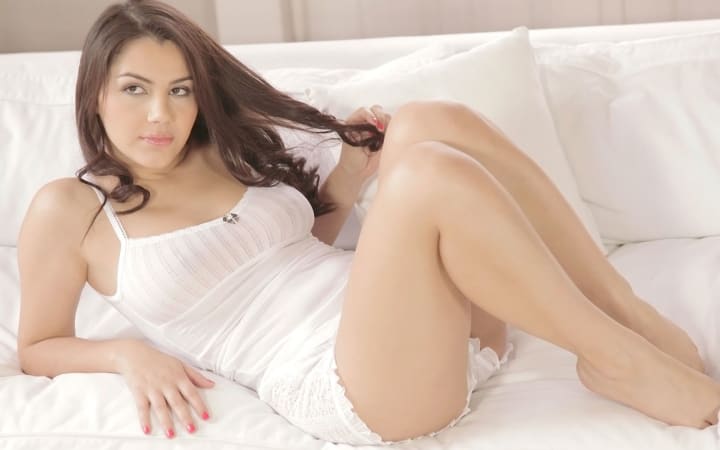 Ciao Bella! Italian porn star, Valentina Nappi not only handles big dicks but she also handles even bigger social issues. Born in Scafati, Salerno, Valentina Nappi is interested in more than just porn. Like her colleagues, Sasha Grey and Belle Knox, she has actively participated in defending the lifestyle of adult entertainers. When she is not protesting, Nappi attends philosophy festivals and writes essays about the unfair treatment of women in society. Yet despite her social work, Nappi knows how to keep her fans happy by giving them what they really want. From gritty DP videos to working with some of the cutest porn stars in the industry, Nappi has the ability to adapt to any situation. This has led to her to acquire an extremely large fan base who follow her Twitter account every day, just in the hope of seeing this sexy Italian use her hands for more than just talking.
Nikki Benz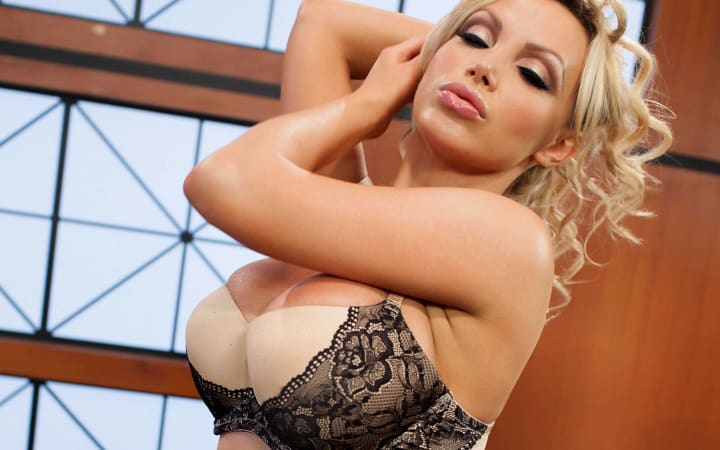 We wonder if Nikki Benz likes maple syrup on more than just her waffles. This 33-year-old Toronto native is not only incredibly beautiful, but she is also incredibly wealthy. With a net worth of one million dollars, Benz can afford to buy a dozen of her namesake cars. Yet Benz has earned every dollar she made. From being the Penthouse Pet of the Year in 2011 to performing in 217 films, Benz knows how to work her charm and business sense. But those aren't the only reasons she is one of the top porn stars. She has moved on to appearances in video games such as Saint's Row the Third, started a production firm, and ran for mayor in Toronto in 2014. Her company, Nikki Benz Inc., has made a killing producing content for internet porn giants, Brazzers. This girl brings new meaning to the phrase 'naked ambition!'
Naomi Woods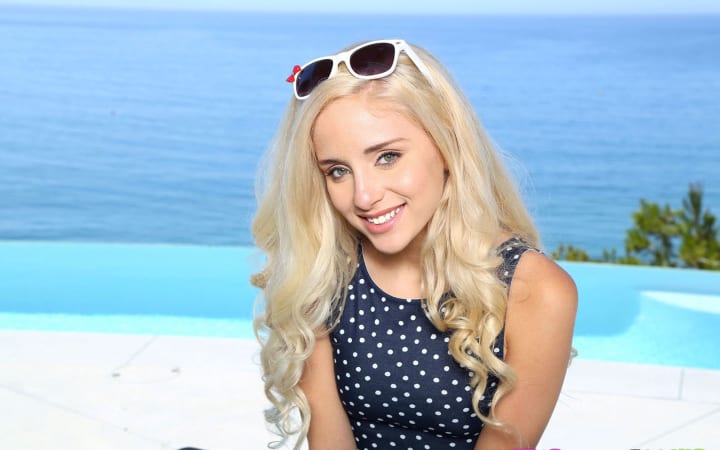 Fans of Game of Thrones might enjoy the fact that Naomi Woods is basically a doppelganger for the beautiful Daenerys Targaryen. With her white-blonde hair, dark eyebrows, and perfect body, Naomi Woods is the Mother of Dragons in the adult entertainment industry. Plus, since Emilia Clarke has signed a contract against doing more nude scenes on the HBO series, we can now look at Naomi Woods instead. As one of the most beautiful girls on our list, Woods is also one of the most generous with her fans. Her Twitter account is filled to the brim with clips from beautiful porn films, angelic selfies, and pictures of friends that will make you envious that you're not out having fun with her. Combine her looks and her charisma with her raunchy and sexy Twitter account, it's not surprise she's a fan favorite!
Jasmine James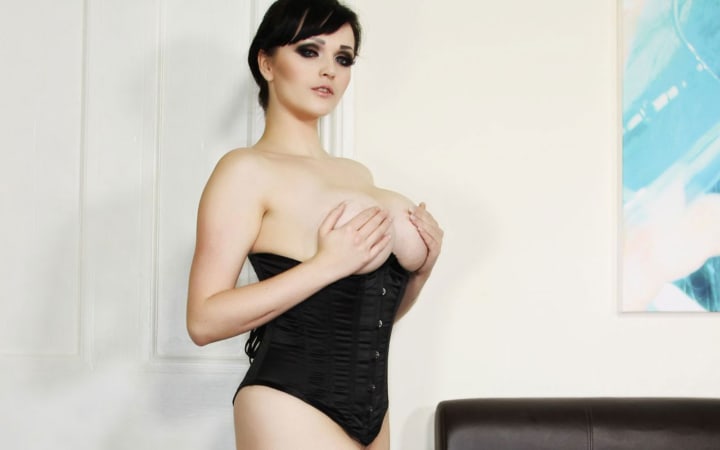 With beautiful eyes, enormous tits, and two perfect sets of lips, Jasmine James is porn royalty. Her Twitter is full of clips from her many beautiful porn films, selfies, and enough lingerie photos to put Victoria's Secret out of business. As one of the hottest European porn stars to date, Jasmine James is a role model for any beautiful girl who is looking to join the adult entertainment business in America. Plus, who doesn't love a babe with a British accent? Also, at 5'4″, she has an astonishing figure that measures at a very buxom 34EE-26-36. Complete that with piercings in her perfect nipples, her belly button, and her tongue, and you have a dangerously sexy package. With looks, charisma, and British accent, it is no wonder that she is one of the top porn stars of her time. Visiting her Instagram will not let you down as you can get a glimpse of her life, as well as her ass.
Kendra Lust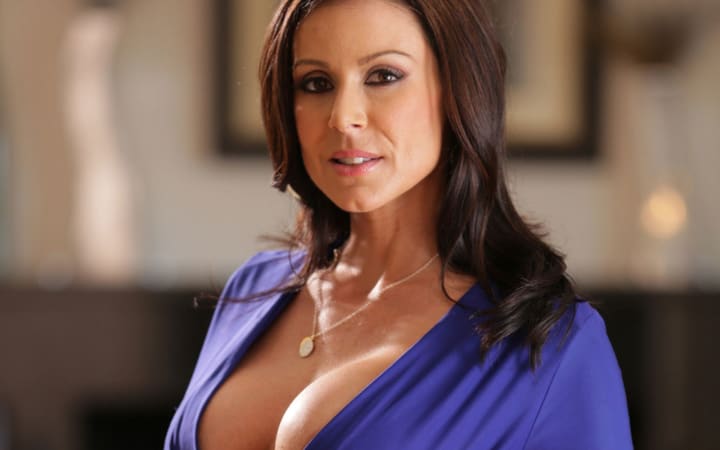 Kendra Lust hasn't been in the industry for long, but her impact has been unmistakable. In a climate where youth comes at a premium, she was over thirty when she shot her first scenes. But this beautiful woman quickly found her niche in the lucrative MILF market, and has become one of the top porn stars of the MILF genre! In three short years, this late bloomer clawed her way to the top, taking her place among the porn MILF pantheon and winning awards like the 2015 XBIZ MILF Performer of the Year and 2015 Nightmoves Best MILF Performer. And if that's not enough, she was crowned the first ever Miss Tushy 2015 due to her first ever, on-camera anal sex scene. With a name like Lust, what's not to love? If you have any sense, you already have a crush on this woman. On the off chance that you aren't drooling over her yet, follow her on her Instagram or Twitter.
Dani Daniels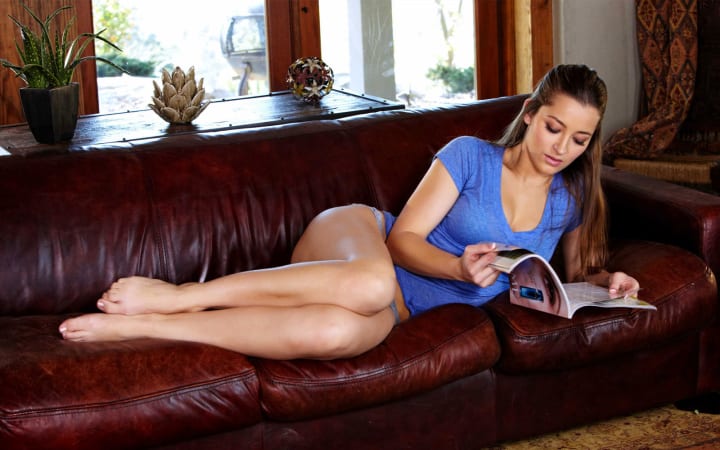 When it comes to beautiful porn films, Dani Daniels has an artistic eye. In fact, besides being one of the hottest porn stars, Daniels is also an artist. Known by the alias Pen15, Daniels combines typography with popular imagery to create stunning three-dimensional murals. Not only is her work authentic, but each piece makes you fall more in love with her than the last because the girl has great taste. While Daniels might be a pro at working a paint brush, she seems to be talented at anything that involves her hands which is crucial since Daniels was initially a lesbian-only performer. Talk about being good with her fingers! Although she has moved on to performing with male co-stars, Daniels seems to always be in charge and refuses to perform anal sex since she dislikes it in her private life. As one of the most talented and beautiful porn stars on this list, Dani Daniels is making the most out of her career!
Janice Griffith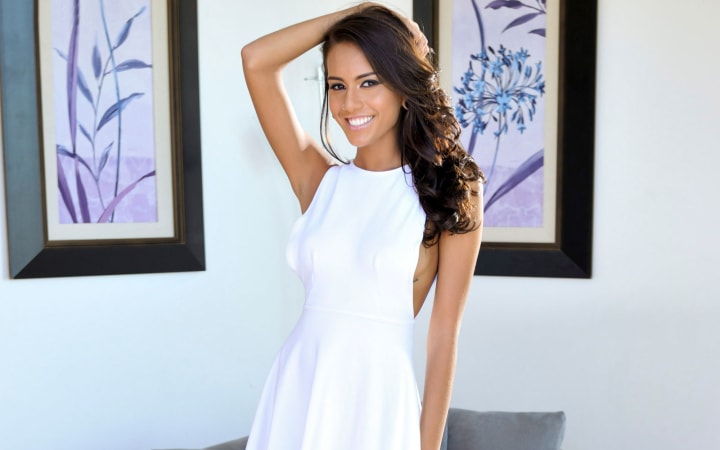 Janice Griffith is a porn starlet who is probably best known for being thrown off a roof by self-proclaimed "Instagram's Biggest Playboy" Dan Bilzerian. Although this event started as a photo shoot for Hustler, Bilzerian decided to throw her into a pool from a roof, which resulted in her breaking her foot. However, Janice Griffith didn't let this public scandal stop her from becoming one of the hottest porn stars in California, and maybe even the West coast. With a body measuring 32C-23-32, and only 86 pounds, Griffith has a big personality despite her small stature. This allowed her to pursue the opportunity to have sex with James Dean, which convinced her that having sex on camera was something she really wanted to do. Although she is one of the top porn stars of 2015, Griffith is clear on her views regarding porn. "No one is forcing it upon you to watch me have sex. It does not make me any less of a person; it does not change me, my character, my morals, none of that." Well said, Janice Griffith!
Riley Reid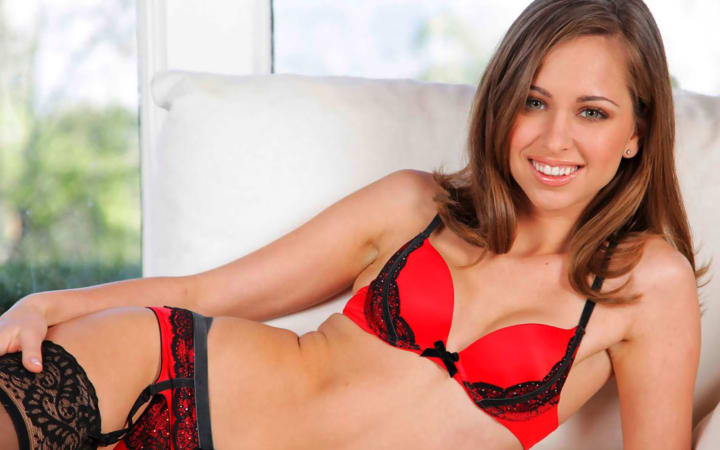 With eyes the color of kush, Riley Reid only has to flutter her eyelashes, and the men come running. Having worked as a stripper for approximately two months prior to entering the adult film industry, Riley Reid began her adult film career in 2011. From her first scene in, Brand New Faces 36: Natural Newbies Edition, to date, Reid has won the XBIZ Awards for Best New Starlet in 2013 and Female Performer of the Year in 2014. These honors have made her the first performer to ever win both awards in consecutive years. She has also won every single XBIZ Award she was nominated for in 2014. But if that wasn't enough for her fans, she shot her first anal and double penetration sex scenes. Although she is one of the top porn stars, Riley Reid was on top for years. In fact, in 2013, LA Weekly ranked her eighth on their list of "10 Porn Stars Who Could Be the Next Jenna Jameson." While we don't know if she will surpass Jenna Jameson, we wouldn't mind seeing them together to battle it out. Especially if it involves jello wrestling!
Megan Rain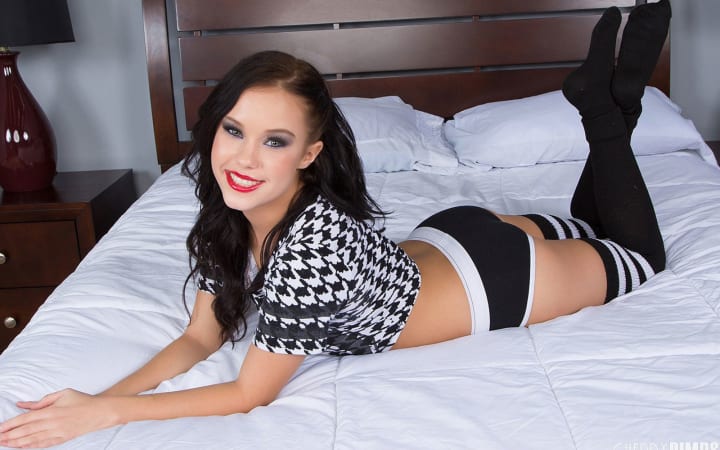 Between Kim Kardashian and Megan Rain, it's hard to tell which one has had more interracial sexual experiences. At only 19, Megan Rain has made a name for herself as being one of the hottest porn stars ever. But that's no surprise seeing how's she young, sexy, and knows how to use social media to her advantage. With over 100k fans on her Twitter, Rain engages with her fans and shows them how much she appreciates their support by showing off some of her favorite scenes from all of her beautiful porn films, and tons of risqué photos of her perfect ass. But one of the most distinguishing parts of her body is the gorgeous rose tattoo on her pelvis. For many of her fans, that rose might as well be a bullseye for the epic money shots that have made her beloved by many.
Abella Danger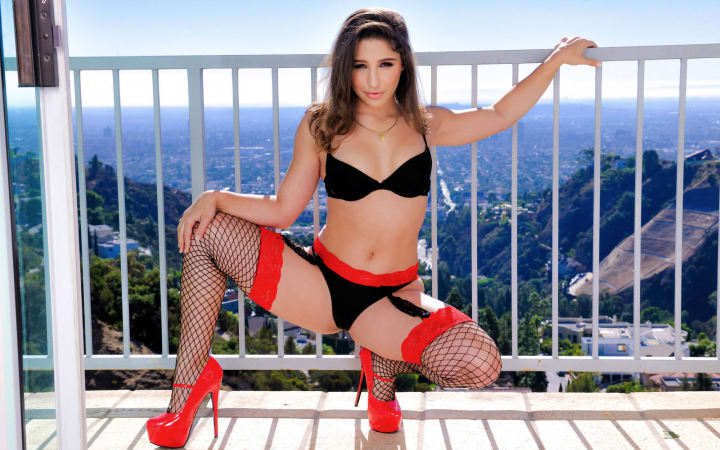 Once you go Jew, nothing else will do. Or at least, once you see Abella Danger, nobody else will compare. Not only does she have one of the nicest Jewish tuch-asses of all the porn stars, she is also one of the top anal sex performers in the industry. If that doesn't convince you that Abella Danger is someone to look out for, then this little fact might help. According to an interview, she thoroughly enjoys aggressive men and loves a man who is not afraid to put it into her ass without her permission. Plus, if she could live out one fantasy in front of the camera, it would be a 10 guy gang bang. We can only hope that this fantasy will come true soon so we could celebrate eight nights of lust with Abella Danger.
Nicole Aniston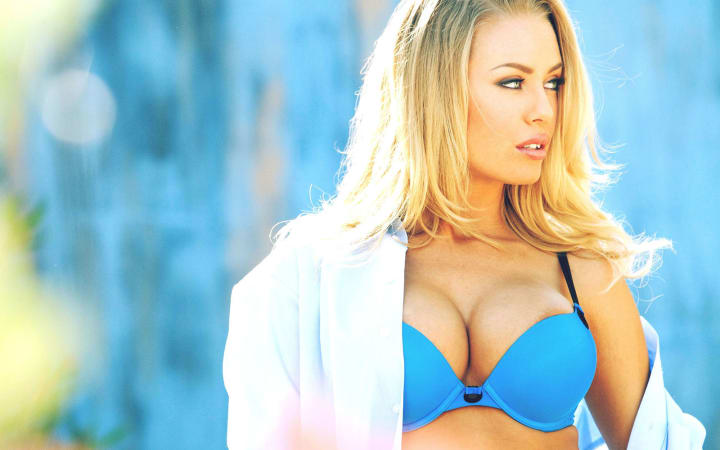 If Bob Guccione was still alive, we have a feeling that he would have liked Nicole Aniston. With her German and Greek heritage, Aniston has raised the level of requirements needed to be called a Penthouse Pet. Aniston began appearing in Penthouse in 2012 with her feature as the August 2012 Penthouse Pet of the Month. Following her pictorial, she has appeared on the magazine's website numerous times as the Babe of the Month in solo pictorials and with other models. Then, in 2013, she was selected to be the Penthouse Pet of the Year, making her one of the most beautiful girls to ever be awarded that title. Aniston has also appeared in other editions published by Penthouse, such as Penthouse Forum, Penthouse Variations, and The Girls of Penthouse, in both pictorials and as a cover model. Despite being one of the faces of Penthouse, Aniston has also been a part of over 180 beautiful porn videos since her career started in 2010. If you haven't heard of Aniston before, now is the time to learn all about her! Or at least see her naked.
Brandi Love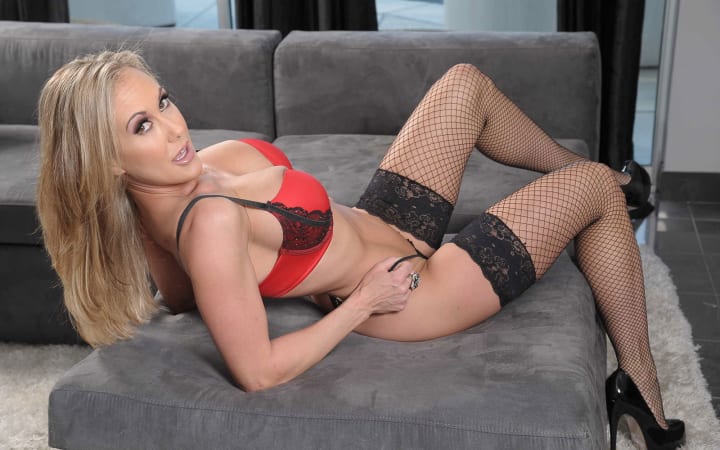 You can't have a porn stars list without including the MILF of all MILFs, Brandi Love. Known as being an adult model and one of the most beautiful porn stars, her work includes multiple titles in both the MILF category and the "hot wife" genre. True to her status as a MILF, Love founded an organization called, "Parents in Adult", an educational and legal support group for parents working in the adult industry. The organization, while no longer a growing concern, provided parenting resources and discussion groups for members of the adult industry, as well as a list of attorneys who are willing to provide legal representation. Furthermore, Brandi Love has collaborated with others to form Naked Rhino Media, a multimedia company creating porn sites that feature exclusive niche-specific content. While she is a hardworking momma, Brandi Love makes times for her fans, which makes her one of the top porn stars in the industry.
Madison Ivy
Although Madison Ivy is only 4'11", she towers over her peers in terms of success. As one of the top porn stars, Madison Ivy is fiercely loved by her fans for more than just her petite height. They also lust over her amazing figure which measures in at 34B-24-34. But don't let her pretty physique and petite stature fool you, Madison Ivy is a powerhouse and understands what it takes to make a name for herself in the adult entertainment business. Blue eyed and most of the time blond haired babe, Madison Ivy was born in 1989 in Bayern, Germany, and made her adult industry debut in 2007 when she was only 18 years old. During her first year in the adult industry, Madison featured in three adult films which fell into two niches: vignettes and hardcore. Since then, this gorgeous German has been making more men salivate than schnitzel.
Alexis Texas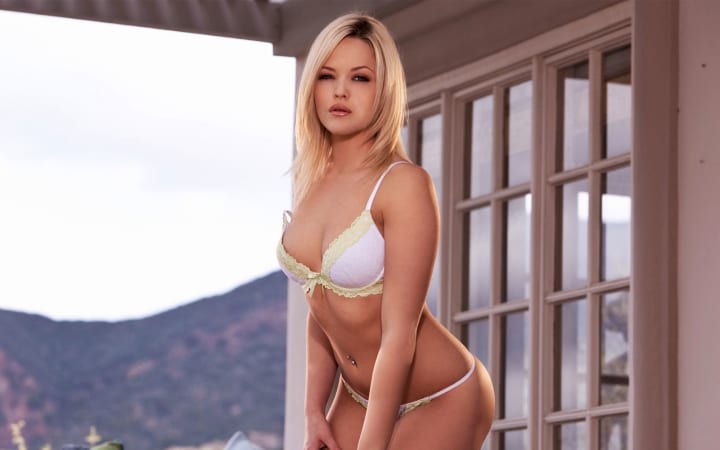 Things are bigger in the Lone Star State. Alexis Texas' ass is living proof. Throughout her porn career, Alexis Texas has won five awards for her derriere, such as Best Butt, Hottest Ass, and Favorite Ass. That being said, her big booty loving fans will testify that not only is her ass big, but it should be recognized as being the best in the business. We have a feeling that Alexis Texas would agree. In more than one interview, Alexis has been known to say, "Everything's bigger in Texas, and that's why my big bootie is soooo big." The bodaciously curvy blonde got christened as "Buttwoman" just one year into her porn career, so you can bet the bootie is all that and more, particularly as other beautiful white girls go. But in addition to her bootylicious figure, Alexis also has her own fleshlight, enjoys the little things in life, and loves to travel. While fans admire Alexis for her rear end, there are plenty of reasons why she is more than just a perfect ass. However, as one of the hottest trending porn stars, we are thankful for her perfect and big asset!
Kendra Sunderland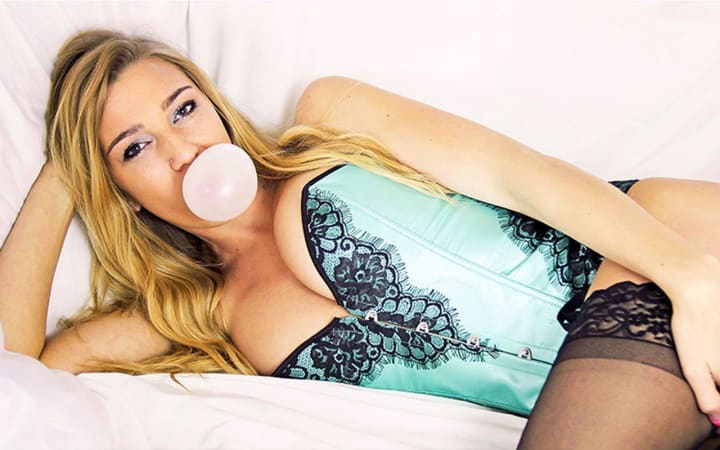 Kendra Sunderland is known for doing more than just reading Moby Dick in the library. In fact, despite being one of the top trending porn stars, Kendra Sunderland entered the adult entertainment industry by chance. As a former student at Oregon State University, she was launched into the spotlight when she filmed a MyFreeCams video in her college library. That video catapulted her into fame, which in turn lead her to be featured in both Playboy and Penthouse, two of the most well-known men's magazines. But while she received all this attention from her new fans, she has also received the same attention from the law. Sunderland was arrested following her library video and was charged with a hefty fine. But that hasn't stopped one of the most beautiful porn stars in the industry to make the best of her situation. This sexy Library Girl signed a deal with Pipedream Products to create her very own line of sex toys, which include a love doll and strokers molded of her vagina and anus. Additionally, she often posts seductive photos on her social media, so if you can't catch a cam show, you can still get a sexy strip tease.
Dillion Harper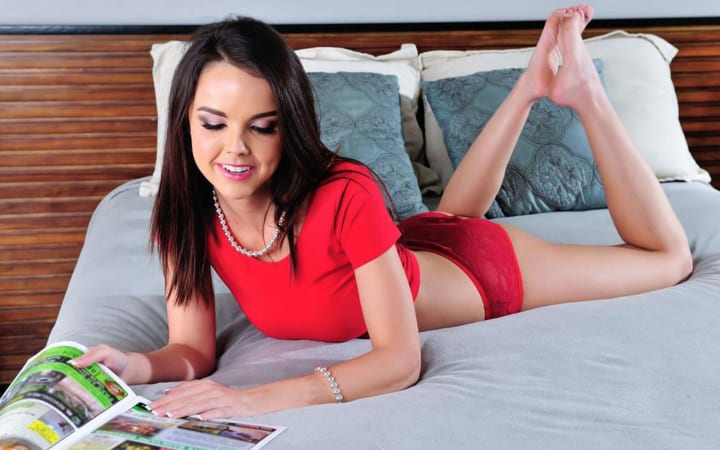 Dillion Harper may look like the girl next door, but she's got infinite more experience. Her sweet smile, combined with her voluptuous curves, make her a not only a beautiful teen but a big hit in the porn industry. Harper started in the porn industry in 2012, but prior to that, she was a webcam model. After she got recommended to shoot a film for BangBros, Harper made the switch to a full on porn star in 2012, which has led her to gain a large fan base, propelling her career to the top. Now as one of the hottest porn stars in the industry, her petite body and naturally large breasts serve as a guarantee that she won't be fading from success anytime soon. Plus with her blindingly white smile, semi-bubble butt, slim hips and perfect boobs, the cute-as-a-button Ms. Harper has a near-teen appeal that's almost dangerous. If you haven't seen any of her work yet, you're missing out on watching one of the most beautiful girls get it on.
Bonnie Rotten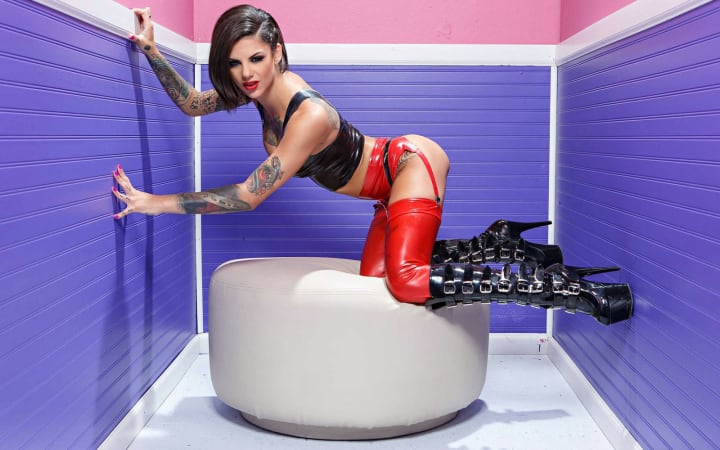 It's all fun and games until someone sticks it in your ass, then it is entertainment. Although Bonnie "Bad Girl" Rotten might not be known for being in beautiful porn videos, she is certainly known for being one of the raunchiest porn stars in the industry. That being said, Bonnie Rotten's films usually involve some of her favorite things, zombies, orgies, and tattoos. So if you're into the darker side of porn, Bonnie Rotten is the porn star for you! With 190 videos under her belt, Rotten's work seeks out fans that have an attraction to alternative models. As of June 2013, Rotten has over thirty tattoos and she has claimed that her favorite tattoo is the one on her stomach, which features a zombie from the comic book, Night of the Living Dead: The Beginning, Issue 1. In addition, Bonnie Rotten also has a spider web on each of her breasts with the areola as the center of each web. Talk about a black widow! With her combination of tattoos and enjoyment for all things dark, her uniqueness has led her to become one of the top trending porn stars, but the source of many horny men's wet dreams.
Jillian Janson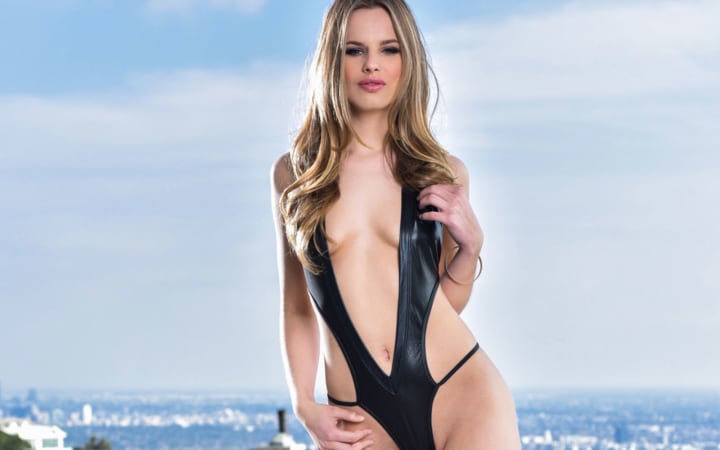 Jillian Janson may be a high school dropout, but she certainly isn't lacking in sex-ed. With the body of a beautiful teen, Jillian Janson has proved that experience doesn't always come with age. So although she dropped out of school when she was 18, she had the knowledge of how to make herself one of the hottest porn stars in the adult entertainment industry. But standing at 5'6″ with a 34C-25-38 figure, becoming known in the adult industry wasn't hard for this beautiful girl. Plus with an insatiable appetite for sex, she was perfect for the career she chose. In fact, she has admitted in interviews that she lost her virginity at the young age of thirteen, and since then claims, "Once I started, I couldn't stop!" This drive led her to shoot a very amateur video for Barely Legal, in August of 2013, just four months after she turned 18 and a month shy of starting her senior year of high school. Although she might have missed her chance to go to prom, Jillian Janson is experiencing first time experiences that many high school girls would never dream of. Before entering the porn industry, Jillian Janson said she had never been with any girls sexually or had ever done anal, but since she made her debut, things have changed for the better!
Mia Khalifa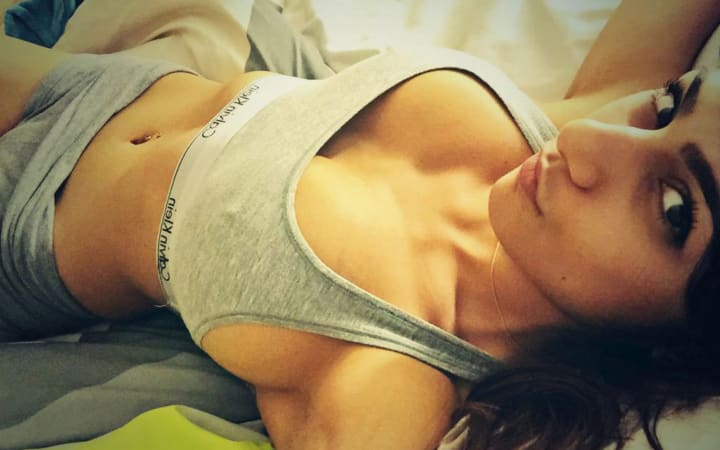 Not only is Mia Khalifa one of the most successful porn stars to ever come out of the Middle East, she constantly proves she's powerful in the porn industry! Coming to this country from Lebanon when she was seven, Mia Khalifa immersed herself in the culture. Her life was considered relatively normal until one day she was working her part-time job at a burger joint when a random customer approached her and offered her a new job. But this job was more risqué than burger flipping because the job she was offered included having sex for money. From there, Mia Khalifa was hooked and in October 2014, her career exploded. In fact, she was ranked as the number one actress on the adult website Pornhub in December 2014. With an influx of fans wanting to see more of this beautiful teen girl, Mia Khalifa also started to receive backlash, including death threats for being a Middle Eastern porn star. Thankfully, Mia Khalifa knew how to put her smarts to good use. She took to Twitter and posted, "Doesn't the Middle East have more important things to worry about besides me sucking dick? How about finding a president? Or containing ISIS?" With that being said, Mia Khalifa proved that she was not only unfazed by the haters, but she wouldn't let anyone stand in the way of her becoming of the of the hottest porn stars in the world.
Stoya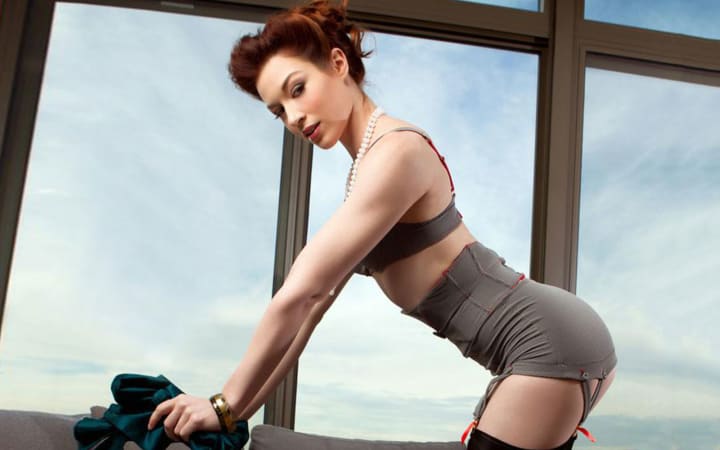 When it comes to making beautiful porn videos, Stoya is the Queen. And since she is the Queen, she has the ability to choose what video she would like to star in. According to sources, she only agrees to be in a porn video if they interest her, which means they need to have an artistic and fetish theme. While most people don't watch porn for the artistic value, fans of Stoya will swear that she creates some of the hottest porn in the entire adult entertainment industry. This being said, although this raven-haired beauty has been gracing the screen since the early 2000's, she is still a major figure in the adult entertainment industry and is currently one of the hottest porn stars of 2015. Yet, getting to be one of the top porn stars wasn't hard for Stoya. After modeling for a number of alt-erotic sites and fetish pin-ups, she was approached by Digital Playground and signed to an exclusive three-year contract. It was during her time with Digital Playground that they offered her free breast implants on a number of occasions, but she refused. Her refusal makes her naturally perky tits one of the greatest wonders of the world, and fans can only hope to see them on her Instagram one day. But when she isn't taking selfies or making dudes in leather hoods crawl around on the floor, she keeps herself busy writing for Vice, The Verge, and The New York Times.
porn star
erotic
pop culture
social media
About the author
A group of inappropriate, unconventional & disruptive professionals. Some are women, some are men, some are straight, some are gay. All are Filthy.
Reader insights
Be the first to share your insights about this piece.
Add your insights