Payyoli Chicken Fry Recipe with authentic Malabar flavours
Payyoli Chicken Fry Recipe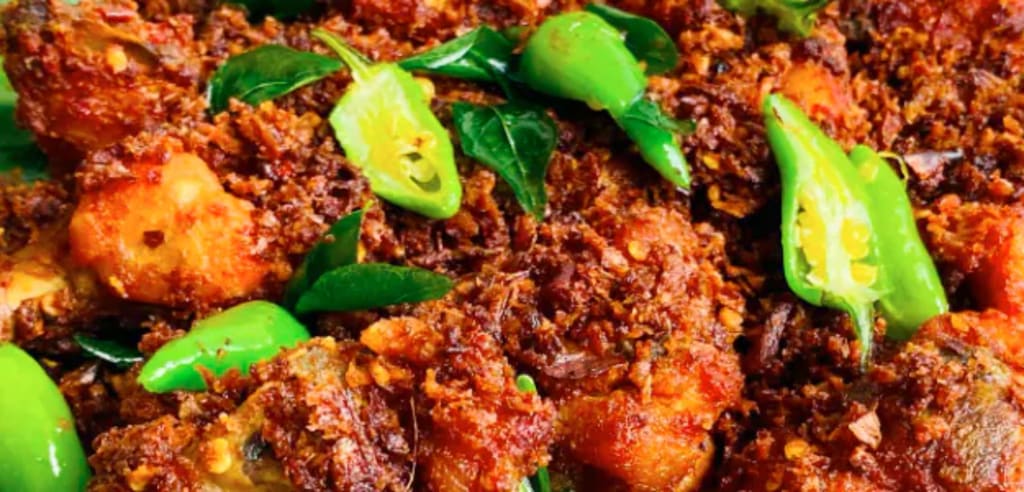 Payyoli Chicken Fry with Authentic Malabar Flavours
A simple fried chicken recipe with authentic Malabar flavours. The spiciness of the green chillies cuts perfectly through the juicy and tender chicken pieces. The coconut oil gives this dish a distinct flavour. Serve this dish as a starter for your house parties.
About Payyoli Chicken Fry Recipe
The Payyoli Chicken Fry is a classic Indian dish that has been enjoyed for centuries. The dish originated in the state of Kerala, India, where it is still a popular dish today.
The dish is made with boneless chicken pieces that are marinated in a flavorful blend of spices, then fried until golden brown. This dish has been enjoyed by generations of families and is a favorite of many.
The dish is also popular in other parts of India and is often served with a side of rice and vegetables.
Prepare Payyoli Chicken Fry Recipe (Method 1)
Cook Time 1 hr 20 mins
Prep Time 1 hr
Cook Time 20 mins
Recipe Servings 4
Easy
Ingredients of Payyoli Chicken Fry
500 Gram Chicken, cleaned and cut into 1 inch cubes
1 tsp Garlicminced
1 tsp Ginger, minced
2 tsp Kashmiri Red Chilli Powder
1/2 tsp Turmeric Powder (Haldi)
2 tbsp Vinegar1 Green Chilli, slit lengthwise
1 tbsp Meat Masala
3 tbsp Fresh Coconut, grated
to taste Salt
2 sprig Curry Leaves
3 tbsp Coconut Oil
100 ml Water
How to Make Payyoli Chicken Fry
Marinate the chicken in minced ginger and garlic, vinegar, turmeric powder, salt, meat masala powder and Kashmiri red chilli powder. Keep this for an hour.
Combine grated coconut and Kashmiri red chilli powder.
Heat coconut oil in a pan and fry the marinated chicken along with slit green chillies.
Add the red chilli-coconut mix and curry leaves to the semi-cooked chicken and fry it for a while.
Pour water and let the chicken cook till the chicken completely absorbs the water.
The Payyoli chicken fry is ready to serve!
Prepare Payyoli Chicken Fry Recipe (Method 2)
Ingredients:
• 1 kg of chicken
• 2 tablespoons of ginger-garlic paste
• 2 tablespoons of red chilli powder
• 2 tablespoons of coriander powder
• 2 tablespoons of garam masala powder
• 1 tablespoon of cumin powder
• 2 tablespoons of vinegar
• 2 tablespoons of oil
• 2 tablespoons of lemon juice
• 2 tablespoons of turmeric powder
• Salt to taste
Instructions:
In a large bowl, combine the chicken, ginger-garlic paste, red chilli powder, coriander powder, garam masala powder, cumin powder, vinegar, oil, lemon juice, turmeric powder and salt.
Mix everything together until the chicken is evenly coated.
Heat a pan over medium heat and add oil.
Once the oil is hot, add the marinated chicken and fry until they are golden brown and cooked through.
Serve hot with rice or roti. Enjoy!
Health Benefits of Payyoli Chicken Fry Recipe
1. Rich in Protein: Payyoli Chicken Fry is a great source of protein, providing about 30 grams of protein per serving. This makes it an ideal dish for those looking to increase their protein intake.
2. Promotes Bone Health: The chicken in this dish is a good source of calcium, which helps maintain strong bones and teeth.
3. Improves Digestion: The spices and herbs used in the recipe aid digestion and help prevent constipation.
4. Heart Healthy: The healthy fats present in the dish help to reduce bad cholesterol levels and maintain a healthy heart.
5. Boosts Immunity: The spices used in the recipe are rich in antioxidants, which help to boost the immune system and fight off illnesses.
Reader insights
Be the first to share your insights about this piece.
Add your insights