Evolution of the Donut
With so many options, the evolution of the donut is as diverse as the flavors themselves.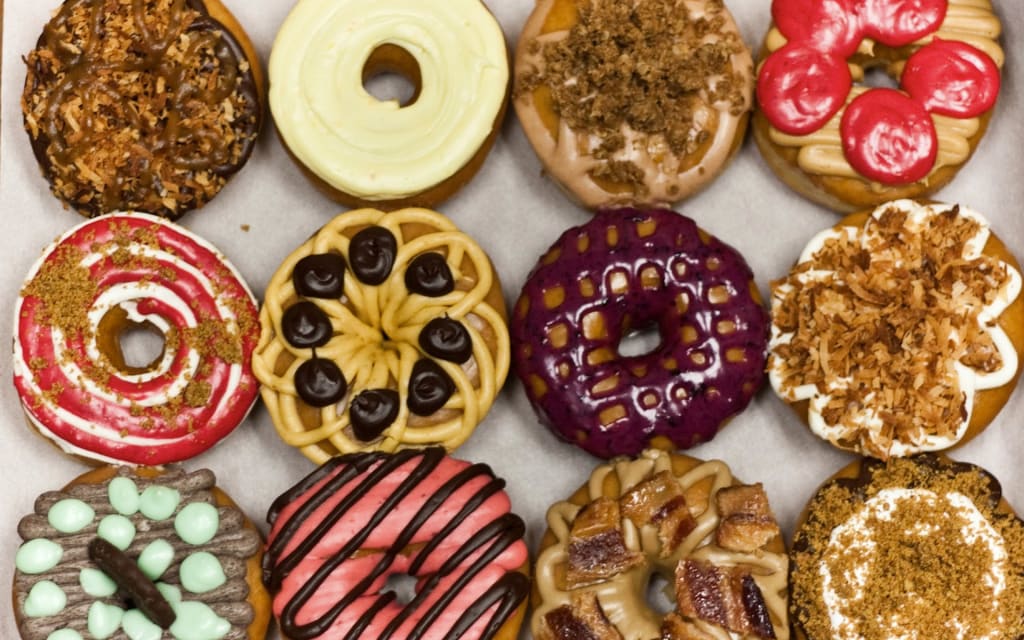 When you think of a donut, what do you think of? Glazed icing? Delicious gooeyness? If you're a huge fan of donuts, chances are that your mouth is probably watering for one right now. We've all been introduced to the tempting assortment of chocolate-covered donuts, strawberry donuts, and of course – the classic glazed donuts, but how far have donuts come? To emphasize, where do our donuts come from? In the beginning, donuts weren't exactly donuts back then, either.
For starters... they were called "Oily Cakes"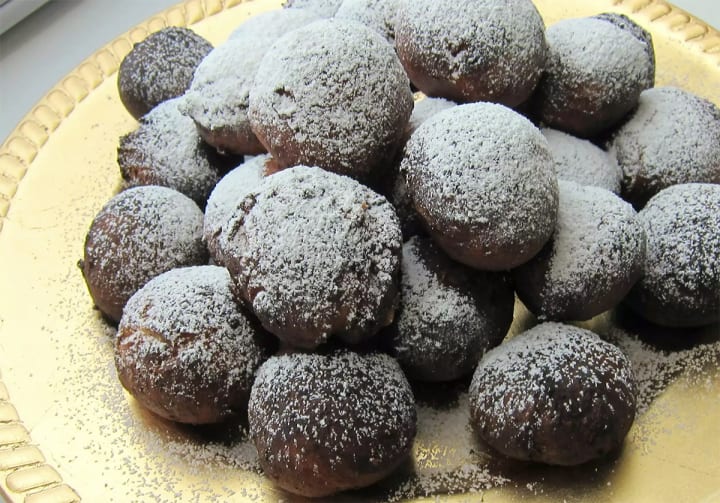 Sound appetizing? The Dutch created olykoeks, or oily cakes in Manhattan (then New Amsterdam), by frying sweet dough balls in pork fat. They were able to reap success, but there was one big problem. The center of the donut was never fully cooked. Oftentimes, the donut was served with raisins, apples and other warm toppings to fill in the unappealing gap; they had come up with a temporary solution.
The inventor of the "doughnut" is credited to a sea captain and his mother. The story may be made up, as far as historians are concerned, but Captain Hanson Crockett Gregory and Elizabeth Gregory were real people. More or less, they could've been key contributions to the evolution of the donut. Rumor has it that Elizabeth Gregory had a special name – doughnuts for her creation. Her unique olykoek, which had a hint of nutmeg and hazels or walnuts in the center, was an immediate hit. Her son, Captain Gregory, is credited with putting the hole in the donut. The story? Apparently, he had difficulty steering the ship and handling the donuts, so he stuck the pastries on the spoke of a steering wheel. And voilà– you have a donut with a hole in it.
Evolution of the Donut in World War I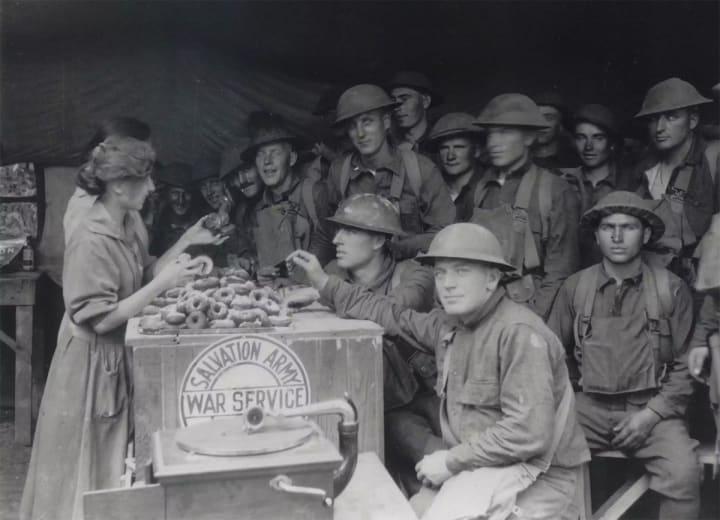 American men fighting overseas, formerly known as doughboys (the term has nothing to do with donuts), were graciously given donuts by Frenchmen. After the war, donuts had already hit superb success back home in America. They revolutionized beyond a breakfast item to a public spectacle. Eventually, the demand for these tasty treats was so high, Adolf Levitt created a donut-making machine. It's true, undoubtedly, that donuts were of an industry at this point in time.
Evolution of the Franchise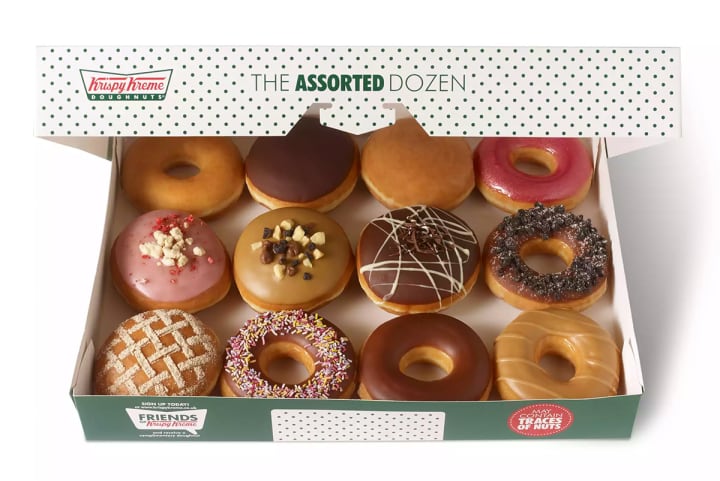 Krispy Kreme. The founder of the melt-in-your-mouth donuts. The founder of your worst temptation. The founder of hot and delicious ready-to-go breakfast, lunch and snack items. Krispy Kreme is the ultimate donut shop to go to. It's neighboring competitor, Dunkin' Donuts, didn't come around until decades later in 1950. Krispy Kreme started in 1937, coincidentally right about the time donuts had become part of the American life.
Like many would expect, Krispy Kreme's first donut was a hot glazed one – its signature treat. It's come around as an expert with its classic hot glazed items, no doubt.
Just as McDonald's had broken the barriers of simply being a burger stop, Dunkin' Donuts has become a diverse franchise. Although Dunkin' Donuts was originally made for donuts and coffee, it opened the doors for an innovative menu and all-day food items. That's why many people walk into the doors of Dunkin' Donuts, order a coffee before work, and – not to mention a breakfast item on their way out. America simply enjoys spending heaps of money on coffee, food, and donuts at Dunkin' Donuts, because – well, "America runs on Dunkin'."
More Than Just a Donut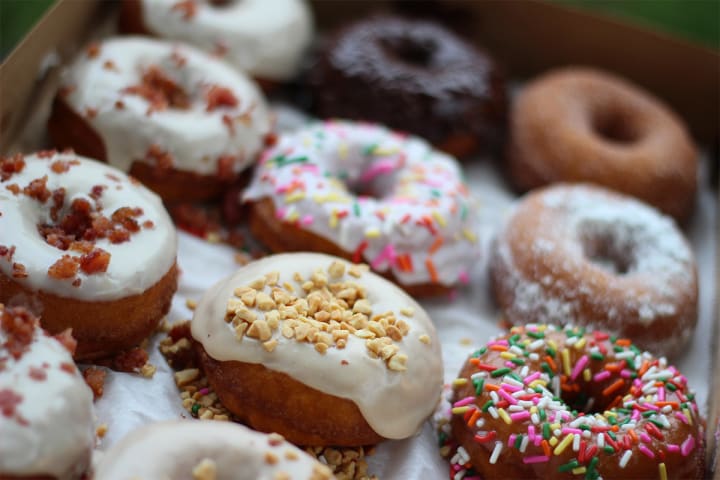 In the evolution of the donut, the donut has become more than a donut. Precisely said. Gone is the norm and the days of serving cakes fried in oil.
You have the vast assortment of donuts in a box. Let's you ordered the party option. Seeing a variety of glazed, chocolate, cinnamon, and strawberry is typical.
But, then you have the insane flavors. These aren't the typical chocolate covered or glazed donut. The bite of an insane-flavored donut is a bite with dozens of flavors attacking your taste buds all at once. A red velvet donut with gelato and icing is a merely a combination of creativity, artistic ability, and culinary power in action. A donut, sandwiching bacon, eggs, and cream, is the ultimate breakfast. And a donut sprinkled with marshmallows, graham cracker pieces and chocolate frosting? Now, that we can't ignore. This donut, with a bit of crunchiness and a hint of the typical s'more, will make anyone's day. We can't deny the fact that donuts have come a long way from being fried dough balls.
Future of America's Pastry
So, what's in the future for the donut? There's no doubt the donut will keep evolving. We see the changes, from strawberry sprinkled to cookies & cream donuts. As more gourmet and bakery shops increase, we'll see a surge of original donuts with a creative twist in them. So, go out and try something different! While I'm sure you've had every flavor Dunkin' Donuts and Krispy Kreme has to offer, head over to that new gourmet shop that just opened in your neighborhood and test out their freshly made peanut butter and bacon topped donut. Or head over to a create your own place and choose flavors that you like the best, mix and match toppings and icings, and watch as they're created before your eyes. You won't regret it.