Meal Planning
Easy 5 Ingredient Crock Pot Recipes
Low on money, time, and patience? Try some of these easy 5 ingredient crock pot recipes for a tasty "set it and forget it" dinner.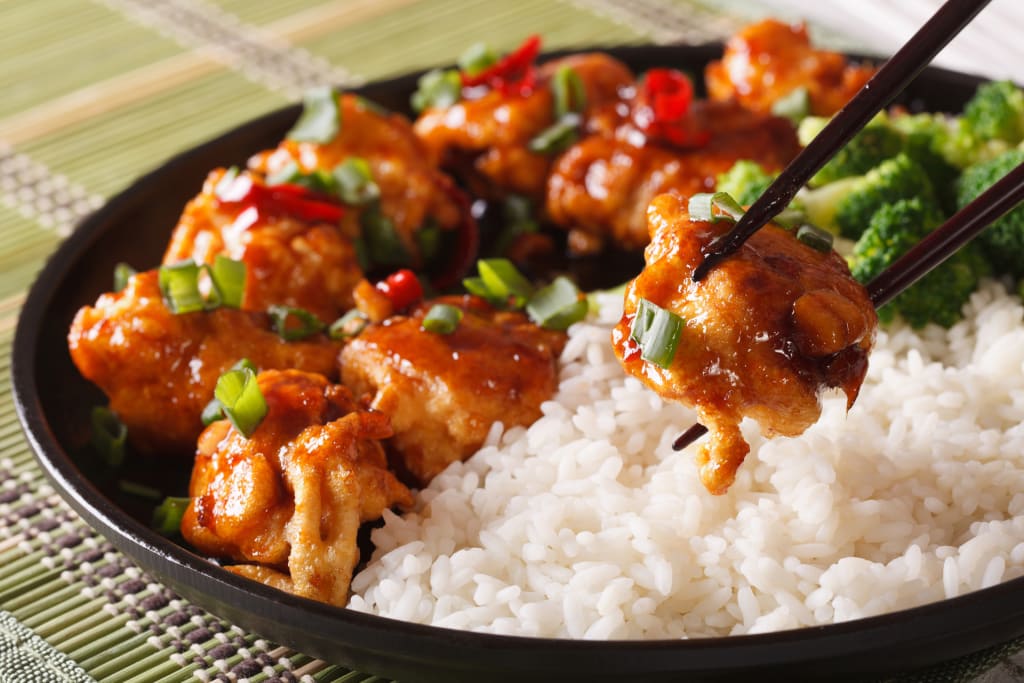 Crock pots are just amazing tools in the kitchen — and that's why I love them so much. There's literally a crock pot recipe for every food palate and every lifestyle, especially when it comes to lifestyles involving tons of work outside the house.
For people who are constantly on the go, investing ina slow cooker for your kitchen is crucial. It will make your life a million times easier.
One thing I absolutely enjoy about crock pots is the fact that you can make really amazing dishes with only a handful of ingredients. The following super easy 5 ingredient crock pot recipes prove how useful slow cookers really are, and make for an amazing dinner every single night.
Roasted Vegetables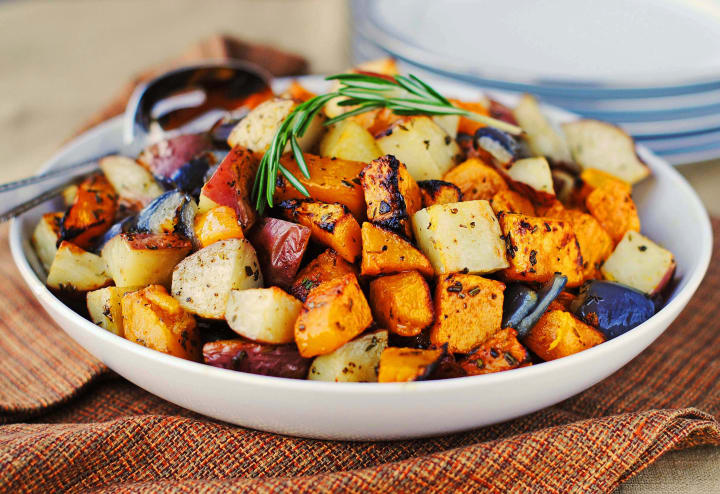 There are very few things that are quite as satisfying and as dinner party-friendly as a nice, large bowl of roasted vegetables. This vegetarian-friendly recipe will melt in your mouth when placed on top of rice, and also works as a perfect side dish for a turkey dinner.
Of all the easy 5 ingredient crock pot recipes out there, this one might be one of the best to try if you're trying to lose weight. That's why we're suggesting it for people who really want to get a better dietary punch from their slow cookers.
Want to give roasted veggies a go? This recipe for Roasted Vegetables will be sure to please.
BBQ Ranch Pork Chops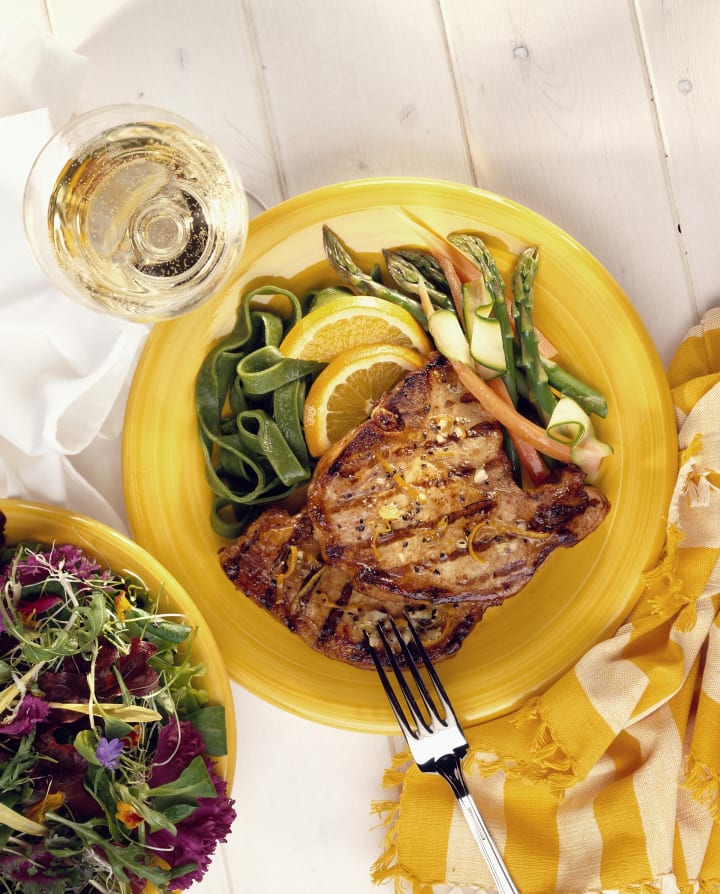 Not all of easy 5 ingredient crock pot recipes are waistline friendly. In fact, some of them are downright decadent when it comes to the sheer caloric cost. Such is the case with any meat that's done in "BBQ Ranch" style.
That being said, this recipe for BBQ Ranch Pork Chops is worth every calorie you take in. These pork chops are tangy, smoky, mildly spicy, and incredibly juicy, and make for an absolutely perfect game night dinner.
You might notice that this recipe only contains four ingredients. The fifth ingredient is our own suggestion: precooked rice as a side dish.
Baby Back Ribs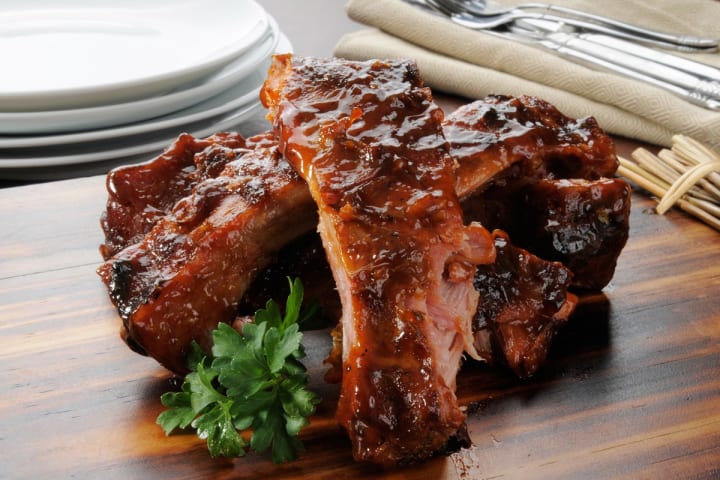 Chili's isn't the only place to find amazingly tasty baby back ribs. Believe it or not, one of the best recipes for easy baby back ribs we've seen in a while can be done in a slow cooker — and also happens to be one of the many easy 5 ingredient crock pot recipes that can be left undisturbed for as much as 10 hours.
Low and slow is the name of the game when you want to have meaty, savory, and delightfully smoky baby back ribs. This recipe for Slow Cooker Baby Back Ribs shows you how to get a delicious rib dinner without having to fire up the grill.
From what we've gleaned, the paprika actually works to soften and tenderize the meat. We're in love with the smoky flavor, and you will be too, once you've given it a try.
Salsa Verde Chicken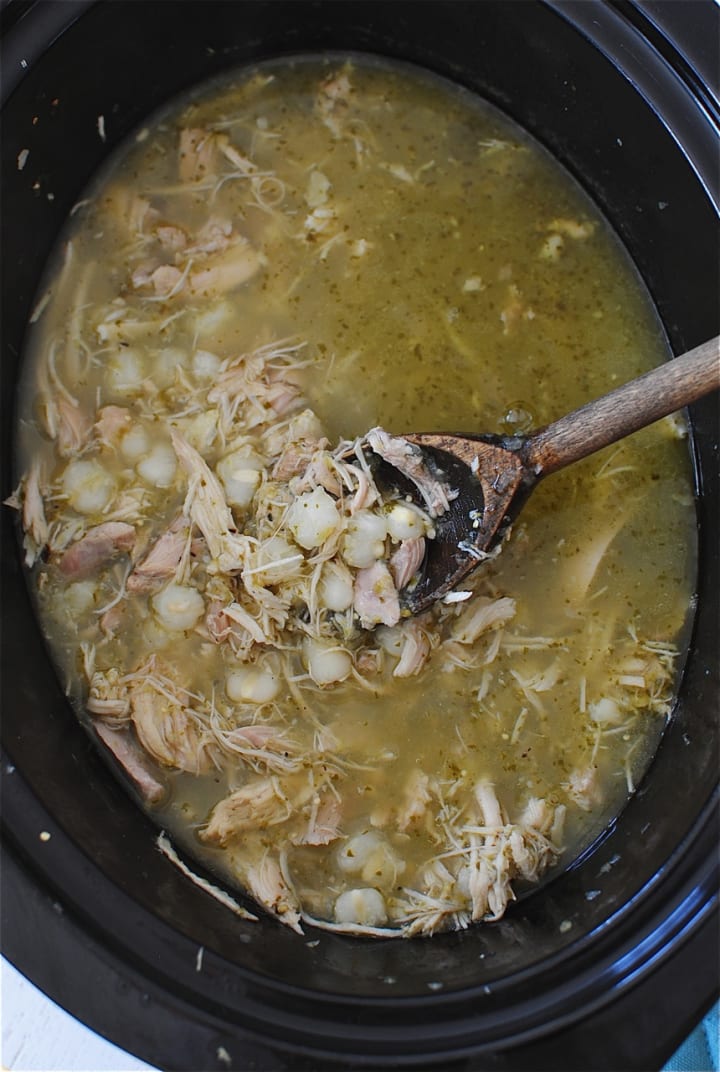 If there's one incredibly popular trend in the world of crock pot recipes, it's salsa-infused chicken and steak dishes. It's easy to see why. Salsa offers a lot of spice, and also makes meats more savory thanks to the acids in the sauce.
This recipe for Salsa Verde Chicken gives you an amazingly spicy and juicy taco filling and offers that same mouthwatering smell you'd expect from your favorite food truck. Best of all? Easy 5 ingredient crock pot recipes like this give you enough food for an entire party crew to enjoy.
Ham and Pinto Bean Soup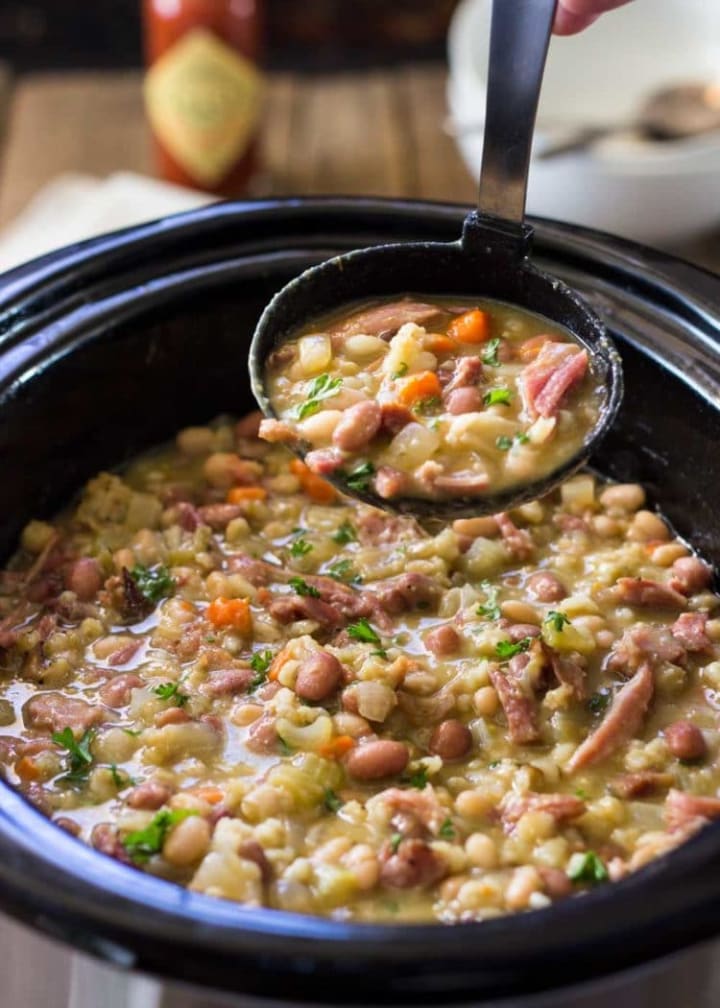 Comfort food often takes the shape of something that we really enjoy eating when we're happy. Usually, it may be something homey, such as BBQ ribs or your favorite taco recipe. Other times, though, you really can't beat a nice, warm bowl of soup.
This easy recipe for Ham and Pinto Bean Soup is an amazing choice on a blisteringly cold day. It's warming, satisfying, and surprisingly healthy. Of all the easy 5 ingredient recipes on this list, this soup might be the best choice if you're not feeling winter and want a warm hug in the form of food.
Easy Cheesy BBQ Chicken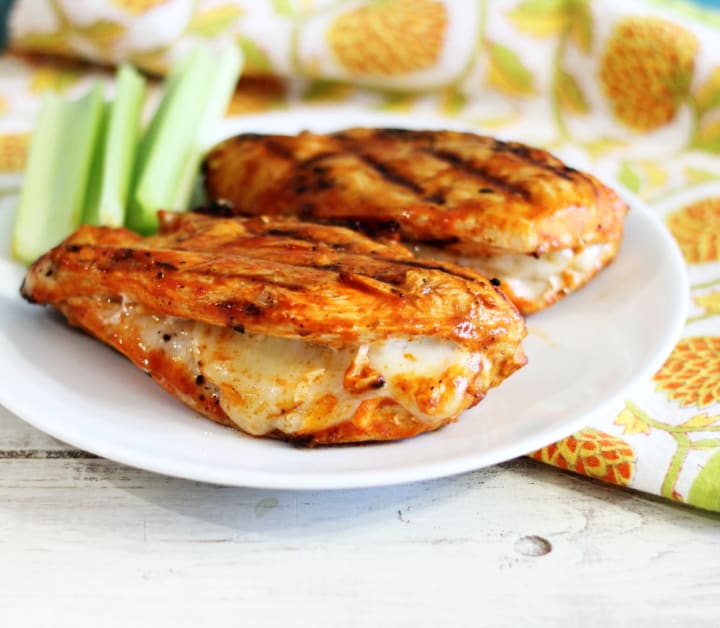 If you're looking for easy 5 ingredient crock pot recipes for your next sports watching party, then you're in luck. The article you're reading has a ton of them — and one of the best ones for that particular purpose is this recipe for Easy Cheesy BBQ Chicken.
This delicious recipe combines all the elements of a great football game dinner: cheese, BBQ sauce, and juicy chicken. You literally can't go wrong with those ingredients. Expect to have this become a family favorite for every single time you want to celebrate the big game.
General Tso's Chicken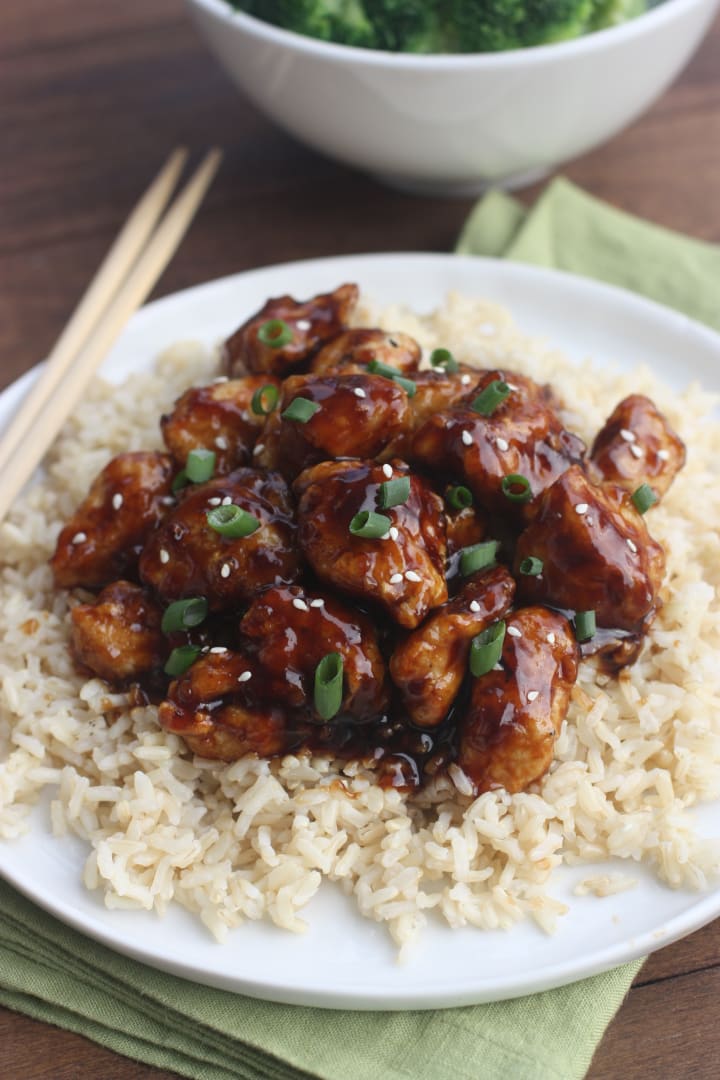 We've all been there before. We've all gotten that craving for the buttery, citrusy, and spicy goodness that is General Tso's Chicken. Unfortunately, most Chinese takeout restaurants will make batches that are both pretty bad for both your waistline and wallet — and not all of takeout places will even be open at 2 AM, anyway.
That's why we were so relieved to find this healthy, diet-friendly (ish) recipe for General Tso's Chicken. Who would have thought that easy 5 ingredient crock pot recipes could actually cut down that midnight takeout budget, too?
Java Beef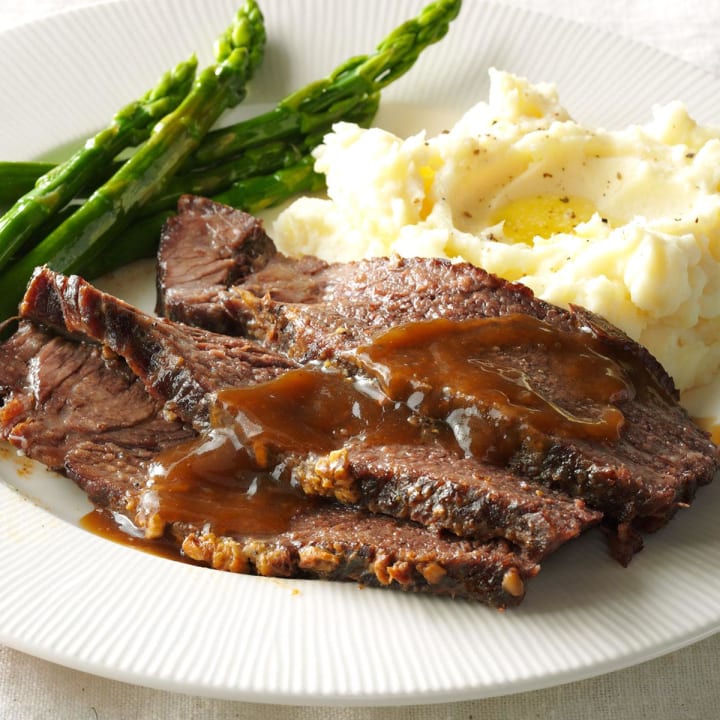 Roast beef is one of the hardest things to cook properly, especially if you try to do it the traditional route. However, there are some pretty easy 5 ingredient crock pot recipes that make cooking this tough cut of meat a cinch.
We liked this recipe for Java Beef so much, we're considering it a five-ingredient recipe — because, let's face it, salt and water should be at home regardless of how desolate your pantry is. The coffee in the recipe gives the gravy a smoky taste, and also works to tenderize it.
Overall, it's a juicy, tasty dinner that works really well as a weeknight dish. We can't hate!
Hula Luau Chicken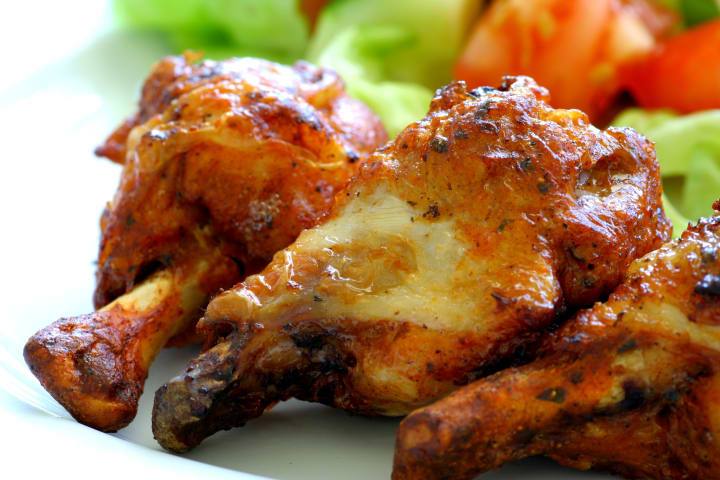 If you love General Tso's Chicken but don't really feel like having Chinese, this tangy and citrusy treat is a perfect choice. This recipe gives your family the savory and fruity taste of classic Hawaiian cuisine and makes for a perfect luau night.
Fans who love easy 5 ingredient crock pot recipes with that island twist will get obsessed with this juicy Hula Luau Chicken recipe. Our suggestion for luau newbies is to pair this dinner with a mai tai for the ultimate luau-ready night in.