10 Top-Rated Cast Iron Cookware Sets
Looking for the best cookware to prevent food from sticking and burning? These are the top-rated cast iron cookware sets you need to buy for your kitchen.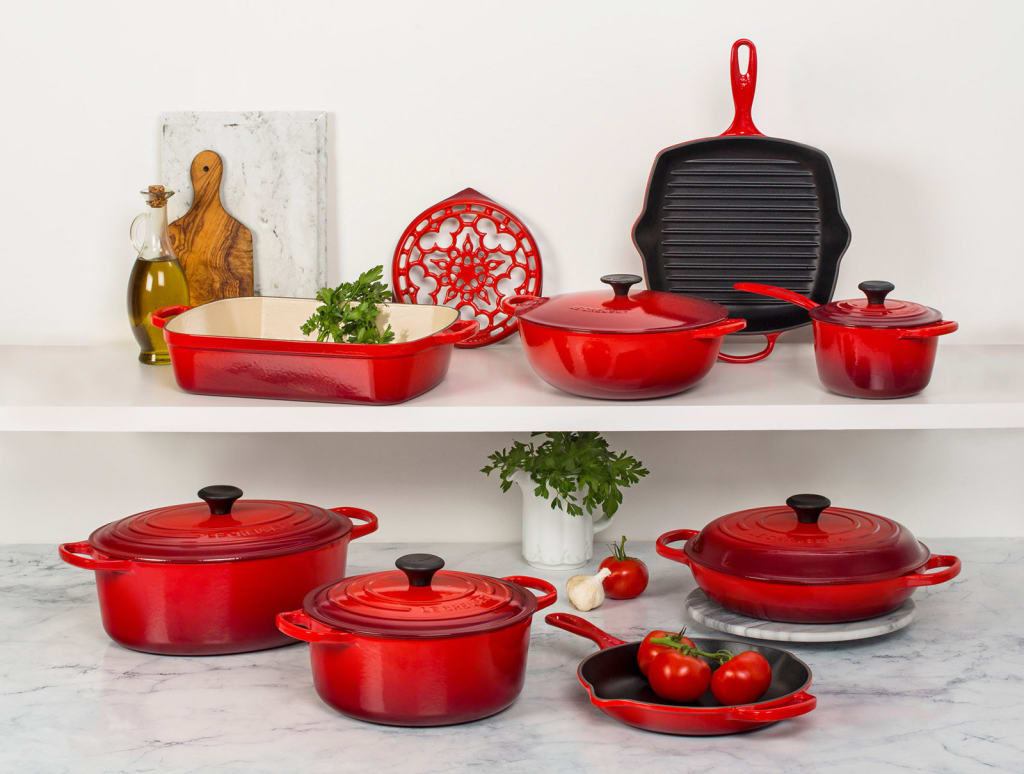 There are a ton of benefits that come with using cast iron as your cookware. I personally have a cast iron cookware set and I've never been more pleased than to have made the switch. If they're seasoned properly and often, the food I cook doesn't stick to the pots and pans, and it prevents food from burning, too! Cooking certain foods is much easier when I'm using my cast iron set—especially for dinner parties. I'm all about presentations for my dinner parties, or even when a guest is coming over for dinner. I want everything to be cooked precisely and not burnt.
This is why every household should own one cast iron cookware set. The set can do wonders for your meals, and keeping them in tip-top shape will benefit your every use. In addition, it's not difficult to properly wash your cast iron and season them. If you're searching for high-quality cookware that is super durable, these are the most top-rated cast iron cookware sets you need in your kitchen.
Le Creuset is an amazing cookware company that produces only the best cookware and appliances—they even make a ton of great accessories every baker needs in their kitchen! Their five-star Signature Set in Marseille is loved by so many people for how durable and hefty they are. Since they're pretty sturdy, the appliances allow the food to cook evenly. Le Creuset's set is so stunning that we sometimes forget that it's cast iron!
"Love the color of my Marseille pots. They are heavy, but cook evenly, and are fairly easy to clean," Jason said in customer review.
This beautiful, turquoise set features a long-lasting exterior enamel which prevents the pieces from chipping and cracking after using any of them for a long period of time. The large handles on the pieces offer the best support and grip that you need when carrying food from the stove or oven and onto the table. A cast iron cookware set this colorful definitely gives more character to the kitchen.
Cast iron sets are known to prevent sticking, and this four and a half star one is certainly among the top-rated cast iron cookware sets because the 85 percent star-rating customer reviewers loved the sets' performance. I've gone through so many pans that ended up ruined because bits and pieces of food continuously stuck to their surfaces. I had to forcefully scrape the bottoms of those pans and I eventually ruined them. You won't deal with any of that when you have Lodge's cast iron cookware set.
"The are two perfect sizes! Super quality, made in the USA, that's always a plus! Should have bought them years ago!" Arrow said in a customer review.
This set shows that good seasoning does make a difference since they season their cookware with 100 percent vegetable oil. There aren't any synthetic coatings or chemicals and the more you use it, the better the seasoning will get! You can bake, broil, fry, roast, grill, sear, and so much more since this set offers unparalleled heat retention.
There's no such thing as having too many skillets! If you're whipping up food for everyone, the more skillets, the better. We all should have extra cast iron pans on us because we'll never know when we'll make a lot of food all at once. Cast iron is the ideal material to help you make the best foods, too.
Crucible Cookware's four-star skillets work amazingly for any form of cooking. The set is very durable when it comes to different types of heat sources like electric, gas, glass, etc. This cast iron cookware set comes with silicone hot handle holders that can protect your hands from the intense heat after removing it from the oven or off of the stove. You don't even have to use oven mitts to handle these skillets!
"Great skillet & it comes w/necessary tools for cleaning, as well as silicone covers for handles. An excellent value for the price. Easy care instructions are very helpful!" Christinap mentioned in customer review.
Some of us aren't interested in the fancy cast iron sets, but a set that we know we can rely on for a long, long time. Since cast iron is a heavy and strong material, we expect all of our cast iron cookware sets to be that way. Simple Chef's four and a half-star cast iron skillets are timeless in the kitchen and are virtually indestructible—they will last you years. I don't know about you, but seeing "indestructible" already sold me on these.
"Fantastic. I'm very surprised that this was so reasonably priced. High quality. Seasoned easily. Very happy!" Rachael K Benion said in customer review.
You can actually use the skillets straight out of the box since they're factory pre-seasoned. That pre-seasoning is much more effective than seasoning at home. These skillets are non-stick, very easy to clean, protected from scratches, and your food will taste richer whenever using these! It's no wonder Simple Chef's skillets are among the top-rated cast iron cookware sets to use for any cooking method.
All of us are looking for the most durable cast iron sets that won't ruin easily after using them more than a couple of times. There are certain cast iron appliances out there that actually ruin even if we season them properly. However, Ozark Trail's four-star skillets are made with top-quality, already seasoned cast iron that can last for generations!
"These cast iron skillets are the real deal! The person that had the issue with them probably didn't rub them before use. I've used all 3 of them and they did a fantastic job! These will without a doubt last for generations," soulman1971 said in customer review.
This set is excellent for doing anything like searing or frying. You can also use all of the skillets at once, cooking something small in the smaller size while whipping up dinner in their largest skillet. All of their skillets are pre-seasoned with natural plant oil.
If you are interested in the fancy cast iron sets, then you definitely have to check out Cook's Essentials' four-star cookware set. This great-looking set is fully constructed from cast iron and can tie together your kitchen's theme of having colorful cookware! Even though this set looks decorative, it performs perfectly when cooking food for a dinner party.
"They are beautiful cookware! Even more important is they are the easiest cookware I've owned to clean. I hand wash and they dry with a towel very easily. Thrilled with purchase!" METG said is customer review.
This seven-piece set is one of the top-rated cast iron cookware sets that features a gradient color scheme that adds that high-end aspect to your kitchen. It's heat-safe to 500 degrees Fahrenheit and the cast iron set even comes with two silicone trivets to place under the hot pots or skillet when serving.
The Pioneer Woman's four and a half-star cookware set is among the top-rated cast iron cookware sets because of the amount it offers at an amazing price. When we have guests over for dinner, we're going to want to cook a lot all at once so everything stays hot when served. That's why this cast iron set provides you with the tools you need to whip up a massive dinner!
The Pioneer Woman's set comes with four pots and two pans to offer you the best assistance whenever cooking a large quantity. They're all very durable and will last for a long time when properly seasoned often.
"This is not just another cheap item toutes by a Food Network celebrity, this is the real deal. We have thoroughly enjoyed this set!" Philip Anderson said in customer review.
Cast iron cooking sets aren't used for just indoor cooking, but outdoor, too! During the summer, most of us want to grill on the barbecue but hate when the food gets stuck on the grill. Instead, Outdoor Gourmet has the ideal cast iron cookware set that's perfect to use for all of your outdoor grillings! This four and a half-star set is definitely one of the top-rated cast iron cookware sets because it can withstand outdoor grilling and barbecuing!
"A great set for home cooking as well as outdoors. The frying pans have been amazing with home fries and chicken fried steak. The griddle does well with pancakes and bacon and anything we throw at it," Lisa Fisk mentioned in customer review.
This set can also satisfy your camp cooking needs as it includes everything that you need. You can easily grill chicken, burgers, hot dogs, and anything else and none of the food will burn or get stuck onto any of their surfaces. Don't forget to pair this cast iron set with the best grilling gear available while you're at it.
Baking in cast iron cookware makes it an easier process because nothing gets stuck in the pan! If you hate the current tray or pan that you use to bake cakes or sweets, Stansport's four and a half-star cast iron set can be your best purchase if you're constantly baking anything. Sweets are supposed to be baked to perfection without getting ruined when removing them from the pan.
This cast iron cookware set can be used for not only cooking, but baking, as well! You can bake cakes, biscuits, and breads by using this set to prevent what your baking messes up. In addition, this set keeps food warmer much longer compared to any ordinary pots and pans. Cleaning and seasoning your set is a breeze without the hassle of scrubbing of leftover food and bits from the surfaces.
"Great pieces, hold heat great, great great great. Can't beat what you get for the price!" Kayla Hamilton said in customer review.
Lastly, the four and a half-star 11-Piece Cook Box Set by Royal Dutch Cast Iron 1815 is among the top-rated cast iron cookware sets because of its durability and ability to prevent ruining your food. If you're obsessed with cast iron cookware sets, then this one should certainly be part of your collection.
For starters, the set comes with a heavy-duty crafted wooden box that can store all of your cast iron pieces. The cookware set is constructed from top-quality cast iron that provides an excellent cooking experience whenever using it. It's perfect for open-fire cooking and can also be used for baking and grilling outdoors.
"Wonderful set. Food truly tastes better cooked in cast iron. I slow cook in the dutch oven all the time. Great set!" Dennis G. Defayette said in customer review.