How to Wash a Cast Iron Pan
Find it extremely difficult and tiring to completely scrub your iron pan clean? See how to accurately wash a cast iron pan without straining yourself!
Whenever I use my cast iron pan to whip up a meal, my pan always looks like it was in the middle of an explosion. The food will get stuck in the iron pan and it's almost always a struggle to completely clean it. Even though I usually stick to my cast iron pan for certain meals—it's an absolutely essential tool for cooking a perfect steak—I have always dreaded washing it. I've actually ruined a few iron pans in the past because I didn't know how to properly wash them. There are cleaning tips available for other types of pans, like how to revive burnt teflon pans, but cast iron is notoriously difficult to care for. My own mom even refused to tell me how because she wanted me to figure out issues like these on my own...
I complained to the point where my husband had enough of me and decided to search up ways to properly wash a cast iron pan. While I was using the method that he found, I was baffled by how easy and effective it was. The food residue came right off! If you're looking for the easiest and most effective way to clean your cast iron pan, then follow these really simple steps—we promise it's one of the kitchen hacks that will actually change your life.
Right after using it, clean the pan.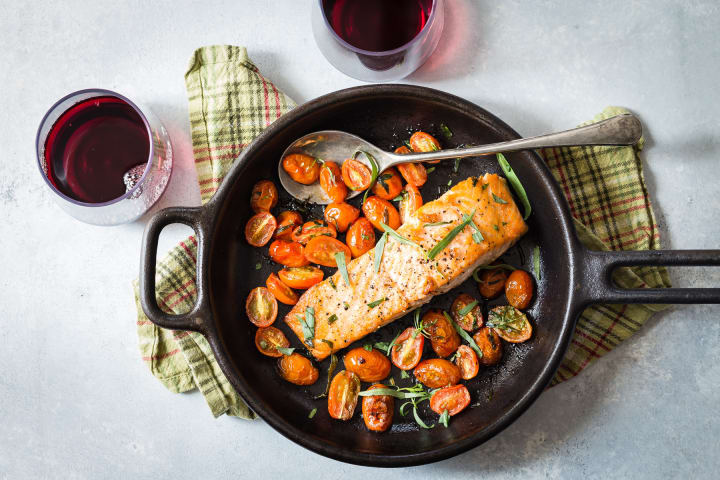 For starters, you want to clean the cast iron pan right after using it. I know, it's going to be very, very hot, but bear with me here. Don't soak the pan in water — this can cause the iron pan to rust.
The last thing you want is to rust your iron pan and have to buy a brand new one. I realized this after my husband told me about it, and it made sense why I had to keep buying a new cast iron pan literally all the time. You don't want to make any hand contact with the pan while it's still burning hot, just keep your hand on the handle.
Instead of soaking the iron pan in water, begin washing it by hand. Run it under hot water and use a sponge or a stiff brush to scrub the pan. Don't place it in the dishwasher, apply soap, or use steel wool. Any of these can possibly strip the cast iron pan of its seasoning, which is the stick-resistant coating on the pan.
When you're scrubbing the pan, don't be too vigorous. You're cleaning the pan, not destroying it! An effective and gentle stiff brush that's ideal for cleaning cast iron pans is the one by Lodge. This stiff brush features dense bristles and has a comfortable design that makes it easy to scrub your most stubborn, filthy iron pans. It's so effective that the scrubbing process takes a few minutes! Simply using this brush under hot water can accurately wash a cast iron pan in a breeze.
Scrub off the bits and leftover pieces of food.
When you're using your stiff scrubbing brush to remove the leftover bits and pieces of food that are stuck on the surface of the pan, there can be a few bits that are really stuck in there. At this point, apply coarse kosher salt and water while scrubbing the pan.
This type of salt contains much larger sized salt crystals compared to the regular salt that you use for cooking. Coarser kosher salt can help you remove any tough food pieces that are stuck in your cast iron pan. In addition, this method won't harm or scrape the surface of your pan. You can also boil water in the pan to loosen the bits of food before going in again and scrubbing.
Dry the pan.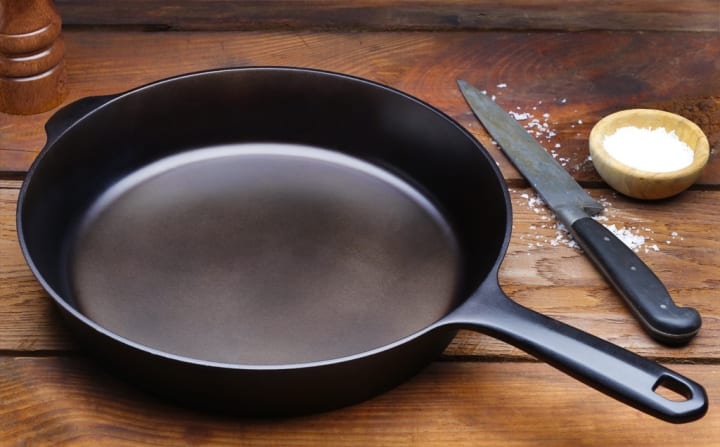 Once you've finished completely scrubbing all of the food that was stuck on the surface of your cast iron pan, you want to thoroughly dry it. Use a towel to dry your pan well; don't leave your pan damp.
You can also dry your pan on the stove over low heat to really get rid of any wetness that's still lingering. Once your pan is completely dry, you're not done just yet if you want to wash a cast iron pan the best way possible!
Season up the pan.
Now it's time to season up the pan! Get your hands on a cloth or a paper towel and apply a very light coat of vegetable oil or melted shortening. Rub the substance on the inside of your cast iron pan; make sure you rub it on the areas where food tends to stick onto the most.
Even though you're mainly focusing on the inside of your pan, there are some people who also oil the outside—if you really want to wash a cast iron pan the best way. I personally don't do this since it gets dirty the most in the center of the pan, but it's always a great idea to do! Be thorough when you're buffing the oil or shortening in the cast iron pan because you want to remove any excess that's left.
Bake the pan and let it cool.
After you've buffed the oil or shortening in and around the pan in order to wash a cast iron pan, it's time to bake it! You'll simply place the pan in the oven and bake it with nothing in the pan. This way, the oil can dry on the pan and keep it clean for the next use. You're going to bake your cast iron pan for about one hour to fully allow the oil to settle in.
Lastly, once the hour is up, leave the pan in the oven to cool. You don't want to handle a burning hot pan right after it's finished baking in the oven. Give it about 30 minutes before removing the pan and setting it to the side or storing it away.
If you're looking for a product that's specifically designed to wash a cast iron pan, then I found the perfect product for you! Champ Chef's Cast Iron Cleaner is a great cookware cleaner that digs deep and around your most stubborn cast iron pan. This product features a special blend of all-natural oils and cleaning agents that are precisely created to break down food particles and residue that's stuck in your pan.
Instead of using oil or shortening, simply apply this cleaner straight onto your pan and start scrubbing with your stiff brush! This is 100 percent safe to use on all seasoned and enameled cast iron pans. Your pans will constantly be protected with a fresh layer of seasoning whenever using the Cast Iron Cleaner.
Finally, you can simply get your hands on a kit to wash a cast iron pan! Lodge's Seasoned Cast Iron Care Kit is the ideal kit that you can use whenever cleaning up your cast iron pan. It includes all of the products that you need to thoroughly clean your filthy pans.
The kit comes with a stiff brush to scrub off the food particles, a seasoning spray to coat the surface of your pan, and other additions that will make cleaning dirty iron pans an easier process for a great price! Now you won't have to go out of your way to buy the seasoning, brush, and other tools to clean a cast iron pan.
house
Bakes sweets ever Thursday and donates them to her local homeless shelter. Is an owner to five pugs and can count to 500 in French.