10 Chinese Food Recipes You Can Make at Home
Rather than resorting to take-out each time you have a Chinese craving, these ten Chinese food recipes will bring the authentic cooking right to your kitchen.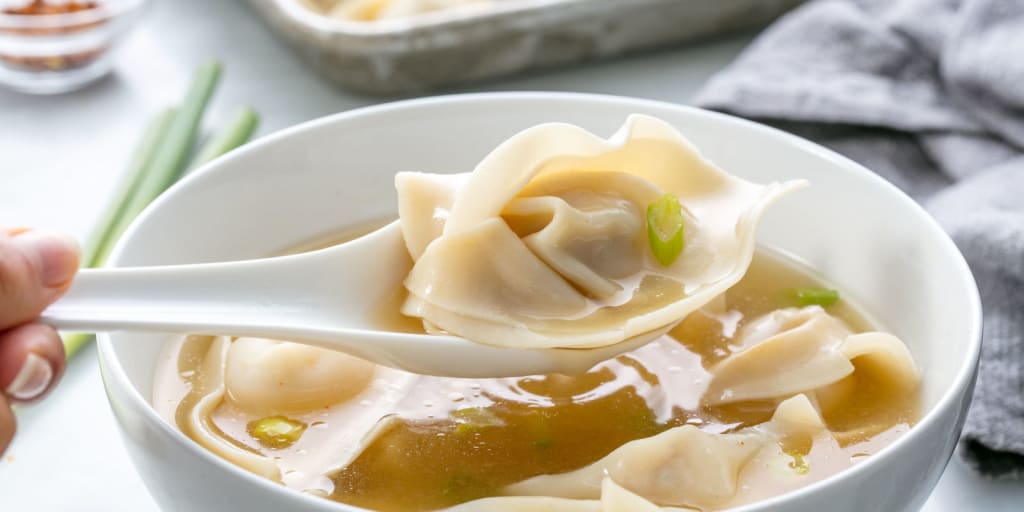 You order Chinese food weekly for a reason, so why not put your own skills to the test? These are the top ten best Chinese food recipes that you can make in your own kitchen.
Enjoy authentic Chinese flavors by your own hand. From wonton soup to chow mein, these dishes are filled with classic taste. Plus, it's a great challenge to take on, and will fill a weekend night with fun and full bellies. Who knows, you might even enjoy your own plate better than the take-out.
Potstickers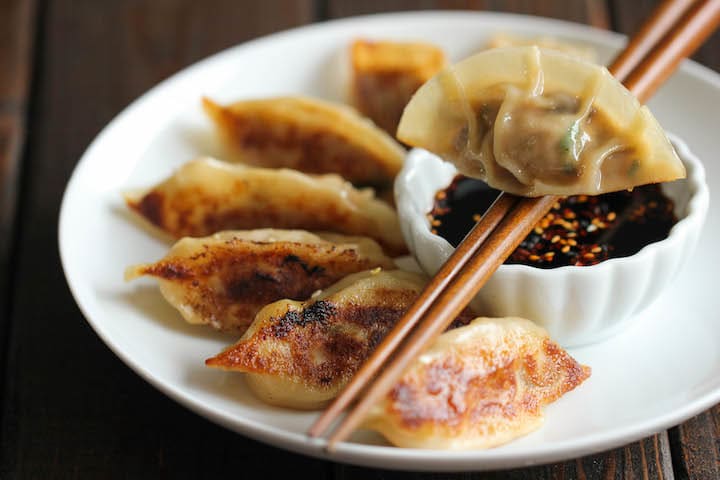 To start off our list of the best Chinese food recipes, CookingChannelTV has the perfect recipe for Potstickers. However, this recipe requires quite a bit of preparation and 15 different ingredients, but if you're up to the challenge, the end result is certainly worth it.
First, you will combine your first 11 ingredients: ground pork, chopped scallions, red bell pepper, an egg, ketchup, mustard, Worcestershire sauce, brown sugar, kosher salt, black pepper, and cayenne pepper.
Then, you will form your dumplings, and add eight to ten potstickers to a heated and oiled pan. You will cook them over the stove, and add the chicken stock to the pan to continue cooking for a few more minutes with low heat.
Chow Mein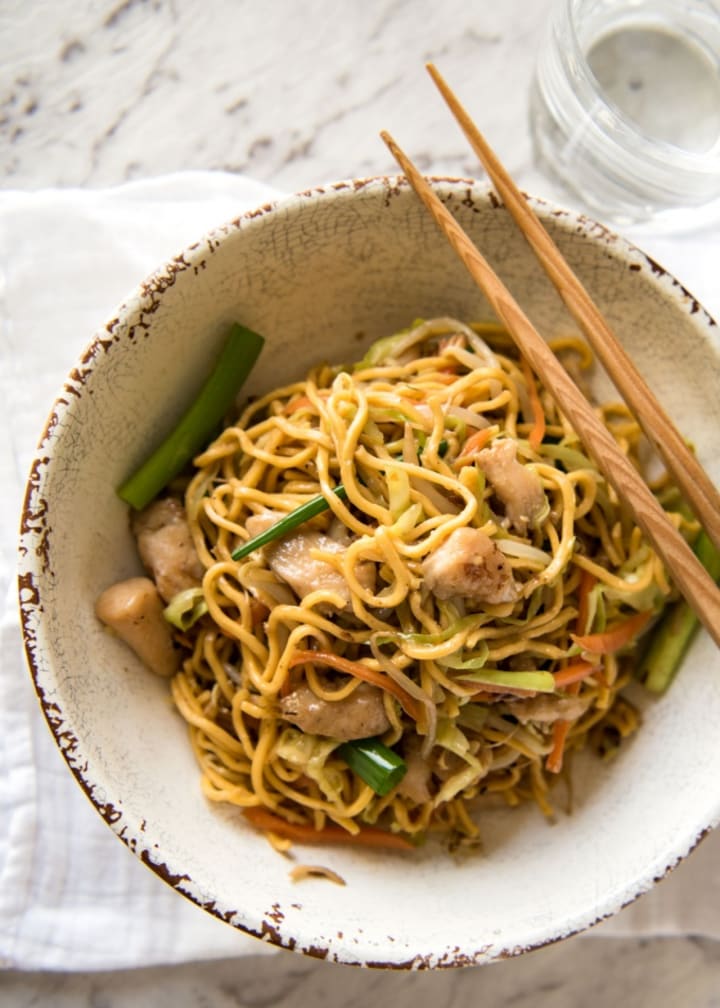 Ree Drummond has one of the best Chinese food recipes for Chow Mein. A meal that only takes 15 minutes and serves four, Chow Mein is certainly a great route to take when you're craving Chinese. Drummond guarantees that it'll take you five minutes to prepare your ingredients, and those include thin lo mein noodles, peanut oil, cabbage, chicken brother, soy sauce, sesame oil, green onions, one carrot, and one onion. Do you take the challenge?
There only two steps to complete the recipe. You will boil water and cook and drain the noodles. Heat a skillet over medium heat to add the peanut oil. You will then add the cabbage, onions, and carrots to be cooked for about a minute. And then add the soy sauce, sesame oil, chicken broth, and noodles. To complete, stop it off with your sliced green onions.
Chinese Chicken Salad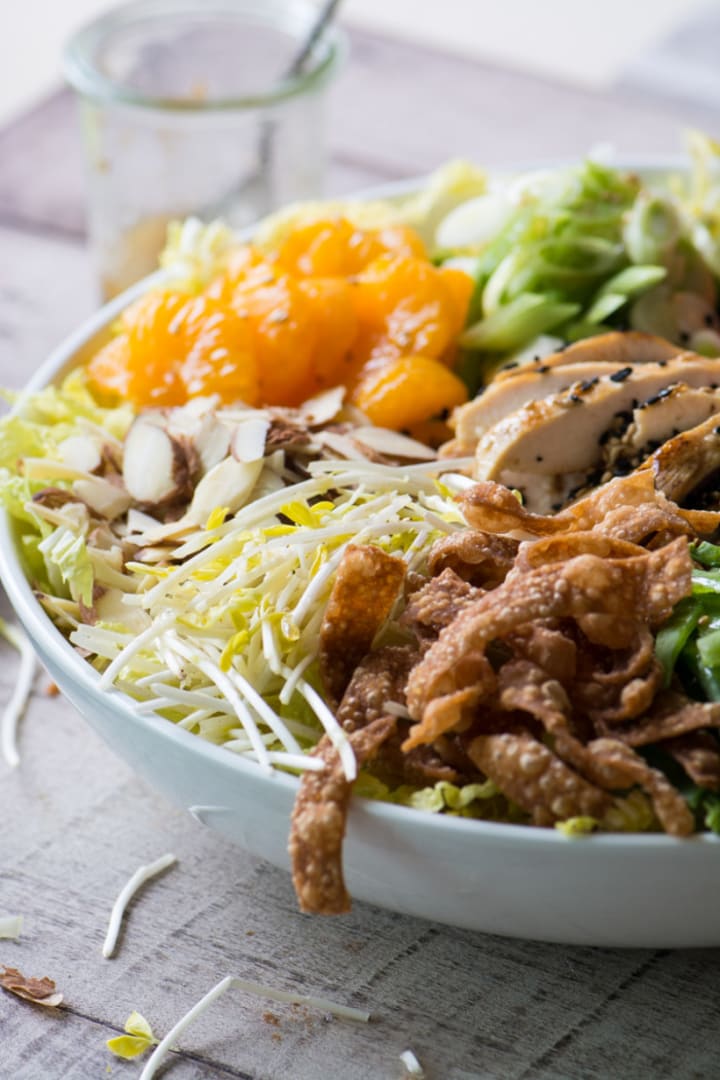 Ina Garten's Chinese Chicken Salad is one worth drooling over. This dish takes a bit more time than Ree Drummond's, but it can still be done in just under an hour, and it serves 12! Like most Chinese dishes, it requires plenty of ingredients, eight to be exact. These include chicken breasts, olive oil, Kosher salt, ground black pepper, asparagus, red bell pepper, scallions, and white sesame seeds.
And that doesn't even include the dressing, which requires vegetable oil, apple cider vinegar, soy sauce, dark sesame oil, honey, garlic, ginger, sesame seeds, peanut butter, kosher salt, and black pepper. Easy, right? First, you'll prepare the chicken with olive oil, salt, and pepper, and roast it for about 35 minutes.
Then, you'll shred the chicken and blanch the asparagus in a pop. Drain, cut the peppers, and combine the chicken asparagus and peppers. And finally, whisk the dressing ingredients together and pour it over the chicken and vegetables.
Sesame Ginger Chicken
Sesame Ginger Chicken is another one of the best Chinese food recipes that you can make at home. With a recipe by CookingChannelTV's Kelsey Nixon, you'll have the authentic tastes of Chinese cooking right in your kitchen. With five ingredients for the chicken marinade and 16 for the stir-fry, it is certainly a task to take on.
Expected to take a total of one hour and 30 minutes, the prep time and cooking cost you about 15 minutes each, and the rest of the time is done inactive, so really the strenuous time is about 30 minutes. For step by step instructions, Nixon goes over each of the steps with you, to make the experience easier and less intimidating.
General Tao Chicken Wings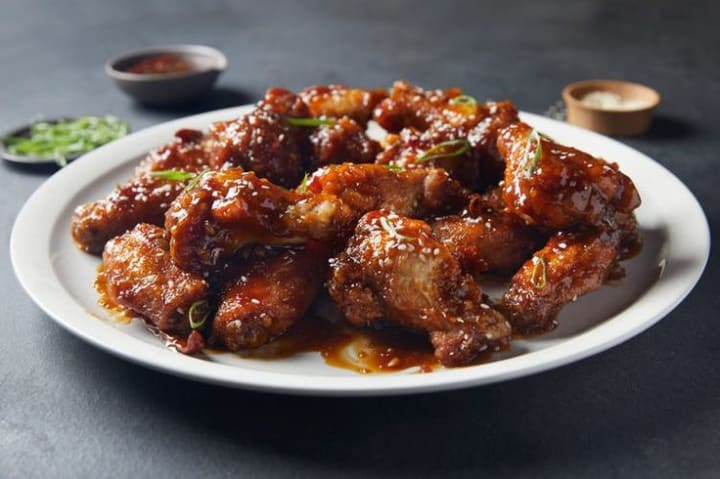 Who doesn't loveGeneral Tao Chicken? Ricardo makes chicken wings easy with his recipe. And believe it or not, the majority of your time in the kitchen will involve making the sauce.
So let's start with the easy part, the wings. You will prepare the oven at 275 degrees Fahrenheit with a baking sheet with aluminum foil. Then, you will cut the wings into three pieces and throw out the tips. And finally, you will coat them with oil and salt, bake for 20 minutes on each side, and broil until they are crisp and golden.
And for the sauce, you will whisk the cornstarch, soy sauce, sesame oil, rice vinegar, water, fresh ginger, garlic, sambal oelek, and paprika. Then, you will boil water and sugar, add your mixture, and simmer until it turns into a syrup. Finally, combine the sauce and the chicken, and you have a delicious dish waiting to be indulged.
Wonton Soup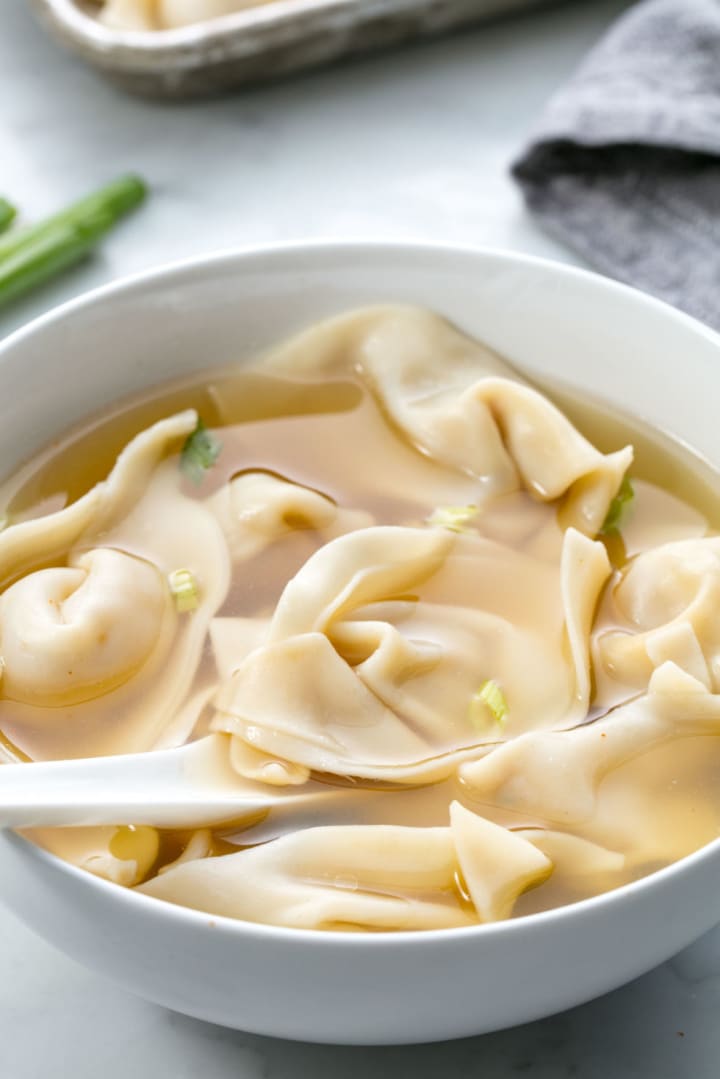 Let's go for something a little easier, shall we? This Wonton Soup recipe by Delish will only take you about 20 minutes and tastes just as authentic and tasty as the recipes that take well over an hour.
You will mix the pork, soy sauce, vinegar, cornstarch, ginger, garlic, red pepper, chives, and sesame oil. Then, wet the edge of the wonton wrapper and place the pork in the center. Fold it into a triangle as well as the two identical corners to seal. And finally, bring all the soup ingredients to a boil and let it simmer for 10 minutes.
As one of the best Chinese food recipes, this is the perfect rainy day meal.
Fried Rice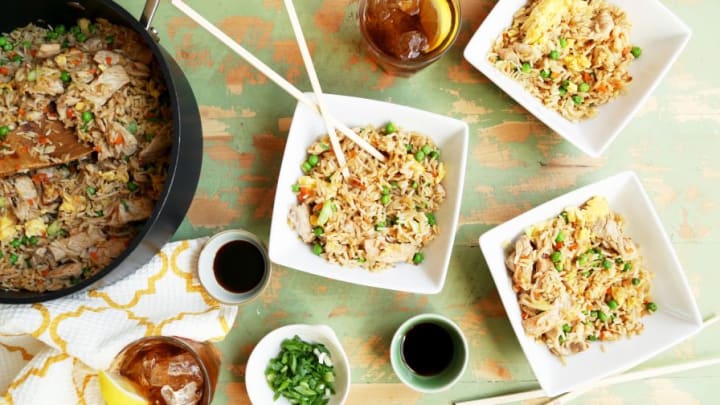 Another simple and classic staple for any Chinese craving is fried rice. And with a recipe by GeniusKitchen, things just got easier. Though it does require a few ingredients, the process itself is not troublesome.
So first, you should acquire onions, oil, eggs, soy sauce, sesame oil, chicken, carrot, peas, cooked rice, green onions, bean sprouts, and light soy sauce.
And to begin, you will heat the oil, add the chopped onions, and stir-fry and brown it in color. Mix the egg with soy and sesame oil. Add the oil to wok, swirl the surface, add the egg mixture, and wait until the egg puffs.
Once it does, cook the other side, remove it from the pan, and chop. Then, you will add your meat, carrots, peas, and onion. And finally, add the rice, onions, bean sprouts, and soy sauce. Combine the rest of the ingredients, and you're set to enjoy.
Black Bean and Garlic String Bean Stir-Fry with Cashews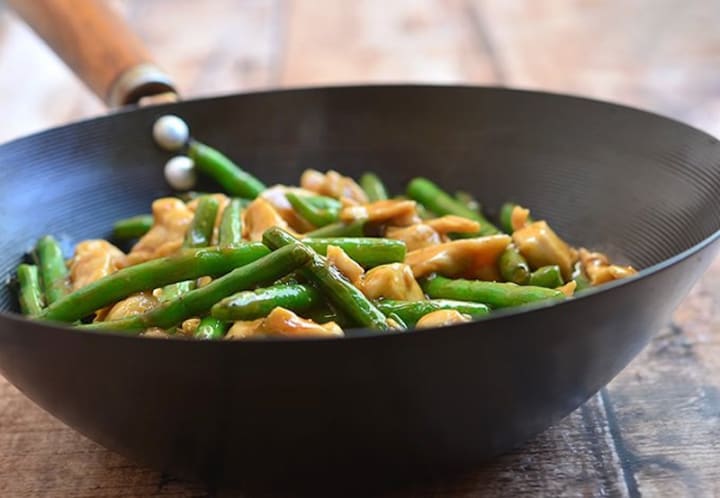 Food and Wine's Black Bean and Garlic String Bean Stir-Fry is one of the best Chinese food recipes to try. And it serves four, and takes about 20 minutes! The best part? There are only eight ingredients needed. So grab some peanut oil, cashews, green beans, garlic cloves, Chinese black beans, crushed red pepper, soy sauce, and Asian sesame oil.
To create, you will heat the oil in a wok until it shimmers. You will then add the stir-fry and cashews over moderate heat for about two minutes. Transfer the cashews to paper towels, add the green beats to the oil until tender, add the black beans, garlic, and red pepper until it is golden. Then, add the soy sauce, coat the beans, and cook for a minute. And finally, stir in the sesame oil and serve!
Sesame Chicken with Broccoli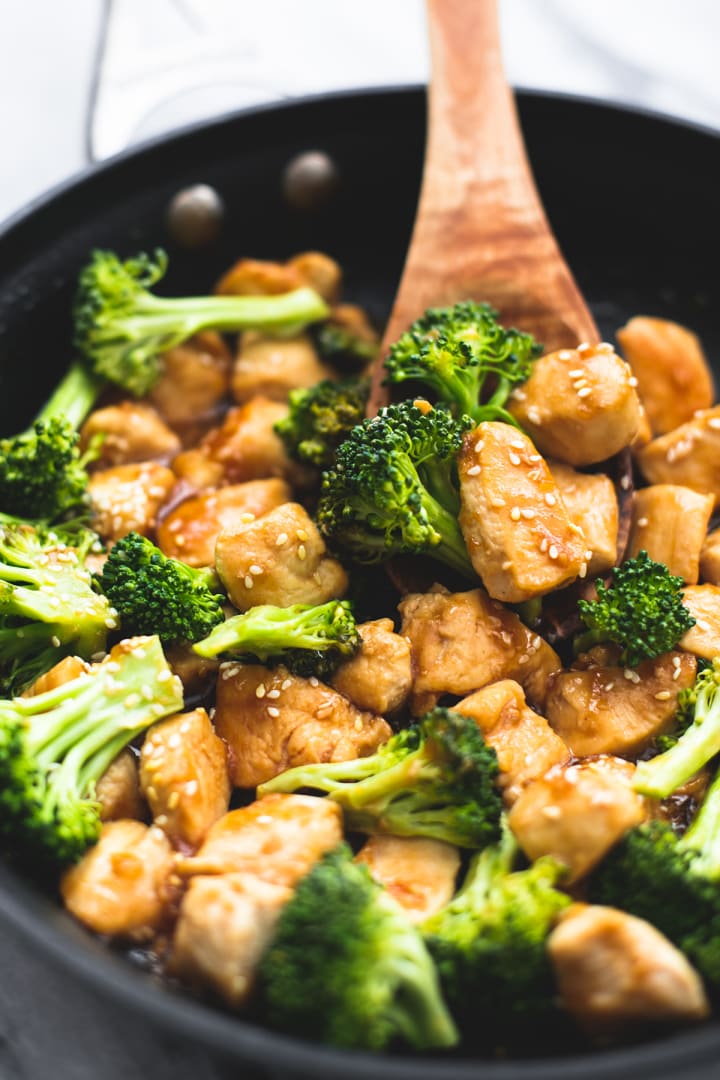 Sesame chicken and broccoli is always a great dish to order, so why not try and make it yourself? Epicurious' recipe requires a ton of ingredients, all with their own flavor and contribution to the dish.
So next time you're at the grocery store, these should be on your list: white rice, kosher salt, broccoli florets, cornstarch, freshly ground black pepper, boneless skinless chicken thighs, breasts, or a mix, patted dry, cut into 1" chunks, vegetable oil, honey, low-sodium soy sauce, rice wine vinegar, Sriracha, clove garlic, finely grated ginger, toasted sesame oil, toasted sesame seeds, and scallions.
Long story short, you will cook the rice, boil water, steam the broccoli, season the chicken, heat up some vegetable oil, cook the chicken until brown, create your sauce, toss the chicken and broccoli with the sauce, and serve.
Sweet and Sour Chicken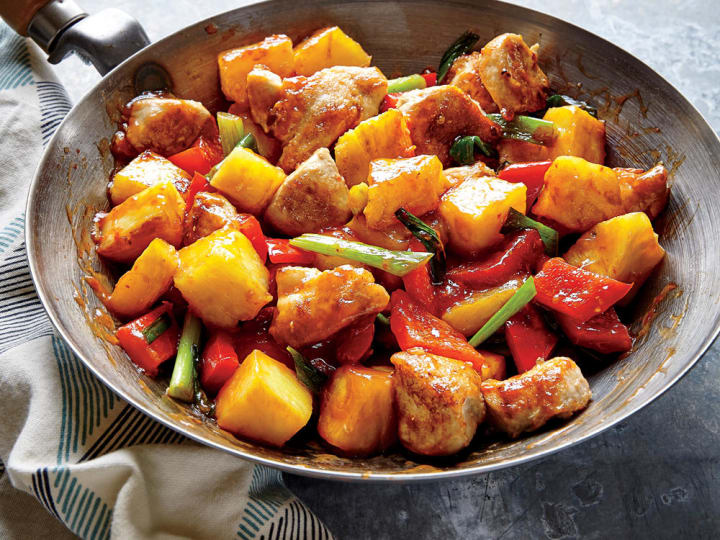 What better way to end our list of the best Chinese food recipes than with sweet and sour chicken? The Food Network's recipe is easy and fun to make. You'll need vegetable oil, chicken breasts, salt and pepper, red pepper, cornstarch, pineapple chunks, light brown sugar, rice wine vinegar, chicken stock, green pepper, and cooked rice.
And to create, you will heat the oil over medium heat, season the chicken strips, and brown it in the skillet. Remove the chicken, add the peppers, and cook. Then, stir the juice, sugar, vinegar, chicken stock, and pineapple together while heating. Stir in the cornstarch, and bring the mixture to a simmer. Finally, stir in the chicken and cook for about five minutes. You will serve this over your cooked rice.
cuisine
Passionate about writing, animals, makeup, movies, friends, family, learning, exercising, and laughing!