Clean Eating
Healthy Clean Eating Lunch Recipes
Yes, it's possible to find healthy clean eating lunch recipes on the net without involving impossible ingredients or expensive gear. We found the best ones, and put them in an article just for you.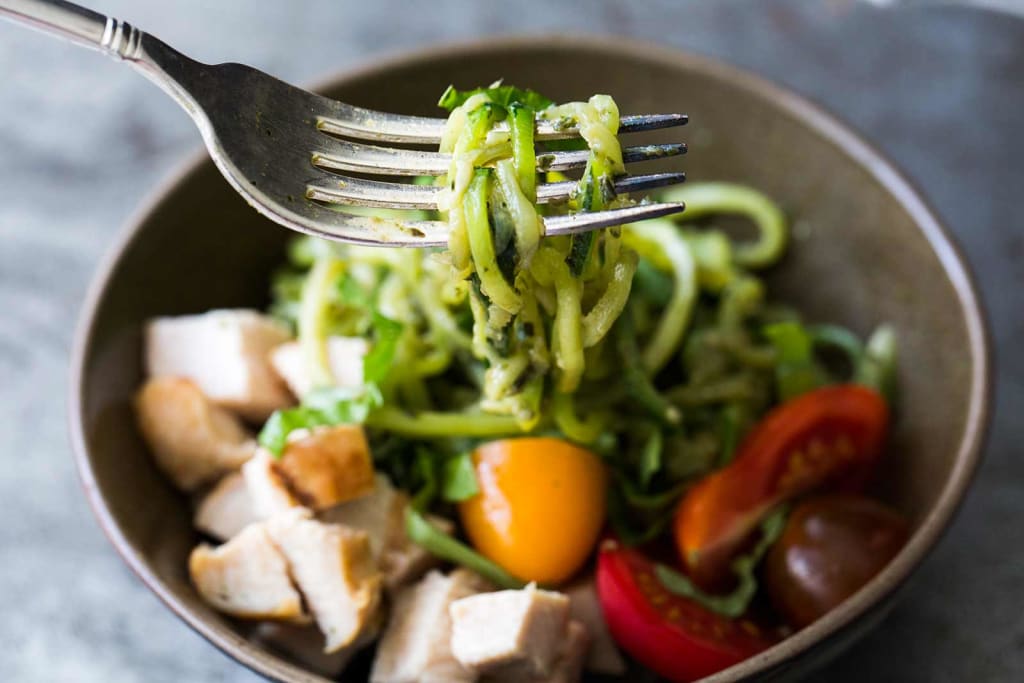 Clean eating isn't something that's easy to do in this society. If you've tried it, you probably noticed that most people will give you the side-eye for eating apples and celery at your desk, rather than the typical cheesy poof or potato chip snack.
If you work, you probably have noticed that most office cafeterias aren't exactly stocked with healthy eating options. In fact, even salads can sometimes clock in at over 1,000 calories per serving.
The easiest way to save money is to bag your own lunch, but many of us get intimidated when we find healthy clean eating lunch recipes inundated with difficult-to-find ingredients or ridiculously long cooking processes.
Thankfully, there are recipes out there that are easy to make. Here are some of the easiest clean eating recipes we've found that'll keep you feeling great throughout the day.
Greek Salad with Pita Croutons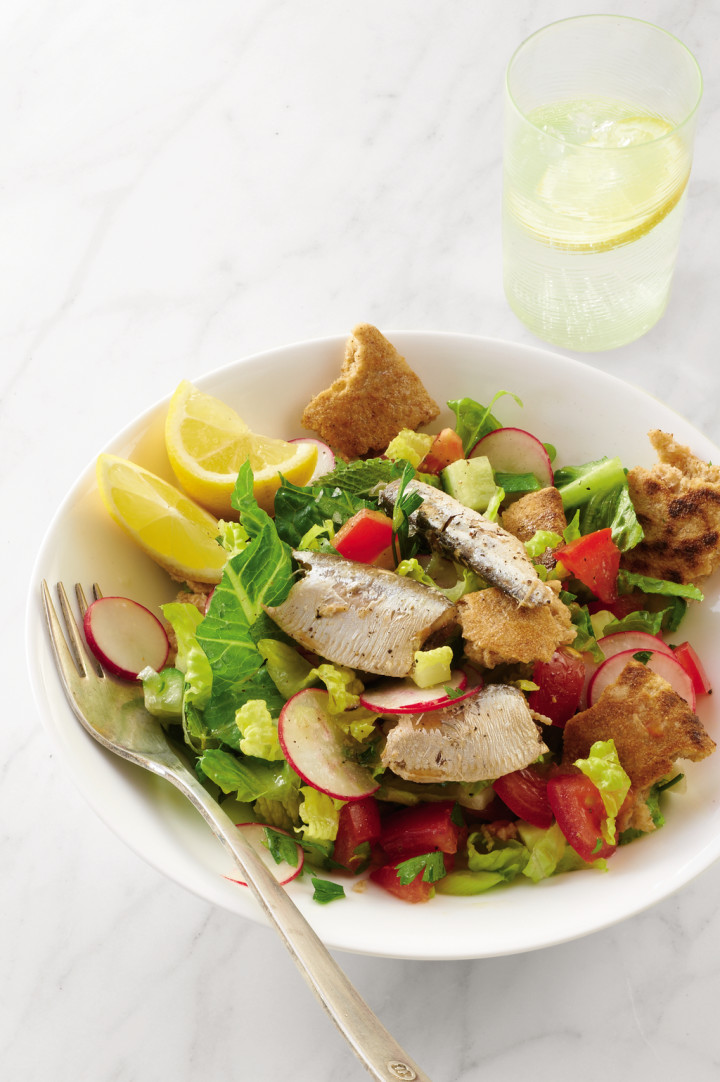 If there's one diet that's been repeatedly proven as the healthiest in the world, it's the Mediterranean diet. So, it's kind of obvious that there have to be some healthy clean eating lunch recipes online that have that classic Mediterranean flavor profile, right?
Absolutely!
This delicious Greek Salad with Pita Croutons has plenty of protein, vitamins, and fiber for you, all while taking under 10 minutes to prepare. It also happens to have enough flavor to satisfy people who want to taste a world-class meal.
Quinoa Fruit Salad with Lime Vinaigrette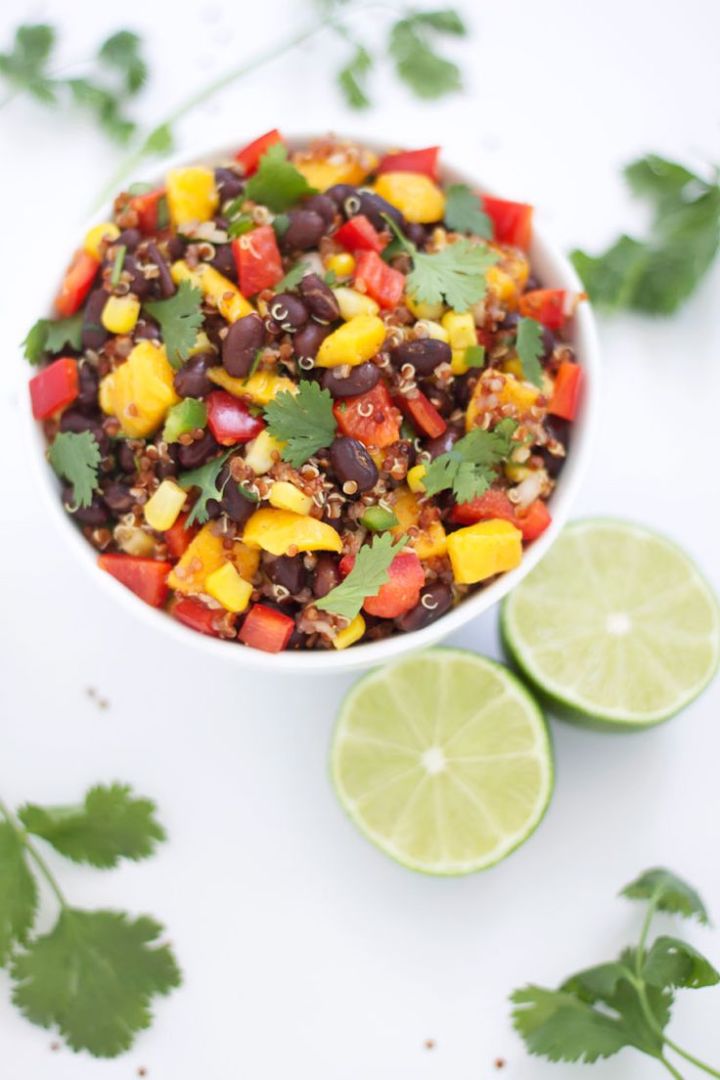 Quinoa is one of the most protein-packed, fiber-packed grains out there, and that's why it's so hot in the clean eating scene. If you want to try out an easy recipe involving quinoa, then this recipe for Quinoa Fruit Salad with Lime Vinaigrette will prove to be a great choice.
It's easy to prepare, takes only 10 minutes to make, and also happens to have an added perk of being dirt cheap. As a result, this salad's a perfect work week salad.
Skinny Taco Salad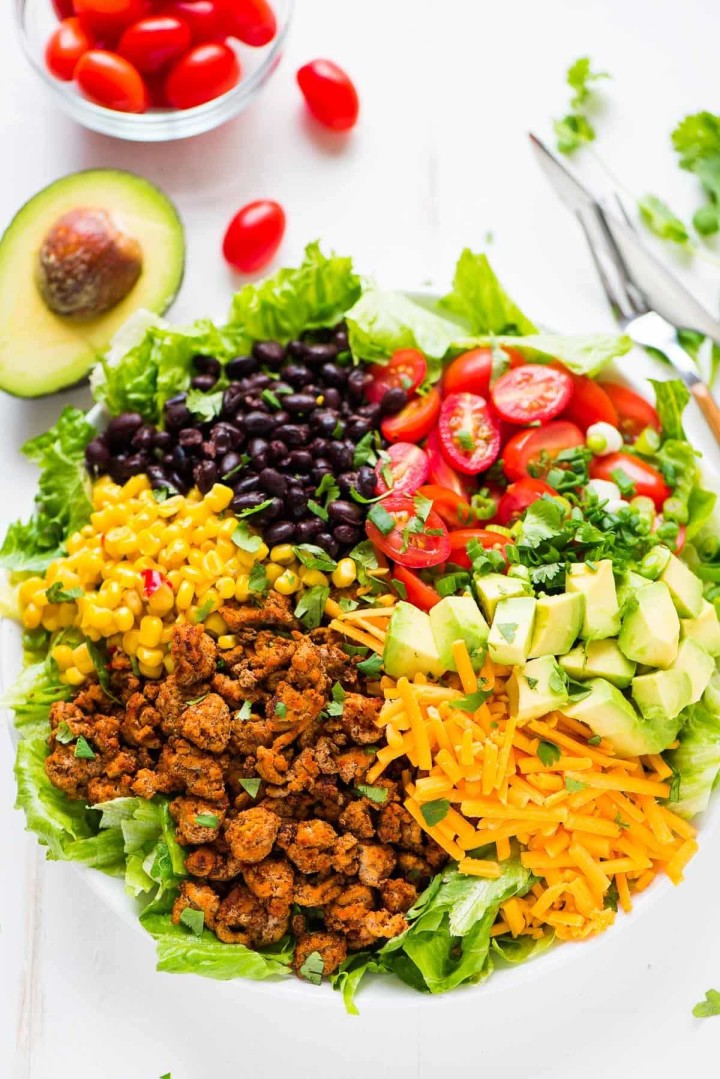 People who are looking for healthy clean eating lunch recipes will soon notice that salads are where it's at. However, a salad doesn't necessarily have to be a crappy meal. This Skinny Taco Salad in a Mason Jar is savory, spicy, and delicious — and also forces you to practice portion control.
For dieters looking to stick to a set amount of calories, this is a guiltless lunch that will definitely make you feel great later on in the day.
Slow Cooker Minestrone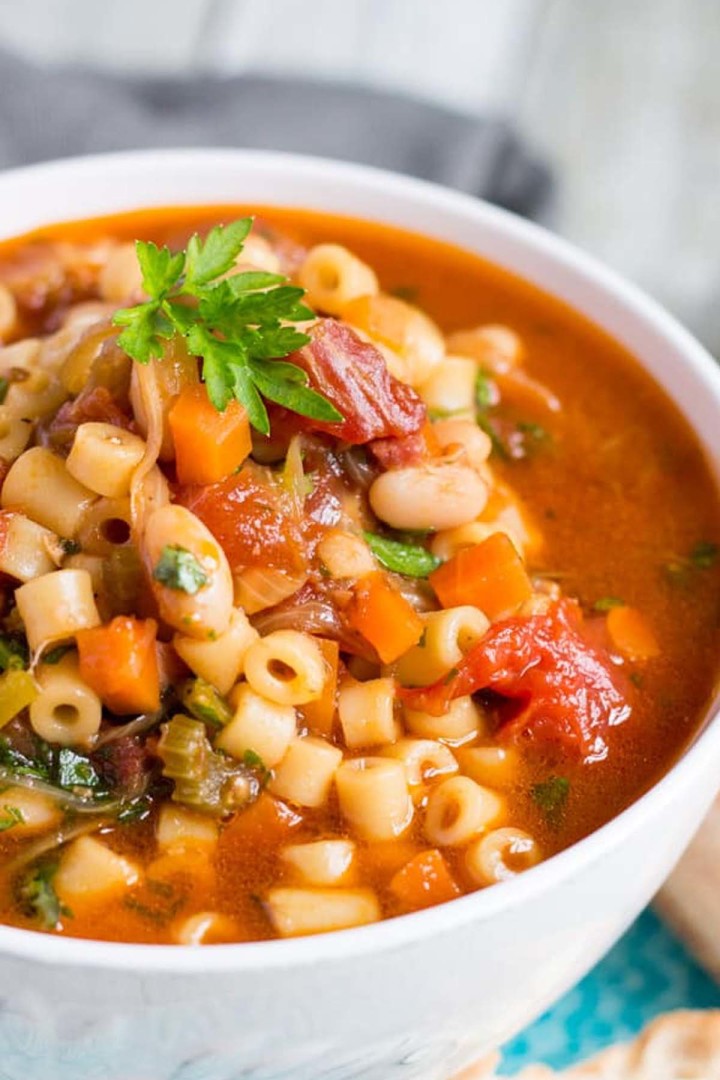 Admittedly, this isn't a quick lunch — but if you have a good slow cooker, this will allow you to make a huge batch on Monday while you work, and ration it out until Friday. Better still, it's one of many healthy crock pot recipes you can find online that work well as lunch.
It's easy enough to dump all the ingredients in a crock pot and leave, so, we're going to include this on our list of the best healthy clean eating lunch recipes we've found.
This Slow Cooker Minestrone recipe will allow you to get a lot of nutrients and flavor in every spoonful. And, since it's a broth-based soup, you'll consume less calories and feel fuller after you eat.
Chunky Vegetable Salad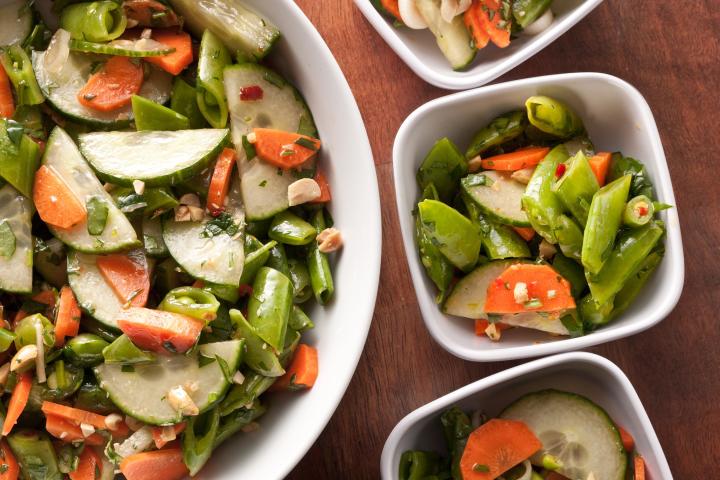 Salads top lists of healthy clean eating lunch recipes because they can literally be prepared in under 15 minutes. This Chunky Vegetable Salad packs on lots of flavor and a nice variety of different textures without packing in additives or extra calories.
The lemon-cumin vinaigrette used in this recipe is so tasty, you'll want to use it in other recipes — or as a newfound favorite chicken marinade. Delicious doesn't even begin to describe this treat!
Avocado Chickpea Salad Sandwich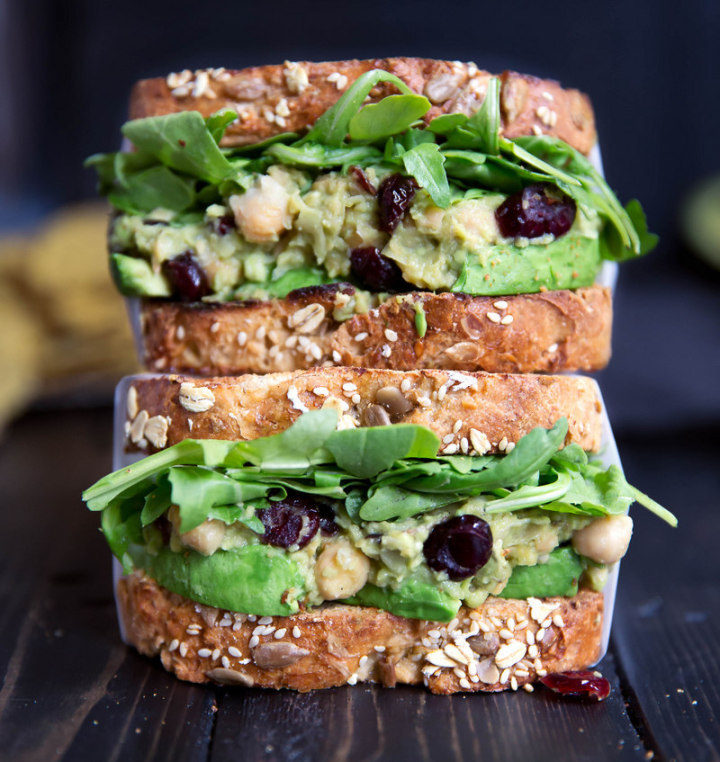 Salads are good, but sometimes, you really can't beat the feeling of sinking your teeth into bread. This decadent sandwich doesn't taste like it belongs on a list of healthy clean eating lunch recipes — but when you check out the ingredients, it checks out.
If you're a fan of creamy, melty sandwiches that stick to your ribs, then you'll adore this Avocado Chickpea Salad Sandwich recipe. It's creamy, tart, and just impeccable regardless of what time of day it is.
Baja Chicken Bowl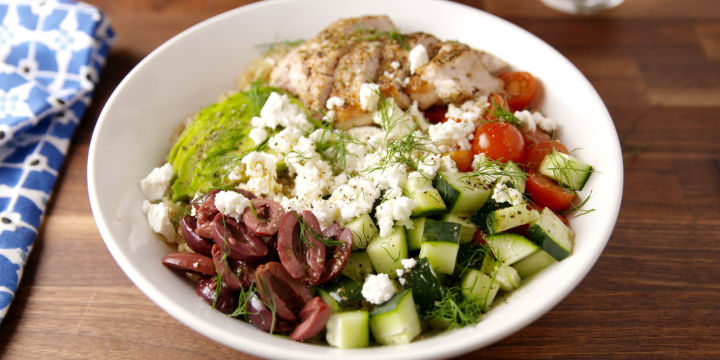 Baja-style Mexican food has become a major fad in the trendy health food world, and it's easy to see why. It's fresh, doesn't involve loads of gross ingredients, and gives that nice pop of flavor that makes people come back for seconds and thirds.
This awesome Baja Chicken Bowl recipe will make you feel like you just stopped by a favorite restaurant chain for lunch — all at the fraction of the cost. More amazingly, this is one of the easiest and healthy clean eating lunch recipes we've found.
Pesto Chicken Bowls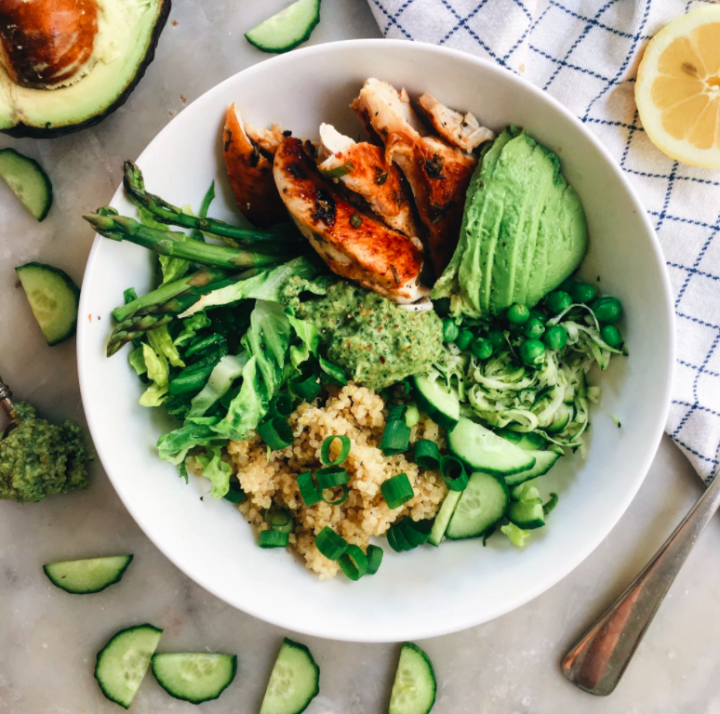 Another delicious way to whip up Italian fare is to check out this super-healthy recipe for Pesto Chicken Bowls. These bowls are a lot like a salad...except they're a better option for people who are sick of salad and want something a little more substantial.
Chicken, brown rice, green beans and seasoning make for a very impressive meal that is packed with energy and good-for-you nutrients. This meal's pretty filling, so it's a great option if you're worried about feeling starved.
Zoodles with Tomato Sauce and Mozzarella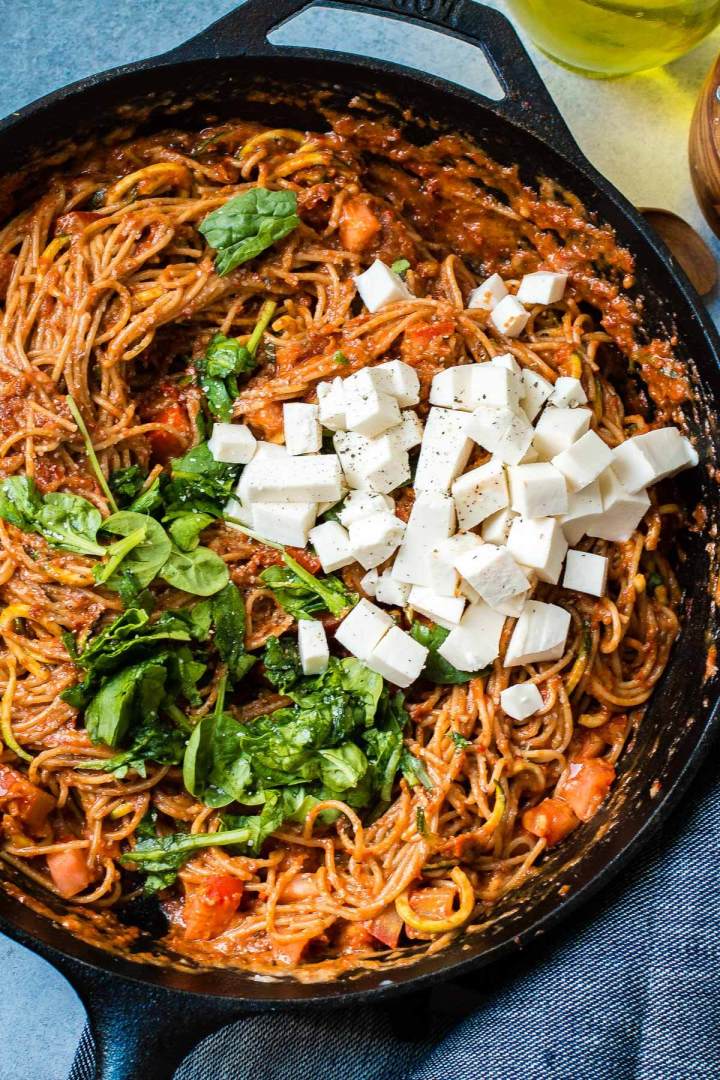 Zoodles, also known as zucchini noodles, are a major hit among dieting circles because it's guiltless pasta. Needless to say, we needed to include at least one zoodle recipe on this list of healthy clean eating lunch recipes.
Getting zoodles is pretty easy; every Whole Foods has them. And, this simple recipe for Zoodles with Tomato Sauce and Mozzarella shows that you can get Italian flavor without having to worry about the carbs and additives of traditional pasta.
Oh, and if you don't like zoodles, don't worry. You can learn how to make spaghetti squash pretty easily online, and substitute that instead.