Healthy 5-Ingredient Dinners
These quick and fresh 5-ingredient dinners are easy to make, yummy to eat and good for your health!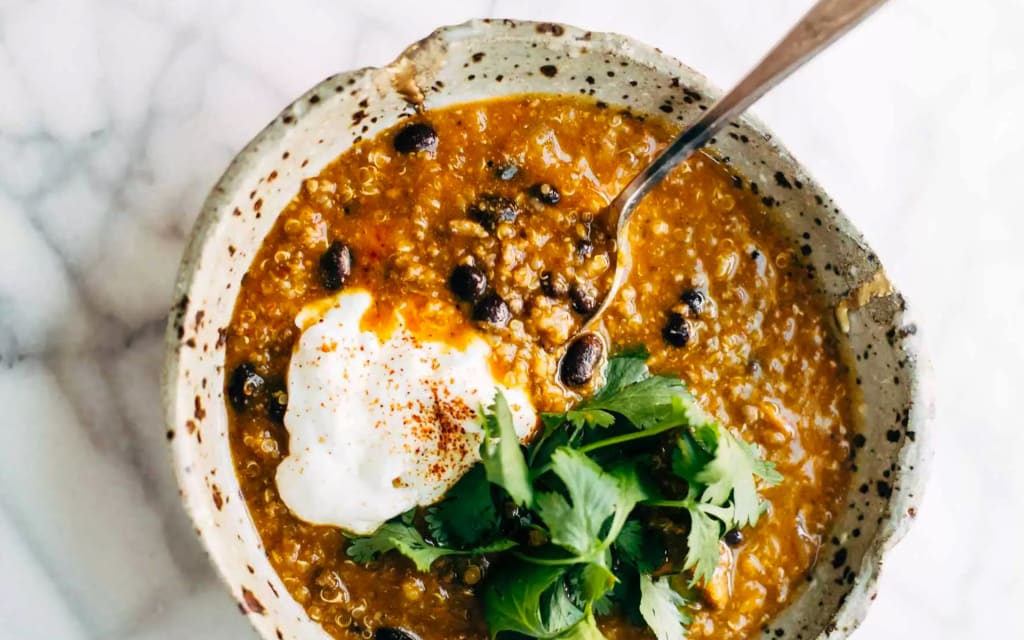 It doesn't take a lot of ingredients to make a fabulous meal, especially with these 5-ingredient dinners! Some people don't have time to make an elaborate dinner, and some are hungry as soon as they get home from work. With just 5 ingredients, it's easy to get a delicious dinner on the table in an hour or less! Moreover, there are plenty of options, from soups to seafood. So stop eating those ramen noodles and start making these 5-ingredient dinners.
Baked Dijon Salmon Filet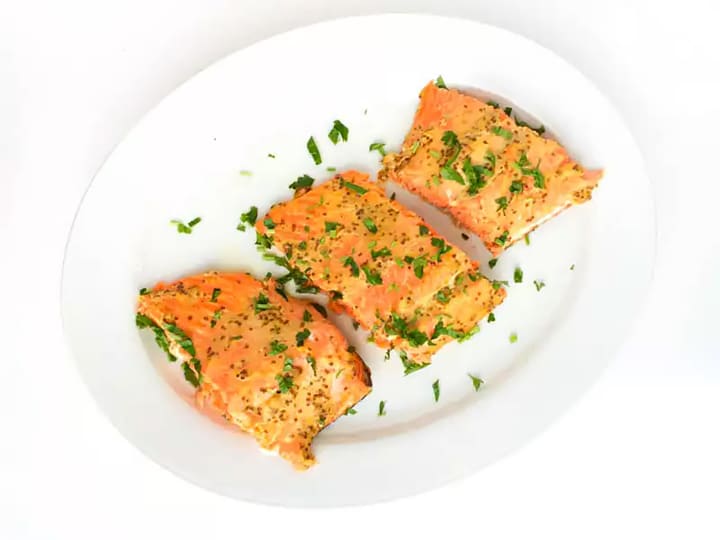 If you want to impress your guests, these 5 ingredients combined will rock their world. Not only is it tasty, but it's also packed with omega-3s that boost brainpower! This scrumptious meal will make you feel like you're dining in a fancy French restaurant.
Recipe:
4 ounce salmon
3 tablespoons of Dijon-mustard
Salt and Pepper for taste
1/5 cup Italian-style bread crumbs
1/4 cup butter, melted
Preheat the oven to 400 degrees F and line a baking pan with foil. Spread the mustard on top of the salmon and season with salt and pepper. Then, top it with breadcrumbs and a drizzle of melted butter. Place the salmon on the foil and bake for 15 minutes. Pull it out from the oven and you should have a flaky salmon that melts in your mouth.
Sweet Potato Turkey Chili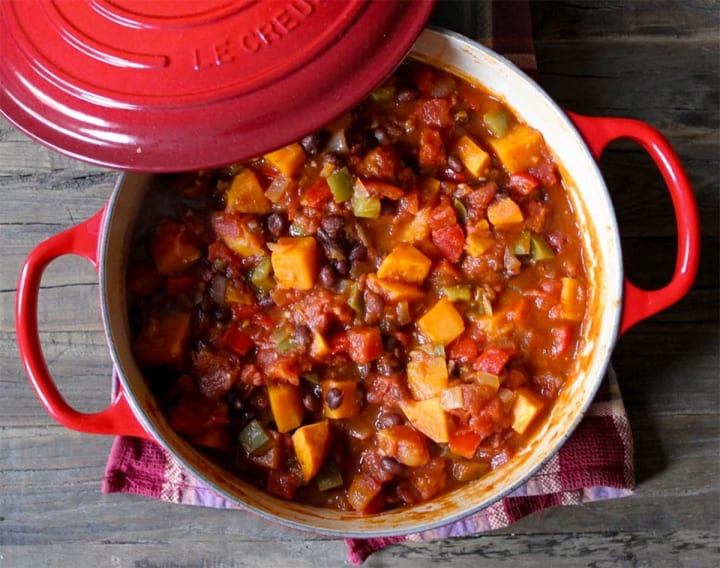 The sweet potato is packed with nutrients and can be made into a sweet or savory dish (which is why they are so wonderful to cook with)! This hearty, but healthy, soup is perfect for a cold day.
Recipe:
3 medium sweet potatoes
1 medium onion
1 16-ounce jar of salsa
1 15-ounce can of black beans (with salt)
2 cups of vegetable stock with 2 cup of water
Chop and cook the onions on medium heat in a large pot until soft and translucent. Then, add chopped sweet potato in and cook for 3 minutes. Add the salsa, water and vegetable stock next and put it on a low broil for at least 20 minutes or until the sweet potatoes are tender. If you want to put a little twist on this 5-ingredient dinner, serve with some cilantro, lime and chili powder!
Roasted Red Pepper and Asparagus Quinoa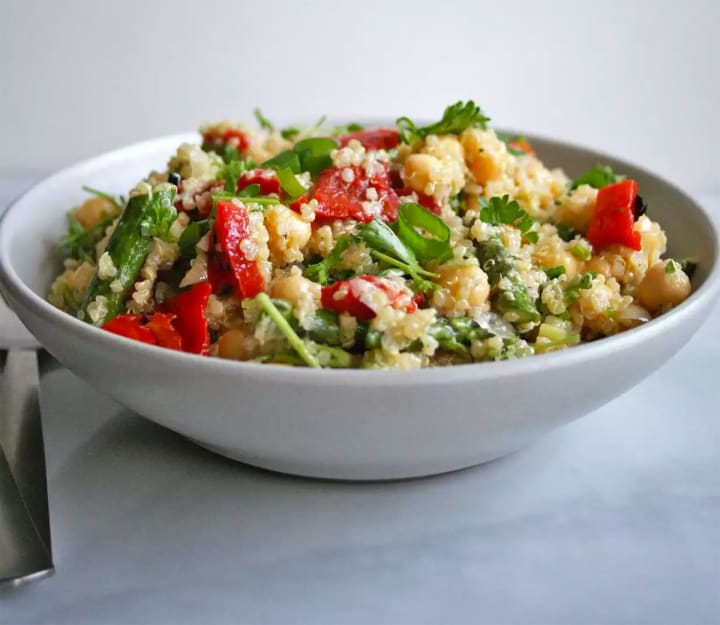 These 5-ingredients will make a leaner and fitter you! Quinoa is a super food and is much healthier than white rice because of the abundance of amino acids and protein.
Recipe:
1 1/2 cups of chopped asparagus
1 tablespoon of olive oil
2 teaspoons minced garlic
1/2 cup diced roasted red peppers
4 grilled chicken breasts
Add the garlic, asparagus and olive oil into a frying pan and sauté until the asparagus is tender. You can cook the quinoa according to the package (boil in water for 15-20 minutes). For the grilled chicken, you can either throw them on a grill for 5 minutes per side, or buy pre grilled chicken slices. Put it in a bowl and voila, the perfect Instagram meal.
Steamed Cod with Ginger and Scallions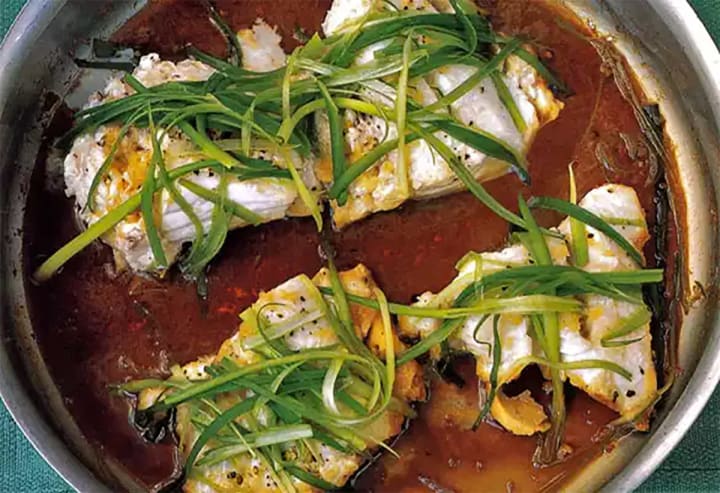 Feeling like Asian food, but not wanting all the sodium that comes with it? Well this 5-ingredient dinner will satisfy your craving! In addition, it is steamed so your heart and body will love you for it.
Recipe:
4 skinless cod fillets (6-8 ounces)
3 tablespoons rice vinegar
2 tablespoons soy sauce
2 tablespoons finely grated ginger
6 scallions green parts chopped
Combine rice vinegar, soy sauce and ginger in a skillet. Place the cod in the mixture and add some salt and pepper for taste if you would like. Bring to boil and then reduce heat to a simmer. Cover and cook the fish for around 6-8 minutes until it is opaque through. Plate and serve with some green scallions over top.
Kielbasa with Peppers and Potatoes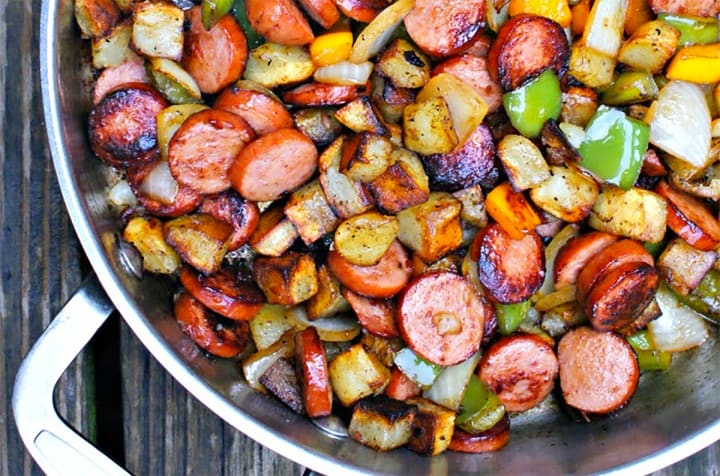 Treat yourself with the polish dish! It has a balanced portion of meet, veggies and starches. You even may have some of these ingredients in your fridge already.
Recipe:
1 tablespoon of vegetable oil
1 package of smoked kielbasa sausage
6 medium red potatoes
1 red bell pepper
1 yellow bell pepper
First off, dice all of the ingredients. While doing that, heat the oil in a saucepan over medium heat and place the Kielbasa and potatoes in the pan; cover for 25 minutes. Stir the mixture occasionally until potatoes are tender. Next, mix the peppers in for 5 more minutes. In just 30 minutes, you have a 5-ingredient dinner that will satisfy your stomach for hours!
Slow Cooker Pineapple Salsa Chicken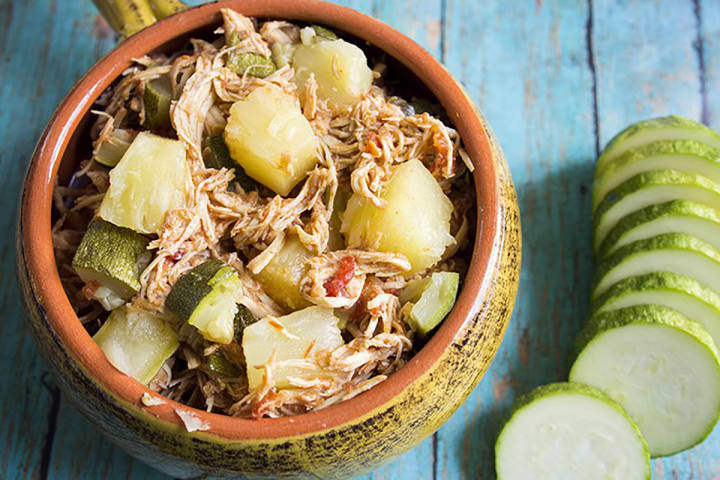 Do you like pineapple pizza? If yes, then this will be a good replacement. It has protein, fruits and veggies. Make this dish if you are feeling tropical for dinner! Also, slow cookers are great if you want to go and do something else and come back to a delicious meal.
Recipe:
2 pounds of skinless chicken breasts
1 16-ounce jar of tomato salsa
1 20-ounce can of pineapple chunks
3 medium zucchini diced
Rice or whole wheat tortilla
Place the chicken breasts into the slow cooker and cover them with the salsa. Cook on high for 4 hours or low for 6 hours. Shred the chicken and add the zucchini and pineapple with 2/3 cup of pineapple juice. Then, let it cook for an additional 30 minutes until everything is soft. Serve in either a whole-wheat tortilla or over rice!
Mushroom Pork Over Brown Rice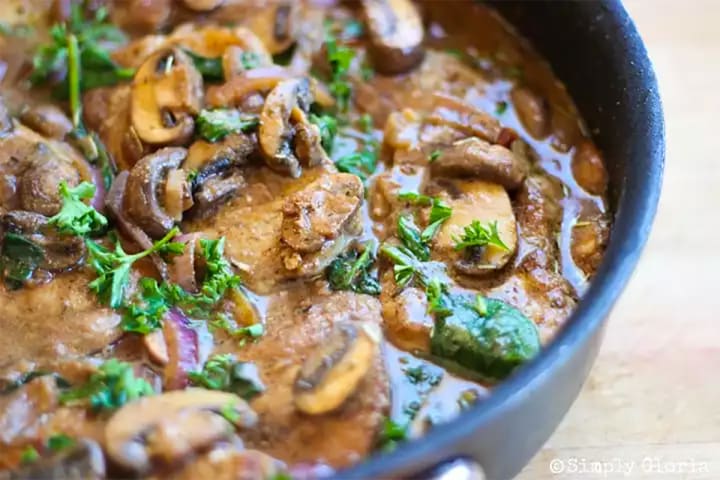 This will be a favorite for sure, and you will never believe how quick and easy it is to make such a 5 star dinner with only 5 ingredients! Always try to choose brown rice over white rice. Brown rice is a whole grain and still retains its fiber and germ, which contains the nutrients.
Recipe:
4 pork chops
1 onion
1/2 lb fresh sliced mushrooms
1 10-ounce can of condensed cream of mushroom soup
1 cup brown rice
Boil the rice in 1.5 cups of water and reduce to low and cover for 40 minutes. Do not uncover during the cooking time. Season the pork chops with some salt and pepper if desired and brown them over medium-high heat. Add the onion and mushrooms and sauté for 5 minutes. Pour the cream of mushroom soup over the chops and cover the skillet. Reduce the temperature to medium-low and let simmer for 20 minutes.
Tomato and Artichoke Chicken
If you don't want to clean up after, this whole dinner can be made in one skillet! This quick and easy recipe will have you making more for leftovers. It's easy to pack up in a lunch as well!
Recipe:
1 lb chicken thighs
1 8 ounce artichoke hearts
1 cup cherry tomatoes
2 tablespoons butter
2 cloves of garlic
Preheat the oven to 375 degrees Fahrenheit. Add all the ingredients into a skillet except for the garlic. Cook for 30 minutes and add the garlic at the end so it doesn't burn. Serve your 5-ingredient dinner to the family and watch them drool and ask for seconds!
Lentil Soup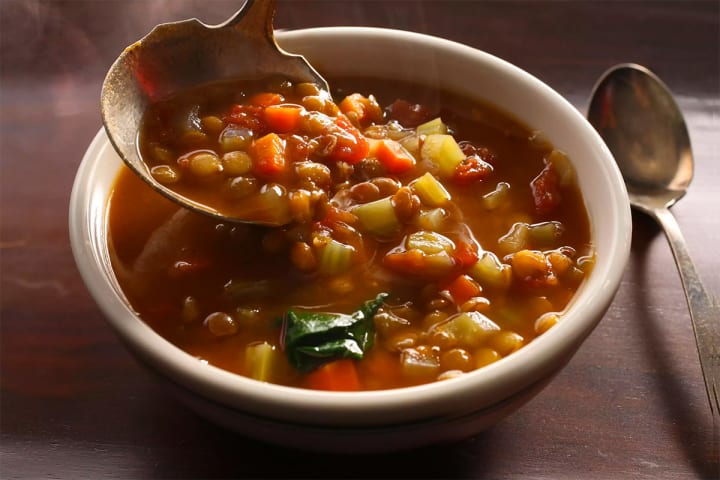 If you are craving Indian food, but don't want all the cream and fat, this is the dinner for you. If you have lentils in your pantry, it's time to take them out and put them to good use.
Recipe:
2 large carrots, peeled and chopped
1 large onion, chopped
1-1/2 cups red lentils, uncooked
6 cups of chick broth
1 cup of coconut milk
Bring ingredients to a boil in a saucepan and cover. Simmer on medium-low heat for 30-45 minutes or until vegetables are tender. Then, pour ingredients into a blender and blend until smooth. Top with some curry powder and turmeric if you want a little extra zest!
Kale and Sweet Potato Egg Basket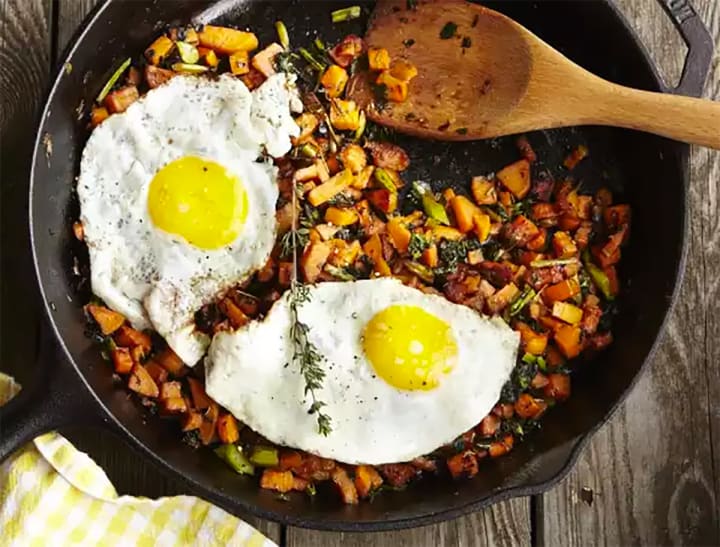 Continue your clean eating with this 5-ingredient dinner that can be made in 20 minutes! It has 2 super foods that will make you feel energized and ready for the next day. Lastly, it is such a colorful and pretty dish!
Recipe:
3/4 cup of mashed sweet potato
1 tablespoon of olive oil
1 cup of chopped kale
2 eggs
Salt and Pepper
Pull out the skillet and sauté the kale until soft. Then, add the sweet potato and heat over medium. Crack the 2 eggs in the middle of the vegetables and season with salt and pepper. Cook the skillet in a 400-degree oven until the egg whites are set and the yolks are soft. This should take around 12-14 minutes. Serve and enjoy a meal that will boost your immune system!
There you have it, 10 beautiful and healthy recipes that make wonderful 5-ingredient dinners! Time is crucial and health is vital. Hopefully these recipes allow you to increase both! Feel free to spice up any of them with some things you have in your pantry or spice cabinet. Remember to have fun and get creative! 5-ingredient dinners are not only great because of the minimalism to them, but also because you know exactly what you're eating. Happy cooking!