The Wisdom Of Frank Zappa
A Playlist And Words Of Wisdom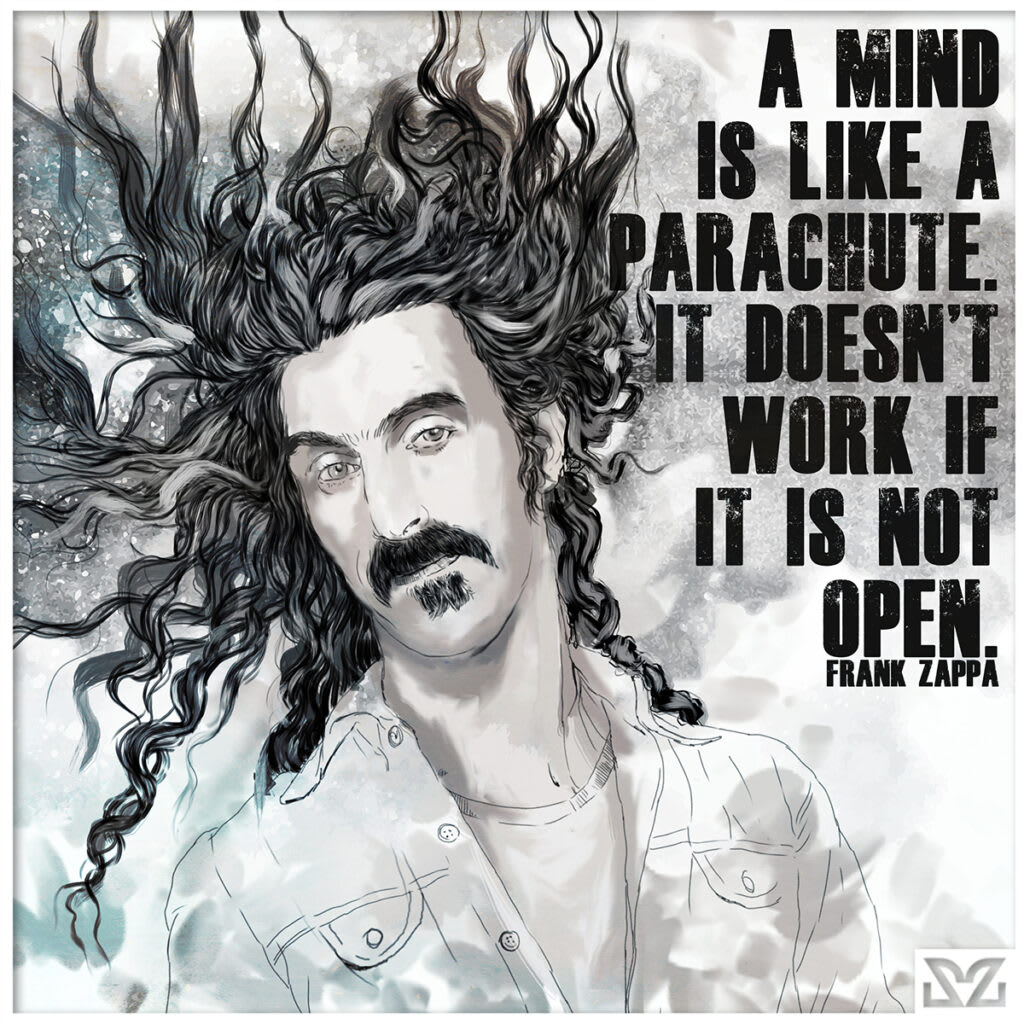 Image Taken From Zoa Studio Blog
Introduction
In my Vocal posts, I often mention Frank Zappa, his music and his words. You can read some of these stories here.
I also follow a Frank Zappa Instagram user who shares a lot of interviews and words with the man. They are here:
The official Zappa Instagram feed is here
The image for this post contains one of the many pieces of wisdom attributed to Frank and comes for this site here.
This is a bit about the man lifted from Wikipedia
Zappa was married to Kathryn J. "Kay" Sherman from 1960 to 1963. In 1967, he married Adelaide Gail Sloatman. He and his second wife had four children: Moon Unit, Dweezil, Ahmet, and Diva.

Following Zappa's death, his widow Gail created the Zappa Family Trust, which owns the rights to Zappa's music and some other creative output: more than 60 albums were released during Zappa's lifetime and 40 posthumously.

Zappa died from prostate cancer on December 4, 1993. On December 6, his family publicly announced that "Composer Frank Zappa left for his final tour just before 6:00 pm on Saturday".[
The Zappa Website
Frank Zappa Quotes
I was not too sure how to put this together, but on thinking I will share a few favourite Zappa pieces with observations and some of his wisdom.
Some Zappa Music and Wisdom
"Mother People" from "Mothermania"
I can't remember when I bought it but this compilation was the first album that I acquired from The Mothers Of Invention."Mother People" is complex and funny and a sideswipe at normal society, so it obviously endeared them to me. Listening to this they say "Other People" not "Mother People" (which is how I remember it) but the music is excellent.
Frank Says: "Without deviation, progress is not possible" something I completely embrace and it does help me create things.
"Peaches En Regalia" From "Hot Rats"
One of Frank's most recognisable tunes. He created a lot of classical music that was often so complex and difficult to play it would frighten orchestras..
Frank Says: "You can't be a real country unless you have a beer and an airline. It helps if you have some kind of a football team, or some nuclear weapons, but at the very least you need a beer."
"Sofa No. 1" from "One Size Fits All"
This, in my opinion, is an absolute beauty, discovered when playing with The Bok. At the time I didn't expect things like this from Zappa.
Frank Says: "Without music to decorate it, time is just a bunch of boring production deadlines or dates by which bills must be paid."
"Flakes" from "Sheik Yerbouti"
We've all encountered these types, and they will never go away. Frank disects these horrors with humour and some impressive musicianship. I loved this the first time I heard it and it is often on my player.
Frank Says: "You can't always write a chord ugly enough to say what you want to say, so sometimes you have to rely on a giraffe filled with whipped cream."
"Cosmik Debris" from "Apostrophe"
I believe Apostrophe was Zappa's biggest-selling album and this song was the lead single from it that I used to own on vinyl from its initial release.
Frank Says: "Most rock journalism is people who can't write, interviewing people who can't talk, for people who can't read."
"Inca Roads" from "One Size Fits All"
I will close with this piece and I hope you have enjoyed the Frank Zappa music and wisdom that I have shared here.
Frank Says: "The United States is a nation of laws: badly written and randomly enforced."
Reader insights
Outstanding
Excellent work. Looking forward to reading more!
Add your insights