Multi-Hyphenate Actor, Recording Artist, and Filmmaker Amir Royale Drops Seductive Single "Pruane" (feat. Lulu Kirtchuk and Devereaux)
The Young Stevie Wonder / Prince of Hip Hop Adds A New Dimension to His Diverse Catalog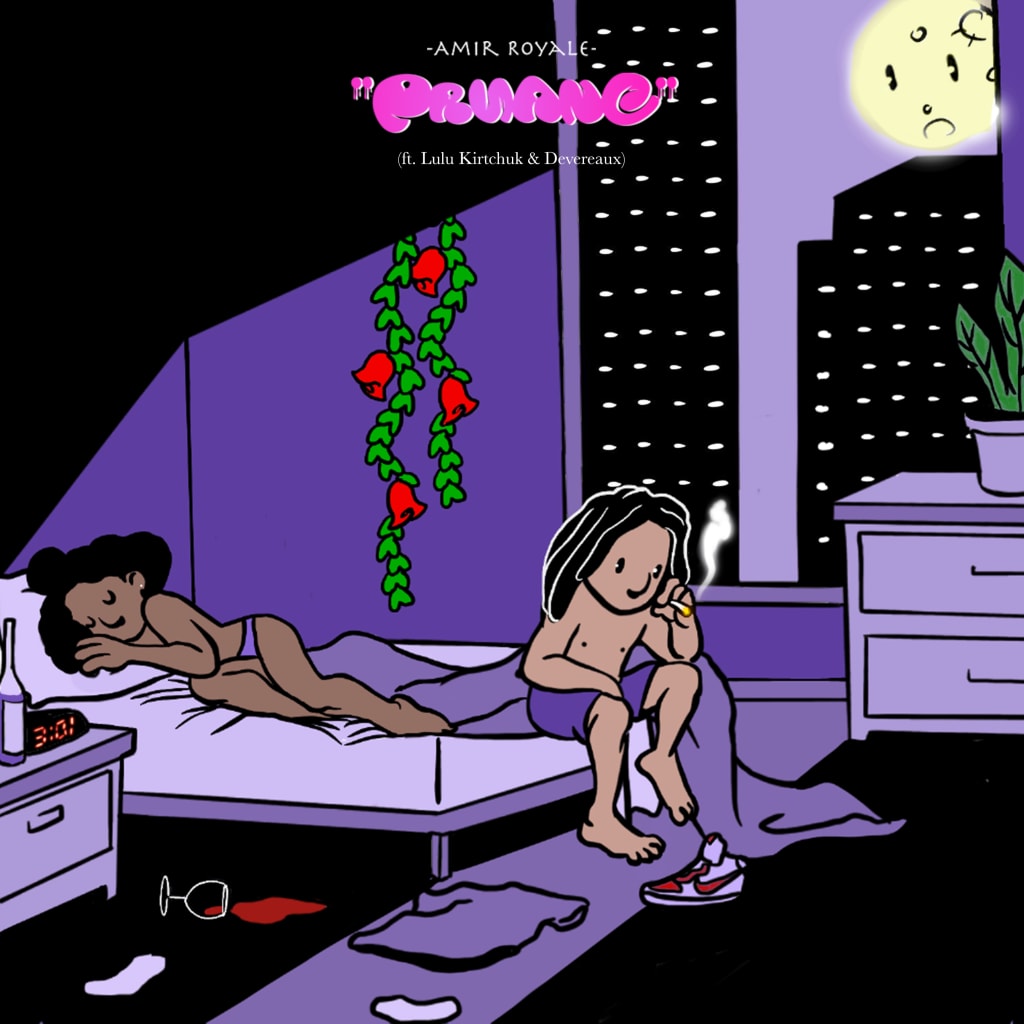 The official clean single art for Amir Royale's sensuous 2023 single, "Pruane."
From Amir Royale
I've tasted toxicity. I've lusted after romance in a way that may have been unhealthy for a couple of years. I've misunderstood cues during intimacy before but have also had partners not reciprocate my passion or attention to detail. "Pruane" is about being in that center space between 'DTF buddies' and 'soulmates.' That unspoken sense of attachment intertwined with the minutiae of apathy. Somewhere smack in the middle of possessive and protective, sexual and sensual, in-love and out of it. We search for the love we think we deserve – and the people that are right for us; we often overlook or undervalue them. Maybe one day I'll finally start getting all this stuff right. 'Til then, I'm content sitting still.

Walk good, take care. 🌺❤️‍🩹🌺
• Buy & Stream Everywhere
• Lyrics on Genius.com
____________________________________________________
artwork by: Markus Prime
composed by: Ricky Webber & Amir Angelo Oliver
lyrics by: Amir Angelo Oliver
performed by: Amir Royale & Lulu Kirtchuk
background vocals by: Lulu Kirtchuk
executive produced by: Prince Royale & Amir Royale
produced by: Devereaux
additional production by: Amir Royale
arranged by: Amir Royale
engineered by: Devereaux, Amir Royale & Peter Enriquez
mixed by: Amir Royale
mastered by: Amir Royale
musical key: D minor
bpm: 78
____________________________________________________
Press Release
NEW YORK -- Friday, February 24th, 2023 -- Amir Royale, a polymathic actor, recording artist, filmmaker, and entertainment entrepreneur, released his new single "Pruane," featuring Lulu Kirtchuk and Devereaux, which focuses on intentionality in relationships.
Click here to listen to "Pruane."
"Pruane" is a masterful hip hop and R&B record written and performed by Royale, who is joined by the sensational Lulu Kirtchuk (an enormously talented New York City-based vocalist, and Royale's former classmate at the renowned Fiorello H. LaGuardia High School of Music & Art and Performing Arts). In the record, Royale explores the ideology of someone who finds true love, yet still struggles with promiscuity.
"I want people to consider being more intentional with who they spend their time with," Royale said. "If more people were intentional in explaining what they want — explaining their needs, and making sure their needs are met — that communication skill would be extremely lucrative to everyone romantically."
Layered with smooth hip-hop rhythms, the record's mixture of snappy drums, catchy musical motifs, and passionate hooks, exude dynamic energy — making for an addictive experience. Royale continues to add further dimensions to his existing diverse music catalog, with "Pruane" being one of his most contemporary and captivating yet.
Royale, as expected, completed various roles in the creation of "Pruane," including being a composer, songwriter, melodist, co-producer, and arranger, as well as mixing and mastering engineer. Devereaux, an in-house producer of the NY-based electronic pop record label IL DOTTORE (and frequent collaborator of mutual NJ/NY polymath DOMENICO), serves as the lead composer and producer of "Pruane," as well as an engineer.
"Pruane" was predominantly recorded, produced, mixed, and mastered at Splendor Palaces Screen & SoundWorks (Royale's home studio in Saint Albans, Queens). Recording for Lulu Kirtchuk took place at ShortStack NY in Greenpoint, Brooklyn, with additional engineering done by multi-instrumentalist producer Peter Enriquez. Enriquez is the co-founder and chief audio engineer at ShortStack NY, previously working with famed artists and associated acts such as Ira Coleman (Herbie Hancock, Sting), Eric Krasno (Soulive, LETTUCE), Theo Katzman (Vulfpeck), and even the Long Island signees Lawrence the Band (Gracie & Clyde Lawrence) of Grammy-nominated singer/songwriter Jon Bellion.
The promotional artwork for "Pruane" was imagined by Royale, realized by Markus Prime of Oh Nah Productions, and designed by New York City-based visual arts conglomerate SPECTRUMM Animations.
"Pruane" follows the release of Royale's soulful, electronic pop-jazz duet "Phonics" in January 2023 and the release of his 5-track Stories of the Lost, Rich & Tormented EP in December 2022. Prior to that, Royale released the certified dance banger "For A Day" in February 2022, the thought-provoking masterpiece "Paradox" in Spring 2021, and a flurry of projects in 2020, such as his debut horror/comedy short film Les Poissons Morts, the "hip-pop" infused electronic hit "Turnin You Out" (which was a collaboration with fellow NJ/NY polymath and pop singer-songwriter/producer DOMENICO). Additionally, Royale re-released his debut 2015 mixtape Magnificent, released the surreal short film drama Please Stop Calling Me (starring A Beautiful Noise Broadway star Kalonjee Gallimore), and acted in the comedy sitcom podcast NEXT STOP. Royale also dropped the soulful hip-hop record "Hold it Down (Freestyle)," and his debut emotional single "People Say" in the early months of 2020.
____________________________________________________
Explicit Cover Art for "Pruane"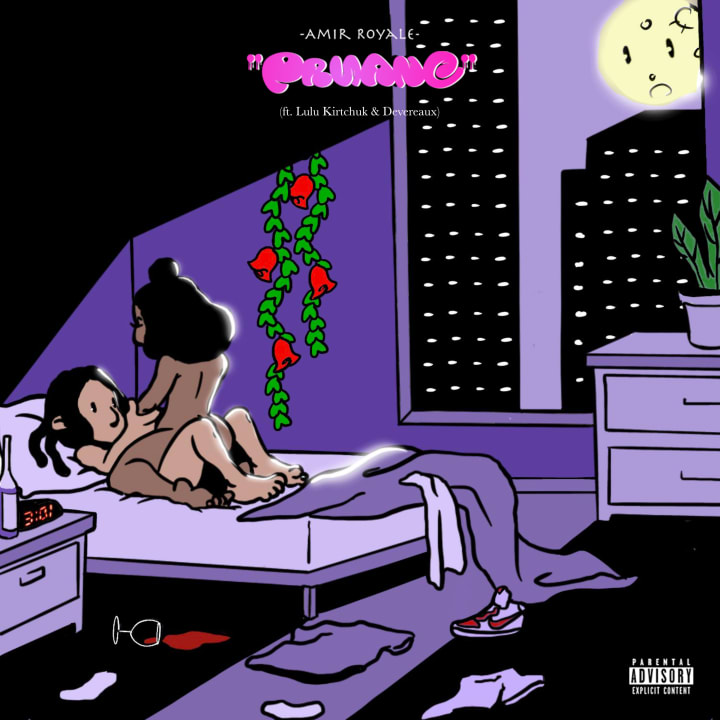 Clean Cover Art for "Pruane"
Click here to listen to the record.
____________________________________________________
About Amir Royale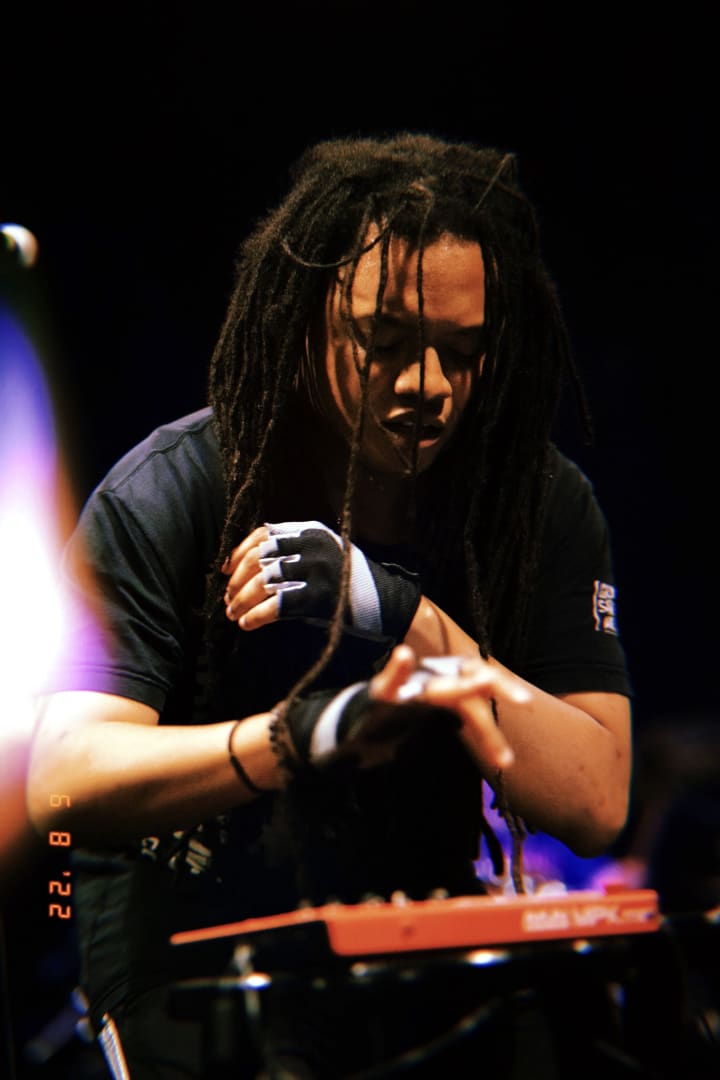 Amir Royale, is a multi-talented actor, recording artist, musician, filmmaker, producer, director, and creative entrepreneur with M. StageScene Communications / Blues Bell Music. Royale is a graduate of New York University's Tisch School of the Arts with a Bachelor of Fine Arts degree from the Clive Davis Institute of Recorded Music (where he also earned a minor in Cinema Studies, and currently teaches as an adjunct professor). Royale also is a graduate of the acclaimed Fiorello H. LaGuardia High School of Music & Art and Performing Arts, where he studied drama. Royale hails from St. Albans, Queens—a neighborhood that was once home to many legendary musicians, such as James Brown, John Coltrane, Billie Holiday, Ella Fitzgerald, Lena Horne, A Tribe Called Quest, and Count Basie.
____________________________________________________
Amir Royale - Social Media Contacts
Website - https://amirroyale.com/
Linktree - https://amirroyale.com/linktree
Facebook - https://amirroyale.com/facebook
Instagram - https://amirroyale.com/instagram
Twitter - https://amirroyale.com/twitter
YouTube - https://amiroyale.com/youtube
Vimeo - https://amirroyale.com/vimeo
Bandcamp - https://amirroyale.com/bandcamp
Spotify - https://amirroyale.com/spotify
Apple Music - https://amirroyale.com/applemusic
Tidal - https://amirroyale.com/tidal
SoundCloud - https://amirroyale.com/soundcloud
Amazon - https://amirroyale.com/amazon
Patreon - https://amirroyale.com/patreon
____________________________________________________
Media Contacts
AR.Ent Creative Management - Prince Royale
AR.Ent Public Relations Officer - Liam La Guerre
AR.Ent Creative Branding Officer - Kelvin Alfonso
Media Marketing - M. StageScene Communications
Record Label - Blues Bell Music
Animation Studio - SPECTRUMM Animations
About the Creator
🌺 .Beauty is in the eye of the beholder. 🌺
🌹 .So look closer—and closer. 🌹
Reader insights
Be the first to share your insights about this piece.
Add your insights