Best websites to sell your beats in 2023
Best websites to sell your beats in 2023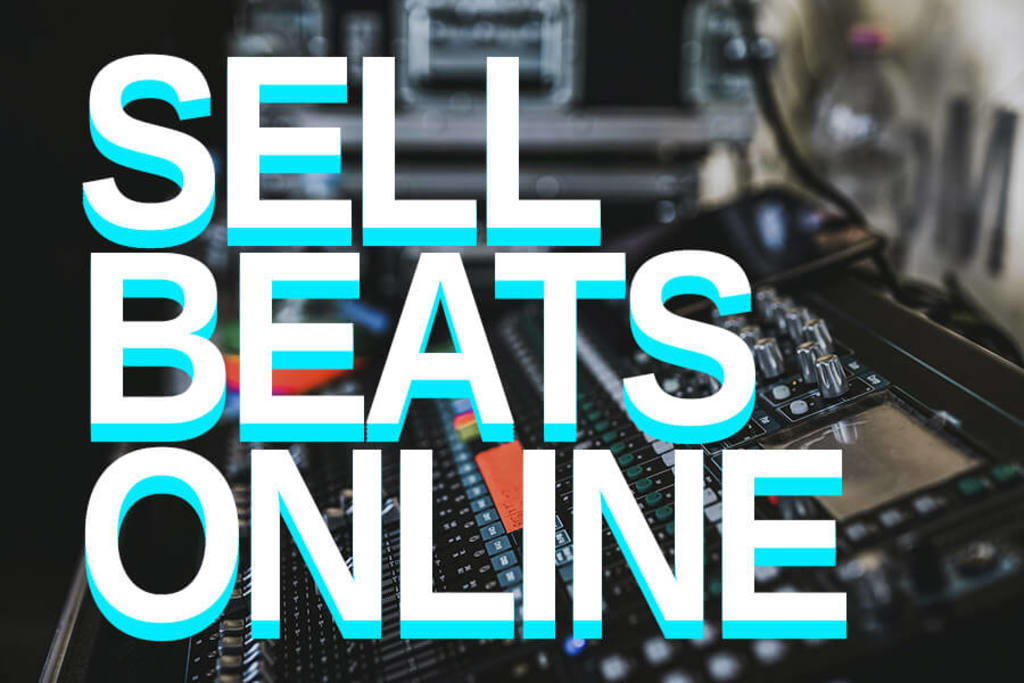 Do you want to sell beats online?
Selling your audio productions to rappers, businesses, and other musicians may bring in thousands of dollars per month for a skilled music producer.
The greatest websites to sell beats on will be revealed in this article.
A diverse range of platforms with various target markets, commission systems and many more. Therefore, you should be able to locate anything on this list that meets your demands.
Ready? Let's get going!
Best websites to sell your beats in 2023
1 Your Own Website
Your own online shop, whether it be on your website or a different marketplace, is the greatest way to sell beats online. Selling on your own website is more cost-effective than using a third-party marketplace because you retain all of the money you generate and there is no middleman to deduct money from your revenues. You have total control over everything when you sell on your own website, including price and payment methods.If you sold via a third-party marketplace instead, you wouldn't be able to take advantage of the benefits that come with this amount of control. To retarget clients who purchase your Beats via your website, for example, you may collect their email addresses. Furthermore, you may sell related items like artist apparel that you couldn't sell on beat marketplaces on your beat shop. From a branding standpoint, it makes sense to sell via your own website. It increases the legitimacy of your reputation as a producer and gives you a more professional appearance. Additionally, it serves as the hub to which you may direct visitors from all other web platforms (like YouTube, Instagram, TikTok, etc.). As a result, you will develop your own following instead of someone else's when you launch advertising activities. Using an e-commerce site builder like Sellfy, you can set up a basic online store on your own domain in about an hour.
2 Airbit
https://airbit.com
One of the most well-known beat markets worldwide is Airbit. There is a lot of rivalry with over 800 000 users. However, if you can cut through the chaos, you may access the platform's vast user base and earn a portion of the $45 million that Airbit's creators take in year. To this date, Airbit has sold over 2 million beats to thousands of artists, including some well-known figures in the music business including Eminem, Beyonce, Migos, and Wiz Khalifa. On Airbit, you may start selling right away. Simply submit your beats, choose your rates and the payment method you like, and start making money. Your beats will be featured in the Airbit marketplace after you've submitted them and are ready to be found by Airbit's large user base. Additionally, the platform will get you access to your own artist Infinity Store, where followers can follow you and be updated about new releases. You'll get immediate payment as the sales come in. To make your life easier, there are templates for beat licenses, discounts, contracts, packages, and other things. With a basic account that is free, you can submit 10 beats. If you upgrade to Platinum, however, you may upload and sell an unlimited number of beats. You also get $100 worth of Promo Credit when you upgrade, which you can use to advertise your beats on the platform and increase sales. The greatest thing, though? Airbit does not charge a fee!
3 AudioJungle
https://audiojungle.net
Envato Market, one of the largest online marketplaces for digital goods, has an audio division called AudioJungle. You may sell any kind of audio file on AudioJungle, which is a wonderful feature. Not just beats but also music packs, sound effects, audio logos, and other stuff. Similar to Airbit, it has a large user base and excellent discoverability, so you won't need to spend as much time and as promoting your tracks as you would if you choose to sell via your own website.
4 PremiumBeat
https://www.premiumbeat.com
In the online music store PremiumBeat, musicians may sell beats. Selling on PremiumBeat gives you access to Shutterstock's massive user base.
Anyone who meets their requirements may add beats to the PremiumBeat library:
Your music must be entirely unique (you must own and control the copyright of both the composition and master recording) 
Third-party rights must not be contained in your beats.
You must be prepared to provide PremiumBeat unique access to your beats. 
After submitting your beats to PremiumBeat, you are not permitted to post or sell them elsewhere. For producers who wish to sell their products via several channels, this can be a deal-breaker.
5 Beatstars
https://www.beatstars.com
Another excellent website for selling beats online is BeatStars. In terms of popularity, it is comparable to Airbit, although it seems to be less aggressively competitive. Over 1.3 million digital items have been sold by BeatStars creators, who have made over $100 million so far. On BeatStars, you may sell up to 10 songs for free, or you can subscribe to a paid membership to sell an unlimited number of tracks and have access to premium services. Free users must pay 30% of their revenue in fees, whilst paid members get $0 commissions. BeatStars may be used as a distribution platform as well, allowing you to share your beats with the world and make money via download and streaming services like Spotify, Apple Music, Deezer, SoundCloud...
6 Bandcamp
https://bandcamp.com
Fans may find, support, and interact with artists on the online music shop and community platform known as Bandcamp. It stands out for its musician income model and is a terrific location to buy and sell beats and other music goods online. Nearly $1 billion has been made by Bandcamp artists at this point. You may register, personalise your own direct-to-fan shop, and submit your songs to the bigger market in order to receive a piece of the action. Your profit potential is unlimited since you can pick your own beat prices. And what's nice is that you can even set a minimum cost while allowing supporters to pay extra if they want so. You still retain 85% of the money after Bandcamp deducts its 15% share from digital music fees, which is a reasonable amount.
7 TrakTrain
https://traktrain.com
If you're a dedicated producer, TrakTrain is a wonderful website to sell your beats. There are no commission costs for free users' first 15 uploads, and there are no further expenses for selling your beats. You may make a profile and upload your songs after signing up. You may, for instance, share profits with your co-producers, provide free downloads in return for social media likes or email sign-ups (excellent for growing your fan base), set release dates in the future... Additionally, there are several marketing methods available that may help you get greater visibility, like advertisements, discounts, and promotions.
8 Audiodraft
https://www.audiodraft.com
If you want to sell your beats to businesses, Audiodraft is a fantastic location to do so. It serves companies who are developing their audio branding. Tracks in their "Music Library" have set rates for exclusive rights, but you may establish your own prices. Audiodraft has hand-picked tunes that are available in the Music Library. 70% of the money generated by producers' beats on AudioDraft goes to them.
9 Soundee
https://soundee.com
Another site for buying and selling beats is Soundee, which is certainly useful. Users on free packages can only retain up to 70% of their revenues, whereas paying members may keep 100% of their earnings. It's a little more difficult to be found on Soundee since it's not nearly as well-known as Airbit and BeatStars. On the other hand, since there is less competition, it is also simpler to make sales. Additionally, there are some advanced features like the acceptance of cryptocurrencies and offers, support for co-producers, connection with email marketing...
10 Soundclick
https://www.soundclick.com
Another well-known online music store with a long history is SoundClick. It offers a big catalog and is one of the few online music stores that allows free users to submit an unlimited number of tunes. Although there are no restrictions on the amount of music you may upload, you should be aware of data usage restrictions. Additionally, you'll be charged a 30% fee on any license beat sales. By subscribing to the Gold membership for $15/month, you may prevent these fees.
11 Soundgine
https://soundgine.com
Hip-hop beats, sound effects, TV and movie soundtracks, songs, albums, and any other kind of audio you can think of are all for sale on Soundgine. Super simple to use. You may start selling as soon as you join up, open your beat shop, submit your music to the marketplace, and configure your payment methods. For various licenses, you may set your own fees, and you can even let clients subscribe to your membership service. Furthermore, you have access to a music player that your clients may use to preview and share your tunes on social media. Pricing starts at $9.99/month.
12 GoBuyBeats
https://gobuybeats.com
You may buy and sell beats to a range of audiences on the incredibly helpful portal known as GoBuyBeats. Songs for YouTube, your own singles and albums, demo music, ringtones, and much more may all be made profitable. You must first register as a musician in order to post your beats for sale. After that, you can start selling your beats. Rates on the site vary from free to $200 or more, and you are free to establish your own prices for your beats.
13 Soundcloud
https://soundcloud.com
One of the first and most well-known internet music distribution channels is SoundCloud. The portal has served as a marketplace for young and up-and-coming musicians to sell their beats music online since 2007. Artists have the option of uploading their beats for free or paying a SoundCloud Pro Unlimited membership fee to have access to a variety of helpful creator tools. Due to the fan-powered copyright model used by SoundCloud, musicians get compensated according to how long their devoted fans spend streaming their beats. To be eligible for royalties, artists must be a part of the Pro Unlimited program or Repost by SoundCloud.
Best websites to sell your beats in 2023
Check out our website with the biggest online music business contact database that includes music blogs, artist booking agencies, music festivals, radio stations, record labels, Spotify playlists, music online magazines and much more.
https://musicbusinessguru.co.uk/music-biz-encyclopedia
We offer comprehensive artist development services that are suitable for artists at any stage of their career.
https://musicbusinessguru.co.uk/services
Mike Dacombe
musicbusinessguru.co.uk
Reader insights
Be the first to share your insights about this piece.
Add your insights