10 Ways to Travel with Jewelry
Looking for the best way to travel with your jewelry in hopes of nothing getting tangled? These are the greatest ways to travel with jewelry.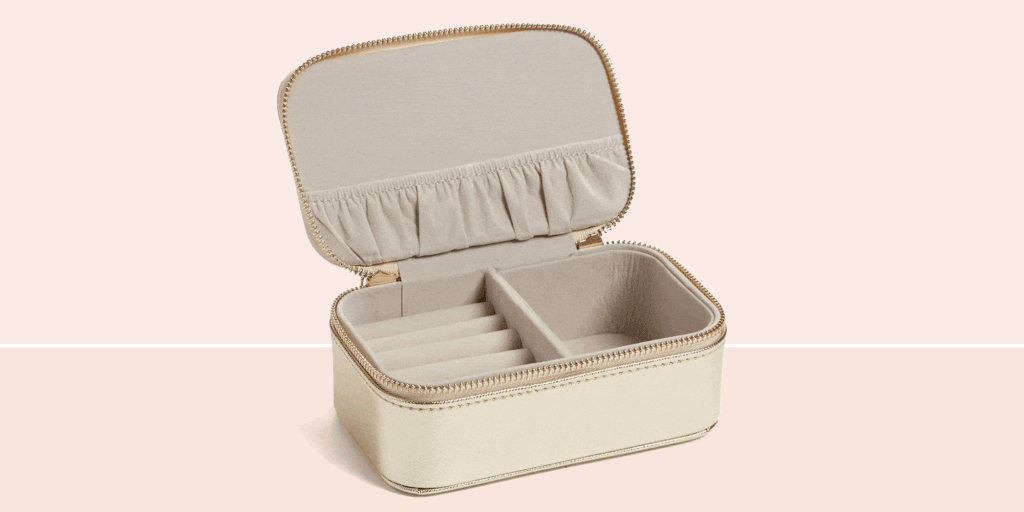 When you're packing for a trip across the country or across the globe, you want to make sure that you've packed everything securely into your luggage. From your clothing to toiletries and accessories, you wouldn't want anything getting out of place. And when you finally make it to your destination, you want to open your luggage and find everything the way you packed it. But you know what's really tough to pack and can always end up in some other place completely tangled with your other belongings or together? Jewelry.
Jewelry is difficult to pack, because they're usually the smallest and most fragile items in your bag. And if you don't pack jewelry the right way, they can easily become a tangled mess when you open up your luggage. However, there are so many ways you can pack any of your jewelry. From necklaces to bracelets, rings, and earrings, you'll never have to worry about them getting all tangled by the time you get to your destination. These are the best ways to travel with jewelry to avoid having them get all knotty.
If you're really cautious about your jewelry not ruining in any way, jewelry cases are probably your best option. Since they're so sturdy, hard, and can keep all of your jewelry pieces away from tangling with each other, they're great for packing and storing in your luggage. And the greatest jewelry case you can get your hands on is the Dana Faux Leather Travel Jewelry Case by Mele & Co.
Despite the fact that this case is stunning in appearance and interior, it's pretty hefty in keeping all of your jewelry pieces safe from anything. While it makes traveling with your jewelry a breeze, you'll never have to worry about any of your jewelry pieces ruining. This case features one side with four sections and ring rolls. The other side has a removable drawstring pouch and a handy mirror. The zipper is also very durable and won't break after using this case so many times.
Ziplock Plastic Bags
Another great alternative in ways to travel with jewelry is using ziplock plastic bags. Ziplock bags are usually really useful in keeping everything inside locked in place. Since you want your jewelry to stay where they are in your luggage, ziplock plastic bags are perfect. They're also a much cheaper way of traveling with your jewelry.
You can use however many ziplock bags you want and either separate your jewelry in bags or combine everything in one. However, the only way for your necklaces to not be tangled together is either leaving the chain hang out a little on the top of the bag or place single necklaces in different bags. It's no wonder using ziplock plastic bags are among the genius vacation packing tips.
Pill Case
Empty pill cases are perfect for storing your jewelry in. While they're small and easy to put away in your luggage, they can also carry whatever jewelry you fill them with. Plus, the child-proof seal cap really keeps your jewelry pieces locked inside, and that's what we all want when traveling with our jewelry.
It's usually easy to find pill cases, while you can use your empty ones or find empty pill cases at a convenient store, this is certainly one of the best ways to travel with jewelry. However, the chances of your necklaces getting tangled in the pill case are much higher unless you have a trick of keeping them untangled.
If you want something more thin, but can still carry all of your jewelry without them tangling together, a travel jewelry roll is among the brilliant ways to travel with jewelry. While these rolls open up, you're exposed to multiple compartments to place your jewelry in. Then when you're finished, you simply roll it back up and it becomes smaller, ideal for storing in your luggage, purse, bag, etc.
However, this specific jewelry roll by UncommonGoods is certainly beautiful. Since it's inspired by the Turkish culture and their carpet designs, this colorful jewelry roll includes zippered pockets, a snap-style ring holder for your rings to fully stay in place, and a large interior slip pocket with a tether to keep your jewelry's unique shapes in place. Once you roll it up, you simply tie the roll with the additional ribbon to keep it fully secure!
Washcloth and Rubber Bands
You can also make your own jewelry roll with a washcloth and some rubber bands! While it's one of the genius ways to travel with jewelry, it's very easy to make, as well. You just have to place your jewelry in a washcloth, but make sure you separate them.
Once you've got your jewelry in the washcloth, gently roll it and fold it in half. Then with your rubber bands, tie each end of the washcloth so none of your jewelry falls out. Simple, secure, and easy to store anywhere in your luggage, you can't go wrong with this option. Plus, this is an eco-friendly way of packing your jewelry.
Buttons
Yes... buttons. You're probably asking right now, "How can you possibly store jewelry with buttons?" That's easy, your earrings! Never thought of using buttons to keep your earrings together, right? In fact, this is a really, really simple way of keeping your studs, hoops, and any other form of earrings together in your luggage.
Just take any sized button, but nothing too small, and with the holes in the center of the button, you put the post of your earrings through them and secure them in place with the backing. Since this is a much smaller way of storing your earrings, you want to make sure you know where you're exactly placing these buttons in your luggage. But hey, this is a brilliant way of keeping your earring together!
Have you ever seen pouches this luxurious-looking? From the ways to travel with jewelry, jewelry pouches are usually the go-to for people who need to pack their jewelry in their luggage. While you can stuff a lot of your jewelry pieces in them, the drawstring on top really keeps everything inside.
But solid-colored pouches can be really boring and if the material isn't in good quality, they might even ruin your jewelry. That's why these two-piece jewelry pouches by Unique Bargains are the best type of pouches out there. For starters, the design on these are stunning in the most vibrant gold style ever. There are even little gold bits on the ends of the strings for design and to even prevent the strings from unraveling. However, the material is in top-quality and won't tear easily even when you store your sharpest jewelry pieces.
Drinking Straws
Drinking straws are actually a great way to keep your necklaces from tangling with others and with itself. In fact, you can use this idea when storing your jewelry in ziplock plastic bags, too. And this method isn't difficult at all.
What you'll need are straws, depending on the amount of necklaces you intend on bringing with you to your trip. Then, slip one side of the chain through the straw, and connect the necklace together. This way, your necklaces can't tangle together at all. You can also cut off a bit of the straw if your necklace has a short chain.
Cling Wrap
Using cling wrap to store your jewelry in is truly one of the brilliant ways to travel with jewelry. Many people look past this option, but it's actually ideal for storing in your luggage, because it won't consume so much space. And cling wrap will prevent all types of tangling, since it'll keep everything locked in place.
First, you lay out a piece of cling wrap and place your jewelry pieces in them. Mainly ideal for necklaces, but other pieces can be stored in cling wrap, too. Once you've placed all of your jewelry pieces in the cling wrap, you fold the cling wrap over, press, and seal it all. Make sure you get any air bubbles out, too. While the cling wrap keeps all of your jewelry in place, you won't have to worry about them tangling! Cling wrap is also a way to pack fast if you're running late for a flight.
Lastly from the best ways to travel with jewelry is using a jewelry portfolio. Similar to a jewelry roll, you don't roll this, but it opens up and gives you access to multiple compartments to store your jewelry pieces in. You then close it like a wallet, and it's super simple to store anywhere in your luggage while your jewelry pieces are kept together!
As for a great jewelry portfolio, this one by Wolf is gorgeous in style and is very spacious to place all types of jewelry in. With its delicate medallion cutouts for a more glamorous design, it's pretty slim so you can slide this anywhere in your carry-on bag. However, there's plenty of space to organize your jewelry in. With interior zip pockets, a ring roll, four necklace holders, and 18 earring holes, you're completely set to store all of your pieces in.