Step 5: Promote Your Story
You've told your story—now share it with the world.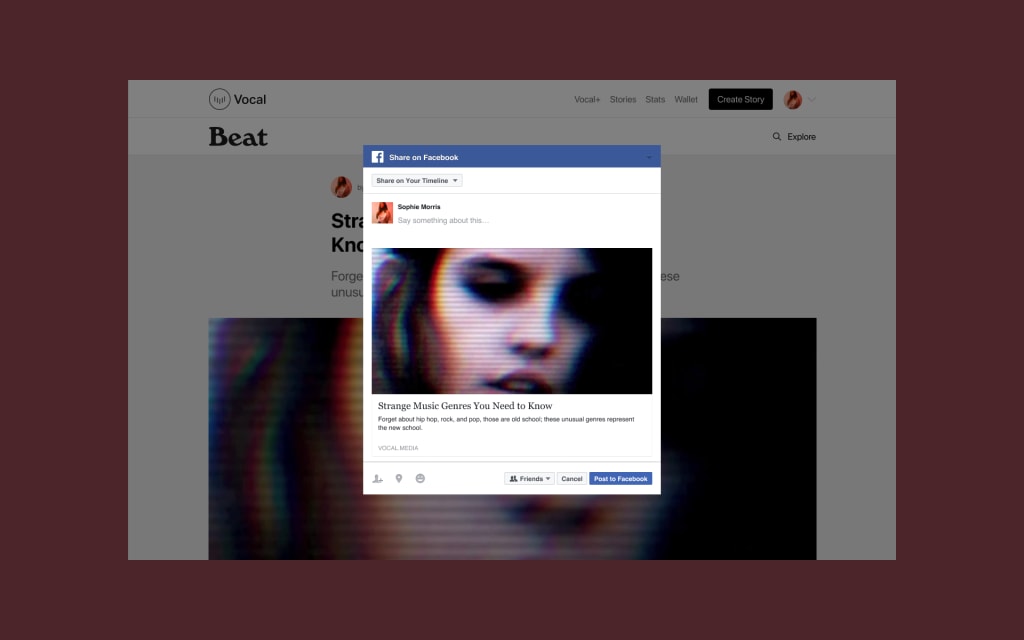 Promoting your story is not an exact science, but there are some effective steps you can take to give your hard work the upper hand. Maybe you're building a following on social; maybe an email marketing approach is more your speed. Either way, we've put together some tips and suggestions for creators—some are simple, some require a bit more planning and effort, but all make it possible for you to increase the engagement your story receives.
Social, social, social.
If you don't yet have social accounts, now is a good time to start. Social platforms like Twitter, Instagram, Facebook, or even Reddit and Pinterest can be really helpful in gaining traction. On your personal social accounts, be open and honest about your work—messages like "Check out my very first story!" or, "This is a topic that's really important to me, so I decided to share my thoughts," will only encourage your friends and family to support.
If you're really trying to grow your audience, through, your promotion shouldn't end with your direct network. There are so many resources out there to help you connect with a larger audience—use them! Try out all of the following to see what works best for you:
Share your story in applicable subreddits or Facebook pages.
Use Pinterest or Flipboard to have your story curated and shared with other readers you might not normally reach.
Use Linkin.Bio to link your latest story to an Instagram post (or, if you have over 10,000 followers, use your swipe up feature in IG Stories to direct readers to your story).
Pin your latest story to your social feeds, or include it in your Instagram bio, so that it remains front and center.
If you mention a person or location in your story, be sure to tag them (and, of course, tag Vocal on Twitter or Instagram so we don't miss it!).
It's not for everyone, but if you have the budget, test out boosting some of your social posts. Even $1 a day towards a sponsored post can give you a lot of insight into what audience you'll reach, or what platforms are most promising.
For the most effective social promotion, get into the habit of alternating between promoting your own and other creators' stories. On Twitter and Facebook, try establishing for yourself a 1:3 posting ratio to keep a nice balance of posting your own content and others'. Keeping a balance looks good from an aesthetic perspective as well as a technical one.
As you continue to create and promote stories, start using Vocal and social media as a two way street. Embed your social profiles at the end of your story to encourage people to follow you, and use social media to share and promote each of your stories.
Engage with other Vocal creators.
Explore Vocal's Staff Picks to see recommended favorites from the curation team. Make note of creators whose stories you love, or whose interests align with yours, and share their stories on social media—or even send them a tip to show your support. Fostering communities of creators supporting creators encourages everyone to create, and it's also a great way to help you build a dedicated fan base. Check out our guide on how to grow your audience on Vocal here.
Engage with your readers.
Do you see your audience liking or sharing your stories on Twitter of Facebook? Engage with your fans to keep them coming back for more. Like or comment on their social posts, follow back, share something of theirs in return, and say thanks.
Start keeping an eye on your Vocal stats.
Monitor your Vocal Stats to see which stories are performing best. This will give you a great first indication of which stories your growing audience is drawn to, and what topics you should be focusing on in the future.
Reviewing your Stats page regularly, especially at the beginning, will be instrumental in figuring out what works and what doesn't and improving your stories over time. If a story is performing particularly well, take note of what's different about it and use that information going forward.
Don't underestimate email.
Create an email list of those who you know will support you. This can include family members, friends, mentors, or anyone you know that's involved professionally or personally in the topic of your story. If you write a bit more frequently and don't want to annoy people with daily email blasts, you can choose to make it a bi-weekly/bi-monthly update, and include links to a number of stories in one shot. You could even curate some of your favorite stories by other creators on Vocal and include those in your emails, too.
Promoting your story will grow an engaged audience—and on Vocal, the more people that read your story, the more you earn. Let's take a look at how payments work on Vocal once you've earned some money.
Reader insights
Be the first to share your insights about this piece.
Add your insights