Retreating Into the Country Up North
Women come together to spill some of their trauma, grief, and loss.
Yes, there will be yoga, by a master yoga teacher or two. Well, one of them will be providing guided meditation and meditation walks. The retreat this year is to be held at a resort in northern Minnesota. Not too far from where I grew up.
It will be held in the middle of September and by then the water toys will be out of the lake. Yes, it is on a lake with cabins and the wonderful outdoors. Leaves are already turning colors, so it should be gorgeous. With the perfect colors of red, yellow, orange, and green leaves.
I am not sure if the pontoons will still be on the water or not. We were told we could go on the lake in the pontoon if it was still on the water. Our weather in northern Minnesota was freezing temperatures or close to freezing last night.
At our house, we were 33 degrees this morning. The menu is all planned. There will be lots of healthy comfort food. We have 15 women signed up for this retreat. Two have not paid the retreat cost yet, so there may be 13 or 14 women. Sometimes that happens. Last-minute drops.
The topic can sometimes bring this on. Do I really want to grieve or look at my trauma, grief, and loss? It is okay, we just work around it.
The cabin can hold 12 comfortably and 3 of us will be staying with the meditation leader in her home. She and I are friends as are the other two staying with her. She recently finished her home as that is where her daughter and son-in-law live. They own and operate the resort.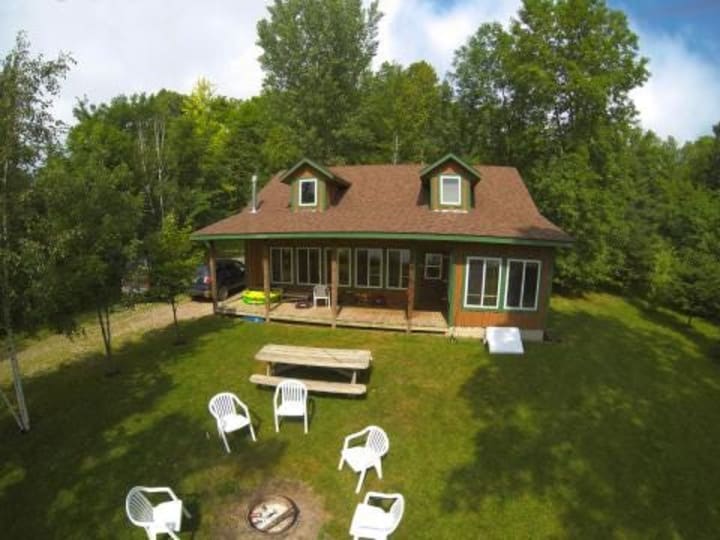 I am looking forward to this retreat. We have another one planned for the end of February or the beginning of March 2024, and that one is in Mexico.
I loved the retreat I attended in Mazatlán in 2016, and that will be tough to beat. My co-facilitator likes that we are doing exclusively trauma, grief, and loss retreats.
We limit the registration to what our venue supports. Our Mexico retreat is probably half spoken for already and our dates are not yet confirmed.
I put together a booklet for all the participants that included materials from each of the presenters. Then there are also trauma, grief, and loss materials that we have used when working with counselors on the topic.
I loved that our main guest speaker sent a collage of the art that she has done in her grief work over the years to add to the booklet.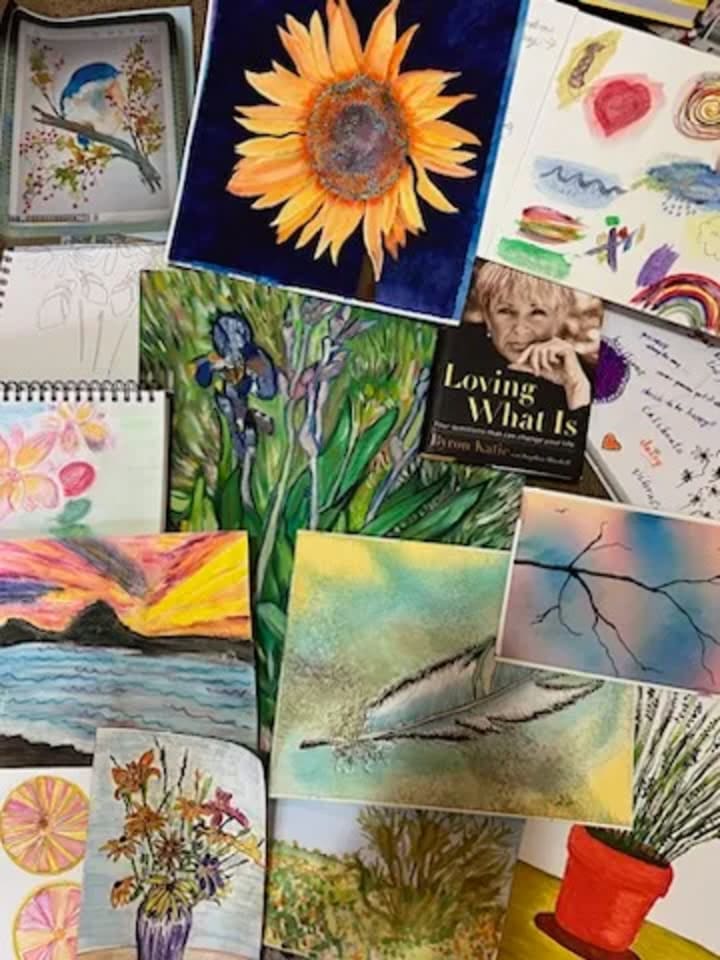 Some people cannot do the artwork she has done, but they can work with clay, making pottery, music, dance, creative writing, and poetry. Others sing and draw and journal.
Anything we do that is creative is healing. Take time to do this for yourself. Some people have said that they have waited until retirement to go back to their art and writing. That is so sad as it can be so healing.
Everyone cannot afford to get away for a few days from their busy life. If you can, you should. Retreats come in all sizes and shapes. I have attended many retreats in my lifetime. Some are more formal than others. All gave me something I wouldn't have gotten without going.
When I talk about spilling some of the trauma, grief, and loss, it really is at the women's discretion. If she feels safe with the group, more will probably come out. We ask people to only tell us what they feel safe in talking about. Permission is always given to take good care of you.
Most women who attend retreats come not knowing what to expect. We want women to expect to be treated well. Good food, good accommodations, good support, facilitators who know what they are doing and what they are talking about.
My friend Peggy started this retreat business not to get rich. She never charges enough to make money for herself. She pays her guests, her co-facilitator, and all of her expenses. What does she get? She loves the healing joy it brings to so many women.
The success is all in what people have to take away. How they are better at self-care when they leave us. How they had a few days to just spend on them alone. A retreat with us in the Northwoods of Minnesota will be great. Just as great as a retreat in Mexico or anywhere else.
++++++++++++++++++++++++++++++++++++
Published first by Mindful Mental Health in medium.com
About the Creator
I am married with 7 children, 26 grands, and 11 great-grandchildren. I am a culture consultant part-time. I started writing A Poem a Day in February 7 years ago. I wrote 4 - 50,000 word stories in NaNoWriMo. Writing on Vocal/Medium now.
Reader insights
Be the first to share your insights about this piece.
Add your insights