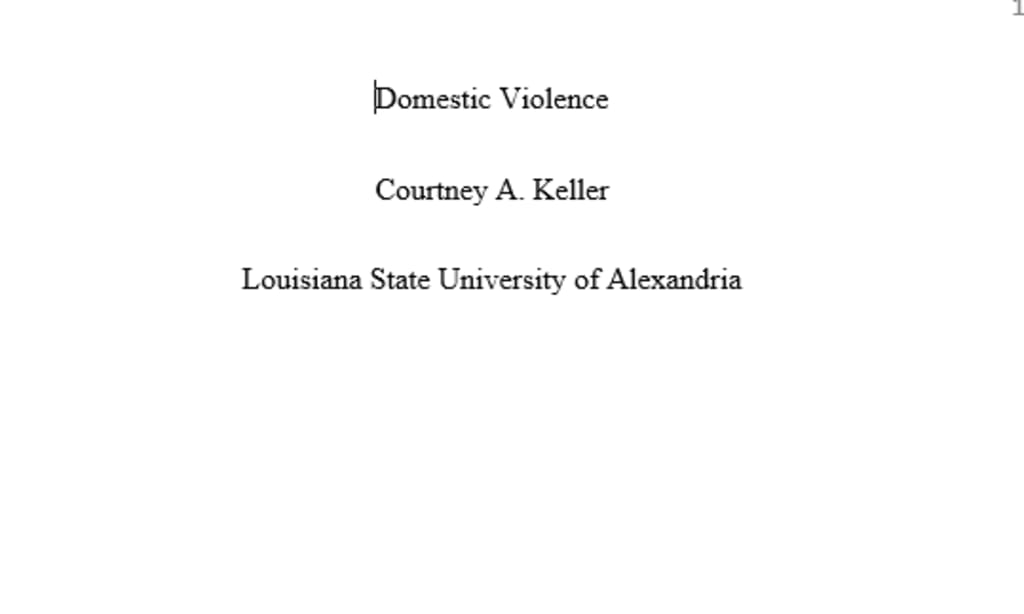 Domestic violence is an ongoing issue in the United States today. Violence with an intimate partner can occur in many forms. These include financial, physical, and emotional abuse. Any form of abuse can have a negative impact on victims and witnesses. Physical abuse can end in the loss of life, whether it is the victim's life or the abuser's life. There are 1,200 individuals per hour that experience some form of abuse. Parsons (2014) explains that 40% of all homicides of women in each state involved intimate partner violence.
One woman who was a victim of domestic violence was Amie Harwick. Amie Hawick, 38, was killed an altercation that involved her former boyfriend, Gareth Pursehouse, a man of many careers. The couple started their relationship in 2010. However, after several months of abuse, it shortly ended. After their relationship, Gareth Pursehouse stalked and threatened Ms. Harwick. Amie Harwick was frightened by his actions. She requested a restraining order in 2011. However, after Amie did not appear in court, the request was denied.
In 2012, Amie Harwick requested another restraining order. This order was accepted and lasted for many years. However, the restraining order ended at the beginning of 2020. After the order ended, Gareth Purse House attended an XBiz, an adult film event. He was a photographer for the event. However, witnesses suspected he followed Amie Harwick to the event. After PurseHouse encountered Amie, he started acting out. It is guessed that after the incident Amie Harwick went to the police for Mr. Pursehouse's actions.
On February 15, 2020, Gareth Purse house entered Amie Harwick's home. A roommate at the time witnessed Pursehouse's actions and ran outside to call for help. As she screamed for help, the neighbors reported it to the police, however, the police were too late. As they entered the yard of Amie Harwick's, they found her lifeless body on the ground right below her three-story balcony. After further investigation, it was proven that there were signs of forced entry and struggles. Amie Harwick did not die at the scène. She was brought to the hospital to be treated for her injuries. However, her injuries soon took over and she lost her life.
Three days after the incident, Gareth Pursehouse was charged with the suspicion of murder. He was able to pay the 2-million-dollar bond and be set free. He was released for three days, then he was arrested again. His final charges were murder, burglary, and lying wait. To avoid the death penalty, Gareth Purse plead guilty on all charges. Currently, there is still an ongoing investigation. His next trial will be held on June 24, 2020.
Amie Harwick was known for her career as a modeler and dancer. However, she only started these careers to pay for college. Ms. Harwick was a student at California State University. After graduating with a Psychology degree, she joined Pepperdine University. Through this school, she was able to gain her Master of Arts degree in physiology. Once she was done with her education, she gained her license as a Doctor in Psychotherapy and Sex Therapy.
With her new career opportunity, she became a large advisor for domestic abuse victims and sexual abuse victims. Radakovich (2020) explains Besides working with victims of domestic violence, she also counseled teenagers who were victims of sex trafficking, and adults with anxiety, depression, sex issues, marriage issues, and sexual identity issues. She was there to help many victims of abuse, but sadly she could not help herself.
Many individuals fall victim to domestic violence. These victims can range from any age. Even children can fall victim. Children may start mimicking the violent actions of their parents. Victims may gain PTSD from such troubling events. Many victims try to get help before it is too late. However, in many occasions, they cannot get help. Abuse can be long term; many are stuck in the situation they are in. It is best to get help as soon as possible. Amie Harwick could not get help. Maybe if she did, she would be here today.
References
Baker. Et, Al. (2020, April 3). Hollywood Sex Therapist Amie Harwick Likely Fought for Life Before Being Thrown off Balcony: Autopsy. Retrieved from https://people.com/crime/amie-harwick-likely-fought-for-life-autopsy-report/
Dickson, E. J. (2020, March 10). Inside the Bright Life of a Murdered Hollywood Sex Therapist. Retrieved from https://www.rollingstone.com/culture/culture-features/amie-harwick-gareth-pursehouse-hollywood-sex-therapist-death-957882/
Gerney, A., & Parsons, C. (n.d.). Women Under the Gun. Retrieved May 31, 2020, from https://www.americanprogress.org/issues/guns-crime/reports/2014/06/18/91998/women-under-the-gun/
Read, B. (2020, April 17). What We Know About the Death of Amie Harwick. Retrieved from https://www.thecut.com/2020/04/what-happened-to-drew-careys-ex-fiance-amie-harwick.html
Radakovich, A., & Radakovich, A. (2020, February 23). Colleagues and Friends React to the Murder of Hollywood Sex Therapist Dr. Amie Harwick. Retrieved from https://www.lamag.com/citythinkblog/amie-harwick-murder/
Paul, P. (2020, February 18). Amie Harwicks suspected killer was devastated after their break-up, his mom claims: He stopped talking to us. Retrieved from https://meaww.com/drew-carey-ex-fiancee-amie-harwick-broke-murder-suspect-gareth-pursehouse-heart-ex-boyfriend-mother/
Social Solutions. (2020, March 04). 20 Alarming Domestic Violence Statistics for 2018. Retrieved May 31, 2020, from https://www.socialsolutions.com/blog/domestic-violence-statistics-2018/