Baker's Dozen: Cannabis Strains I Loved in 2021
A Half-baked Wake-and-bake List of 13 Cannabis Strains I Enjoyed (Mostly in 2021)
I've written about some heavy things this year. About family drama and past trauma. But I have also enjoyed creating a few "Baker's Dozen" lists lately that have been a dose of fun to combat those heavier, serious themes! From songs off my Spotify Wrapped list, to podcasts, to YouTube channels, I've been enjoying spending my time on some more carefree posts for the end of the year! Naturally, I wanted to create one for cannabis strains I've enjoyed in 2021!
However, this year saw me taking several long breaks from using marijuana as I went out-of-state to help relatives and also stopped using cannabis for a while at the end of this year to see how my natural sleep patterns are nowadays (hint: it's not great). So while most of these were used in 2021, a handful were notable strains I used in 2020 thrown in to buff up the list. How do I recall what I smoked last year? First off, I have most of the containers the flower came in; I intend to try to create something with them for repurposing. So I have the labels in most cases. Second off, when I write down ideas for stories and books, I jot down several bits of information - one of which happens to be what (if any) strain of cannabis I am using at the time. The ones mentioned here from 2020 were ones that were repeatedly attached to my notes for much bigger projects than what I post here on Vocal.media.
Please be aware that my partner usually buys the strains for me when he's out and about (I hate driving), and I am more interested in seeing the results while using a strain than any of the actual characteristics of the buds, so there's not really any talk about the flowers' characteristics from me. However, the links provided (Leafly.com mostly) will go over such information! Maybe next year I'll pay more attention to the buds I smoke.
So top a bowl off and grab something for the munchies - here is my "Baker's Dozen" list of strains I loved in 2021!
Wake and bake, friends!
Starting off, we have Durban Poison. I have used this strain since my early days of cannabis use about 6 years ago, and it has been a staple strain since! A nice chunk of my notes contains the addition of this strain's name and I would venture to say it's likely one of my most - if not the most - frequently attached Sativa strain! If I'm looking to get focused and get a lot of work done, Durban Poison is one of the best for me!
Hot on the heels of Durban Poison is the Hybrid strain, Golden Goat (though often it is marked as a Sativa on labels I have). If there's a strain that gives Durban Poison a run for its money for most-included in my notes, it is Golden Goat! It has been among my most-used for around the same amount of time as well, making it another strong staple strain! Though I don't scrutinize looks much, this strain is fairly easy to identify even if I'm not paying attention, as it does have a "golden" appearance!
3) Blue Dream - Hybrid (Sativa Dominant)
A third staple strain, Blue Dream has been a helpful addition to me for about 5 years! I find that it beats out the similar Purple Dream for me, personally. Where Purple Dream has rarely given me good, consistent results, Blue Dream steps up! Maybe it's that Sativa dominant vs true hybrid component. While not as motivating as the two strains before it, it certainly holds its own without bogging me down with the true high of a heavy strain.
4) Elmar - Hybrid
If I'm not mistaken, this strain is only from Good Chemistry. This was a new-to-me strain in 2021, and it performed favorably for those, "I want to relax, but not that much" days. I found it to be a good strain to use while cleaning up the house to some music or while I was listening to podcasts and coloring to relax.
I believe this is also a strain exclusive to a particular store chain, but this time exclusive to The Green Solution. This Indica was also a new strain to me in 2021, and was a welcome ally for those nights spent relaxing to YouTube, World of Warcraft, and late-night coloring before bed. It was enjoyable for unwinding - I might need to request to get some when I start using recreational weed again in a few weeks! It's been a stressful few months without much THC, and I can't wait for my first good high when I start up again, let me tell you!
Don't let the name fool you; while this strain does have a slightly sour aroma and taste, there is nothing sour about the effects! First introduced a few years back to this Sativa, this was a staple strain of 2020 and is a welcome friend! While I did have some brain fog reminiscent of this strain's name, this was a perfect companion for desk work for me! It allowed me to relax at my desk for those long days of handwriting - and typing up handwritten pieces - without being too much of a hindrance to memory, though there were a few times I spaced out looking at something on my desk! Overall, more good than harm was done!
While not really a staple strain of 2020, White MAC (Miracle Alien Cookies), did prove itself a useful Hybrid strain fit for both jotting down notes/ideas and housework - particularly baking or preparing pancakes! Guess the "cookies" part got me to thinking about the oven and all things carbs! Or maybe that was just the munchies? Either way, this duality makes it a great addition to my "would get again" list!
Another fairly common staple, Lemon Skunk has proved to be an all-around Hybrid for me; whatever I want to do - from housework, to writing, to goofing off, to sleeping - this strain is agreeable with it! There was nothing in particular that was better or worse-off when using it, and it was useful for any and all of my housebound adventures!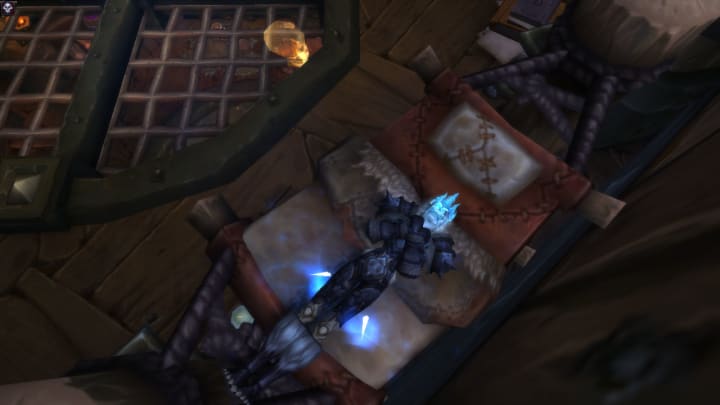 Looking this strain up, it appears to be exclusive to Silver Stem. While I'm not a huge tangerine fan, I am a fan of this Sativa! Introduced to it in 2020, I recall this being another all-around strain, depending on how often I used it! This meant that using it between bits of housework kept me going, or that I really got relaxed while watching television or playing World of Warcraft, where I tend to smoke more often.
"Haze" is fitting with this strain! While I don't recall how well this one hit, it was included in several notes from 2020! I do recall it being better for mindlessly repetitive things I needed to focus on, such as entering handwritten notes into digital form! I'll happily try it again to better document the effects on me.
This was a common staple Indica in 2020, and was a great strain all around! It was included in a multitude of my notes, making it great for creativity, and it was also great for lazy evenings on the couch watching things with my partner and the critters! This was one of those strains that was great for immersing myself in something and focusing. True to its name, I'd even venture to say it would be a strain I would use while studying something!
12) Rubicon - CBD/Hybrid
For CBD, there's one strain that pops up constantly; Rubicon. A staple for several years now, it was my hero this October/November! I have stopped using heavy THC strains while I record dreams from October 27 - December 27, 2021 for upcoming therapy. Quitting outright at first - and after a few weeks without any cannabis recently - has led me to rely on the CBD strain to fall and stay asleep, as without any marijuana, I find I can't "turn off" for the night for hours. This was an issue I forgot I used to have, as I mainly recalled the crippling insomnia I had and not this issue of trouble falling asleep.
With Rubicon, I was able to both fall asleep and still have dreams to record. THC "blocks" dreams (which is why I use cannabis as much as I do, because my dreams are exhausting). But with as little THC as is in CBD strains, Rubicon allows both of these things. I've also used it for menstrual pain with good effect in the past.
And to finish up my "Baker's Dozen" of strains this year, here is one that I haven't had in quite a while, but absolutely adore. If there is one strand that I can say really, really relaxes me, it is - oddly enough - Violator Kush. I suppose we could justify the name with the fact that it does sort of command the body; I am going nowhere anytime soon when I finally get hold of this strain. Which is why it is number 13 - I hardly ever get this strain. Usually, it is listed under the medical side, whereas my partner and I only get recreational; neither of us has a medical card to get it. Only on rare occasions when it falls under recreational can we get it. This makes it among my favorites, but also a rare, rare treat!
Thank you for checking out my 2021 Baker's Dozen list of cannabis strains! I hope this was as fun for others as it was for me to write! Now that I know I might write about strains in the future, I'll try to pay more attention to the buds for next time.
About the Creator
A fun spin on her last name, Baker enjoyed creating "Baker's Dozen" lists for various topics! She also wrote candidly about her mental health & a LOT of fiction. Discontinues writing on Vocal in December 2023.
Reader insights
Be the first to share your insights about this piece.
Add your insights