Baker's Dozen: 2021 Beats in Review
13 of the 100 Songs on My 2021 Spotify Wrapped to Tell the Story of My Year
It's that time of year again - Spotify Wrapped lists have been revealed! It would take far too long to go down all 100 of my top tracks this year; so how about a baker's dozen to describe my 2021? I have to admit, it was a tough choice to choose a mere 13 of these tracks! But I have, and here they are to tell you the story of my 2021.
1) "Drum Go Dum" - K/DA, Wolftyla, Bekuh Boom, Aluna, League of Legends
I started off 2021 in good, high spirits. I had gotten my home office in order to start off the year and was hosting in-game giveaways in World of Warcraft in hopes to alleviate the dismal circumstances of 2020 and COVID-19! This track had to be included, as it was on constant repeat as I sought to get my giveaways and the guides for my Discord server through which I announced them figured out. It should come as no surprise then that this track is included in both my playlist for my giveaway server and the playlist for my main - and giveaway host - Shadowsithe Ghoststrike!
Of course, my good spirit was short-lived and dashed very quickly with the events of January 6, 2021....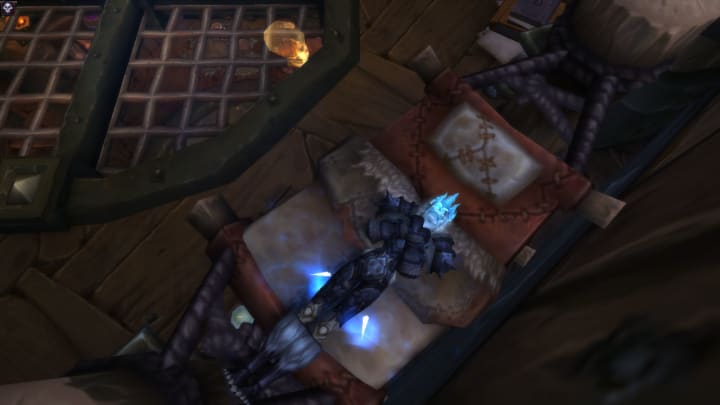 2) "Whatever it Takes" - Imagine Dragons
This track has long been a favorite and features in many of my playlists for World of Warcraft - particularly Shadowsithe Ghoststrike's and my playlist created for farming materials in the game. However, early on this year, this song was a great backdrop as I undertook a new venture this year; joining Vocal.media.
Drawn in by the "Little Black Book" challenge and its tempting top prize, I decided to try my luck on the site around February. Around the same time, though, I began having insomnia, which I hadn't had in years. After 6 years with my boyfriend, I had finally accepted that I would be setting down roots in the home we share, but a thought soon haunted me; the house is not ideal should we need to take in my younger brother with special needs suddenly.
As such, with that thought in my mind, my first story on Vocal.media, "The Caregiver's Routine", was largely based on the real-life routine of caring for my brother. Only the ending is more fiction than truth, as I needed the story to meet the challenge requirements. Admittedly, though I have been working on a larger book series for years, I had grown rusty with proper punctuation around dialogue, so my first Vocal entry suffered a bit for that. And throughout this new adventure, "Whatever it Takes" urged me to try new things this year, but not to forget the basics - especially when it comes to my baby brother.
3) "Astronaut in the Ocean" - Rain Paris
While not the original version of this song, I rather enjoy this take; there are only a handful of female versions of it, and this one quickly earned a coveted spot. Around March, it dawned on me why I have been so nervous when returning to my parents' to help out with my brother; I'm working with moving goalposts. I never measure up, or do things "how [my parents] would do it", and I constantly have to defend or conceal my decisions around them. Especially my mother.
Also, when having a girl's night with my mother and sister at the casino/hotel pool for my sister's birthday, my mother ran into someone from South Dakota and promptly pulled the rug out from under me. My boyfriend bought his house where we live to be close to my parents so I could help out with my brother at the drop of a hat, yet here she was nonchalantly chatting to this stranger that, "oh, my husband and son and I are moving back out there!" Followed by my sister - who has never helped with our brother - telling me that I, "couldn't be selfish and expect them to stay". The interaction certainly left me feeling just like an astronaut in the ocean.
4) "Siren" - Kailee Morgue
Though I had been excited for some of the challenges on Vocal.media early on, my focus soon shifted. After researching some for the two fictional pieces I created for the "Dream Date" challenge, I had been reintroduced to Coursera, which I had used previously years back. In particular, "Digging the Digs" brought me to a link on Coursera on prehistoric marine reptiles.
I quickly fell down the rabbit hole of adding more and more of the free courses to take. They likely won't see me using the knowledge I learned for any real progress, but I was enthralled by how much more interested I became at the time; I was meeting the weekly due dates for tests and even doing better around the house as I switched between "classwork" and housework. I was spending less time watching the same comfort shows and learning new facts about things I was actually interested in. "Siren" gets its feature here because I was truly enchanted by the courses I picked up in April.
5) "Sharks" - Armchair Cynics
One of my longtime favorite songs, "Sharks" represents May 2021 pretty well. After I started questioning family actions and attitudes towards me - and my boyfriend - I was left in inner turmoil. This was not helped when I traveled to South Dakota with my parents and brother for the celebration of life we couldn't have in 2020 for my late grandmother. Besides the celebration of life, I always go with them to help with my brother, as there's always so much going on when we visit our relatives out there.
While there, when mention of my mother talking me out of massage therapy school I had previously worked and saved up for years ago came up, instead of the usual explanations, this time she flat out told me that she, "didn't think I had the disposition for it". Made worse when she told me I "complained about everything"; I was concerned about timing our journey home because my sister expected me to watch her house for a week the day after we were to return to Colorado.
6) "Use Me" - The Goo Goo Dolls
When I returned to Colorado from South Dakota in June, I had all of 12 hours at my boyfriend's house before I had to go to my sister's for about a week - I had just enough time to repack, clean up a few trouble spots, and sleep. While I continued my courses on Coursera at my sister's, I was starting to feel a little jaded while housesitting alone for a week with all of the interactions with my family this year bouncing around in my head. I don't talk to my sister the way she talks down to me. I've only ever known helping out with my brother, yet I'm the "problem child" to my mother. I was certainly starting to feel used.
7) "Come & Go" - Juice WRLD (with Marshmello)
July gave me only a few weeks with my boyfriend and critters before family called me back out to South Dakota, this time for 3 weeks! "To Pick South Dakota Sweet Corn" covers that journey pretty well. Between my boyfriend and my aunt and uncle who I went to help, I really noticed a difference between how they all treat me and my own mother does. This only added to the building conflict within me, as I've adored my parents. But all year, they've shown me that they don't treat me as well as other family members and my partner do; that freaking hurts. "Love don't always come and go" as the lyrics go.
That said, 4 of the 10 entries I created for Vocal.media's "Summer Fiction Series" challenges were created while I was there, so there was some personal growth. Sadly, I did not pick up the second round of free courses I intended to complete on Coursera because of this unexpected trip.
8) "30" - Bo Burnham
Upon my return from South Dakota in August, I took some downtime to rest, reconnect with my boyfriend and animals, and to reflect on my upcoming birthday - my 30th. I was going to pick those courses back up, work on a piece reflecting on turning 30 for Vocal, and get back into trying to clean up the house. Weeks upon weeks away had not done me any favors.
Things didn't go well. "Catalyst" covers that family drama. The shorthand of it is that my mother blamed "illegals" for rising COVID-19 numbers - despite her, a bank teller, not getting vaccinated and then going home to my at-risk brother - and my boyfriend called her "a fucking idiot". I have not heard from either of my parents since August 27, 2021 - because my mother wants to act like a brat over a slight. Moreover, my sister decided to butt in with her unwanted opinion, and I'll certainly have some words for her too when I decide when and just how much I want to get into their shitty behaviors this year and years previous.
What this led to...
9) "Let You Down" - NF
I wound up, as explained in aforementioned "Catalyst", raw, numb, and angry. September saw me doing little else but pace and think and listen to music, though pieces like, "Context" soon brought most issues to the forefront. I finally conceded that I should seek a therapist to help sort through a lifetime of crap, though I knew it would take a few months to really prepare for that commitment.
"Let You Down" sums up how I felt - and still feel, after that fallout in August. It's been playing frequently as I wrangle with everything I need to address in that upcoming therapy. Where I might have smoothed things over with my mother weeks after my birthday, my sister butting in and talking shit about my partner put that quest on hold and royally pissed me off; how dare she - I would never do something like that to her, so why does she think it's okay for her to do that to me!? Oh, I'm gonna have some choice words....
10) "Bury My Bones" - Whiskey Myers
October was rough; due to the family drama, I didn't get to talk to, see, or give my brother his birthday gift that I bought back in February. Writing out the personal pieces I had on Vocal put things into perspective, and I was hurt and angry. While working on my piece for the "Graveyard Smash" challenge, "Happy Howl-oween", I was also listening to this song a lot between more spooky tracks for the challenge playlist. This song, more than any others, defined my October 2021.
11) "Let Go" - Beau Young Prince
With months without contact with my parents - in particular, my dad - and very few friends I talk to or hear from, this track hit hard. I had no one to reach out to and felt alone in my struggles. Nothing really new, honestly, but I miss talking with my dad and it kills me to not know how my brother is. It was strange not to call my mother on her birthday, and stranger yet not to hear about Thanksgiving plans, as I usually stay the night before to clean the floors and help set up tables. Thankfully, my partner's sister and her family invited us to join them, and it was as enjoyable as could be for not celebrating with my own family. I hope I wasn't too weird.
It's been so tiresome. But, I feel I need to discuss so much with a therapist before I can know how reconciling with my parents should be played out. I've been looking at therapists, but wanted about 3 months of journaling before I go, just to feel ready; there's so much to work on. But soon I'll have someone I can turn to, and then - I hope - I can finally let go.
12) "Bang!" - AJR
It's early in December, but after the events this year, I suspect that I won't be hearing from or celebrating the holidays with my parents, and I'm too angry to be civil with my sister in person. I am trying so hard to write out some of the harder things I know I'll have to talk about in therapy, so that they are (I hope) easier for me to talk about. I am trying so hard to get our house in better order, so that I can focus more on my mental health. This year has been a shit show, and I'm ready for 2021 to go out with a bang! It's time to make way for something better.
13) "Dragon in Me (Desire for Need)" - Seether
A baker's dozen (have you realized what I've done there yet?) means there's one final song. I have been both low and angry in turns this year (again, not really new, but it's been different this year), and I am ready for change. I may be nervous about getting therapy and what all may come from that, but the way my family has treated me this year has me fired up at the same time. So I am ending this condensed version of my Spotify Wrapped 2021 with a song to set off my 2022. I am determined to get the house in order, return to those free courses on Coursera, and to seek help for decades of issues so that I can maybe start having a more productive and fulfilling life.
It is time to make up for lost time, and I'll be coming for it with a vengeance.
Thank you for checking out my rundown of my 2021 and its accompanying playlist! If you missed the link at the beginning, here is the link for my full 2021 Spotify Wrapped - the whole 100! Here's to something better!
playlist
About the author
A Colorado native and secondary caregiver to her younger brother with special needs, Megan enjoys her adventures in World of Warcraft, various types of documentaries, and making homemade items for the critters and people in her life!
Reader insights
Be the first to share your insights about this piece.
Add your insights