A Career Writing Objective Met
I Have Finally Made It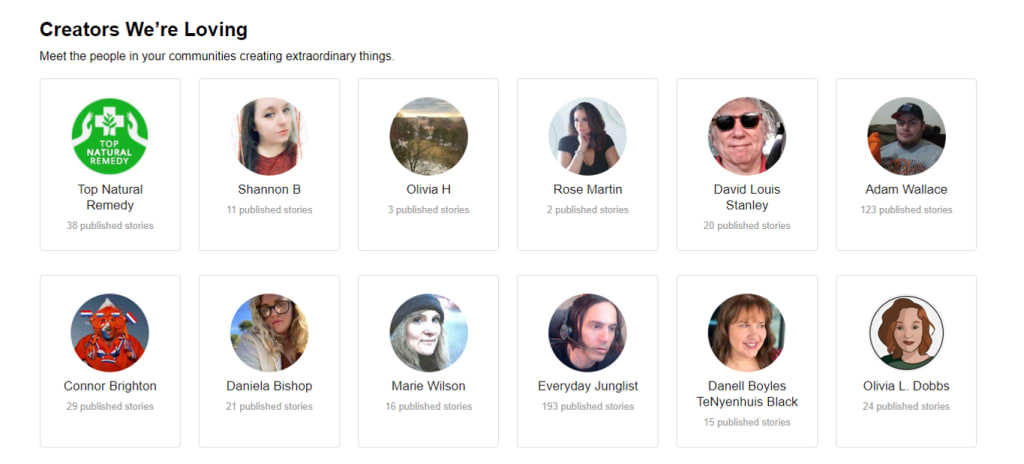 I never thought I would share the same screen with the globally recognized and multiple pulitzer prize winning writer Top Natural Remedy. That dude or gal can bang out some serious stories.
When I first began publishing on Vocal.media a little over four months ago I had two objectives. First, to convince the site's owners and caretakers of the grave error they had committed in the creation and implementation of their censorship policies, and to help turn them away from that dark path. Second, to someday be featured in the below the fold section "Creator's Were Loving" on the site's homepage. I am quite proud today and more than a little touched to publicly announce that I have met that second objective as you can see from the image above.
I cannot tell you what an honor it is to share the same screen with the world-renowned multiple Pulitzer winning writer, Top Natural Remedy. (Toppy as I call him or her. Sometimes I call him/her Reme but only in anger) is an authority on natural remedies as you might have guessed from the name. And of course I could go on and on about the many other terrific and incredibly talented writers with whom I was fortunate to share screen space, if only for a brief moment. You might wonder who exactly determines the creators were loving list, i.e. who is the "we" in were? Well, it turns out that 'we' is actually an it, specifically an algorithm, more specifically a random number generator that links each writer on the site to a unique identifier, than using probabilistic math determines which of these unique identifiers will appear on the creators were loving list. Vocal.media's random writer name drawing algorithm used to determine the creators were loving list was surely on fire the day it selected myself and at least 25 others as "creators were loving."
THE END.
And now for something really creative courtesy of Vocal.media's most inane policy, the 600 word count policy.
Inventor of Trademark ™ and Copyright © Symbols Simultaneously Sued for Trademark Infringement and Copyright Violations
Thomas Frins the recognized pioneer and world leader in the field of symbology for legal applications was sued in federal court last week for both trademark infringement and copyright violations. The suit was brought by Emoticonics Inc., a technology firm that specializes in the development and application of symbolic language. Emoticonics is most well know for inventing the avacado emoji 🍆 which subsequently became the default symbolic representation of the penis in most internet communications.
Legal arguments in each case are highly technical but most agree that the rulings will have far ranging implications for both the legal and publishing industries. The plaintiffs freely admit that Mr. Frins did in fact invent the symbols at issue. However they go on to argue that since he failed to legally trademark the ™ symbol he is in violation of Emoticon Inc.'s trademark on the ™ symbol which was applied for and approved in 2005. Moreover since he has continued to use and promote the use of the copyright © symbol he has violated the copyright protections of Emoticon who published a style guide in 2006 which established copyright protection over the symbol.
No matter the ultimate decision in either suit the average person will still chuckle when they stop for a second to ponder how anyone could be so stupid as to think a ridiculous symbol would stop them from doing whatever the fuck they want with anything they find published on the Internet.
Hah! Good stuff, but still not quite at 600 words. Drats! Foiled again you dastardly 600 word count minimum. Someday I shall defeat you, someday. But, until that day I will continue to poop out filler content like this very paragraph until my final victory. 602...Blam!
success
Research scientist (Ph.D. micro/molecular biology), Thought middle manager, Everyday junglist, Selecta (Ret.), Boulderer, Cat lover, Fish hater
Receive stories by Everyday Junglist in

your feed