It Is a Golden Age for People Who Cannot Tie Their Own Shoelaces
For the the Shoelace Tying Ignorant or Just Plain Lazy There Has Never Been a Better Time to be Alive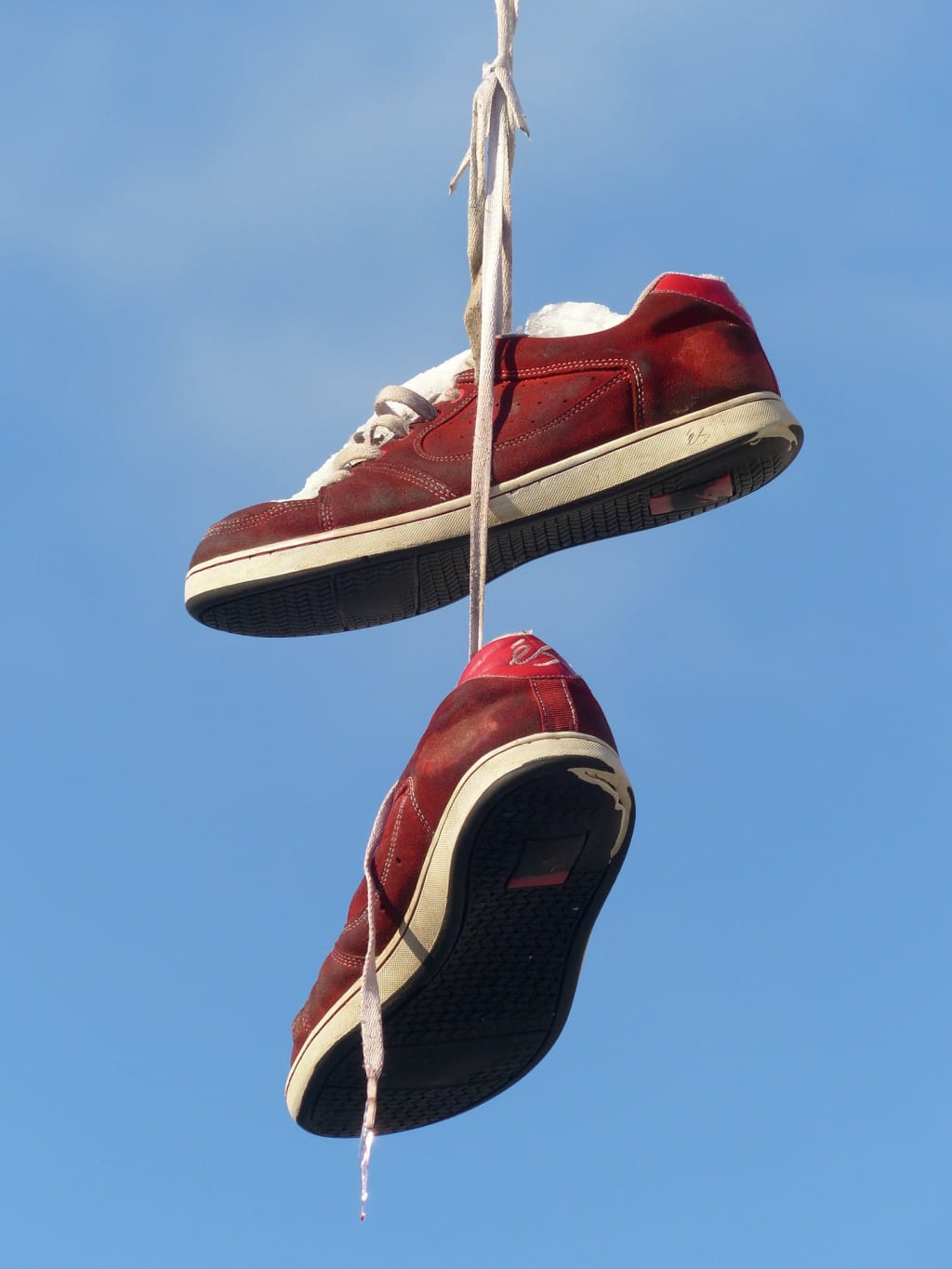 Shoelaces other major use. Image by Hans Braxmeier from Pixabay
Author's note: This article was originally published almost two years ago now and did not get nearly the attention it deserved. I am republishing it again today as a service to the shoelace tying ignorant and/or lazy public who no doubt make up a large portion of my readership. Enjoy!
Advanced Shoe Lace Tying Systems for the Non Expert User Have Finally Become Widely Available
If you are anything like me (you are not) you never learned how to tie your own shoelaces properly. You could only look on with envy as your friends and family tied their shoes with ease and grace, somehow turning one string and one open circle thingie into two perfectly snug loops using an arcane procedure you never mastered. Meanwhile you struggled like an uncoordinated slug to tie your own using the ineffective and ungainly double rabbit ear method. Luckily for you and me times have changed, the science of shoe lace tying has finally lived up to its lofty early promises and delivered a potpourri of new products that can let you (and me) live more normal lives. These innovative solutions take all the guesswork, hand eye coordination, and basic reasoning skills required to tie ones owns shoelaces out of the equation, and do all the hard work for you. Unlike previous generations these newer advanced shoe lace tying systems do not require years of experience in engineering, math, or computer science. I review four of the more popular options below.
First up — Lock Laces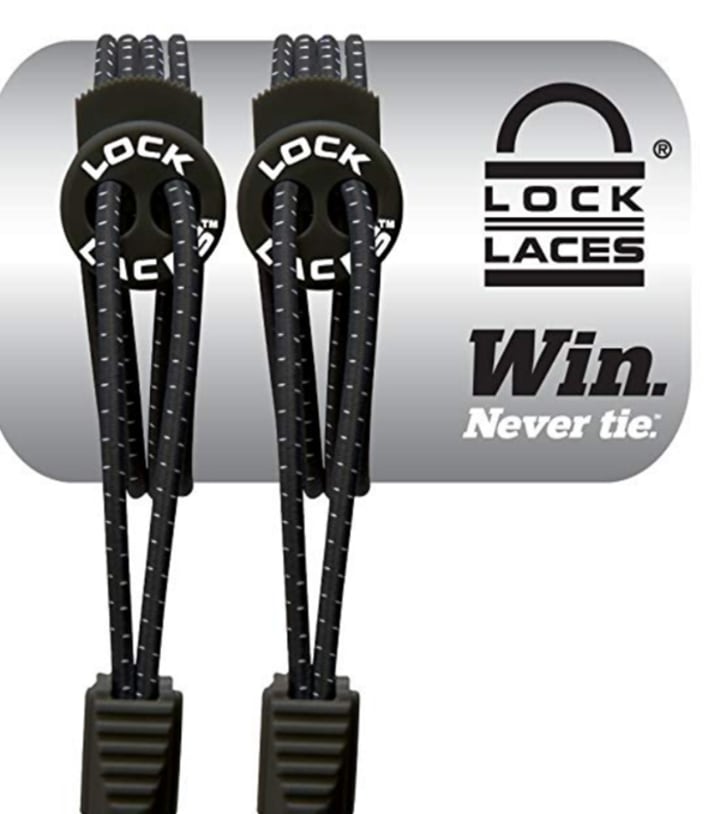 Lock laces were one of the first to hit the no tie shoe lace scene, and continue to dominate in sales and brand recognition. They claim to be the "original patented no tie shoe lace with over 1 million pairs sold worldwide." The patent was issued way back in 2000 and it is legit, I checked. Some of their product claims include:
"STRETCH FIT COMFORT" — The makers of lock-lace say their elastic laces "conform to your foot for a custom fit" and I agree. They also claim that "added compression reduces pressure points to make your feet feel better throughout the day so you can perform your best!" I rate this claim as only partly true.
While the laces do provide added compression my feet feel exactly the same as they did when I was using regular laces, and I still perform at less then my best on most days.
"PERFECT FOR EVERYONE: LOCK LACES are a great gift for seniors suffering from arthritis or other disabilities, autistic children, runners looking to speed their triathlon transition up, or casual users." Again I have to rate this statement as only partly true.
While the laces do make an OK gift for just about anyone who can't tie their own shoes or is too lazy to do so, I do not believe they have had any measurable impacts on triathlon transition up times, though I was not able to pull data from both the pre and post lock lace era to find out for certain.
"SIMPLE INSTALLATION: One size fits all (kids AND adults), quick to install, easy to use. Each pair is suitable for lacing up 1 pair of shoes. Easy installation instructions and videos provided." — True and true though I have not seen the videos. I am sure they are rock solid.
"100% SATISFACTION GUARANTEE: LOCK LACES are guaranteed to last the life of one pair of lace up tennis shoes. We know that once you try them in your shoes, you'll never go back to traditional shoelaces."
This one I rate as flat out false.
I have already gone through three sets of these on my existing tennis shoes. Granted this is mostly because my cat keeps chewing them to pieces, but I still don't believe this claim holds up.
Next up: Relative newcomer SevenUp elastic no tie shoe lace system
These young up and comers only hit the no tie shoe lace scene relatively recently but have made a big splash already with a unique format including a metal ring and toggles, accouterments never before seen in the space.
Unfortunately they also made a splash with the lawyers of PepsiCo who were not pleased with the blatant rip off of the soda bearing the same name.
Let's see if their claims hold up to scrutiny.
Manufacturer XinPi Heavy Manufacturing Concern of Beijing, China says the following about the SevenUp system.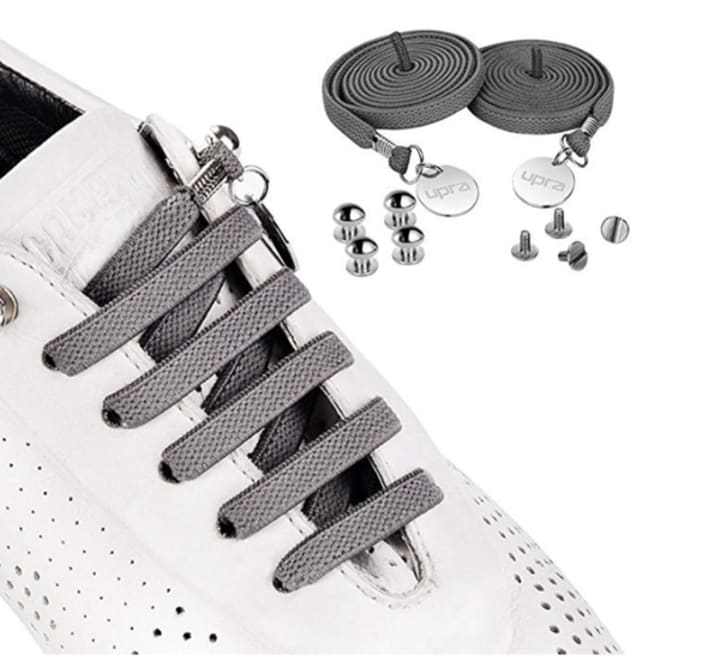 "Perfect for Everyone. All ages can enjoy the comfort of this no tie shoe laces from kids to adults, and to seniors. Parents will never concern about kids' laces coming down. Kids love the metal ring and toggles. Adults save a lot more time, never need tie laces again. Bending over, a dangerous position for the elders and back or waist sore people. Now, all solved. Also, great choice for sensitive feet or those who is recovering from foot injury" I rate this statement as hilarious.
I love a lace that I never need tie again and, as one of the back and waist sore, I truly appreciate the prevention of bending over it provides.
Number three: Another newcomer X-pand no tie shoe lace system
The X-pand system is something of a one trick pony with their one claim to fame.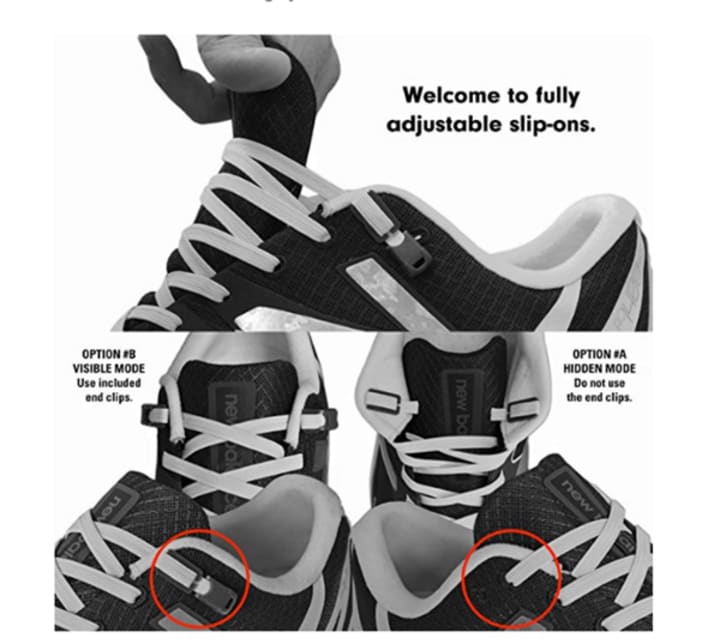 "FLAT NOT ROUND: Other no tie systems on the market utilize round shoelaces that simply don't supply the comfort that our zero memory flat elastic no tie shoelaces provide. Other systems also require bulky objects that require constant attention to lock laces in place." Since I only just ordered my first pair X-pands I cannot yet comment first hand on their claims of increased comfort from the zero memory flat elastic and lack of bulky objects requiring constant attention. It is true that most of the other no tie shoe lace systems on the market do have bulky objects required to lock them in place. However, unless "constant attention" refers to the roughly 10 seconds required to snap them on that last claim is a bit of a stretch. I can say I am excited to try these with my climbing shoes. In that application having flat laces will be a major improvement and should provide greatly improved comfort when hanging upside down by one's feet.
*Author's note (1 year later): These have become my go to climbing laces. If you are a climber and you like the fit of shoes with laces but balk at the difficulty and sometimes hazard of having to tie laces I highly recommend you give these a shot.
And last but not least — Hickie's
The no tie shoe lace system with the name that reminds you of that time in high school when you had to wear a turtleneck sweater four days in a row.
They are the most expensive of the options I reviewed, but are they best? Let's review their claims.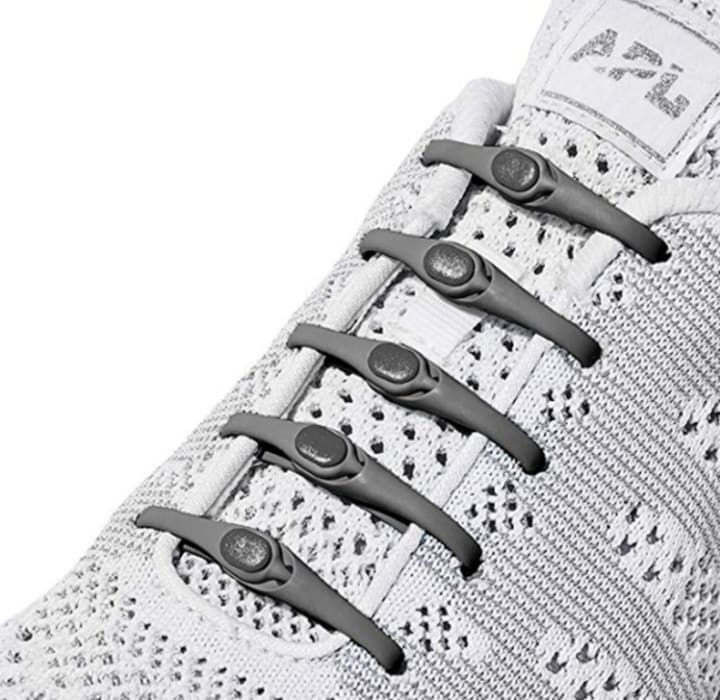 "NEVER TIE YOUR SHOES AGAIN. Easy to install: One size fits all. Customizable fit with a variety of lacing techniques. Each pack contains 14 straps, enough for a pair of shoes." — This is a tough one. Three out of these four statements are true unfortunately the most important "easy to install" is false. It took me a good 15 minutes to install these the first time I tried them and once installed I was extremely disappointed to find that they were not nearly tight enough, and the alternate lacing format provided in the instructions to provide a tighter fit was still sadly much to loose.
"ORIGINAL NO TIE TECHNOLOGY: Fasten HICKIES once and never tie your shoes again. HICKIES turns lace up shoes into slipons so you don't have to worry about loose laces." — Technically true but nothing but marketing fluff. I am going to call it false just because.
"COMFORT AND SUPPORT: HICKIES Tieless Laces are made with an elastic memory fit material that conforms to your feet providing comfort and support. HICKIES Laces are the best compliment for sport shoes and leisure footwear." — I call this one false as the best compliment for sport shoes and leisure footwear is "cool shoes man."
"PERFECT FOR EVERYONE: HICKIES no-tie laces are perfect solution whether you are an athlete that practices high impact sports, mom who wants to end untied shoelaces, or simply can't or don't like tying shoelaces." — A very bold claim indeed and one which I must declare false. It simply is not possible for anything to be "perfect for everyone." Hickie's bit off more than they could chew with this one.
"SATISFACTION GUARANTEE: HICKIES unique material makes them durable in different conditions and water resistant." 
Not sure how important having water resistant laces is if one's shoes are leaking like sieves. but I supposes it might be useful if one ever needed to use them underwater.
Reader insights
Be the first to share your insights about this piece.
Add your insights