How to Throw a Unique Themed Wedding
If you want to do a unique themed wedding, but you're scared it's going to be tacky and unoriginal, have no fears. There are many ways to create a beautiful and memorable ceremony that is sure to wow all of your guests.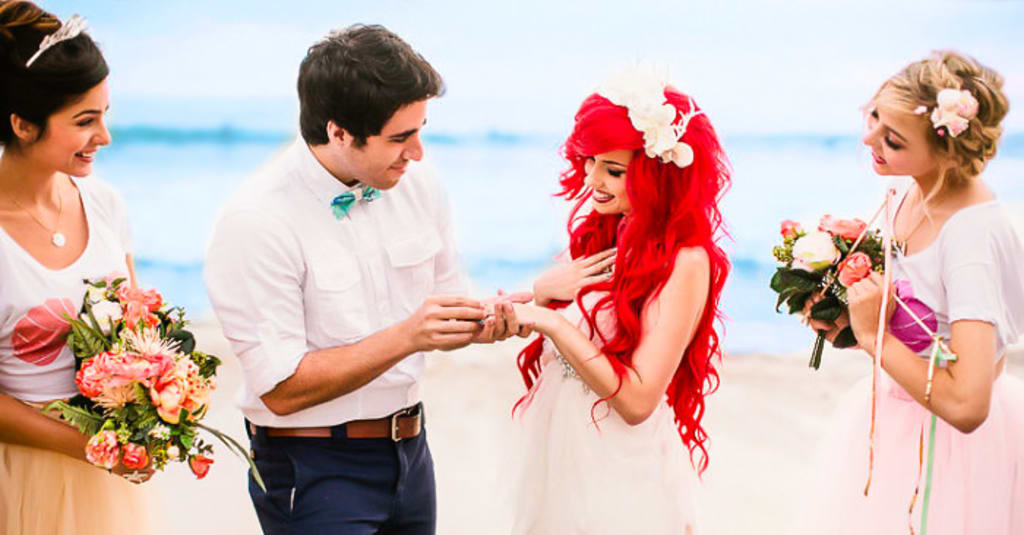 Throwing a unique themed wedding can be a challenge, because so many people these days are choosing a themed wedding for their big day. No bride wants to be like everyone else; in fact, it can be a bride and groom's worst nightmare to spend months wedding planning for the perfect wedding day, only to have a wedding guest tell you that your themed wedding is exactly like a wedding party they just went to recently. If you want to throw a unique wedding, you have to be different. Whether that means choosing a particular theme for your big day that no one has done before or trying to put a unique spin on a widely used theme, it's totally possible to make it original.
One of the main reasons brides have a hard time throwing a unique themed wedding is because they tend to go overboard with the theme. If you decide to do a princess themed wedding and you are over the top with every single part from the wedding dress to the wedding cake to the color scheme, your big day will be beautiful, but it may not be as unique as you may have imagined. For a princess themed wedding, try taking a more subtle approach. Use themed accents such as place cards, paper flowers, or a photo booth, as opposed to going all out, saving you time, money, and a massive headache down the line.
To throw a really unique themed wedding, try creating a theme that is a mood instead of a character, holiday, or era. For instance, you could go for a mystical theme and have everything from your cake to your escort cards include subtle vibes of mystical accents, or include corresponding wedding color schemes for seasons. The entire vibe of your wedding will be mystical, magical, and unique, but it won't feel like a young child's birthday party the way some themed parties and weddings can feel.
Having hints of your theme in unexpected places is what will create a themed wedding truly unique, and have your wedding guests remembering your big day for years to come. While having a great wedding cake and wedding dress are important, it will be the small details that catch the crowd's attention. For example, if you have a Halloween themed wedding, create a guest book that looks like the spell book from Hocus Pocus. You can also make your table numbers look like spooky candle sticks, or have smoking ice cream. Unique and unexpected details will take little effort to create, but they will make a big impact.
The best way to create a themed wedding is to choose a theme that is personal to you as the bride and groom. There are so many wedding ideas out there to choose from, but they become significant to each particular couple when they have meaning behind them. If you and your fiancé met in New York City, consider having a New York City themed wedding. Or maybe, you and your fiancé love the outdoors. Consider having your wedding in the woods! Whatever you choose to do for your themed wedding, make it unique by choosing something personal.
Keeping it classy and original goes along with the first tip for throwing a unique themed wedding, which was to keep it subtle. Some themed weddings go over the top, and they end up being tacky and overdone, which is obviously a huge mistake to avoid when planning your dream wedding. Choose an original theme, and if you're doing something that has been done before, at least do it differently. Your wedding guests will appreciate the time put in to make your themed wedding different than the rest.
Going into some wedding ideas to create a unique themed wedding, a travel theme is a great wedding idea because it can be created in so many different ways. Whether you want to do an "Around the World" theme, one specific country as a theme, or travel in general as a theme using passports as place cards, it will be up to you to take a travel theme and hone in on how that looks for you and your groom.
Another themed wedding idea is a storybook theme. If you and your groom are passionate about education, writing, or reading, this might be a great theme to celebrate your union to one another. For a storybook theme, you can create wedding decor throughout the venue out of actual books. Even the altar can be made out of books. Also, you can take some of your favorite literary characters and/or stories, and have them play more significant roles in your theme.
A unique themed wedding idea that allows your wedding to be held around beautiful greenery would be a secret garden theme. For this theme, your venue will be the most important factor. Have your ceremony or reception inside a walled garden and fill it with flowers. You can also include stunning wedding aisle decoration ideas easily with this option, or keys at the tables in to add to the "secret" part of the theme.
A themed wedding that will be sure to entertain your wedding guests is a Mexican fiesta themed wedding. This is for the vibrant couple that wants a ceremony and reception full of color, culture, music, and margaritas. This theme should be an affordable option, because Mexican decor will be less expensive than more luxurious themes might be. A great wedding idea for this theme is to send your wedding guests home with their own personal cactus!
A southern-inspired wedding theme is a unique themed wedding idea for any couple from the South, or any couple who has a love for southern culture. A southern themed wedding can have a great aesthetic with your venue being in a barn or outdoors, and your food being delicious barbecue or southern style. There are also many southern things you can include from different regions throughout the South, such as the Smoky Mountains, New Orleans, and the beach. However you choose to represent the South, this wedding theme will be fun and unique for your guests.
To throw a unique themed wedding, all you need is some original wedding ideas and a personal touch. Try some of these tips or choose something specific to you and your fiancé. Either way, your big day will be one to remember.