How to Plan a Same Sex Wedding
In order to plan a same sex wedding, you must take careful consideration when it comes to the details.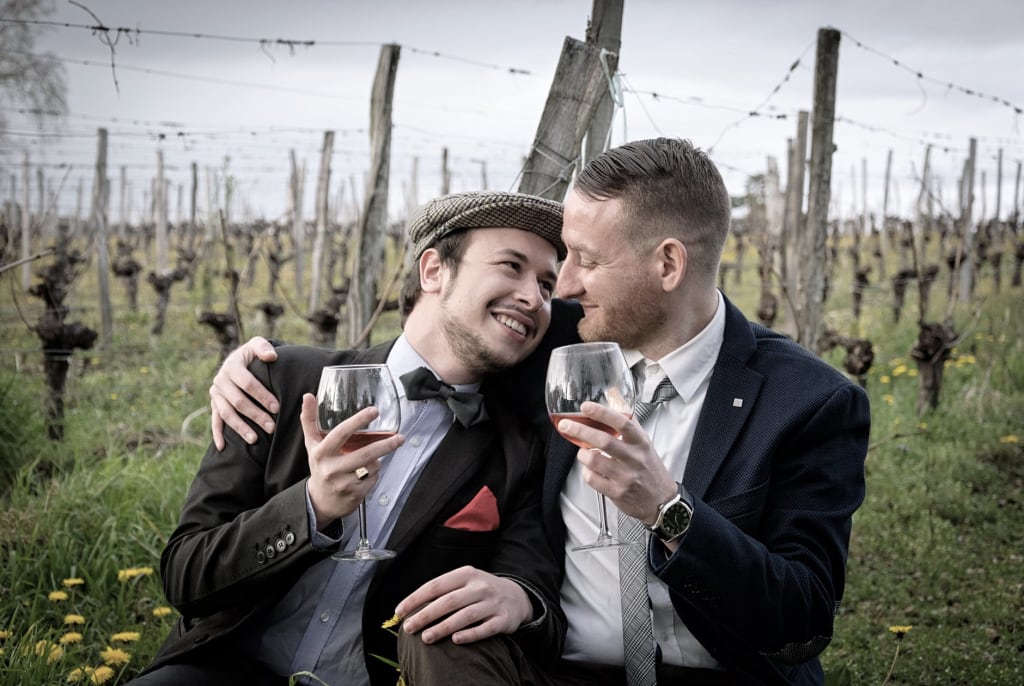 When planning a same sex wedding, it's inevitable that your big day is going to veer away from the traditional wedding style in many ways. Traditional wedding ceremonies have a religious structure, and in many churches, gay couples are not accepted. Of course, in today's society, we know that newlyweds are not always strictly man and woman. We have an understanding that marriage equality should allow all couples to marry regardless of gender, because love is love. Regardless of whether you hold a traditional wedding or not, having your family and friends present is what will legitimize your marriage and make your big day special. Therefore, when you plan a same sex wedding, it may be unique, but it will definitely be special, regardless of tradition.
Planning a gay wedding can greatly affect the gender roles when it comes to the wedding parties on either side of the relationship. When you plan a same sex wedding, throw tradition out the door when it comes to your wedding party. Your wedding party should simply be the most important people in your life who you choose to stand next to you while you commit yourself to your loved one forever. Whether men, women, or a mixture of both are on you or your significant other's side of the aisle, it does not matter one bit. When you walk down the aisle and stand at the altar, you'll be grateful to have those special people with you.
When you plan a same sex wedding, the outfits are one of the most fun parts. Depending on both the type of wedding ceremony that it is as well as the type of same sex couple it is, this will depend on the outfits worn. When it is a lesbian couple, sometimes, both brides will wear wedding dresses, while sometimes, one will wear a suit and one will wear a dress. With a gay male couple, both men may wear suits in different colors, both may wear black suits, one man may wear a dress if he chooses. The exciting thing about gay couples is that you never know. Have fun with it and stay true to yourself!
The language for a traditional wedding ceremony is going to apply to heterosexual couples, so when you plan a same sex wedding, you're going to want to change this language to be personalized for you. Change the pronouns so they fit your preference and take out any language that you find offensive. Your wedding day should be catered to you and your significant other in every way, so there's no reason why you can't make the ceremony sound exactly the way you want it to.
Unfortunately, many same sex couples still have family and friends who do not accept their way of life, even in today's society. While we hope that is not the case, understand that your guest list is completely up to you to decide, and you don't have to invite anyone to your wedding who doesn't support you and your life choices. This day should be about love and celebration, so if you think there will be any negative energy from one of your guests, cut them from the guest list. After all, guest etiquette for a same sex wedding isn't all that different from a traditional one.
The vows are an important and personal part of any wedding ceremony, regardless of whether it's a bride and groom, a groom and groom, or a bride and bride. However, the vows may take on even more significance with a same sex couple because of the hardship and adversity you know you two will have to face as a couple in society. These vows will be a commitment to one another, as well as a commitment to stay strong regardless of the trials you will face in the ruthless world around you.
When you plan a same sex wedding, you will want to decide how the officiant is going to announce you and your new spouse to your family and friends in the audience. Also, you will want to decide how this announcement gets shown in the paper or on social media, etc. Are you going to be Mr. and Mr.? Is she going to take your last name? Will you hyphenate your name? There are many options that gay couples can consider for this. In the end, you may agree to keep your own names. As long as you agree together, it works.
The venue is something you will want to decide the same way any couple decides for their wedding, despite the fact that most traditional weddings are held in churches. When you plan a same sex wedding, you may want to veer away from the church because of the way the church views gay marriage. You may consider a destination wedding or an outdoor wedding instead. That way, there's no negative energy surrounding your new unity. So long as they play any of the amazing wedding songs for same sex couples, who cares, right?
When wedding planning, you also need to get the proper legal documentation to make your marriage legal. Thankfully, gay marriage is now legal in all 50 states, so this should not be a problem. However, just like any other couple, you need to get your marriage license before your ceremony to make it official.
The honeymoon can be one of the most exciting parts of wedding planning, because this is the part of the wedding where you and your significant other finally get to escape from the craziness of the world and enjoy each other and your love after making this new lifelong commitment. When you plan a same sex wedding and the honeymoon after, nothing should be different about the honeymoon except making sure you choose a destination where you'll feel comfortable expressing yourself in any way you choose. This may mean going somewhere international where people have more liberal views, and you can relax a little more.
Lastly, one of the most important factors to consider when you plan a same sex wedding, or any wedding for that matter, is your budget. If you don't keep your budget in mind, you're going to be very stressed and starting your new marriage with a lot of debt. That is the last thing you want. So throughout all of your other considerations and wedding planning, keep wedding planning hacks to save money in mind.
In many ways, planning a same sex wedding is no different than a traditional wedding. However, in other ways, it will be extremely different. Make it personal and make it your own. Most of all, celebrate your love and surround yourself with people who will celebrate it with you.