Tarot reading for February 5, 2023
What should we know about today?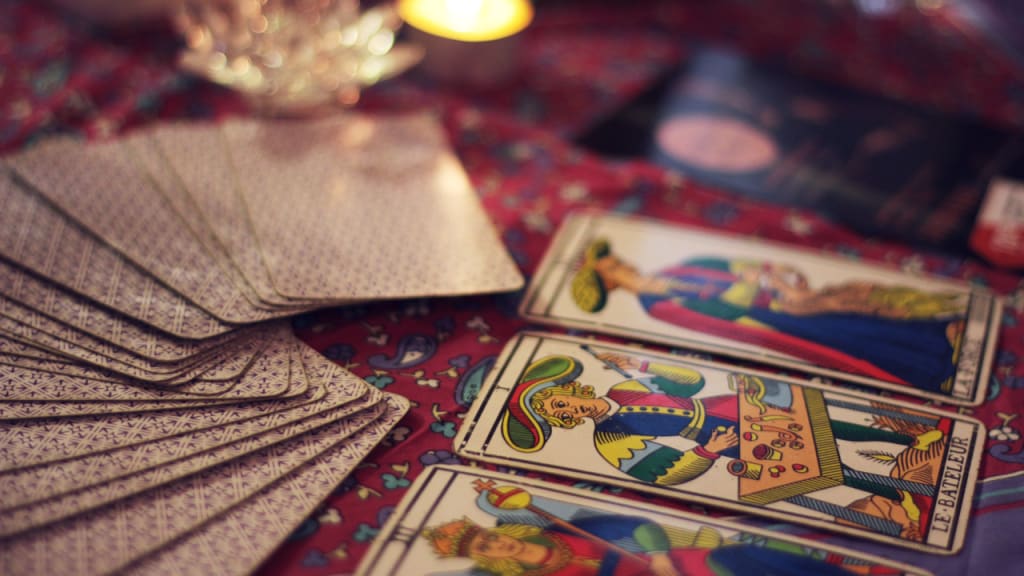 This morning I decided to meditate a little deeper than I normally do. Normally I focused on the date and nothing else. This morning I wanted to find out something about today that I can share. Something that the world should know today.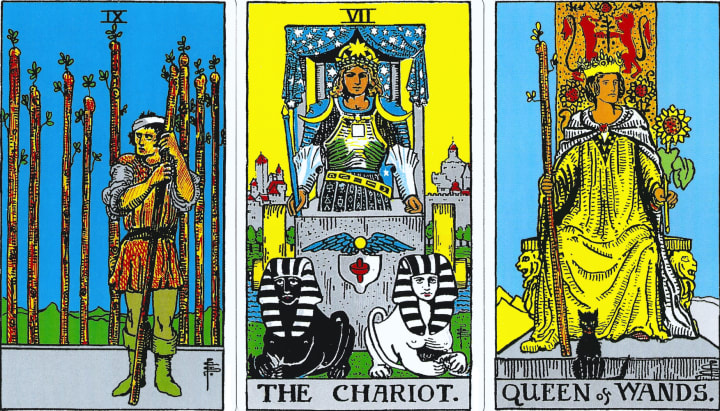 Our first card representing February 5th is the 9 of wands. This card shows a man who appears to be a little wary. He holds a wand, clutching it in both hands as he looks to the side and slightly behind him. The man is wearing a bandage on his head indicating that he's been in a fight. He made it out but there are wounds. Directly behind him is a row of wands that feels a lot like a fence or some kind of protective wall. In the background, there is a lovely blue sky and the grass is green.
This card talks about worry and the need to set up boundaries. You have the man who looks worried. And maybe he should be. He's been in battle, got some scratches, and now come out the other side of it. Nine is a number about wisdom and caring. It's also the last of the single-digit numbers. So it can also speak to us about coming to the end of something. And that's what this card feels like to me. Coming to the end of something and needing to protect it a little. It's almost done and we just have to hang on a little bit longer.
The chariot showed up yesterday as well. When that happens I like to mention it just so that we understand that there's something recurring about this reading. The cards want to make something clear to us perhaps. Some may see the nine of wands as an eerie card. The chariot is a hopeful card. The driver stands at the front of the chariot. In a command position with his scepter and his armor. He has the star on his crown and stars cover the chariot behind him as well. He has the blessing of the universe here. He's also in command of this chariot. But you'll notice no reins, no physical method of control can be seen. This is a sign that he is the master of this. He controls it with the power within himself. This card says to us "you got this." Paired with the nine of wands, I see this card telling us that in order to overcome our fears and worries. We must step up and take control. Otherwise, we stand to lose big time.
Our final card is the Queen of Wands. She is beautiful and regal. Confident and collected. She has no fears or worries. Her yellow robe is a symbol of optimism. There is a great blue sky behind her with no clouds. She sits on her throne which is on a stone slab. This indicates she is grounded and stable. The lions on her throne are a symbol of courage and strength. Which she has in spades. The black cat in the foreground could be something to worry about except that she's not worried about it. She's not even looking at the cat. This card is telling us to be like the queen here. To be confident and calm. To collect our thoughts and remain true to who we are and what we do. To be ourselves and to be confident in that.
There are things to worry about in this world. And it's healthy to build boundaries and to protect the things we care about. But we have to recognize that sometimes fears and worries can become irrational. That they can do great damage if allowed. How we overcome that is by taking control of ourselves and making sure that the fears don't prevent us from doing the things we want to do. To not let fear take over so much that we stop enjoying our lives and stop doing things that we love. We must be brave like the Queen of wands and be confident in ourselves. And that is how we conquer our worries.
Thanks for reading. If this resonated with you or if you enjoyed readings this, please leave a comment and let me know. If it didn't resonate with you consider sharing it with a friend who might need to hear this message today. As always thanks again for reading and have a great Sunday!
####
About the Creator
I'm an intuituve person currently studying the tarot and writing about my journey.
Reader insights
Be the first to share your insights about this piece.
Add your insights