Tarot reading for February 4, 2023
We got this!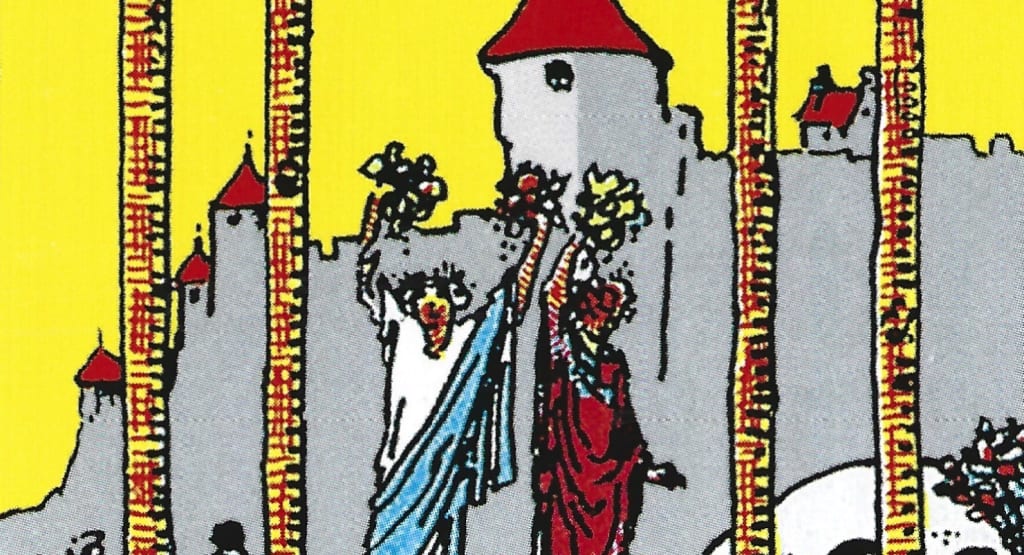 I can't believe it's been a month already. A month into this journey of reading tarot cards. I feel confident about my readings and what the cards tell me. But also there's a sense of calm that I have each morning as I go through this process. This is quickly becoming one of those things I look forward to daily. Thank you for being a part of this.
The cards that I received today are the Knight of Wands, the 4 of wands, and The Chariot.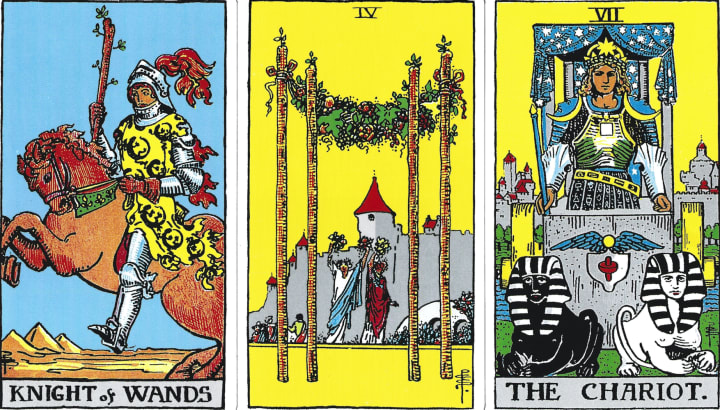 The knight of Wands represents our situation. This card has come up before in this same spot in the spread which tells me that things are still pretty much the same. Our situation hasn't changed a whole bunch. The knight of wands can represent a young person, usually a young teenager. This card also represents a kind of optimism. That kind that allows you to go into the world with vim and vigor. You feel like you can take on the world and solve all of its problems. You can stand up and raise a voice and make radical changes. It's a card that says "we can do it!" The card is also about creativity and passion. In today's spread, I see that our situation is good. This card could be speaking to a project or some kind of creative endeavor. There is a great deal of enthusiasm for this project. In the card, the horse has its front legs in the air suggesting that he's starting. And so this project or work is beginning. Or it's at a place where the momentum has begun and it's well underway.
Our next card, the 4 of wands, is our action card. This is the card that tells us what we can do about our situation. The 4 of wands is a card of celebration, homecoming, a party, and a festival. It's a joyous card. And just like the knight, there is optimism here. A lot of it. Yellow is the color for optimism and that's the color that dominates this card. The four wands in the foreground are set up like a pergola for a wedding. Or perhaps it's an entrance to the party. Maybe we're at the party looking out and seeing friends or loved ones arriving. Ore perhaps was about to enter the party and see all the people who are there. It's a happy card that tells us our project is something to celebrate. That we should take some time to enjoy it. To revel in it.
Our last card is The Chariot. This card is our takeaway card. This is a thought for us to think about as we go about our day. Something we might want to mull over as we think about the information in this reading. The chariot is an interesting card. Here the driver of the chariot stands in a commanding pose. He's confident, sure of himself. He's dressed in armor with his rod/scepter. He's all set to go. The chariot has a roof of stars, and holding up that roof are four stakes which are reminiscent of the 4 of wands, suggesting stability mirroring that card and amplifying it in a way. Another thing about this card to notice is that there is no means to control the chariot. No reins, or steering wheel. This leads me to believe that the driver, is in full control of this vehicle. So much so that there is no need for reins to control the animals which pull this vehicle. It's a card that speaks to mastery. This shows us that we have all we need to do what we're going to do. This card tells us that we got this!
Today's reading tells us of a project we're working on that is still new but also well underway. Things are good. There is reason to be optimistic about it. Right now we should take a moment to celebrate this thing. Celebrate that it's underway and going well. That we should take time to rejoice in it. The chariot reminds us however not to celebrate too long because there's still work to do. And that when we get back to it, it's going to be good because we got this!
Thanks for reading and being a part of this journey with me. If this reading resonated with you please leave a comment and let me know. If it didn't resonate with you perhaps you know someone who might benefit from this message today. Consider sharing it with them.
Thanks again for reading and have a great day!
About the Creator
I'm an intuituve tarot reader studying the tarot and writing about my journey. To purchase readings please visit my livelogue site.
Reader insights
Be the first to share your insights about this piece.
Add your insights