SoJo Spa Club: My Experience and Why You Need to Go There
Seriously, you need to.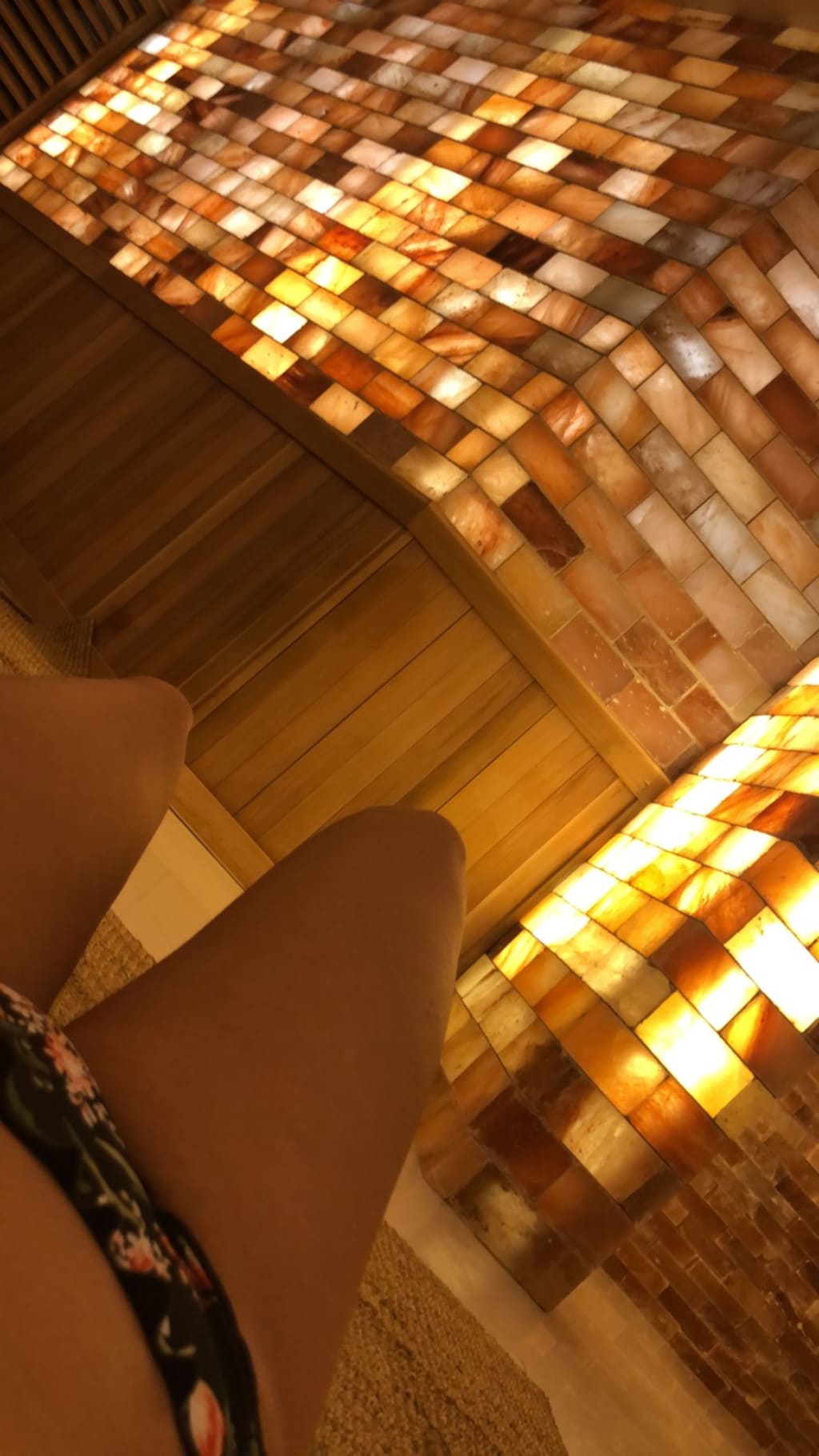 I've always dreamed of spending a day at a spa, getting a facial, a massage, and lounging around in a robe while sipping on cucumber water. Well, at SoJo Spa Club, I got to do just that.
I had seen people's pictures at SoJo on Instagram before, in their outdoor heated pools or posted up in a lounge chair beside one of them in a SoJo robe. While the place always appealed to me as a place to go to for a relaxing afternoon, it exceeded even my highest expectations.
As soon as you pull up, your car is taken by a valet. Upon walking into the facility, you are checked in and brought to a room where you are given a locker to keep your shoes after removing them. You spend the entire day barefoot. You're taken up a few floors to a changing room corresponding with your gender, and even the changing rooms are immaculate. The entire spa has a beautiful, relaxing atmosphere that was absolutely breathtaking.
After changing into a swimsuit and putting on a robe, my friend and I wanted to head over to the infinity pool before anything else. You follow a pathway into a heated tent where you can hang your robes or grab a complementary towel.
The first thing you notice when stepping out of the tent is the scenery- a beautiful, up close view of the New York City skyline. The temperature of the pool feels like being in a hot tub; it was 42 degrees out and I did not feel the slightest bit cold. Between the view, the temperature, and being able to swim around in the middle of winter, it was dream worthy.
We then decided to head down to the spa pools, which had different water massage therapy systems throughout the pool. Again, you could see a beautiful view of the skyline but this time, you could stare at it while water hydro-blasts your feet, upper back or lower back. This pool was just as warm and maybe even slightly more relaxing than the infinity pool.
Of course, we had to venture into the several different saunas offered there at the spa. The charcoal sauna was my personal favorite. Through spending time in the charcoal sauna, salt sauna, and clay sauna, I felt every ounce of stress and worry literally melt away.
My experience only enhanced from there with my personalized facial. Five minutes before my appointment time, I was taken to a lounge with dim lighting where there were couch like lounge chairs accompanied with fuzzy blankets and iced cucumber and lemon water. It was the perfect atmosphere to relax in- before relaxing even more!
My technician was informative, kind, and made sure to make my experience with her as relaxing as possible. The facial included an in depth analysis of my skin, exfoliation, cleansing, hydration masks, SEVERAL hot towels on my chest and face, steam, and even a massage of my arms, hands, neck, and feet. The one hour I was with her took away MONTHS worth of stress and anxiety, and while I was beyond fulfilled in my time with her, I desperately wanted more.
After our facials, we decided to head over to the cafeteria for a late lunch and once again, my expectations were well exceeded. The menu was extensive with diverse options, offering everything from traditional American dishes, Italian classics, and Asian fusion delights. I ordered chicken teriyaki, which was beautifully plated and paired with a delightful miso soup. We spent some time digesting before cycling through the pools and saunas for a few more hours before leaving the spa and heading home.
While the spa is pricey, just like any other spa, you truly do get your money's worth. It is so important to invest time and money into self care, and I couldn't have gone to a better place to do just that. Even days later I am still feeling rejuvenated and relaxed!
To schedule a variety of treatments or to learn more about their pricing and promotions, you can head over to their website. They are located in Edgewater, New Jersey.
Taken in the 7th Floor Infinity Pool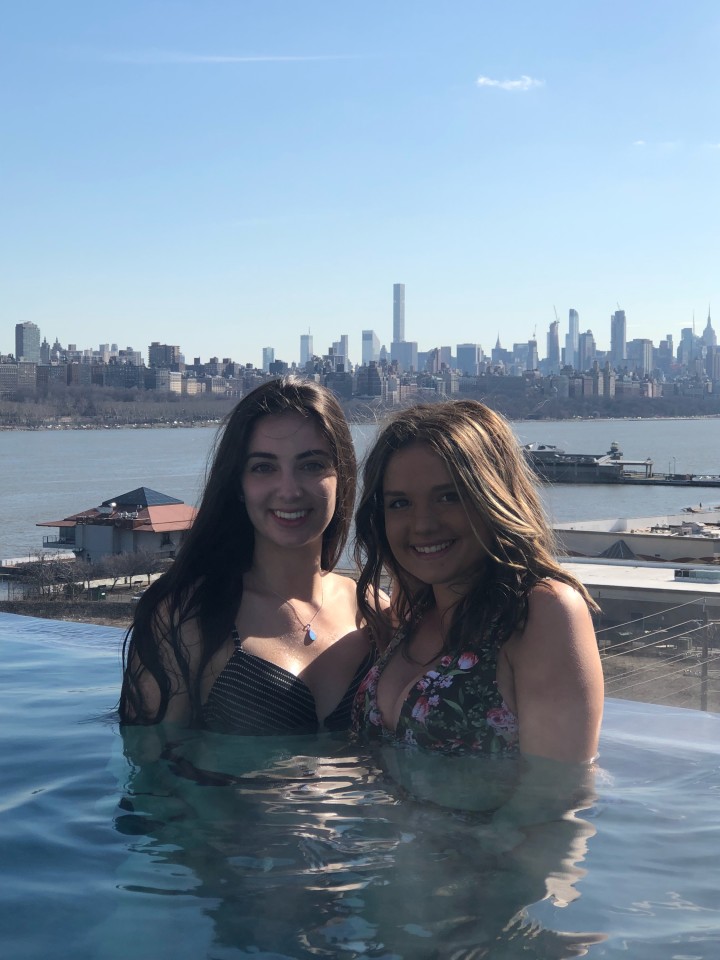 My friend Samm and I.
Inside the Women's Changing Room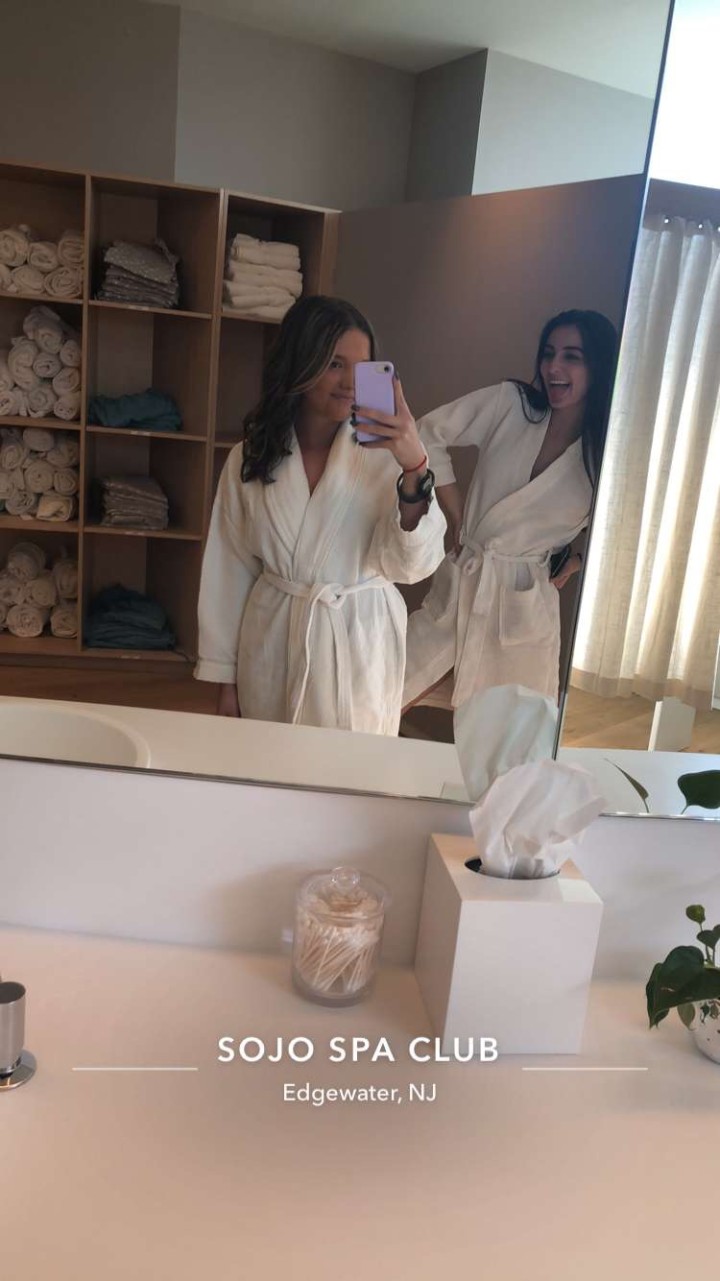 Inside the changing room included personal lockers which would only unlock with your bracelet key (on my wrist below the red hair tie), three showers equipped with complementary shampoo, conditioner, and body wash, a wall of towels, robes, and loungewear, several complementary toiletries, a separate seating area, and single bathroom.
Inside the Charcoal Sauna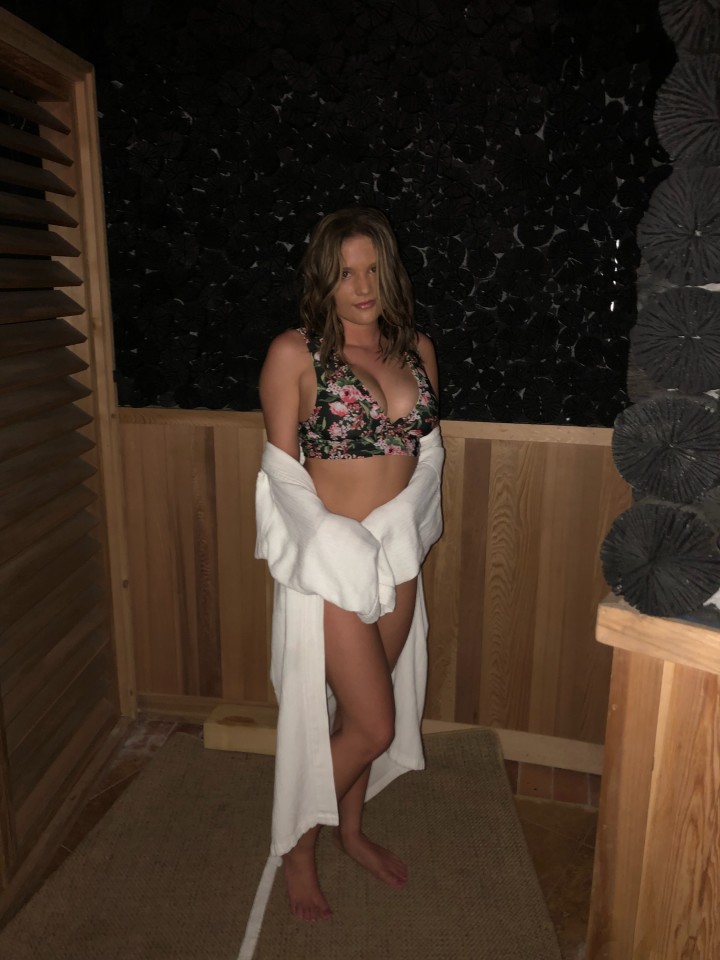 The inside of each sauna was gorgeously detailed in design. The floors had soft straw mats with wooden blocks to rest your head on.
Taken by the Infinity Pool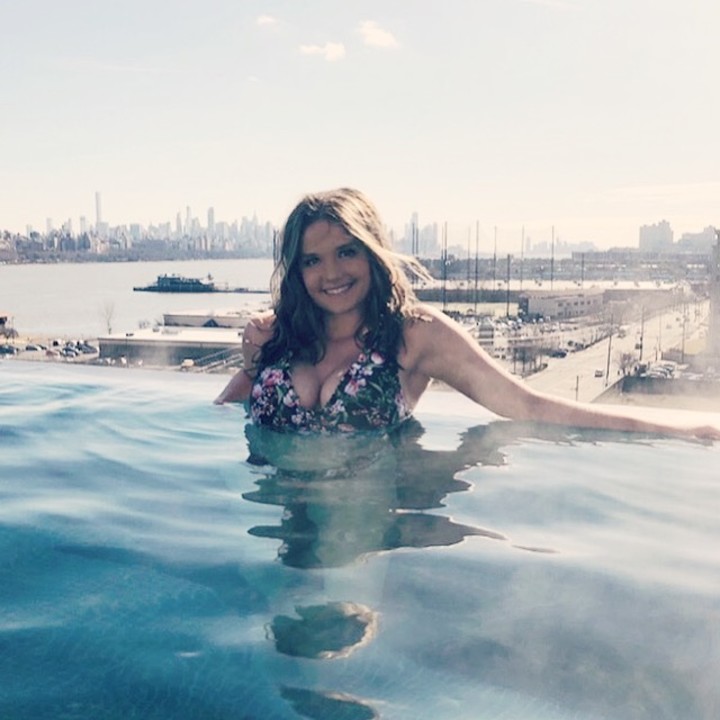 Chicken Teriyaki Lunch with Miso Soup