Mastering Your Toolkit
Unleashing the Full Potential of Your Essential Power Tools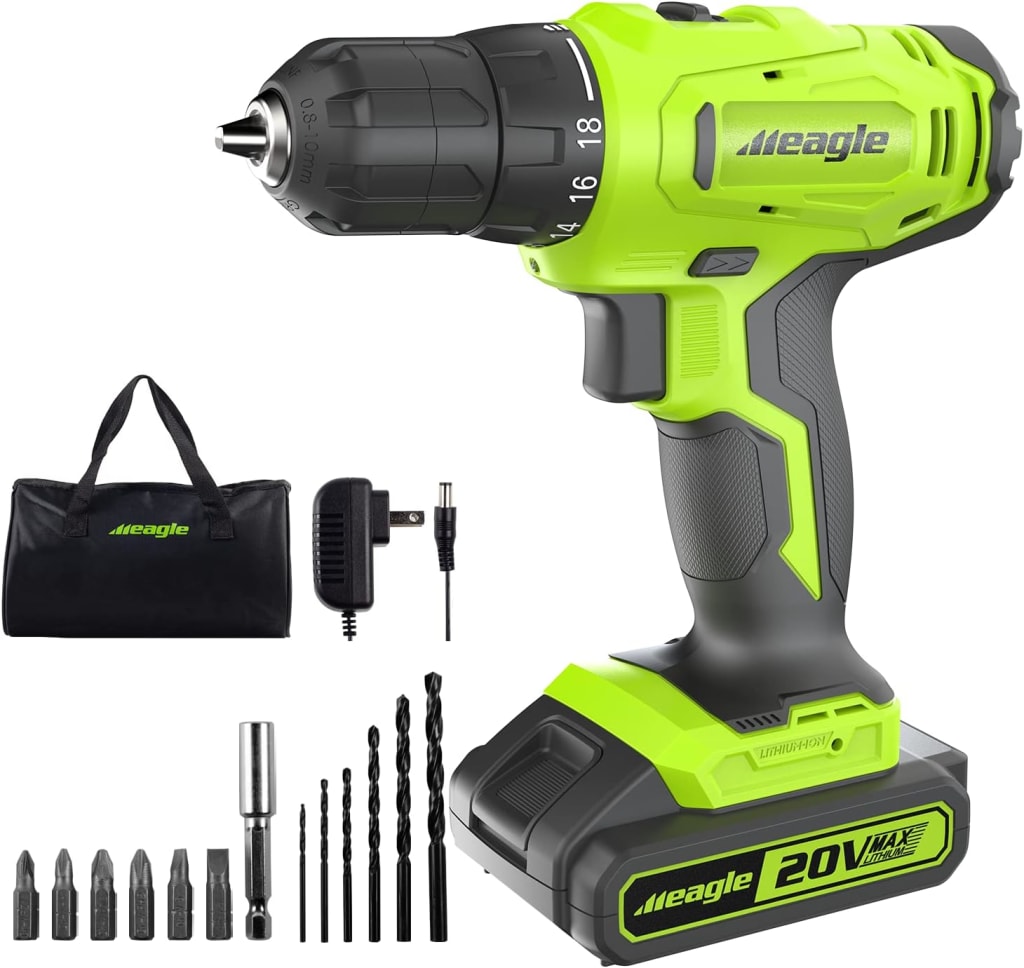 When you dive into the world of DIY projects and taking care of your home, having the perfect set of tools is an absolute game-changer. But you know what often doesn't get the credit it deserves? The accessories. They're like the secret sauce that takes your main tools to a whole new level, opening up a treasure trove of possibilities. And let me tell you about three little heroes that should never be missing from your toolkit: the trusty Cordless Drill, the ever-reliable Leaf Blower, and the versatile Wrench Key Set. These seemingly modest additions have the magic to turn mundane tasks into something extraordinary.
Introducing the Meagle Cordless Drill: Your Partner in DIY Excellence
When it comes to modern tool engineering, the Meagle Cordless Drill is in a league of its own. It's a seamless blend of cordless convenience and expert craftsmanship, designed to give you the freedom to move without the hassle of cords. This little powerhouse is compact and lightweight, effortlessly maneuvering through tight spots, making it a must-have for both seasoned DIY enthusiasts and professionals alike.
With its adjustable speed and dual gear options, the Meagle Cordless Drill offers a versatile range of 0-400 and 1,400 revolutions per minute (rpm). It packs a punch with its impressive 280 in-lbs maximum torque, tackling drilling tasks in wood, metal, plastic, and even precise screw driving. The 18-position clutch setting gives you pinpoint control, ensuring flawless results every time.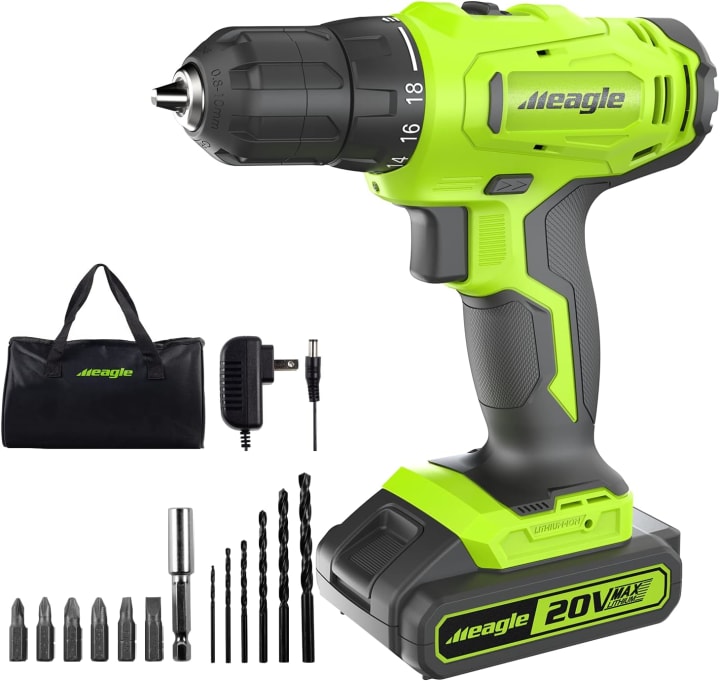 The Meagle Cordless Drill's durability is evident in its all-metal chuck, measuring 3/8" (10mm), and operates on a keyless system. This clever feature allows for swift, one-handed swapping of screwdriver and drill bits, eliminating unnecessary downtime during your projects.
Lighting up your workspace is a trigger-activated LED light strategically positioned above and in front of the trigger. This ensures consistent, shadow-free lighting on your work surface. This meticulous attention to detail speaks volumes about Meagle's dedication to user-friendly design and ergonomic excellence.
In the package, you'll find essential components that complement the Meagle Cordless Drill's capabilities: a 20V Cordless Electric Drill, a 2.0 Ah Lithium-Ion battery for extended use, a rapid one-hour charger for quick recharging, and a handy tool bag for convenient transport and storage. Additionally, the kit includes a selection of top-notch Cr-V and Twist Drill Bits, along with a magnetic bit holder, giving you all the tools you need at your fingertips for a wide range of applications.
The Meagle Cordless Drill is more than just a tool; it's a trusted companion in craftsmanship, designed to take your DIY projects to new heights. With its cordless freedom, precise control, and thoughtful design, it embodies Meagle's commitment to providing tools that empower and inspire. Whether you're a seasoned pro or just starting out in the DIY world, the Meagle Cordless Drill is bound to become an invaluable addition to your toolkit, ensuring exceptional results every time you pick it up.
Introducing the DEWALT 20V MAX Blower: Precision and Power Tailored for Your Every Job
The DEWALT 20V MAX Blower is a game-changer in debris management, delivering top-notch performance and precision engineering. It's not just for the pros; even discerning DIYers will find it an essential tool in their collection.
Designed with efficiency and adaptability in mind, this blower features a 3-speed variable switch, allowing you to fine-tune the airflow for your specific task. Whether you're meticulously cleaning joints or clearing debris from overhead and ground surfaces, you can count on this blower to deliver flawless results.
The variable speed trigger is another thoughtful touch, giving you precise control over the blowing power while minimizing any strain on your end. This means you can work comfortably and efficiently, even during prolonged use.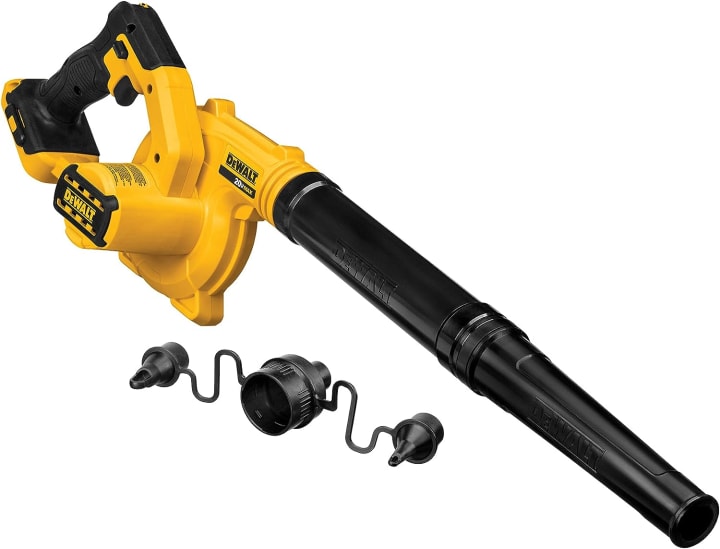 And for those longer tasks, the trigger lock-on feature steps in to reduce user fatigue, ensuring you can tackle even the toughest projects with ease and precision. It's clear that DEWALT prioritizes your comfort and experience.
Despite its power, the DEWALT 20V MAX Blower is surprisingly lightweight and compact, making it a star performer in tight spaces. Its ergonomic design ensures smooth maneuverability, even in confined work areas.
Please note that this offering includes the tool only; the battery is sold separately. The blower's versatility shines through in applications like tuck pointing, joint cleaning, and debris clearing, both on the ground and overhead.
You'll also find three nozzle attachments in the package, giving you the versatility you need to handle a wide variety of tasks effectively. Whether you're a seasoned professional in need of a reliable workhorse or a DIY enthusiast in search of exceptional results, the DEWALT 20V MAX Blower is sure to become a trusted asset in your toolkit.
Elevate your projects with the DEWALT 20V MAX Blower, and experience firsthand the impact of precision engineering and unwavering performance. Every detail, from its variable speed capabilities to its ergonomic design, is crafted to boost your efficiency and results. Discover a new level of power and control with DEWALT.
Get The Dewalt 20V Max Blower on Amazon
Introducing the Klein Tools Hex Wrench Key Set: Precision Craftsmanship for Every Twist
The Klein Tools Hex Wrench Key Set is a shining example of meticulous engineering and thoughtful design. It's not just a set of tools; it's a reliable companion crafted with utmost attention to detail, perfect for both seasoned pros and dedicated DIY enthusiasts.
With a wide range of key sizes from 1/2 inch to 3/32 inch, this set equips you with the essentials for a variety of tasks. The high-leverage blades open up to an impressive 270 degrees, granting unmatched access and maneuverability, even in those tight, hard-to-reach spots.
What truly sets this set apart is the square-cut hex-key ends. They ensure a snug, full-depth fit with maximum contact, eliminating the risk of slipping or stripping. This means you can work smoothly and efficiently, whether you're handling delicate components or tackling heavy-duty applications.
Convenience is key with the Klein Tools Hex Wrench Key Set. All the most commonly used key sizes are neatly housed in one compact unit, putting the right tool at your fingertips. This not only streamlines your workflow but also boosts overall efficiency. The blades, made from sturdy, heat-treated alloy steel, strike a perfect balance between strength and precision, ranging from approximately 3.5 to 4.5 inches in length.
The reinforced nylon handle provides a solid, comfortable grip, allowing for extended periods of use without sacrificing control or comfort. This handle design speaks volumes about Klein Tools' dedication to user-friendly ergonomics.
This Hex Wrench Key Set isn't just a tool; it's a testament to craftsmanship and dependability. Its meticulous construction and wide range of sizes make it an invaluable addition to any toolkit. Whether you're a seasoned pro or a committed DIYer, this set is guaranteed to deliver consistent, accurate results with every turn.
Elevate your projects with the precision and versatility of the Klein Tools Hex Wrench Key Set, and discover firsthand the impact of quality craftsmanship. Trust in Klein Tools to provide you with the tools you need to get the job done right.
Reader insights
Be the first to share your insights about this piece.
Add your insights