I'm Not Going to Throw Away My Shot!
Count down to round the world lift off. 23 Days.
Days are counting down and we are on the move to our departure on our round the world trip. 23 Days and counting. This week we are wrapping up tasks. A big one has been getting our inoculations for this trip. I truly thought this would be pretty straight forward to plan and execute. Ha!
I wish, wish, wish I would started this one a couple of months ago. I found out in mid-June that our insurance, which was ending on 30 June, actually does cover a lot of travel shots. Amazing as that isn't usually the case. So, I was trying to wrangle the best schedule to get our shots in before our insurance ran out. The rest has been cash pay (ouch). That price tag smarts more for me than the pain of the shots, although, my sons will beg to differ.
We got about half of them in before paying out-of-pocket. Actually, cross your fingers for us as we are still awaiting the reimbursement from the insurance company after I submitted a 20+page claim on June 30th hours before our insurance ended at midnight. Please, please, please.
The other challenge has been the timing of all the shots. Japanese Encephalitis has one shot then, 28 days later, the booster. Each shot is $330. Gulp! You can do the math. It hurts my head too much.
Typhoid has one shot ($149) effective for two years or a series of four live-virus vaccine capsules ($40 per person with insurance) taken on an every other day, eight-day regiment, effective for five years. They have to be on an empty stomach that doesn't allow any warm drinks (read: NO coffee) and nothing to eat or drink for approximately two hours. Kelvin, Canyon and I figured out the way to go was to take the capsule at 5am and go back to sleep. Oakley had the shot and was none too pleased to be singled out for that one.
Then the Hepatitis series for Kelvin and I, which runs about $159 but, FREE with insurance. When I lived in Hong Kong in the 90s I had a series of shots but, I cannot (shockingly) find the paperwork on those details. Bummer for me as I got to have some of them again. The kids (and now all kids) have the Hepatitis shots as part of their normal childhood regiment so, no extra bargaining there. And it's covered by their insurance. Yay!
Yellow Fever, about $159 a shot, is also a live-virus shot which requires someone specially trained to administer. Also, the batches here in Portland, Oregon would sell out in a day so, you had to "reserve" your doses. Never knew, we had such a hot market for real estate and Yellow Fever vaccines.
Figuring out where to get them administered was hard. That became tricky as we ended going through Walgreens Pharmacy to get them all sorted. Other places charged a lot to administer (upwards of a $25 per shot fee) and an in office fee per person which could be just $200 for us to walk in the door.
These stand alone places (and even one connected to Providence Hospitals) refused to bill insurance even after I had arranged a conference call with my insurance (BCBS), them and myself on the line. They stated that most insurances don't pay and I had my insurance company telling them they would if they would just bill for it. They refused. My last conversation with that medical office did not highlight my best, adult problem solving conversational skills. Sometimes you meet people who are very regimented and rigid (what's that, Kelvin? You know someone like that?).
Also, when you vaccinate young kids you need written (read not phoned in or electronic) prescriptions for these shots so, had to go to pediatricians office to pickup or have them post them to us. Those pediatricians frequently can't administer the shots as they don't have them in-house and are somewhat reluctant to order them in as the transport of live-virus stuff gets tricky.
I had my patience tested many a times and collectively, I likely spent about eight hours on calls and research to find the right place. Then came the waiting times at Walgreens. We knew that store's employee codes and all the aisles after three visits and approximately six hours being there. The folks there were mostly great but, with each day new people had to be told what we were doing and I was beginning to feel like I was in a Groundhog Day movie.
We would have an "appointment" to get our shots. This was a loose term I realize and often we waited up to two hours to get everything written up, processed, paid for and administered. Kelvin and I broke all our screen time and sugar rules to get it done. Our sensory kids were nervous and at times it was achingly painful to have to negotiate with a screaming, sweating eight year old. I may apply for SWAT tactical hostage negotiation work later in life.
So, we are basically set in that department. One more thing moved to the DONE column. I know you can't really put a price on avoiding a life threatening diseases. My advice to anyone out there thinking of traveling like we are. Sort this earlier as it takes longer than you think, you might get some of it covered by your insurance and budget for it. It is not cheap. And I am pretty sure this isn't covered in any healthcare coverage being bargained over in DC.
Live Virus Typhoid Shots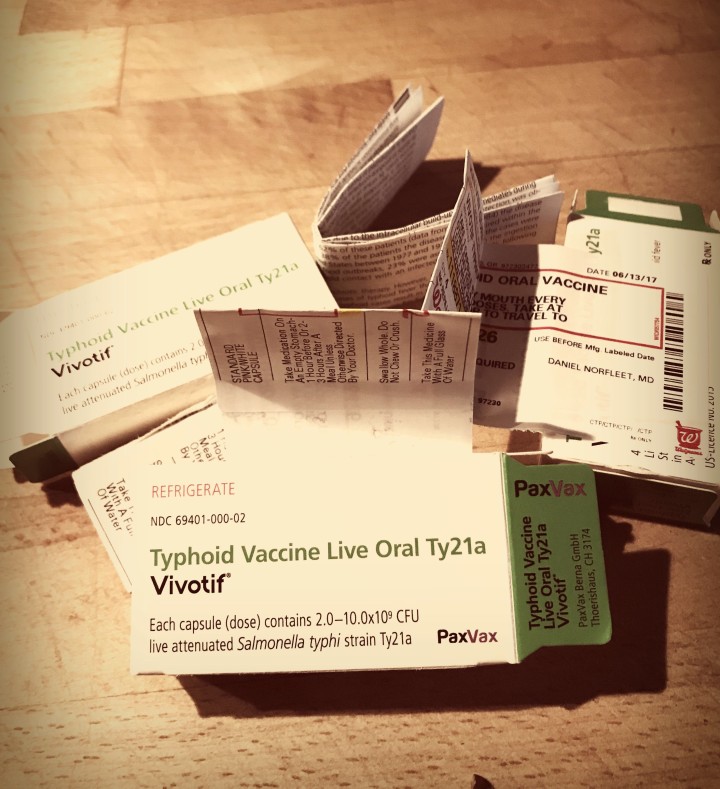 The Typhoid live virus capsule regiment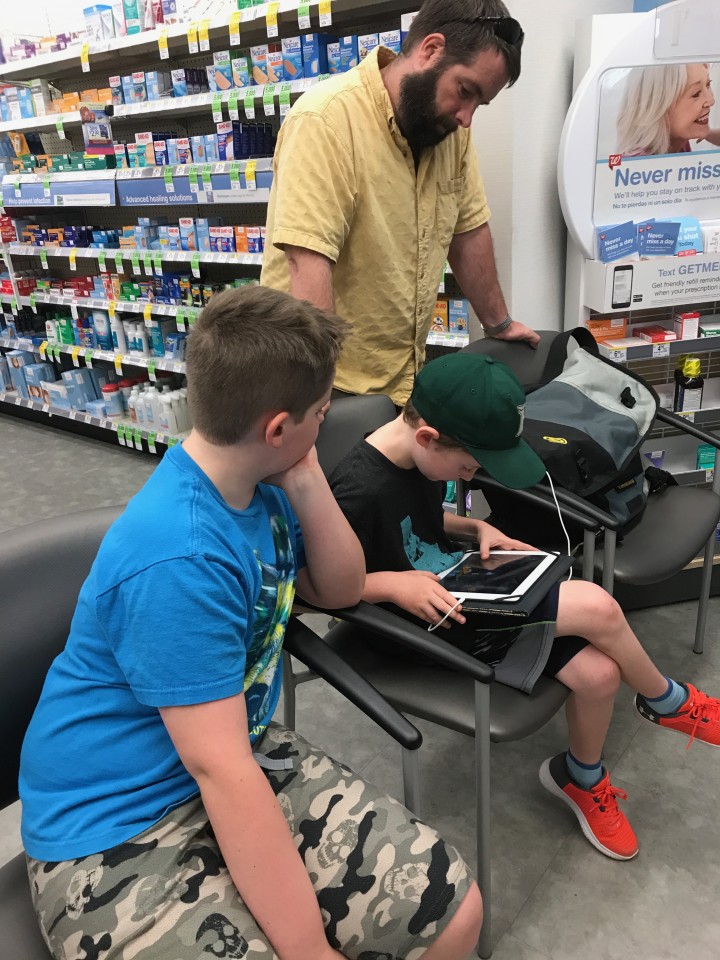 Passing time waiting for our turn to get our shots. Extra Screen Time!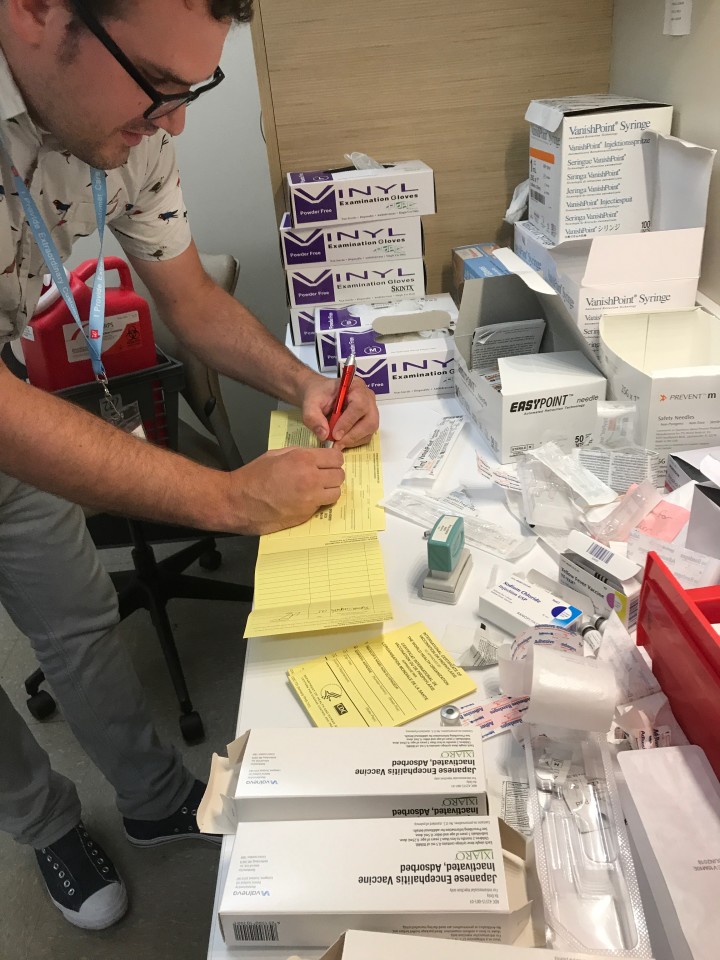 All the documentation that helps us on the road.
travel
health
Audrianna Gurr
I am a mom of two boys, a therapist, wife of a chef, Idaho born, Oregon resident. We take off in August 2017 for a year long travel and world-schooling adventure with our 8 and 9 year olds. You can follow us at www.simpleexpectations.com
See all posts by Audrianna Gurr →