How I Learned to Love Myself
After years of trying to fit the mold, nothing felt sexier than learning how to love myself.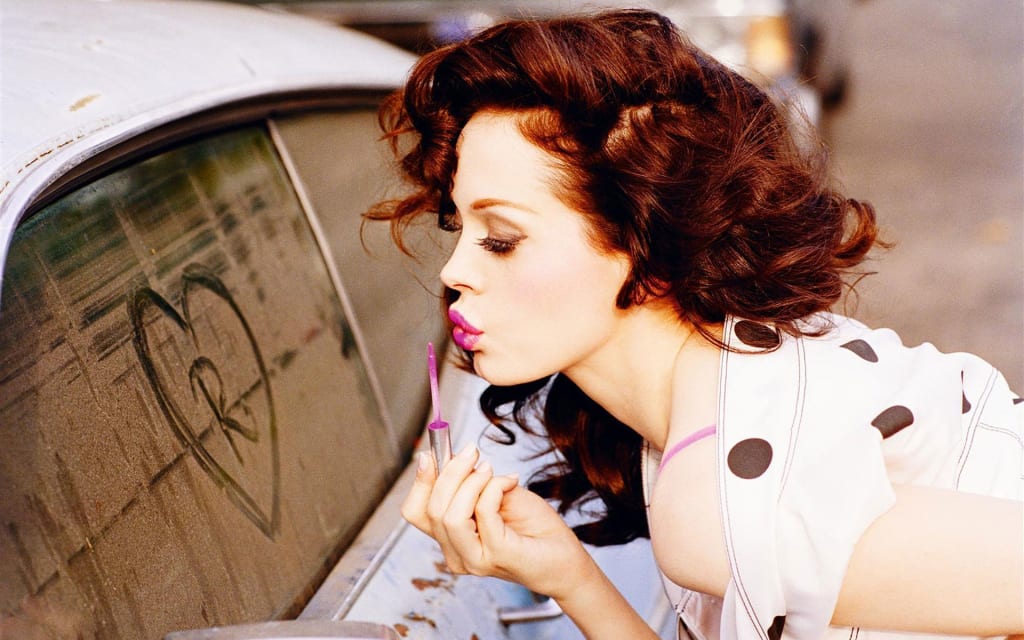 "Can you put your hands up for me? Now suck in. What size pants are you wearing?"
"A size 2."
"Impossible. You must be closer to a 4. Especially for runway, they need you at a size 0 since European designers are always smaller. What did you have for breakfast? Put your hands down now."
"Oatmeal."
"How much oatmeal?"
"I don't know, ½ cup. I put peanut butter and banana on it too. Oh god. That means I should probably just have salad for lunch then?"
"Depends how much you're willing to lose weight and how quick. I feel bad telling someone your age to take these steps, but it's just the industry. We need your hips and waist 2 inches smaller, at least. I've showed you to a few people and they aren't interested unless we can get you down to that. I know you can do it!"
"What do I need to do? I'll do anything."
"Don't be anorexic, but look anorexic."
Every Calorie Doesn't Count
Welcome to the fashion industry. Whether you're in London, New York, Milan, Tokyo, or any other part of the world, the industry is the same. Young girls look up to underweight models and skinny celebrities, musicians that preach the use of cocaine in their music, and glossy magazines with 5'11 size 0 supermodels on the cover.
In elementary school, I was one of the shorter ones. Most kids were taller than me, until 7th grade where my height went from below average to taller than every boy in school. I was tall, skinny, and unusually pale, traits any modeling agent is thirsty for. Family and friends always told me I'd be a great model, so I decided to send pictures to a few different agencies and see what response I got. I chose an agency and sent pictures of myself in a Lord & Taylor dress, and a picture from an impromptu photoshoot my friend and I staged. The agent immediately replied, telling me I was one of the few girls that she even took the time to email back. My face lit up.
I booked a ticket to meet with her next week in the Big Apple.
My parents hated the idea of me going to New York to model. They knew what occurred due to my sister's experience, and were petrified that would happen to me too. I was never my sister, and we couldn't be more different, yet here I was begging on my knees for my parents to accept me and let me follow my dreams.
"We can't really do much work with you right now because of your age, but that gives us a few months to prep you for what you're about to become."
My face lit up. She told me London, Paris, Milan, and New York were in my future.
"Let's set up a test shoot for you with a popular photographer. They are great. You'll love them. They are based in Brooklyn. Will your parents let you do this?"
"Yes." I knew they wouldn't, and that my family didn't have the money for a test shoot (the cost to shoot with a top tier photographer starts at $400 to build a portfolio, and if your agency pays for the shoot, you're expected to pay them back, or they will take it out of your next work check) but I was going to make it work.
"Great. I'll send them your pictures. Can you lose a few more pounds before you shoot with them?" She saw my concerned face.
"I don't want you doing anything drastic to yourself, but just start eating really healthy. Try and burn at least 300 calories in a workout, or better idea, download one of those calorie tracking apps on your phone and you can put in what you eat everyday. If you have an apple, click on apple and it will come…"
"You want me to count the calories of an apple?"
"Every calorie counts! Just try to eat less calories than you burn off working out. I know you can do it."
Stop Trying to Make It Fit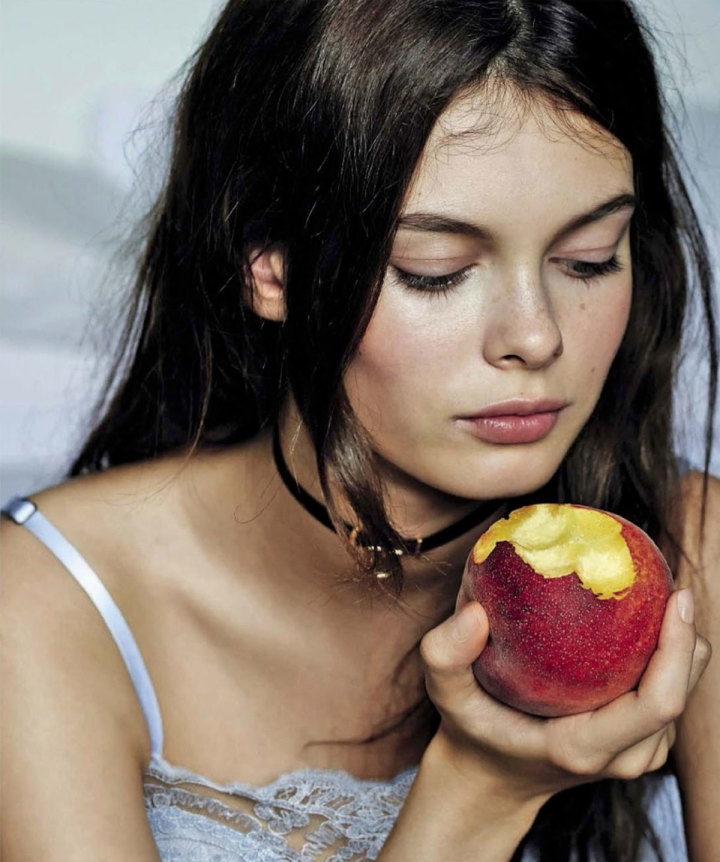 I always loved food. My parents used to tell me that as a baby, my happiest moment was the first time food hit my mouth, where (apparently) I "oohed" so much they remember it till this day. I grew up in a household where my dad was sticking Doritos and ice cream in my face, and my mom was giving me macrobiotic brown rice and organic chicken. The imbalance is quite obvious.
Until getting signed, I never cared what entered my mouth. Adolescents are rulers with no hips or body forming yet (I coin that time in life the good days) and don't have to worry about what they eat. Kids go to the movies and get popcorn, coke, and Twizzlers, and eat whatever looks appetizing. Remind a 14 year old what spinach is again? Getting signed to any agency was an immense amount of pressure to conform to an unreasonable industry standard that no 14 year old should ever have to witness, yet agencies sign girls as young as 12 years old in an attempt to prep them before they have a chance to grow into a woman's body.
Upon arriving at the studio, a male photographer was giving me dresses to try on (some girls are alone at shoots without their agent and with a male photographer), and heels two sizes too small to squeeze on my feet. "Can you try on this dress?"I was excited. My agent looked excited. The makeup artist was talking about agencies that we could send these pictures to (Ford, Marilyn, DNA) and everything was happening quickly and seemed surreal.
I walked out of a changing room into the studio in a BCBG black ruche dress that was a size 0. It didn't fit around my waist. I couldn't zip it up, and at this point I knew my agent wasn't going to be happy.
"Come stand over here so I can test the light. How do you feel?"
"Ok.." I hesitated to say the next part "but this dress doesn't really fit me. It won't zip up the back." My heart was pounding loudly. I hadn't eaten much earlier that day.
The photographer spun me around and examined my 4 inches too large waist. I could sense the eyes on me.
"I'll just clip it. You should work on this area. You're big here, and agencies will want you much tinier. You should be able to fit in this dress."
Size Does Not Define You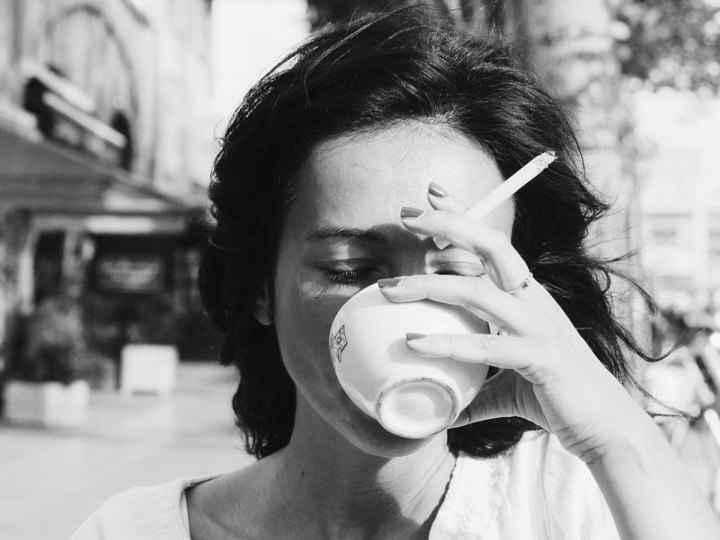 We continued through the shoot, and I couldn't get those words out of my head. "You should be able to fit in this dress." I kept repeating them over and over again. My agent repeated them to me again when we left the shoot and told me to try and lose 10 more pounds, and I went to lunch and ordered an iced tea. My stomach wanted to kill me. I stood in front of a camera for 4 hours, and had an iced tea for lunch.
Measuring tapes were being thrown around my waist and hips, industry professionals were telling me to lose 10 pounds, and then lose 10 more pounds, and at that point was adding up to losing about 30 pounds. I was looking at anything to give me an excuse to lose weight and become what my agent wanted me to be.
I used to look at the girls in my school and compare myself to them. If my best friend (who has a naturally tiny frame and is oh so beautiful) only ate half of her burger, I'd feel awful if I ate more, and would convince myself to eat less because she ate less. None of my friends ever had issues with food, which made me convinced there was something wrong with me.
Kids at school didn't understand this pressure, and I wasn't in NYC enough to meet models that were my age and could relate. Upon getting signed, I became vegan for two years, with the belief that any ounce of dairy or meat was going to decrease my chances of losing one more inch. I got a decent amount of stares in the cafeteria eating my tofu and quinoa (I always ate the same meal everyday for breakfast, lunch and dinner, which was prepped hours before school) while everyone else ate crappy chicken sandwiches. My life was in the public eye, and it happened pretty quickly and unexpectedly. A part of me was desperate to impress people whom I believed would make my career blossom. Calling myself a model made me feel much more important than calling myself a blogger, though now I feel the polar opposite about what a model truly is defined as.
Just One More Inch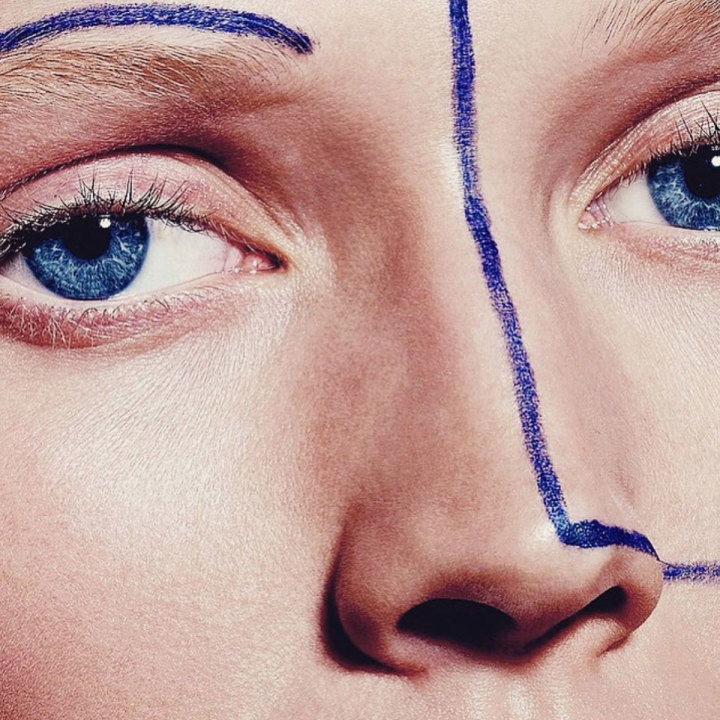 From 14 years old to 16 years old, going out with my friends, family, or colleagues was miserable. I used to research menus at the restaurant we were going to for hours, figuring out possible substitutions, sometimes calories, and ways to avoid eating any form of dairy, meat, gluten, sugar, or food that tasted moderately good, in an attempt to rush back to NYC with a list to show my agent of what I had eaten the previous week, which often included 6 oz of protein, spinach, fruit, and 24 ounces of water. Food went from being a fun part of life to something that was tearing me apart in the worst way possible. Forget burgers and milkshakes, chips or nutella, fried chicken instead of grilled chicken. Life was determined by how many calories I was eating and how I looked in front of the mirror.
Instead of having a well-rounded diet filled with healthy fats and protein, I became vegan, and blamed it on my utter love for animals. That was utter bullshit. Veganism was an excuse for me to eat less, or not have to eat in public since many restaurants don't offer quinoa or tempeh. Dessert was 1 square of dark chocolate, or Arctic Zero "ice cream" which was seriously from the Arctic because dairy-free "ice cream" is always freezer burnt. My heart yearned for gluten and dairy filled pizza, or ice cream from my favorite ice cream parlor in my town, which is known for having the best ice cream in Connecticut. I just couldn't eat it.
"Suck in. Suck in a little more."
My heart was pounding.
"You've gained an inch. Are you doing what I told you to do?"
My heart sunk.
"I haven't eaten sugar in a week. Actually, 3 weeks. How is this possible?"
"Have you been burning 300 calories in your workout everyday?"
"I burn 500 calories in my workouts. I workout every morning and every night."
"I don't know. It may just be the shape of your body. Start sending me an email every night with everything you ate that day. Try to eat 200 calories less."
No more one square of dark chocolate every night for me. I fucked up again. She hates me. Everyone must think I'm fat.
I left that last meeting in tears, with no one to turn to. A few meetings after this one, I ended up losing 2 inches, and my agent treated me like I was suddenly this shiny diamond. Every conversation still ended with "can you lose another inch?" I was physically and mentally exhausted. The last meeting with my agent had me in tears, and I left in anger. I felt betrayed, depressed, and fat. I couldn't do this to myself anymore.
I never returned to my agent's office.
Eat the Pizza, Damnit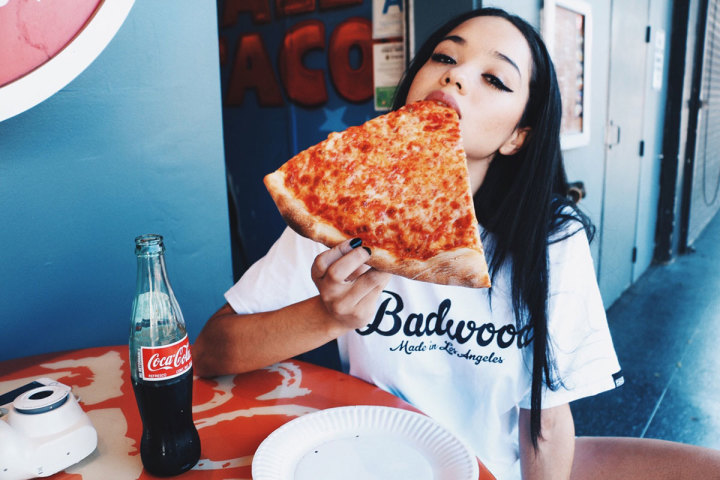 Upon deciding to stop modeling with my NYC agent, I woke up one day and decided to eat whatever I wanted to eat. That went from whatever I wanted to eat that day, to that week, to that month, to this moment today. My best friends still tell me how annoying it was to go out to eat with me for 2 years. They talk to me much more now.
Food is what keeps you alive. Children in third world countries wait for days to get a cup of water or a full meal, while girls in this country skip out on pizza because their head tells them not to eat it, or a delicious cupcake because they haven't worked out that day. Parts of the media definitely don't help this obsession with food and being "thin" or waif-like. Models pose in Vogue (and even Teen Vogue) that are noticeably underweight, giving young girls the idea that we should all attempt to be that unrealistic "glamorous" size. Many magazines have made pacts to only include "real" girls in their magazines, and brands agree to only use healthy, fit models instead of thin ones, but there is still much to be changed within this world. Calling someone skinny shouldn't be a vocabulary word or compliment in this day and age.
Lucky for me, I never got to the point where I needed treatment or professional help. Some young girls aren't as lucky, and live their life counting calories, ingredients, and losing out on opportunities to eat incredible pizza or handcrafted gelato. Don't let food ruin your life. What you see in the mirror does not determine the type of person you are. My waist will never be 25 inches, or even 26 inches, and my hips will never be the size they were when I was 5 years old. I'm okay with that. Let food be your medicine and your friend.
No one should ever be able to tell you how to look or what to say.
weight loss
advice
body
mental health
humanity