Homemade, Energy-Packed Vegan Snack Bars You'll Love
Tasty plant fuel - on the go.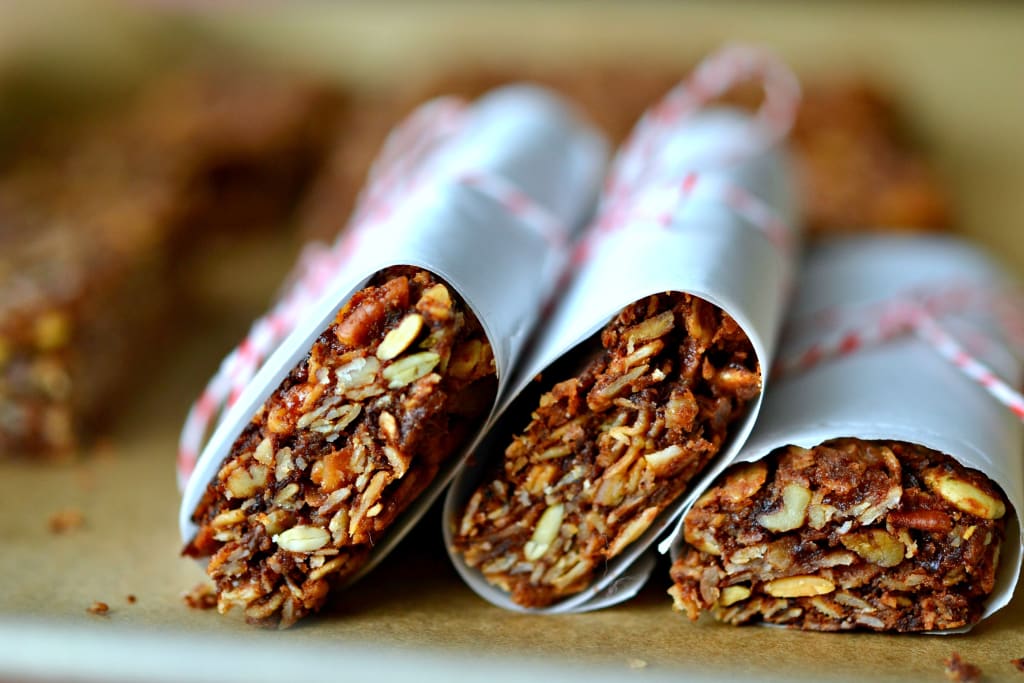 What's currently hanging out in your snack cupboard? I've got...let's see...1/4 of a bag of off-brand BBQ potato chips, 3 partially crumbled cheese-flavored rice cakes, some extremely stale Wheat Thins from a camping trip several weeks ago...and, oh, goody! Two alarmingly bendable graham crackers! I do also have lots of fresh fruit, but the thing about fruit is...it just doesn't feel like a snack on its own. To avoid opening the giant bag of Reese's Peanut Butter cups I just bought for Halloween, it's going to have to be vegan energy bars TO THE RESCUE! Shun your own stale snack cupboard and stir up some of these fresh, crunchy, sweet and salty bars to munch. I can't promise I'll stay away from the candy stash completely, but at least it'll have a fighting chance of lasting a little bit longer. (Tying yours up in brown paper and twine is completely optional, albeit adorable.)
Feel Good Hearty Granola Bars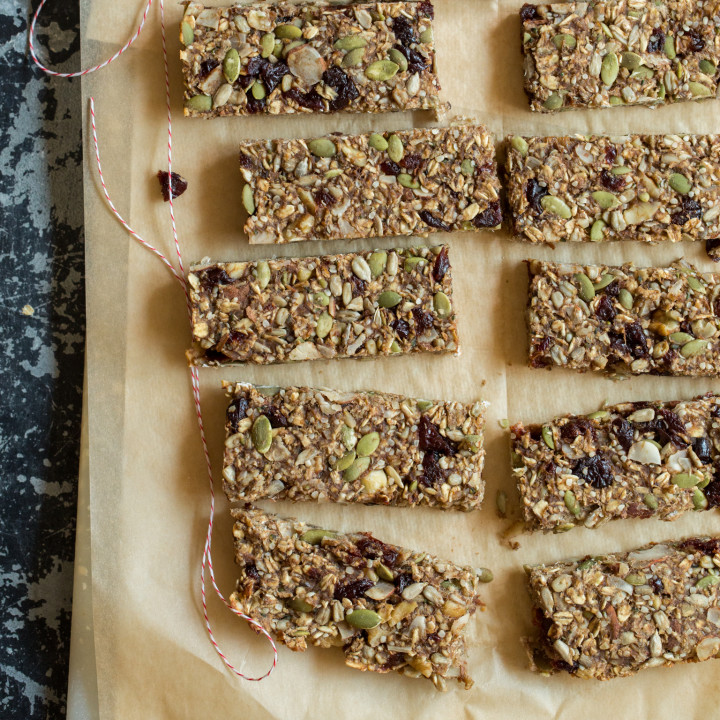 The only sweeteners in these Feel Good Hearty Granola Bars are bananas and lightly sweetened dried fruit - but you'd be amazed what a big punch they pack. Each one has over 6 grams of protein and almost 5 grams of fiber (additional nutritional information is available on Oh She Glows, one of the best vegan blogs of all time). No extra sugar means no big crash an hour after you eat one. Instead you get crazy bunches of energy from the hemp seeds, sunflower seeds, walnuts, rolled oats, almonds, and pumpkin seeds. Cinnamon, vanilla, and sweet dried cherries are the big flavors that'll make these your new favorite. Swap out walnuts for seeds if desired to make these nut-free, or skip the hemp seeds if you find them difficult to get and add extra almonds. When my husband and I make these, we add chocolate chips, and with the cherries they remind us of Black Forest Cake - so in our house, we call these "Black Forest Bars." Angela of Oh She Glows recommends spreading some chia seed jam, nut butter, seed butter, or even coconut oil to make this even more filling. Sounds like a party to me!
No-Bake Oatmeal Raisin Granola Bars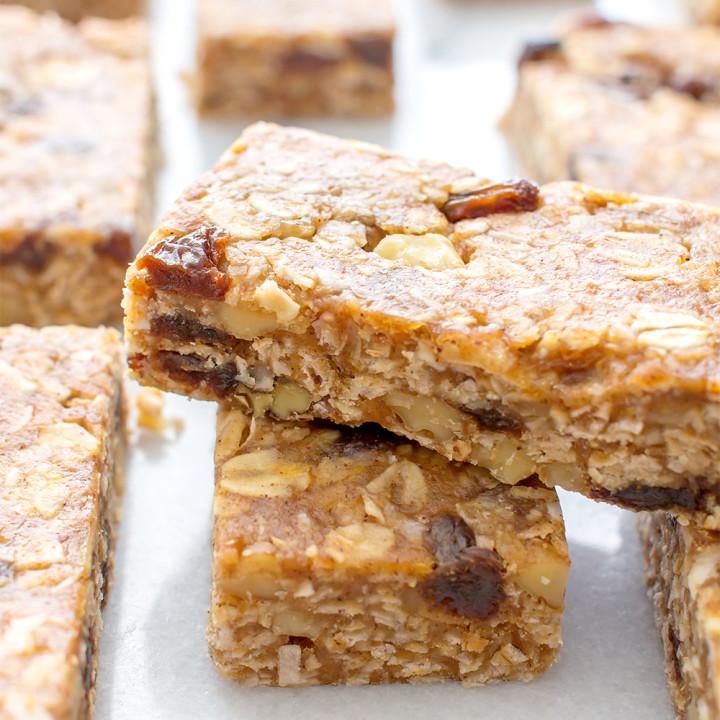 There are only two camps when it comes to oatmeal raisin cookies: the people who love them and the people who are wrong. Oatmeal raisin cookies always remind me of my grandma Dorothy who loved everything spice - gingerbread, molasses cookies, you name it. These No Bake Oatmeal Raisin Granola Bars from Beaming Baker are soft, chewy, and super easy to make. They're vegan, gluten free, and so, so good. After mixing together rolled oats, homemade oat flour, coconut, and cinnamon, you simply add a couple flax eggs as binders, some melted coconut oil, natural almond or peanut butter (whichever you prefer), maple syrup, and vanilla. Stir in the raisins and walnuts and you're almost done - they'll be bars before you know it and in your tummy soon after. This is the healthy version of your favorite cookies, so you can enjoy nostalgic memories whenever the mood strikes.
Vanilla & Blueberry Cashew Almond Snack Bars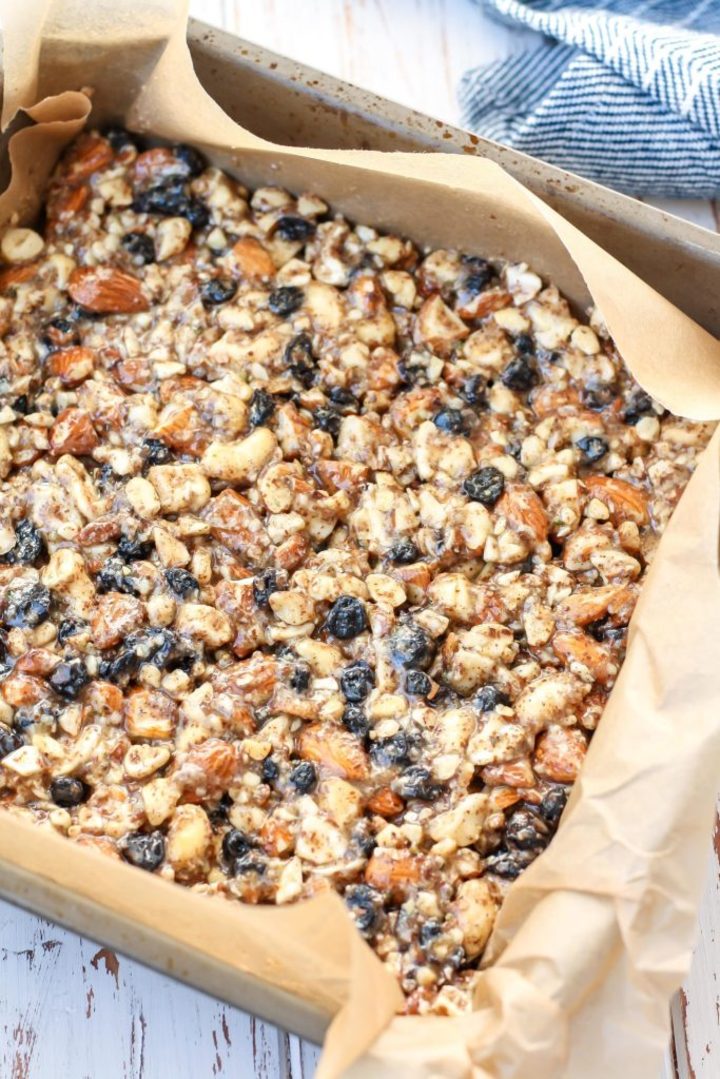 Do you love KIND bars? We bought a huge box at Costco a while back for two back-to-back road trips. We munched them heading from Texas to West Virginia to see my parents, and we crunched them heading from Texas to Idaho to visit my husband's parents. And right before everything turned into a Dr. Seuss book (Can we eat them in the van? Can we eat them? Yes, we can!) we finished them up and agreed they were pretty dang good indeed. These Vanilla & Blueberry Cashew Almond Snack Bars are a riff on the KIND bars of the same variety and employ brown rice syrup to keep them together. They also use real vanilla beans to give you that rich, authentic vanilla flavor. The recipe instructions on Fit Mitten Kitchen advise, "If you're new to using vanilla beans, all you have to do is slice open the bean lengthwise, open it up and scrape out the seeds using a spoon or sharp knife." Sounds like the work would be well worth it to get a treat like these right from your own kitchen.
Dark Chocolate Almond Energy Bars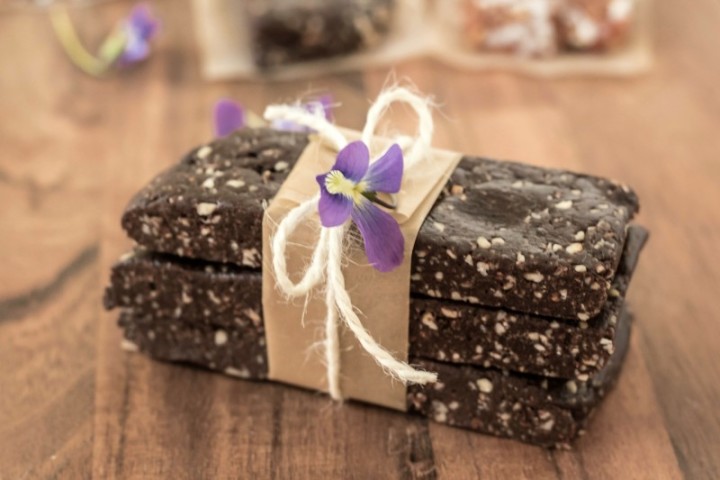 Chocolate lovers, rejoice - these Dark Chocolate Almond Energy Bars are possibly the easiest vegan bars on the list. In fact, you can pop one in your mouth faster than you can make brownies from a mix. DANGEROUS. Pull out your food processor and whirl up some almonds, pitted Medjool dates, cocoa powder, chocolate chips, and vanilla extract. Press the delicious mixture into a parchment-lined baking dish, chill for 30 minutes (or less - that's my advice, not the recipe's, but since it's all good to eat the ingredients raw, it certainly won't hurt you!). Cut into bars and yay! Chocolatey goodness!
No-Bake Apricot Chia Energy Bars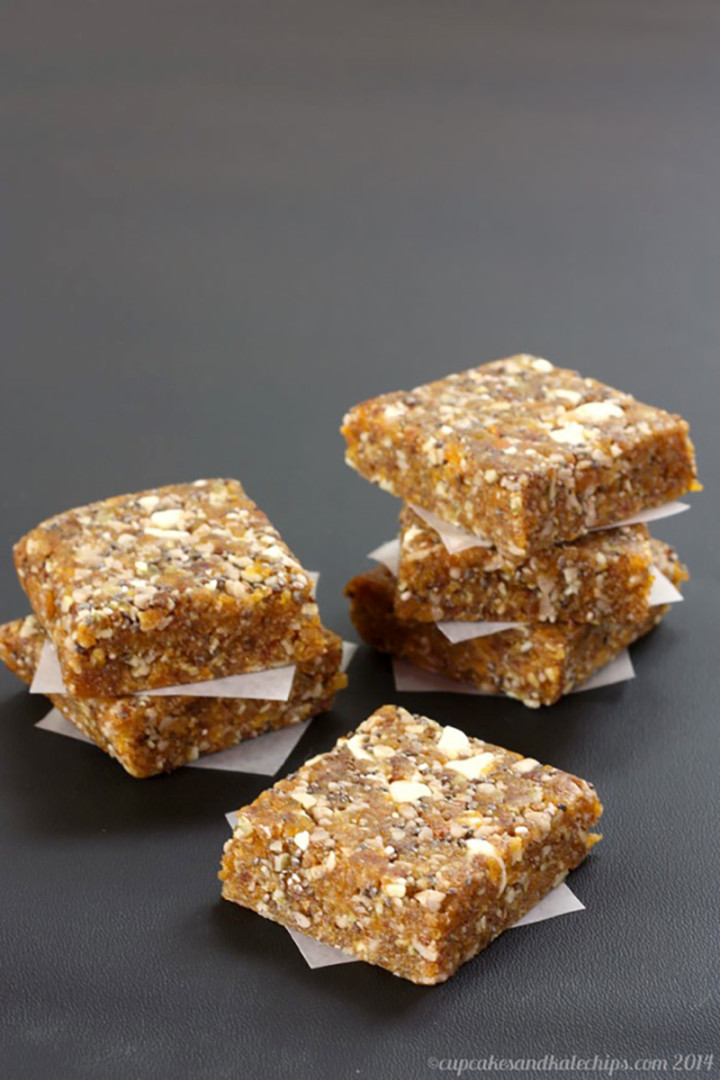 If you love a bar with some good texture to it, you will adore these No-Bake Apricot Chia Energy Bars from Cupcakes and Kale Chips. The raw pumpkin seeds and chia seeds keep things crunchy and the white chocolate chips, Medjool dates, and apricots make it so, so deliciously sweet. Add a little cinnamon and you're good to go. If you want to avoid adding extra sugar to your diet, you can definitely omit the white chocolate chips and still have a solid snack bar option with lots of flavor.
Coconut Matcha Energy Bars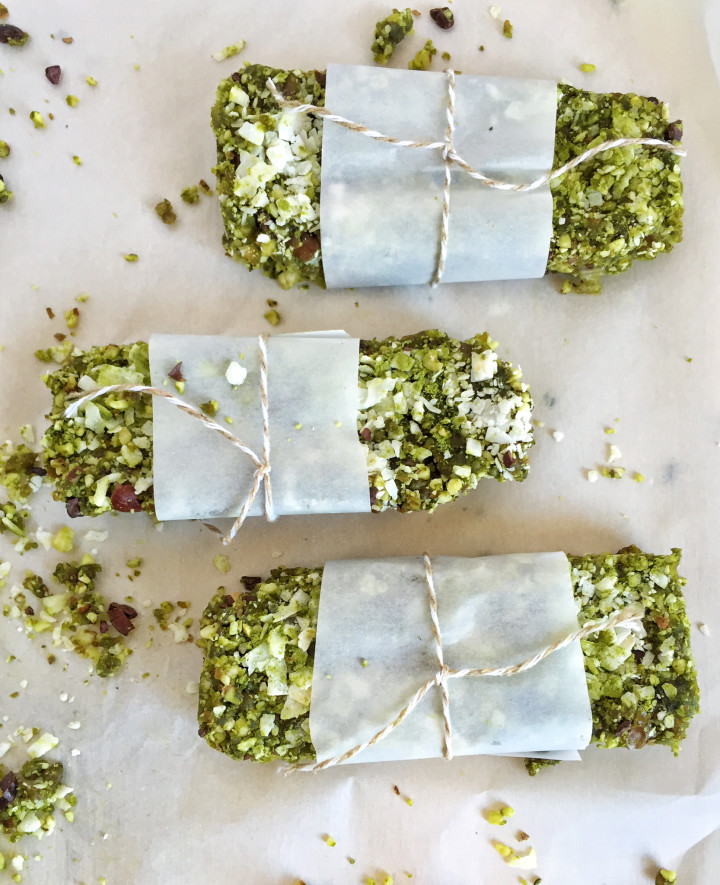 Talk about gourmet! I had to include this highly aspirational recipe (ok, aspirational for me, you may already be a vegan cooking goddess) because it is just so fanciful. If you aren't familiar with it, matcha is a powdered green tea that uses the entire leaf. That means extra antioxidants and nutrients in your smoothie, latte, or energy bar. These Coconut Matcha Energy Bars include almonds, cashews, and hemp seeds for energy, healthy fats, fiber, and protein, dates for sweetness and binding power, and tons and tons of flavor. Love coconut? It's in here. Ever tried cacoa nibs, those magical crunchy bittersweet bites of awesomeness? Also present. Vanilla rounds out the cast. The Grateful Grazer describes them this way: "They're kinda like a Lara bar and a green tea latte had a (really delicious) baby…" Say no more. I'm getting out my mixing bowls and going to town.
weight loss
diy
organic
diet
list

Sarah Quinn
I'm a writer in love with India, Stars Wars, fantasy, travel, and Thai curries. My childhood heroes were Luke Skywalker and Joan of Arc. I muse on superheroes, sci-fi, feminism, and more.
See all posts by Sarah Quinn →