History of Sunscreen
Understanding the history of sunscreen and importance of daily use can help protect your skin.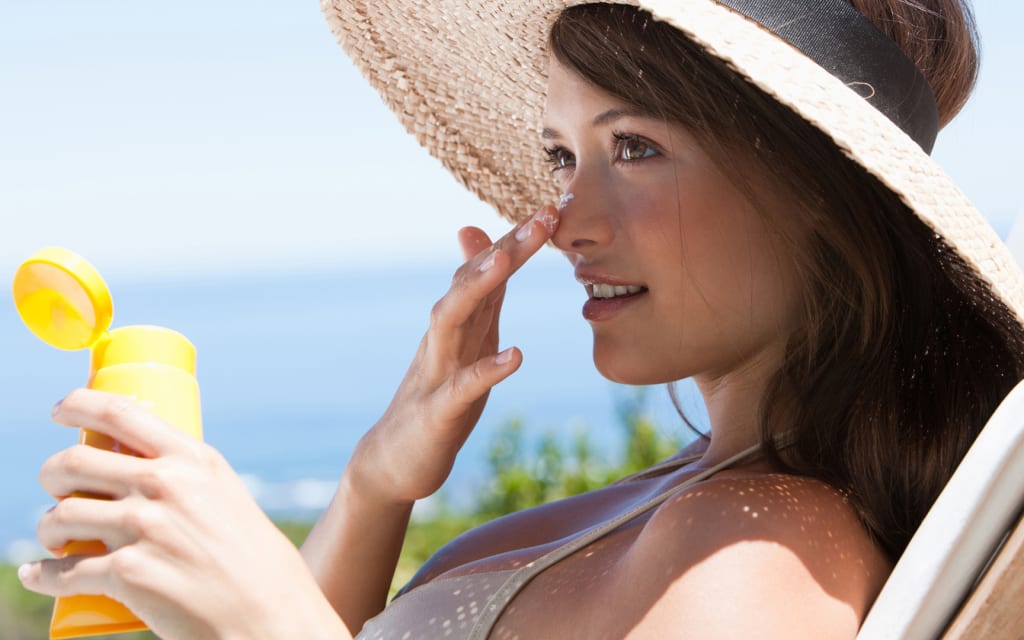 The sun rises and sets every day, which serves as an important constant in our lives. Some of us like to hide from the strong rays in the sky. The fair-skinned among us have been burned too many times. And then there are those of us who worship the sun. We can't get enough of our time baking outside during the summer. The darker the tan, the better we think we look. A tan is the sign of a productive vacation, unemployment, or both. When we are innocent youths, we think the sun is our friend. We frolic in it, we breathe it in, and relish in its warmth without consequence. It isn't until the supple, smooth skin of once upon a time becomes the haggard, dry, and wrinkled mess of times gone by. Protection from the sun's harmful rays is important in preventing cancer and preserving a youthful appearance. Skin cancer is one of the few preventable forms of the disease, so the American Cancer Society urges the public to use sunscreen. Throughout the history of sunscreen, cosmetic companies have learned to integrate sun protection within your daily moisturizers and makeup, allowing for convenient and lightweight protection.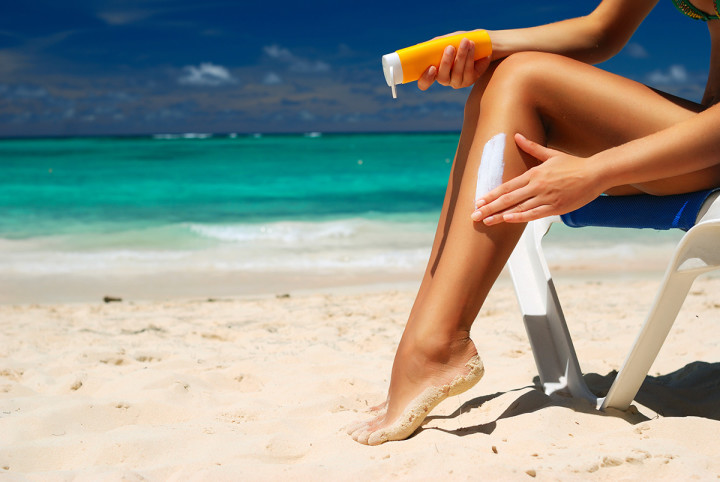 History of Sunscreen
The history of sunscreen is surprisingly not a long one. It seems that the ancient Egyptians were the first to find treatments for sunburn. Translation of papyri scrolls show that they used aloe vera, "ancient" powder particles from calcite and clay, and the natural oils from flowers, fruits, and seeds. Many of these elements are included in today's skincare products as well.
According to an article in the New York Times, Franz Greiter, a Swiss chemistry student, suffered a sunburn while climbing Mount Piz Buin. Being a chemistry buff, he decided to find a way to prevent this from ever happening again. It took a few years, but he created Glacier Cream, which is still sold today. In 1944, red veterinary petrolatum was used to protect World War II soldiers from ultraviolet rays. It wasn't so pleasant to use, but it did its job. A doctor by the name of Benjamin Green was the genius who came up with the idea to use this substance. However, he was also set on improving it. And improve it he did—Green invented jasmine-scented Coppertone. Coppertone suntan lotion was the first mass-produced sunscreen in the United States beginning in 1944. However, it was not until 1978 that the FDA first proposed to regulate sunscreens and that, "In the long run, suntanning is not good for the skin."
Meanwhile, there are hundreds of sunscreen products on today's market. The SPF, or sun protection factor, can range from as little as five to well over 50. Which is best? Some say that any SPF over 30 is the same. Though you should consult with your pediatrician before using sunscreen on a baby six-months or younger, it is important to develop healthy sun protection habits at a young age. Reapplication is especially significant.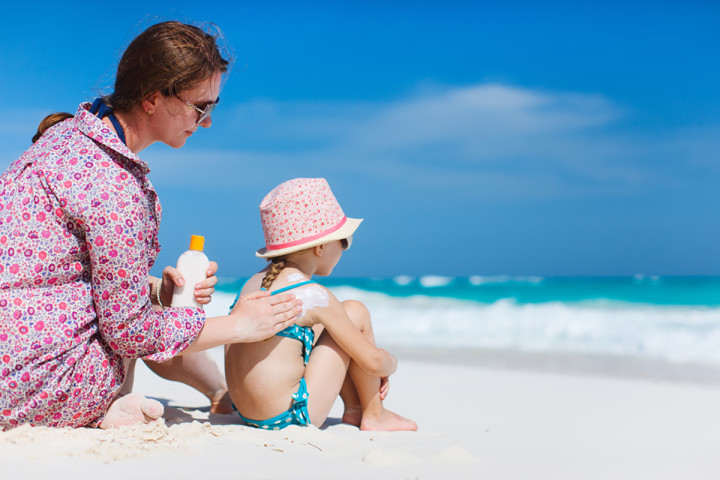 A Lesson in Sun Rays
Many products boast UVA and UVB protection. According to the Skin Cancer Foundation, UVA is the dominant tanning ray. UVA rays account for "up to 95 percent of the UV radiation reading the Earth's surface. They are present with relatively equal intensity during all daylight hours throughout the year and can penetrate clouds and gas." Sunlamps used in tanning beds emit UVA doses 12 times as much as the actual sun. As for UVB rays—they are the reason why people develop skin redness and sunburn. They play a key role in the development of certain types of skin cancer. "The most significant amount of UVB hits the US between 10 AM and 4 PM from April to October." Buying a product with UVA/UVB protection is a no-brainer. Staying away from tanning beds might also be helpful. There are plenty of self-tanners on the market that are both effective and prevent skin damage.
Choosing the best sunscreen is a difficult task, especially with competing brands that litter store shelves during the summer months. Varying age groups may use different types and SPF levels. Keep your skin beautiful and healthy by applying at least mild sunscreen every day.
This product, specially formulated for babies, is as mild as water on a baby's skin. Fragrance-free and non-greasy, it has both UVA and UVB protection that is perfect for keeping your little one safe and happy. Aveeno combines a patented Active Photobarrier Complex with natural skin soothing oatmeal to care for and protect your baby's delicate skin.
In a convenient, easy-to-apply spray, this product is guaranteed to help bring out the athlete in you. With protection against 99 percent of burning rays, this amazing product is extremely water and sweat resistant, and it won't run into your eyes. It delivers the highest level of spray protection for any outdoor sport activity.
Clinically proven to calm and soothe your sensitive, irritated skin, this hypoallergenic and oil-free moisturizer helps protect you from the sun's rays with SPF 15. Perfect for daily use, the cream is light and fast-absorbing. This product contains Feverfew, an ingredient related to chamomile which has been proven to reduce redness and irritation.
This product contains zinc oxide, which provides additional protection from sunburn. Recommended by dermatologists and allergists, this sunscreen is perfect for all skin types—but especially for those who have extremely sensitive skin. There is no burning or stinging upon application since it is free of all skin irritants. As with most sunscreen products, it is important to reapply every few hours for maximum effectiveness.
Dermatologist recommended, this is perfect for sensitive or acne-prone complexions. The product may be worn alone or under makeup. It calms and soothes your skin while providing the ultimate in SPF and broad-spectrum protection. An additional bonus is that it helps reduce the appearance of blemishes and discoloration. Eltamd is oil-free, paraben-free, non-comedogenic, and fragrance-free.
Combining the best of all worlds (moisturizer, self-tanning, and SPF 20), this product is perfect for men and women. Along with its anti-aging components, this moisturizer contains broad-spectrum UVA and UVB protection to keep your skin at its healthiest. Its unique self-tanning ability is not greasy, and the color develops evenly. It also does a great job keeping your skin hydrated, which helps prevent breakouts. Don't worry about smelling like you have just used a self-tanner, because the mild scent evaporates immediately after application.
This white lotion lets you know you have covered all of you baby's cute little crevices. Pediatrician-tested and alcohol-free, this product is extremely water resistant. The ultra-gentle formula means no tearing or stinging. A great value, it is superior for sensitive skin and begins working immediately. It is also recommended by the Skin Cancer Foundation.
This amazing product has the ability to moisturize and blend naturally with any skin tone. It reduces the appearance of fine lines and wrinkles—a plus for any man or woman trying to maintain youthful skin. It's matte formula contains the latest pore-minimizing technology. This moisturizing maven provides broad spectrum UVA and UVB protection, and it fights photo damage which can cause premature aging. Though thick in texture, the product is not greasy. This cream can be used throughout all seasons.
Perfect for protecting your precious little one from the sun, this certified organic cream contains sunflower oil, beeswax, and vitamin e, making it ultra-moisturizing and soothing. Pediatrician-tested safe for babies, it is water-resistant for at least 40 minutes—which means almost an hour of protected fun in the kiddie pool! There is no oxybenzone, octinoxate, or other chemical active sunscreen agents—only the safe mineral zinc oxide.
industry
body