Gina Bergamini Brings Belly Dance and Fitness to Westchester Women
Fitness Regimen Doubles as Chance to Play and be Creative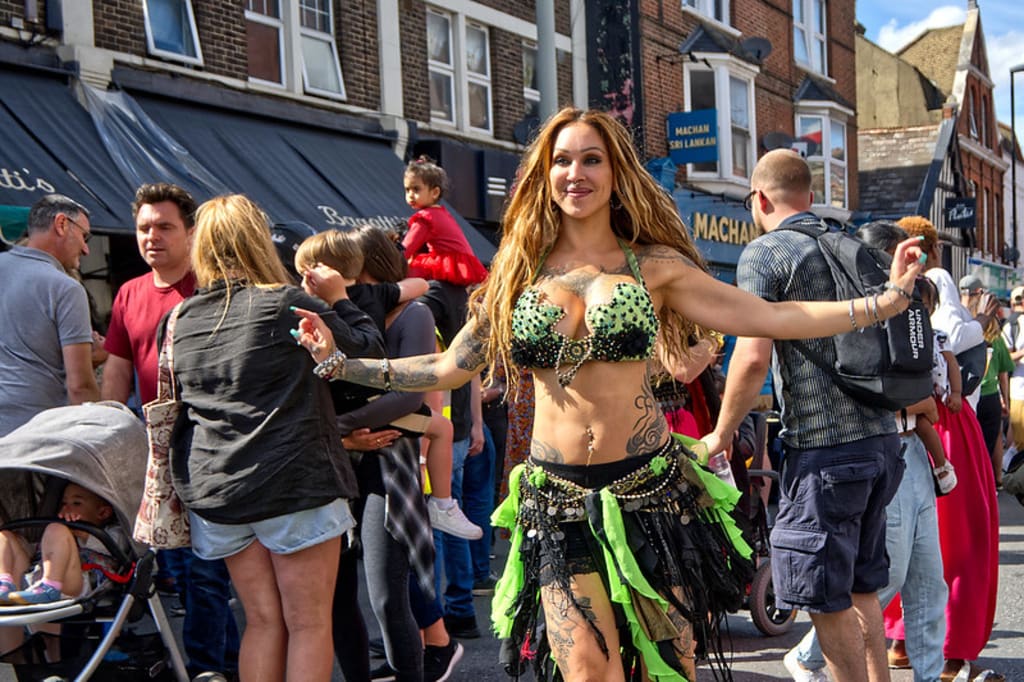 Photo by Geoff Henson
Trained in modern dance, Gina Bergamini wanted to keep her studies up after completing school. So she began taking dance classes a few nights a week. When one of the classes was cancelled, she decided to take a belly dancing course in its place. The exploration offered her limitless potential for creativity and movement, and Bergamini grew into this cross cultural dance. As a result, the Chappaqua resident has gone on to becoming both a performer and an established teacher. Nonetheless, Bergamini was aware of the connotation that the discipline can sometimes carry, and Gina never told her parents what she was doing. They found out, though, when a commercial for one of her classes appeared on local cable in Chappaqua, New York. "Carol, come look at your daughter," she said her father yelled up the stairs to her mother. But the initial reaction implied here is among the misconceptions that comes with the long standing territory.
When Ms Begamini performs throughout Westchester or New York City, she generally appears in the belly dancing attire that caught on in America during the roaring 1920s. But putting the belly in the dance isn't really historically accurate. "Those that do perform the dance," she said. "It's a choice whether you bare your mid drift or not."
Belly Dancing as Fitness for Women
Of course, then in the continuing ed courses that she teaches in Chappaqua and Armonk, the same rules apply. On the other hand, part of the appeal to many women as a fitness regimen is the traditional accessories that come with the costume and fluent shake. Veils, beads, and coin belts that jingle, Bergamini said, "Belly dancing brings out the willingness to play a little, and you're basically dressing up to exercise."
Health aside, belly dancing—as she found out—takes on an infectious feeling that won't go away so easily. "They've been bitten by the bug," she said, and cultural and artistic considerations morph out of the initial inclination to get fit.
In contrast again to a common misconception, women then seek out performances rather than seemingly being the sole domain of male desire. Thus, she has never encountered any problems at private parties that are mostly put on for families. "It's the wives and daughters that usually ask for the dancers," said Bergamini.
It Doesn't Matter the Body Type
Back in class, one's belly has little to do with whether this low impact workout applies to them. "I think it embraces all different ages, all different bodies, and whatever your movement history or your fitness is," she said, "you can definitely do this."
That especially since belly dancing—unlike ballet—was built with a woman in mind. "Belly dancing is based on a woman's body. It's what our bodies can do, so there's that sense that this is about me," Gina asserted.
In turn, you'll end up with a nice limber spine and abdominals strengthened at the core. "You can be voluptuous, but underneath, you would have very strong abdominals," she revealed.
Following a pregnancy that could appeal to women hoping to tone and shape up again. At the same time, even her parents have come around to her turn.
Seeing firsthand the family orientated and artistic nature of performances—which are devoid of anything crass—they now offer a critique of her work when they happen to be in attendance. "Why did you wear that outfit, how come you used that type of music, Gina said, she hears.
Or in other words, they are very proud, Bergamini concluded.
Gina can be reached at [email protected]
Please Like my Facebook Page. It would be greatly appreciated
body
About the author
Reader insights
Be the first to share your insights about this piece.
Add your insights