For New York City Actor Yaron Urbas, Late is Never Bad and Ignorance is a Strength
Roles in The Jim Gaffigan Show and Orange is the New Black mark Yaron Urbas' arrival.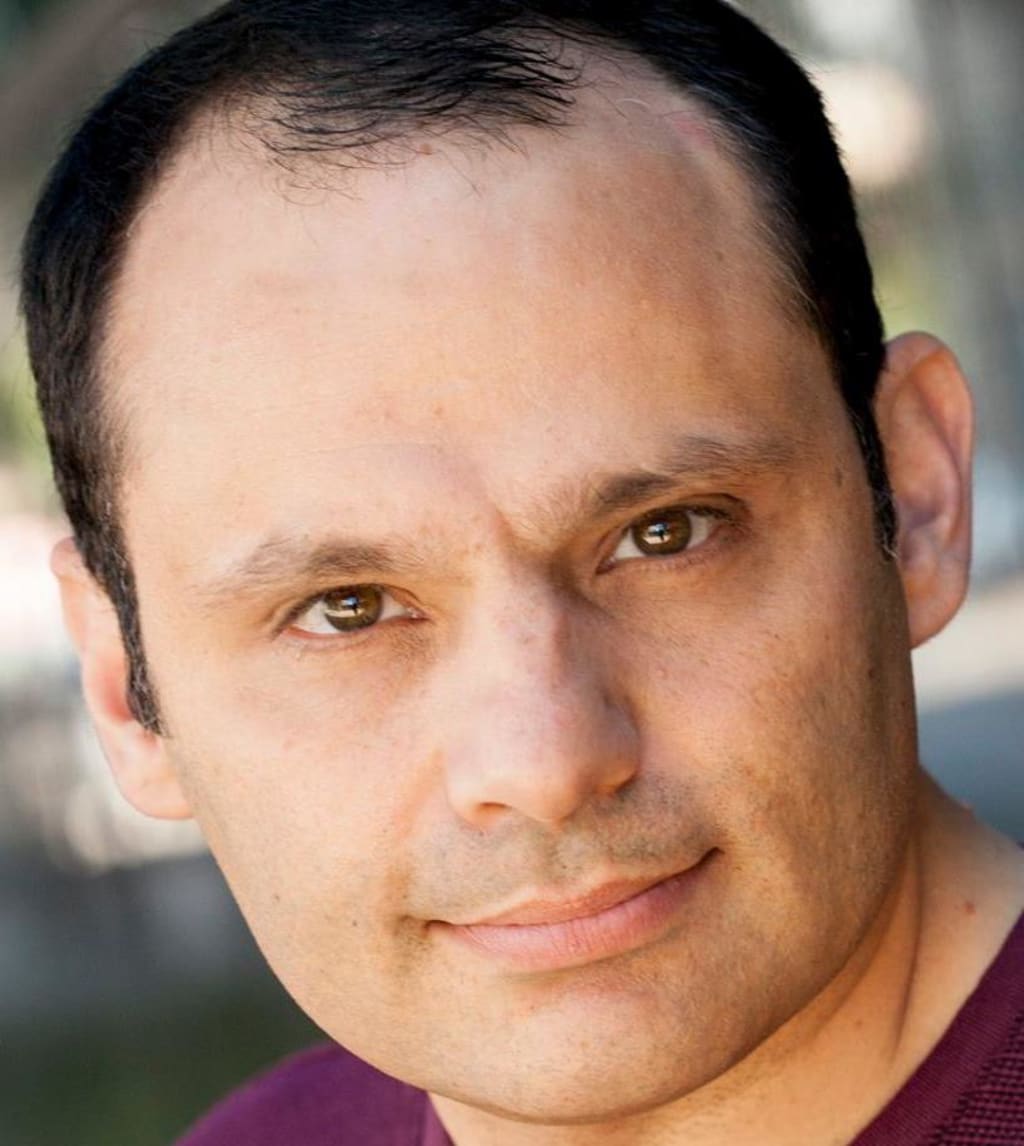 Photo courtesy of Yaron Urbas
As good as a set up alongside the punchlines on The Jim Gaffigan Show is, Yaron Urbas has run in tangent with quite a number of roles in indie feature films and television. These include parts with Paul Sorvino, Navid Negahban (Homeland) and Michael Angarano (The Knick) as well as roles in The Blacklist and Orange is the New Black. A down to earth guy with a strong background in almost everything, Urbas got his first glimmer when he landed a part in the History Channel Mini-Series, The Men who Built America. But the "big break" stood in jeopardy after an on-set mix-up meant Urbas wasn't sent a two-page speech the night before and was given only ten minutes to memorize it before shooting. With an entire production on hold, not only did the Israeli born actor refuse to fold, he actually felt relatively secure with everything on the line.
"I find that I actually perform better when I'm under stress," said Urbas.
Given his varied personal and professional background, the personal steadiness keeping the production from grinding to a halt is probably no more a surprise to people who know him. He was a computer geek before home PCs became commonplace, a professional rapper and a dog walking company owner.
Far from his last leg, he was also a lowly paid Merrill Lynch employee, who cold called $5 Million worth of business and then moved on to surf the wave of the Dot.com bubble. "My restlessness flows from an unquenchable thirst to grow," he said "So around 2007, my wife thought I was crazy when I was finally making a great living at a Dot.com, and I wanted to quit. But I told her my flesh was being fed but not my soul."
Coming to America on the Lower East Side
Acting was the elixir he sought. Even so, before all the career moves that made pressure old hat, fitting in on the Lower East Side built his foundation. Only speaking Hebrew when I came over in 1976 at age four, he says, "It took me a while to latch onto American culture."
His classroom – so to speak – bordered on special. "Frankly, I grew up poor, and it was just my mother, grandmother and I. We were immigrants," he said. "We lived right in the middle of the better area and the worse area. Across from Stuyvesant Town, on the other side, was the lower east side. It was pretty tough."
He doesn't dismiss the unsavory, but his adaptability allowed him to find the light among the morass. "There were a lot of beautiful people who embraced me in what was a very tough environment in the lower east side of NYC in the 70's and 80's. It was far from the gentrified mecca it is now. But in large part the minority community embraced me - even though where I grew up, I felt like the minority. I was this white Jewish kid fresh off the boat, and it wasn't easy. I was lucky, though. A Puerto Rican family practically adopted me and took me under their wing."
Urbas credits his comedic timing to the culture, but the experience had a deeper impact. "That played into who I became. He learned how to get along while enduring, which toughened him up and built confidence.
Family matters, too
That's not to dismiss the importance of his family – even if at times it was also an obstacle. "I was such a mamma's boy. My mom made me wear a tie the first day of public school. I stood out like a sore thumb – pleading for punishment," laments Urbas.
Dress code aside, his mother's influence created an unyielding push to persevere. "She demonstrated a great work ethic not by telling me to work hard but by showing me," said Urbas. "That left an impression on everything I pursued."
But she was nothing compared to Yaron's grandmother. Remembering when her street vendor business almost fell prey to a drug dealer who worked the same street corner, his grandmother didn't hesitate to call the tough's bluff. "'Alright do it, shoot me now,'" he recalls her words. "That's the fighting entrepreneurial spirit I've never lost."
Left Brain, Right Brain gap disappears
This first showed in bridging the gap between both sides of his brain as a teenager. Urbas began writing poetry and rapping, and then became immersed in the prospect of owning a PC. "As I was saving every penny, I used to cut out pictures of pieces of computers and put them on the wall. That was my PC," he jokes.
Eventually, his Mom bought him one, and he began programming. But his early 20s brought marriage, and because his retail job wasn't providing opportunity for advancement, he opened a dog-walking business. "The first few years were rough. I'd often make like $20 a week before it turned into a legitimate business," says Urbas.
Of course, restlessness got the better of him and a pay cut came with college and working the ground floor at Merrill Lynch in 1998. Despite success, a lack of appreciation put Yaron on the move again – feeling Merrill used his lack of a degree to lowball him. "I got my BS at Baruch and left around 1998," he says.
Reengaging as a techie, his dot.com career began. "That's where my career took off," said Urbas.
Ignorance is strength that leads to success and then acting.
It also helped him identify "this wonderful level of ignorance" that has always propelled him. "I never knew what I wasn't supposed to be able to do, so it never kept me from doing it," Urbas reflected. "I love ignorance, it's a gift"
Rising to the level of VP at a well known publicly held online marketing company, he certainly knew how excellent pay cushions the difficulty of providing for a family of five. But he chose uncertainty again. "I've always liked the human condition, why we do what we do," he remarks. "I realized acting was an amazing way to explore it."
In 2009, he got his start at the Park Performance Arts Center in Union, NJ, and while parts got bigger each year, the pace was too slow. "Starting as an actor later in life is a big gamble, this is not a hobby for me, it's a career," he said. "I pursue it as seriously as I have any other."
However being a newbie to the industry didn't have him feeling at a loss. "I felt that my rich life of experiences and college work in psychology empowered me as an actor. I didn't feel like I was starting from scratch. I also felt I could leverage my highly successful business experience to grow as an artist as well as provide for my family. I took what could be perceived as disadvantages in the business and made them advantages," he said. "I think it has and continues to work."
Networking for success
A big believer in fostering community, growing together and giving back, he began the Dedicated Actors Group as well as The Ultimate Filmmaker, which a seven day filmmaking contest. Setting up networking opportunities, meet and greets with casting directors and reading events," he says, "I knew I could accomplish more by helping, and working with others than I could by myself."
The latter providing the chance to give back, the idea is to convert the actor sitting alone by the phone into a member of a network of peers.
In it together, Urbas has continued to find success on various TV and feature projects and slowly growing in popularity as a serious actor. However, fame is secondary to satisfying the restless soul that has gotten him this far. "My ambition is to continue to be a capable actor, and I just want people to respect me as an artist. I really don't care about fame. I just want to be famous to my family and the folks that love me every day. But it seems you need to pursue some level of fame to succeed, so I'm working on it and growing every day."
Urbas also understands the importance of keeping diversified and has begun working as a producer on different projects. Once again, he turns the disadvantage as a novice to his benefit. "Ignorance to me is truly bliss and a strength," he concludes.
Give him a visit at: yaronu.wix.com/yaronurbas
Facebook: www.facebook.com/yaronu