Jerrick to Creatd 2020 Presentation
Transcript of Jerrick Media Holdings, Inc.'s August 2020 Investor Presentation and future technology development plans for its creator platform Vocal.
With our second quarter financial results filed, Q2 proved to be a validating quarter for our company's growth strategy. Among other exciting milestones, our company achieved a substantial increase in revenues year over year and a 10% increase from the previous quarter. Plus, with our team having onboarded nearly 4,000 Vocal+ subscribers and 679,000 Freemium creators to date, our projections indicate that Vocal will grow to approximately 10,000 Vocal+ paid subscribers and 750,000 Freemium members by the end of 2020. And we'll do it with the help of our partners–that's you, the Vocal creators–with upcoming features like referral incentives to make it well worth everyone's while to expand our network. In fact, that's the key factor for virtually any decision we make about Vocal. As we've said many times in the past–the success of our company is tied to our creators' success on Vocal. In fact, our success is dependent on it.
If you have any further questions regarding the company, our platform, our stock and our future plans, please contact us at [email protected]
Following our shareholder meeting earlier this summer, we had many of you reach out to us directly to express interest in staying in the loop in regards to Jerrick, Vocal's parent company. With that, we decided to publicly disseminate a recording of our recent virtual Investor Presentation. During the presentation, our management team shared some of the latest company updates, as well as laid out our plans for the future as we complete our transition from Jerrick towards becoming a newly rebranded company, Creatd, Inc.
Hello, everyone, my name is Rachel David, Head of Investor Relations at Jerrick.
I'd like to take this moment to refer you to our Safe Harbor statement, which says that certain portions of today's presentation will contain forward-looking statements about our business. You can find further information about that on our website or in reports filed with the SEC.
These are unprecedented times. No one is traveling. Everyone is working remotely. And all the while, our team has been working very hard to keep our growth plans on track. Today's virtual presentation was invite-only, extended to those particular individuals that we have been in active communication with previously and who have a familiarity with the company.
We begin this presentation with Jeremy Frommer, Jerrick's CEO, who will give you further perspective on the company. This will be followed by the team walking you through our flagship technology platform, Vocal, as well as our business strategy and our plans to grow revenues exponentially. Portions of today's presentation are pre-recorded. You'll notice a portal to submit your questions anonymously, and we encourage you to do so once again.
Thank you for joining us today. Now, I'd like to introduce Jeremy Frommer.
Thank you, Rachel.
First, I want to thank all of you for joining, and I hope that you're all safe, and that your families are healthy during what continue to be very, very strange days.
We are a bit of a different tech company than many of you have seen before. Instead of the traditional VC or private equity to IPO route, we actually went public on the OTCQB in February of 2016. Believe me, there are not that many authentic technology platforms on the OTCQB. But, we saw this actually as a stepping stone for our current uplist to the NASDAQ Capital Markets, meaning we wanted to be on the NASDAQ.
Instead of the traditional VC or private equity to IPO route, we actually went public on the OTCQB in February of 2016. Believe me, there are not that many authentic technology platforms on the OTCQB. But, we saw this actually as a stepping stone for our current uplist to the Nasdaq Capital Markets. Meaning–we always wanted to be on the Nasdaq, and we took the OTCQB route to get there.
One of the reasons why we did it this way was so that we could maintain a real level of transparency while raising the capital that we needed to build and scale our technology. And, quite frankly, that was a really interesting byproduct of our behavior, because I think we have a really incredible institutionalized financial department — a financial and accounting and compliance group run by some really qualified people who have successfully executed on the four years of filings that we've been making. But now, we are moving into the next chapter. We call it 'Jerrick to Creatd'. It's our journey to uplisting to the Nasdaq Capital Markets.
But, there will be no celebrations or parties for us. There is no time, and it seems to be a relatively tone deaf concept to celebrate during what is a very difficult time in our country's history. Our race has just begun, and we are focused on scaling our business and growing revenues exponentially in the years ahead.
Today, we are excited to walk you through our next steps in the 'Jerrick to Creatd' journey. We will give you insight into our flagship technology platform, Vocal, and explain its unique power and unique position in the digital ecosystem. You know, Jerrick is often still considered a startup, but we are actually nearly seven years old and have been trading publicly for almost five years. And in that time, not only have we created a best-in-class technology platform, Vocal, but we used the same business strategies and frameworks to create a best-in-class stock.
We created a best in class technology platform and a best in class OTCQB publicly traded stock, and we are far more prepared to be a Nasdaq Capital Markets company than any other OTCQB company I have ever analyzed. But before we get into what our next chapter entails, let me give you some narrative surrounding how we got to where we are today. The story of Jerrick starts seven years ago, after I finished a nearly 25-year-long career building financial technology companies on Wall Street, where I had actually had a few successful exits.
Around 2012, 2013, and 2014, these transition sort of years, I left Wall Street and I found a new interest exploring the creativity of the digital world.
And I was really passionate about it. I was enthralled by the notion of generating money online. It reminded me a lot of my old days as a trader. You know, as a trader, we didn't really have anything that we built or created. We were just able to make money in between. But I saw the digital ecosystem as something far more significant than the financial markets. And therefore, I really believed that there must be countless synergies between ttha and the technology that I built on Wall Street. And more importantly, as I said, the scale, the opportunity to generate revenues there, was far crazier than it was even in the heyday of Wall Street. And so, I went out and I started making acquisitions of legacy media assets–from magazines to digital video content, to graphic novels. We had some books published. We did a documentary, among other interesting things. And it was right around this time that I was introduced to my partner and now the president of the company, Justin Maury.
Justin came on originally as Head of Product, and was tasked with trying to build an MVP, or 'proof of concept,' that I could use to take all these legacy media assets, like magazines and comic books, and actually create digital products around them, instead of just pretending that a magazine could lift itself onto the Internet just by adding some text and placing them on non-engaging pages with display ads running through them. At this point, I was the company's angel investor. I had personally funded the first five million dollars, all of which was essentially allocated toward figuring out if our ideas could reach a point where we could make money on the Internet through digitally created content. And that's exactly the point we find ourselves at now. Again, it's very similar to what I had done a long time ago. Together, Justin and I rolled out a number of successful proof of concept ideas, and we learned a ton during those years. Through these experiments, we identified a handful of pain points, and ultimately found that we were not the only ones who faced them. There were many people who were encountering the same problems that we were in terms of trying to create digital content online and make money from it. In fact, There were millions of these individuals, which we identified as the creators.
And like all of these creators, we were faced with the challenges of getting our content discovered and making money online. We knew we had to come up with something that could solve this problem, not just for us, but for everyone. I mean, we knew that we had come upon something more important than we initially thought, something that could change the entire digital creative community. Because we had discovered the two problems. And I think we have figured out how to solve it: 1) How do creators get discovered, and 2) How do creators monetize their content? Yes, of course, there are platforms like YouTube and Spotify, who provide creators opportunities to earn money. These platforms are so big, but so limited as well.
And so we saw a bigger opportunity here, to reach all types of creators, regardless of their content, and regardless of their medium. In other words, yes, YouTube provides a large value proposition for video creators, and Spotify does the same for musicians. But we envisioned a platform for all creators–be it bloggers, photographers, musicians, video creators, or podcasters. Anyone who is creating can create on Vocal.
And with that revelation, we took everything we learned from over two and a half years of research, discovery, and trial and error. Once we had that proof of concept, we started building our own proprietary technology platform to solve the same problems for the millions of creators who, as we had come to understand, were just like us. And so, in December 2016, we introduced our solution, Vocal. A user-generated storytelling platform that provides best in class storytelling tools for creators. A platform that gives creators–any kind of creator–the opportunity to get discovered through our safe and curated communities.
And most importantly, it would be a platform that provides these creators with the multiple ways they are looking to be rewarded for their content.
Vocal is powered by the proprietary technology that we have been building since 2015, and it really is the foundation of Jerrick, which as you have heard, is soon to be renamed Creatd. Since then, we have grown rapidly; we now have 679,000 registered Freemium creators and in less than a year, nearly 4,000 Vocal+ paying subscribers monthly.
We created an internal content studio that works with some truly amazing brands like Vimeo, Daily Harvest and hims, all of them looking to access the audiences that our creators attract.
But before I get too deep into the big picture, I would like to hand it off to Justin who, along with the rest of the management team, will give you a deeper look into our platform and some insight into why Jerrick is now on the launchpad for scale, revenue growth, and success. And with that, I'd like to introduce Justin Maury, my partner and President of Jerrick.
Thank you, Jeremy. Throughout the years, I've done countless presentations of our flagship product, Vocal. What I find to be most helpful is to show you how creators utilize it and the value proposition that it provides to them.
Before I begin, I'd like to remind you that you can submit questions on your screen at any time during this presentation, as after the walkthrough, we will be breaking for a short Q&A.
As Jeremy said before, Vocal is a platform for creators of all shapes and sizes that provides the best-in-class storytelling tools, engaged communities, and multiple opportunities for creators to monetize their content. I always like to caveat these presentations by noting that Vocal is a mobile-first web application, but for the purpose of today's meeting we will be showing you the desktop view. First, let's walk through the content creation process on Vocal, as that's the core component of the technology that we've spent years refining. Once I create my account, which is free and offers social login capabilities, I can simply click 'Create Story' for my navigation. And that's going to take us to our editor canvas, where I can begin creating my story.
For this walkthrough, let's imagine I'm a musician and I have my content posted on Spotify, SoundCloud and YouTube, as well as my other social media channels. So, let's get started.
First, I'm going to enter the title and the subtitle for my story in these fields. From there, I have a few options to get creative for the story's featured media section; I can upload my own image, or I can embed a video from YouTube, Vimeo, Instagram, or pretty much anywhere else you can host video online. That's one of the most powerful components of Vocal, and we'll touch on that in more depth in a few moments.
Additionally, I can also use an Unsplash image as my featured media. We partnered with Unsplash, the world's largest photography platform with over one million royalty-free images, to make it easier for creators to be able to search for beautiful photographs that can really elevate their story. All these photos are free. There are no royalties, and creators don't have to worry about buying stock photos. So it's a really good integration and partnership that we've been able to build directly into the product. And this is really the first of many institutional type platform integrations that we have on our roadmap.
For this story, let's talk about a music video that's posted on YouTube. It's as simple as going to my video, copying the URL, and pasting it directly into the platform, and Vocal is going to do all the work for the creator. There's no shortcode, there's no plugins or frame embeds that the creator has to worry about, so it's a really simple and friendly user experience.
A lot of people have asked me throughout the years, you know, can you upload your own videos directly to Vocal? We decided early on we wanted to make it easier for creators to share their already-published content so they didn't have to worry about re-uploading it to another platform. Additionally, we didn't want to compete with the YouTubes and Spotifys and Instagrams of the world. You know, they're really good at what they do. We wanted to be accretive to the services that they already provided and not necessarily compete with them, but be parallel. And more importantly, from a business perspective, hosting video is very, very expensive, so we focused on building a platform that made it easier for creators to show their already published content in a new way, regardless of the original hosted platform. Think of Vocal as a platform that can aggregate all of the creator's content into one destination or one story.
But I think the really interesting value proposition here for creators is that, because this video is already posted on YouTube—and everyone knows YouTube pays creators for their videos when they're watched, and we provide these creators with a way to increase their monetization similar to YouTube, we pay our creators every time their stories are read. So when a creator embeds their YouTube video into a Vocal story [like the one below] and someone watches it, they're going to earn money from YouTube, but they're also going to earn money directly from Vocal. We call this double-dipping.
Let's move forward. As I said before, Vocal is a long-form storytelling platform; it's not a place for 280 character thoughts or an endless feed of selfies, and that's why we require our creator stories to have some written content. It not only fosters discovery from search engines—unlike most social media platforms, which are inherently not SEO-friendly—but it also provides the creator with an opportunity to connect with the audience in a more meaningful way.
So let's drop some text into our story. As you can see, I can easily access text styling with our simple and intuitive tooltip bar, and I can add links to external destinations and do some formatting on my text.
But the real fun for creators comes from the ability to add their additional rich media assets into the story. So, let's break between these two paragraphs here and add our song from Spotify. Just like with YouTube, all I have to do is go grab the link to the song and drop it into Vocal, and the platform is going to do all the heavy lifting. It's going to go and it's going to display it beautifully for our readers and our audience to consume that content inside of our story:
Let's also add our latest Instagram post so that readers of our story can easily discover and follow us. And finally, let's add our band's merch to the story so that our new fans can support us again. All you have to do is simply grab the link, paste it into Vocal, and it's going to display beautifully in your story and it's going to make it easy for anyone to come click on that, make your purchase and give back to you.
OK, so this story is looking pretty good. Let's go ahead and submit it to one of Vocal's 34 genre-specific communities. I'll simply click submit for review, choose our community. And in this case, we're going to choose the Beat community, which is for all things music. Let's choose a tag that's most relevant to the story. And finally, let's submit this story to a challenge, and I'll explain more about this in a few moments.
OK, this looks good; let's save it for review, and now our story has been sent to the moderation team.
And this is one of the biggest differentiating factors between Vocal and most other user-generated platforms: We moderate every story before it goes live. Let's go back for a second as to why we do this and why it's been so pivotal to our growth.
You know, we launched Vocal right after the 2016 election when the rise of misinformation and bad actors on social media platforms were really becoming a mainstream problem. We knew that we had a responsibility to protect not only our community, but all of our stakeholders and shareholders. So, we built a proprietary moderation system into our technology that allows us to check for things like copyrighted material, nudity, hate speech, and more.
But these algorithms aren't perfect, and we decided that we had to add another layer of moderation, a human layer, that could also perform as a curation team. And to this day, every story is still viewed by someone on our team for quality and safety. This creates not only a safe environment for creators and their audiences, but it's also a brand-safe environment. Now, if the story is rejected, the creator will be given a few steps on what they can change, and they have the ability to resubmit their story. If the story is approved, it'll be published on the most appropriate community. And this really helps the creator get their story seen by people who are interested in this topic. And the creator is incentivized to share it with their audiences on social media.
As you can see, we've really refined the content creation experience over the years to create something that really anyone could use. But in conjunction with our best-in-class content creation process, we also attract creators by helping them fund their creativity. This is really one of the biggest value propositions for creators and why they stay on Vocal, ultimately why they upgrade to Vocal+.
We give creators the opportunity to earn money on Vocal in a couple of different ways. The first is from what we call reads. Similar to YouTube or Spotify, we pay our creators every time their story is read. We do this through an algorithm that we've developed that tracks the engagement of the readers. It's not just having someone view a story, but it's actually having them read and engage with the content. And this really helps us foster quality content on the platform.
The second way creators can earn on Vocal is from what we call tips, and these are microtransactions that creators, audiences can send to them to show their support. It's really easy to do. It supports Apple Pay, Google Wallet, and we collect a platform processing fee from all transactions. Tipping is really the first version of our vision for microtransactions on Vocal. We're really excited to introduce some new features to this in the near future.
The third way creators can earn money on Vocal is through our recently released Challenges feature. Challenges are a way the creators can participate in theme storytelling contests for a chance to win cash prizes; not only do the Challenges reduce the time that it takes to get a creator unboarded and publish their first story, but they also have been instrumental in reducing our customer acquisition cost and subscriber acquisition cost.
Now that you can see how creators can earn money on Google, let me show you how they can keep track of those earnings through their Vocal Wallet. Creators can view their transaction history and withdraw their balance directly to their bank account. We use Stripe integration. Additionally, we provide creators with detailed analytics through our Vocal Stats dashboard, which helps them get some insights around how their stories are performing.
Now, all these monetization methods are further enhanced by our premium subscription offering, Vocal+, for only $9 per month or $99 annually. Creators get access to increased earnings on their reads, reduced transaction fees on their tips, access to exclusive weekly Challenges, and more. And since launching Vocal+ in less than one year, we've been able to sign up nearly 4,000 paying subscribers.
We'll talk more about Vocal+ and how we'll be scaling creators and revenues. But first, I want to explain to you how we've been able to build a business model that can scale organically and rapidly without having to add a ton of operating resources. We call this the Creatd Cycle, and it begins with our philosophy that creators are the driving force of everything. Digital creators produce the content that attracts the audience, which in return attracts the brands who are interested in reaching those audiences. This framework also allows us to focus on our North Star metric, which is providing value to our creators, which fuels the growth of the audience and brand components.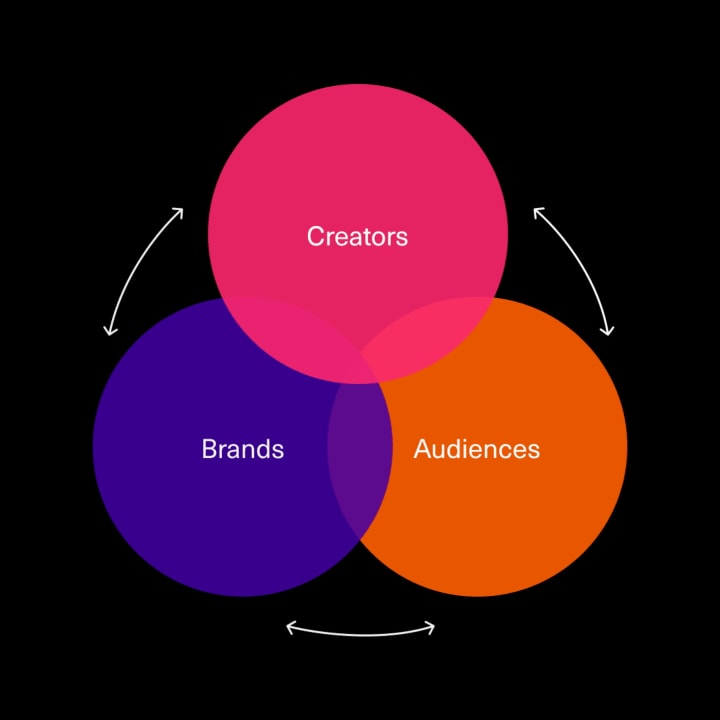 Before we talk about how we work with brands and how that fits into the creative cycle, I think now is a good time to break and answer some of the questions you've submitted.
The question asked was:
What is the value proposition for brands working with Vocal?
And I'm glad that this question was asked, because there are a lot of different ways that brands can currently work with Vocal. And it's important to understand them each individually, to fully understand what that value proposition is.
But I think the first thing to truly understand is what we don't do. So when Justin was walking through Vocal, you probably noticed no programmatic advertising. So there are no display ads, no pop-up ads, nothing like that. And the reason for that is that they just aren't effective. Twenty-five percent of Internet users have ad blockers, and the ones who don't have ad blockers have ad blindness. They just look right around those ads. So we found that not only is that methodology disruptive, it's also is ineffective. Instead, we wanted to work with brands in a way that was accretive to the platform instead of disruptive to it. So I want to first go over how we work with brands via branded storytelling.
When we talk about branded storytelling on Vocal, what we are essentially doing is taking the positives that come from traditional forms of marketing, like influencer marketing and content marketing, and combining them in a way that is really native to the platform. So, in a branded story campaign, we will pair creators who are currently on the platform with brands to create these long-form stories that are educational, non-interruptive, and drive conversions.
And brands see a lot of benefit from this. First, we all know that influencer marketing works, right? There's a reason why it's been as successful as it has been over the past couple of years. But the problem with it has always been that you can't really measure the success of it. So an influencer might post your link in their story and you see some initial traffic or some initial clicks. But after that 24 hours, you're not really sure how successful that campaign was. And because of the way that we work with creators or micro-influencers, as we often refer to them, you're able to see what the value is of that real person writing about your brand through the content itself.
So through that long-form content, we are able to measure how many people are reading it, how far are they scrolling, how much time are they spending on that page? And that's really valuable in the short term and seeing how the influencer has made an impact. But it's also really valuable in the long term as well. When we talk about the true value of content marketing and the lifetime value of it on Vocal, Vocal was built with SEO in mind. We wanted to make sure that our creators were seeing the success from their stories, from that long term value, so that when people search for things, their stories were coming up. And because of how we built Vocal in that way, the brands see the same benefit. It's not like they pay to play on Facebook where you're running an ad for a specific period of time, and then once you stop spending that money, it's basically over, right? Instead, with us, when you do a campaign, you see a lifetime value where you'll see a longer annuity and you'll continue to see the reward of that content.
Justin spoke earlier about Challenges and the value provided there for creators, but Challenges also provide a value proposition for brands. Just to quickly reiterate, Challenges are themed story contests where creators can submit stories that are relevant to that prompt and have the ability to win prizes from that.
So, how does that work for a brand? Well, the idea is that if that prompt is relevant to the brand's goal, so maybe a product that they are trying to sell or even just making people aware that they exist and are potentially solving that problem, we can have our network of 600,000 creators prompted to write about their brand. So when you think about scale and the value for the brands themselves: in a branded story campaign, you get three stories, three creators, and really specific storytelling in a way that is aimed at conversions. And we do that really well, right? But maybe you want a bigger scale. You want to reach more people. You want to crowdsource 600,000 people instead of six people. And that's the value that the Challenges feature provides. It's a different way to speak to a large audience to basically create content for you that you can then utilize in selling your product or making people aware of your brand.
Thank you, Danielle.
As Justin mentioned earlier, the Creatd Cycle consists of three components: creators, audiences and brands. The creators produce the content that attracts the audience. That audience attracts the brands. The brands are interested in that audience because it's authentic.
Creators produce the content that attracts the audience, which in turn attracts the brands who are interested in reaching those audiences. We mean it when we say that we are the creator's partner, and that we work with them so that we can all succeed. They are the driving force of the Creatd Cycle. Our success is not only tied to theirs, it is dependent on theirs.
And therefore, the better, more efficient, more impactful, and stronger we can make our creators and their stories, the more our platform will grow.
There are two types of creators on the Vocal platform. The first segment is the one that we began with when we launched the platform in December of 2016. That's what we call the Freemium model. The other model began in beta a year ago, that's the paid subscription model called Vocal+. Vocal+ is our premium plan for creators. Vocal+ provides them with increased earnings, reduced transaction fees, and access to weekly Challenges. And all sorts of exclusive features for a fixed monthly fee. Meaning, we had to come up with something that would provide value to all those freemium creators joining Vocal, sometimes as high as seven to ten thousand a week these days are joining Vocal on the Freemium platform. Then, approximately a year ago, we started Vocal+, which provided them with enough value to pay a monthly fee, a subscription-based model.
Both models are efficient at generating revenue and data. That all fuels the Creatd Cycle that Justin referred to. The Freemium offering functions not only as a funnel into the Vocal+ paid subscription model, but it generates vast amounts of first-party data, and now we use that first-party data to enrich our targeting capabilities and to further creator acquisition. The behavior of a single creator helps us find a group of creators just like them.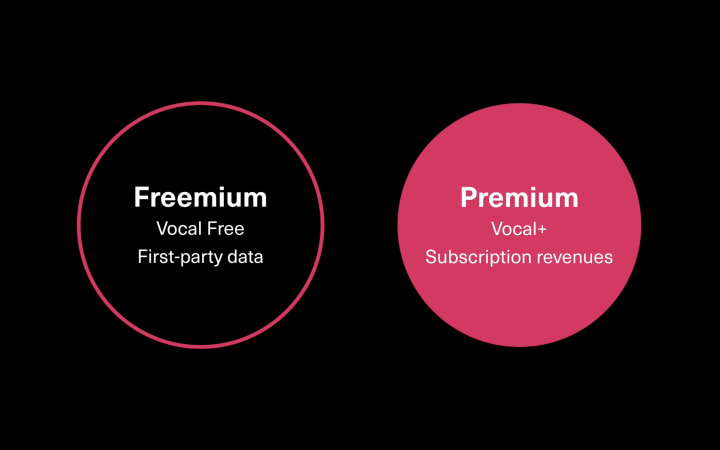 Since launching Vocal in 2016, our Freemium model has been our primary driver of the platform's growth. That's how we got here. We provide our Freemium creators with the tools to share their content, at no cost to them. And in return, those creators attract their audiences to Vocal. That audience can then sign up as creators themselves, either on a free or paid basis, and the cycle continues.
More importantly, though, is that these audiences provide that first-party data again that we use to refine our targeting segments and to ultimately reduce the actual cost to acquire a subscriber. The more subscribers we get, the lower the acquisition cost. Lower acquisition costs, combined with increasing lifetime value per subscriber, means that our enterprise value keeps growing faster. In other words, each time we acquire a new user, that user accelerates the entire Creatd cycle.
We currently estimate the lifetime value of a Vocal+ creator to be roughly $300, meaning the company makes $300 dollars, spread over two years (accounting for churn). But our subscriber acquisition cost is roughly $200 dollars, and we anticipate our subscriber acquisition costs will continue to decrease as we add more and more creators.
As more and more creators enter the ecosystem, it accelerates the entire process and as that happens, acquisition costs continue to come down.
We anticipate the lifetime value of our actual subscribers to increase as we're actually decreasing the acquisition cost. This is accomplished by constantly adding new important features that the creators need. So when I say that we are in a partnership with our creators, I mean that it is one in which we monitor our creators' needs on a regular basis through analyzing our first-party data, and make sure to attend to those needs by adding new features onto the platform. That is the way we were able to attract 679,000 Vocal Freemium creators over the past 3.5 years.
Similarly, it is how, in less than one year since introducing Vocal+, our paid subscription model, we have close to 4,000 paying Vocal+ subscribers.
My estimate is that from the time we uplist later this month, we will be near 5,000 paying Vocal+ subscribers. Over the last four months of 2020 (120 days) that number will grow to 10,000. 10,000 creators a month generates $100,000 of revenues per month. Meaning 300,000 dollars per quarter, allowing for no month over month growth. Add in what I expect to be between $400,000 and 500,000 of branded content revenues in the fourth quarter, and we should be near one million per quarter by the end of Q1 20210, and above that for Q2 2021.
To be clear, we will have gone from $0 to $1,000,000-plus in quarterly revenues over the span of a little over five quarters. Now, with only one month of revenues from the third quarter (September) that is actually going to be reflected in a post-uplisting environment. I would say that our third-quarter revenue estimate is probably between $400,000 to $500,000, a similar increase to the 17% percent quarter-over-quarter increase that we experienced between Q1 and Q2. But it's really fourth-quarter revenues where we're going to really see the effects of the uplist.
Between January 1st, 2021 and the end of July 2021, armed with the kind of team, balance sheet, investor base, and strategic plan that we have, we will accelerate our growth dramatically, moving from 10,000 paying Vocal+ subscribers, generating $100,000 a month in revenues to an estimated 100,000 paying Vocal+ subscribers, paying $10 a month, which is a $1,000,000 a month. And this should generate potentially $3,000,000 in recurring creator revenues, or $1,000,000 per month assuming we have 100,000 paid creators. This $1,000,000 a month of creator revenues doesn't account for whatever the additional revenues we will be generating from the branded content managed services and studio businesses.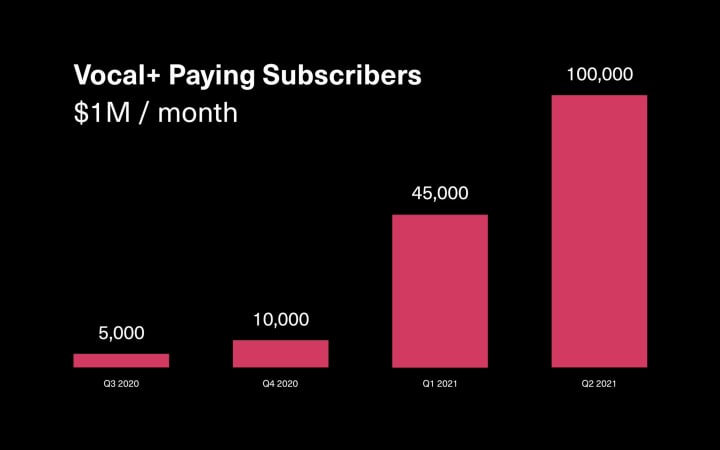 As I've said a number of times today, Vocal is first and foremost a creator platform, but that said, we have multiple constituents in our ecosystem. A basic way to look at our plan is that we expect that, over time, the creator-centric revenues will be around 65 percent of our total revenues, compared to 35% for brands. In this regard, we rely on our data to help us be as predictive as possible, and we constantly add data to our analyses in order to refine our projections and alter our plan if need be.
The math says that by the end of Q1 2022, we should be approaching 180,000 monthly paying Vocal+ creators. Over the rest of that year, that number could double up to 360,000.
If we add the appropriate prorated revenues from our studio and brand businesses, one could postulate that 2022 could be our first $50 million revenue year. $50 million of revenues by the end of 2022. But what's really interesting is we will be able to confirm that math by the end of 2021.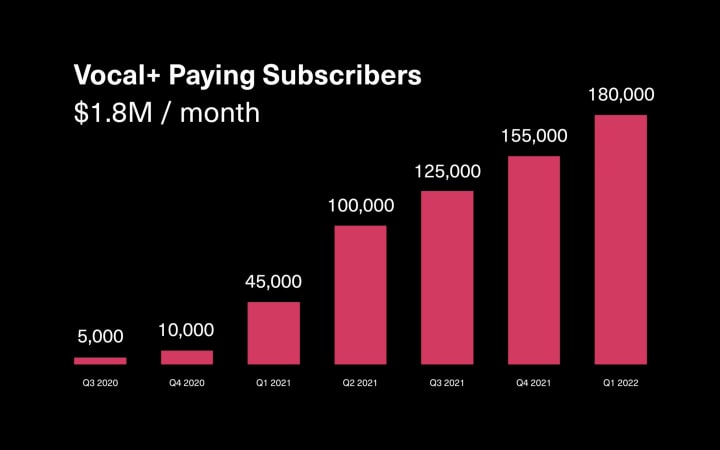 With the success of our uplisting to NASDAQ later this month, we can begin to execute on a plan five years in the making.
We are surrounded by the right business colleagues and advisers, an incredible board, a powerful management team, and a balance sheet geared toward success. When we hit 100,000 subscribers, as early as the summer of 2021, we will be able to give guidance on a run rate that is indicative of a billion-dollar company. This has been our mission from the beginning, and we will not stop until we get there. With that, I'm going to turn it over to Justin to field a question or two.
Thanks, Jeremy. This is the first question:
You mentioned earlier that you moderate every story before it goes live–how do you scale that without adding hundreds of moderators?
I think that's a good question and one that we've been asked many times throughout the years.
As I said before, Vocal's moderation system consists of a combination of technology and human review. Because Vocal is a long-form storytelling platform, it's actually pretty easy for us to integrate technology that could automatically check for copyright and hate speech and more.
Because we're talking about written content, that was actually relatively easy to implement.
Additionally, checking for nudity or graphic images was also relatively easy to implement. There's been a lot of advancements in the machine learning open-source community over the past couple of years that have really reduced the barrier to developing those workflows.
Now, with moderating video or audio, it's not that there are not solutions out there. The problem is that it's really expensive. But remember, with Vocal, creators do not upload their own videos. They can embed them from YouTube or Instagram or Vimeo. And that's really the beautiful thing about it, is that those platforms are actually moderating the content as well.
Now, we all know that these systems are far from perfect, and I'm sure you've all heard the stories of unmoderated content on YouTube or Facebook. And that's why we have a human layer to our moderation system. So that human layer acts as a curation team that helps surface up-and-coming creators, opportunities for transmedia assets, Staff Picks, and more. But to go back to the question, how do we scale moderation? I think the only way to do this going forward is to have a community moderation system. You know, just as creators can earn money on Vocal, we believe that the audience should have the opportunity to earn as well. That's why on our product roadmap, there is a community moderation feature that's going to allow the audience to moderate content. And in return, they'll be rewarded for that. Just as creators can earn from Reads and Tips and participation in Challenges, readers will have the opportunity to earn money by helping us to keep the community safe. And this is a really important feature as we start to expand globally, and start building localized foreign-language installations of Vocal, which Jeremy is going to talk a little bit more about this later on. But I think that covers the question for now.
And with that, I'm going to pass it over to Robby Tal, our Chief Strategy Officer Nominee, who is going to field the next question.
Can you explain first-party data?
That's something that we could spend hours and days on and discussing, but with the few minutes we have here, why don't we cover a few key concepts. Let's start with its simplest definition. First-party data is data that you collect directly from your customers. Now, a common misconception with first-party data is that its collection requires a massive organization with a data warehouse and 50 plus data engineers that are monitoring it, collecting it and applying it. Your average blog site is actually collecting first-party data. The main difference here is its application, right? So in our organization, we are collecting a tremendous amount of first-party data for the Vocal platform. We've collected hundreds of millions of data points around our customers and our audiences since the platform launched. But the difference here is the use of it. So in our case, we're not selling our first-party data, through that's a monetization opportunity for many businesses.
But in our case, our core values and principles go against selling that data as a monetization opportunity. And we prefer to use that data to increase conversion rates, and to guide our decisions on which the best features are to implement in our platforms, by understanding the behaviors and attributes that are common among the creators and audiences within our ecosystem. We pair our first-party data with third-party data from Facebook to build an even more granular profile of our target consumers.
So, for example, when we're looking for subscribers to the Vocal+ subscription model, we pipe in our first-party data into the social ad platforms like Facebook and Twitter and pair it with their third party data. And what we're able to do is show Facebook or Twitter the profile of a creator who is going to subscribe to our subscription model and retain their subscription for the longest period of time.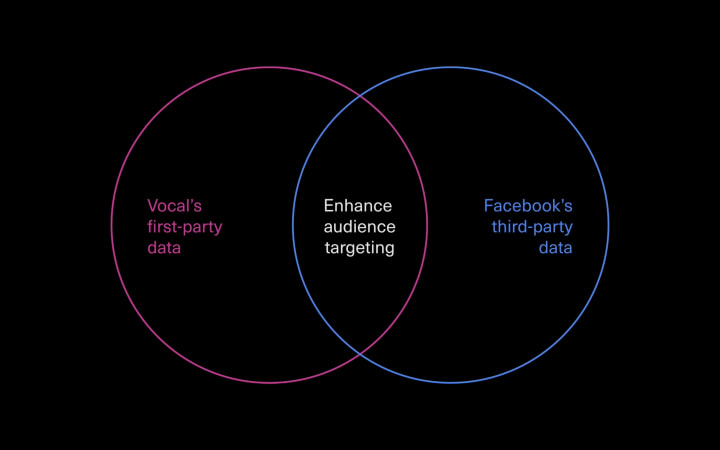 Now let's look at a real-life example that showcases how we apply our first-party data to help brands. Daily Harvest is a direct-to-consumer brand within the healthy food space who had been looking to expand their audience and drive subscriptions at a lower cost. We were able to identify a new audience that fit the parameters of their ideal customer. This was done by first generating audience segments that have already shown interest in the healthy food space based on their actions that they've already taken on existing Vocal content. We then took the top 10 percent of consumers within that audience, i.e. the segment that showed the highest level of purchase intent. To expand that audience even further, we then paired it with social ad platforms to identify a larger pool of consumers who would most likely be the type of consumer that would subscribe to Daily Harvest. This qualified audience was then targeted and re-targeted to read multiple stories that we created and designed based off of our initial data and then modified through our campaign learnings through this method.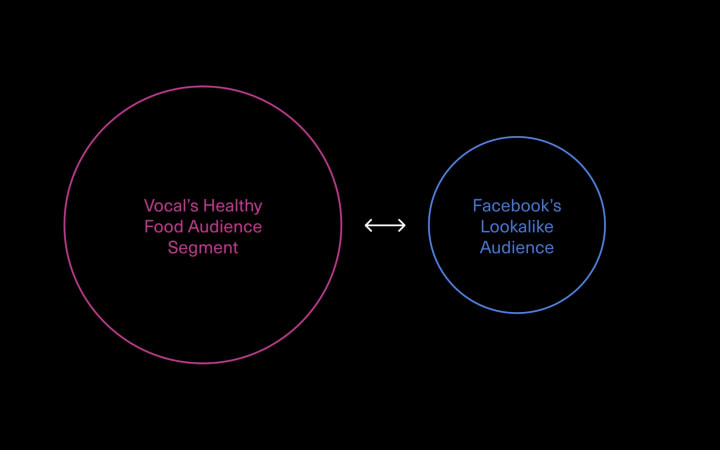 Through this method, we were able to provide Daily Harvest a greater than five times return on their campaign spend.
Thank you for the question, and I hope that was helpful in giving you all not just an explanation of what first-party data is, but how we apply it across the Creatd Cycle.
Thank you, Robby, for that explanation of first-party data.
Creatd's mission is to empower creators, entrepreneurs and brands through its technology platforms, partnerships and data-driven innovation. With all of the milestones the Vocal technology platform has reached so far, and for all the value it has afforded its creators, it ultimately represents only a foundation for what are really infinitely scalable revenue streams and business opportunities. 2020 will have been the year that, as I said in our shareholder meeting, took us to the launch pad and ignited our engines. As I said earlier, it will end with 10,000 paying Vocal+ subscribers, setting the stage for our 2021 run to 100,000 Vocal+ paying subscribers and $1,000,000 in revenues monthly from that single revenue line off of the Vocal platform. For those of you who have been watching the company for a while, you know that that has been our plan for over five years. We have not veered. There has been no strategy drift. In 2015, we began the ideation process with our development partners in Sydney, Australia, Thinkmill, and developed the Vocal platform from that.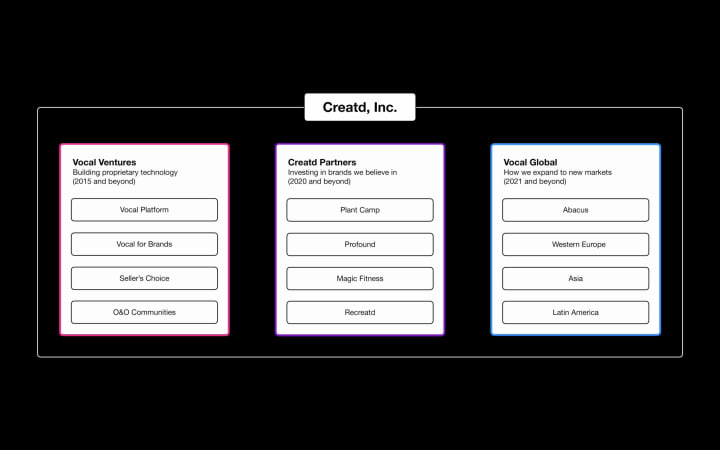 With that came the establishment of the first pillar that would support what is now our two-year roadmap into the future. The first pillar, Vocal Ventures, houses created proprietary technology platforms and all the complimentary digital businesses around it, including Vocal For Brands, last year's acquisition of Seller's Choice, as well as the intellectual property that is inherent in Vocal's 34 owned and operated digital communities. The second pillar balances our portfolio by introducing owned and operated brands.
Creatd Partners invests in early stage startups that are passionate about solving problems with technology and the spirit of partnership. It's done through sweat equity and nominal capital, and these early stage startups then become the exclusive brands of the Vocal platform, working with Vocal For Brands and Sellers Choice for marketing consulting services. And while this is a fairly new stream of revenues for the company, we really expect it to grow with the same velocity, and even veracity of the creator acquisition strategy that I explained earlier.
To date, we are exploring multiple direct to consumer brand exclusive relationships, all of which generate revenues and any of which could lead to a significant liquidity event for the company. All of these brands are built to exit.
The first Creatd Partner I'll talk about is Plant Camp. Plant Camp's mission is to give kid-friendly categories a nutritious makeover. Now, Plant Camp is currently in development with our award-winning agency partner Brains on Fire. And this product is expected to launch in Q3 2020. The company has previously completed seed financing from industry veterans and seems really primed for success.
Next up is Magic Fitness, Magic Fitness is an iOS and Android application that interests us, as much for what it does, as for the technology that exists behind it. Magic Fitness is changing the way fitness is done by pairing users with certified fitness trainers for one-on-one, live virtual training sessions. In the process, the app is also collecting a great deal of first party data that works to continually enhance their users' experience.
The third example of a potential Creatd Partners brand is Profound. Profound is disrupting the sports drink category by focusing on the long neglected female audience in this sector. Working with executives who previously worked at Vice Media, we are currently in development and projected to go to market with this product by the end of the year.
These brands represent only a few of the potential investment opportunities we are being contacted about regularly. And by utilizing our public stock as transactional currency, at the same time generating revenues from technology and services that Vocal Ventures offers to Creatd Partners' brands, we're able to both capture the attention of the audience for the product and generate upside for all stakeholders from the brands to our investors. Additionally, within the Creatd Partners' pillar is a component we refer to as Recreatd.
Now, perhaps you remember earlier in this presentation when discussing the history of the company, a great deal of our time early on was spent studying legacy media assets. Recreatd is an internal studio that produces transmedia content, which means that we mine existing content on the Vocal platform for the opportunity to elevate a particular story to another medium. For example, horror fiction published on the Vocal platform can lead to a horror book, a horror series, or a short film. And so, from art books to graphic novels to documentaries, we had the unique opportunity over the years to license our owned and operated content and media assets to create proof of concept and validate the Recreatd opportunity. And we expect that over the next 12 months we will establish a number of partnerships with larger media companies who have the same interest. These larger media companies can be shown a value proposition for long-dormant assets.
The third pillar of Creatd, Inc. is Vocal Global. Vocal Global represents the future of our foundation. How big can we get, how far can we scale our technology? It is a plan that encompasses a global expansion strategy for applying Vocal's technology and business expertise to foreign language installations of our social platform.
Internally, we referred to the strategy as Content Without Borders, and I expect that you will hear us speak much more about that at the end of first-quarter 2021. Abacas, another component of the Vocal Global pillar, is our owned and operated technology research and data science company based in Sydney that works closely with our development partners, Thinkmill. The unique cost structure and inherent flexibility of our underlying technology, the tech that rests beneath Vocal, makes it a strong resource for institutions that have multiple units and bespoke needs.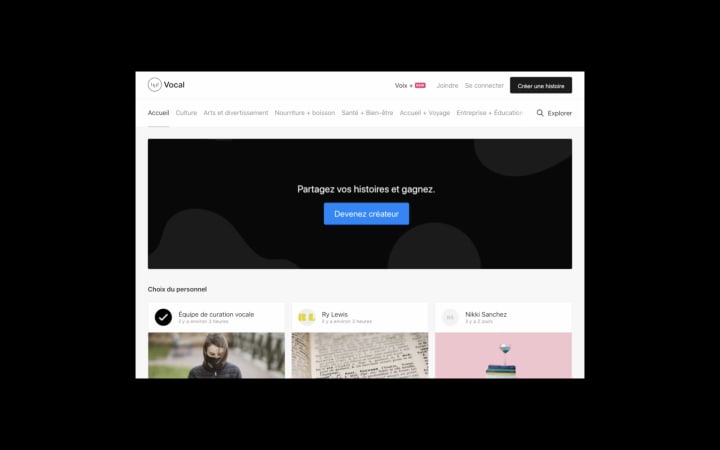 For example, let's take the sports industry, which has multiple teams, or the educational industry, which has multiple universities, or even my favorite, and something that's on our drawing board, a white label installation of Vocal called Give. With the Give platform, instead of communities, there would be multiple charities that focus on various causes. For example, you might have an environmental community where multiple environmentally-focused charities publish content. Each of them would provide content and resources that ultimately incentivize their audience to donate, or 'give.'
In addition to the geographical advantage that Abacas provides its parent company, Jerrick, the Australian government provides an incentive credit for the technology-based R&D that fuels the development of our platform and the white labeling opportunities that I'm speaking about. In summary, the Creatd team empowers creators and brands through its Vocal technology platform and data-driven innovation. The creators power the Creatd Cycle. The Creatd Cycle generates our revenues. We are the creators' partner. And with our technology and the spirit of that partnership, we will build a billion-dollar company. From Jerrick to Creatd has been our journey to uplisting on the Nasdaq. Created represents the next chapter of our success, and we look forward to all of you participating in that.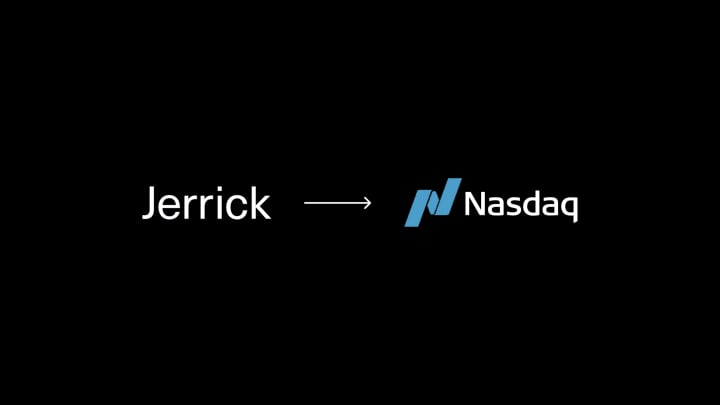 We recently returned to our office, and we've been really excited about getting back to work. We've been real busy with planning our uplisting later this month, running the business and generating what will be a record quarter for us and moving forward on our broader strategic plans.
I want to thank everybody that joined today's presentation. In particular, I want to thank all of the members of the team that helped us put it together. And with that, we're going to take one or two questions.
What is the most important new feature you will be releasing on Vocal?
You know, we're really excited about Vocal's 2020 and 2021 roadmap. We have a lot of features that are planned out specifically for creators to help them get discovered and earn more.
But if I had to choose one feature, I think it would have to be the referral feature. And I think it's because, you know, referrals have historically been a huge growth driver for some of the world's biggest tech companies, like Airbnb, Dropbox. Dropbox I think grew, like, 3900% after introducing the referral program.
And it's something that I think—word of mouth marketing and referral marketing, really people trust that more. If I remember correctly, there was this Nielsen study that said about 92& of consumers trust the recommendations from their friends and people that they know. And we're going to be modeling our referral program very similar to this, very similar to Airbnb and Dropbox and how they built theirs out. We're going to be offering our creators the ability to have a link, a referral link that's in their dashboard that they can send to their friends on social media or send them via email. And once one of their friends joins Vocal and publishes their first story, both the referring creator and the new creator are going to be rewarded with money in their Vocal Wallet.
That really goes back to our idea that creators are our partners and we believe that they should be rewarded for spreading the word about Vocal. We also believe it's going to reduce the amount of time that it takes for creators to find value on the platform. And this is the really interesting thing, I think, because a Vocal free user cannot withdraw their Vocal balance until they have $35. It's $20 for Vocal+ subscribers.
[With referrals,] we have a system that basically incentivizes creators to use the platform and reduce the amount of time it takes for them to do that. So let's say that a new person comes onto the platform from a referral and they already have $15 as a balance in their Vocal Wallet. You know, they're going to be more likely to upgrade to a Vocal+ subscription so that they can withdraw their first earning payment. And that's kind of why we see referrals as not only a huge growth potential for our freemium users, but we also see it as a big growth potential for our Vocal+ paying subscribers.
Jeremy Frommer: And it's interesting because in a sense, that's one of the components of the creative cycle you were talking about that we've never monetized.
Justin Maury: That's correct. It's almost giving the opportunity to the audience to have the ability to earn money as well, right?
And then everybody becomes accretive to the process even more. What's my next question? Give me one.
What do you attribute to Jerrick's success?
What do I attribute to Jerrick's success? It's a loaded question.
I guess the most important thing that I think leads both to the successes we've had, but most importantly to the successes that we aspire to have, is our culture. In the beginning, years and years ago, when we started the company, I would often say it takes intellect, abstract thinking, and work ethic to succeed at our company. And over the years, watching what were many ugly truths about the world, we added a fourth one called Moral Compass. And today, we simply refer to all of that as the Jerrick culture. Perhaps some of it came from Justin's medium. Certainly, a great deal of it came from my previous experiences. And in general, I would say the input of the management team. Many of the people you've heard speak here today, my board. There's a lot of inputs that came together to create our culture, but we did it with a small group of dedicated people. Most of us have been together for between four to seven years. Most of us are tremendously disciplined individuals.
We find that the behavior that is inherent to our technology and inherent to the process that Justin and our partners, Thinkmill, and many of the agencies we work with as well. We think that that behavior that is inherent to this kind of industry and tech development is what is inherent to our business as well. We find that it's vice versa.
It's a creative one. One behavioral process, such as designing a flow for the development of a new feature such as referrals, is the same sort of process we take in analyzing our communications to our investors and sort of the monitoring of our financial and compliance divisions, hard work and appreciation for discovering the facts.
It's like an abstract curiosity. These are all kinds of components of our culture that is really attributable to our success. You know, we didn't set out to build Vocal as much as Vocal was a solution to a problem we were trying to solve.
If you really think of it, we are a problem-solving culture. We solve internal problems by respecting process and trusting in the collective.
When I first started the company, people would always say to me, we're betting on the jockey; and betting on the jockey has evolved into betting on the team. Not one person can make or break the success of Vocal anymore. Justin and I built it to be infinitely scalable and to function like a machine, a well-oiled, constantly upgradable machine. This is the thing that defines our institution, our company and the technology.
And perhaps one other component is self-manifestation. And when I say self-made manifestation, I mean from ideation to execution. That's self-manifestation. It's not such a grandiose term. It means that you can both ideate and execute. And if you're passionate about that, then you can wake up every morning pursuing the best version of yourself within that kind of a culture.
And finally, we are a culture of creators; a culture of nearly 680,000+ registered freemium creators, a growing culture of Vocal+ creators, a culture of individual creators within our company.
And that is why we are changing the name Jerrick to Creatd. We are a Creatd culture.
Thank you again for listening to our story and for joining us on the Jerrick to Creatd journey
Reader insights
Be the first to share your insights about this piece.
Add your insights