…With Every Fiber of Your Being
Expressing the song of your soul is not always easy, but it is always worth the struggle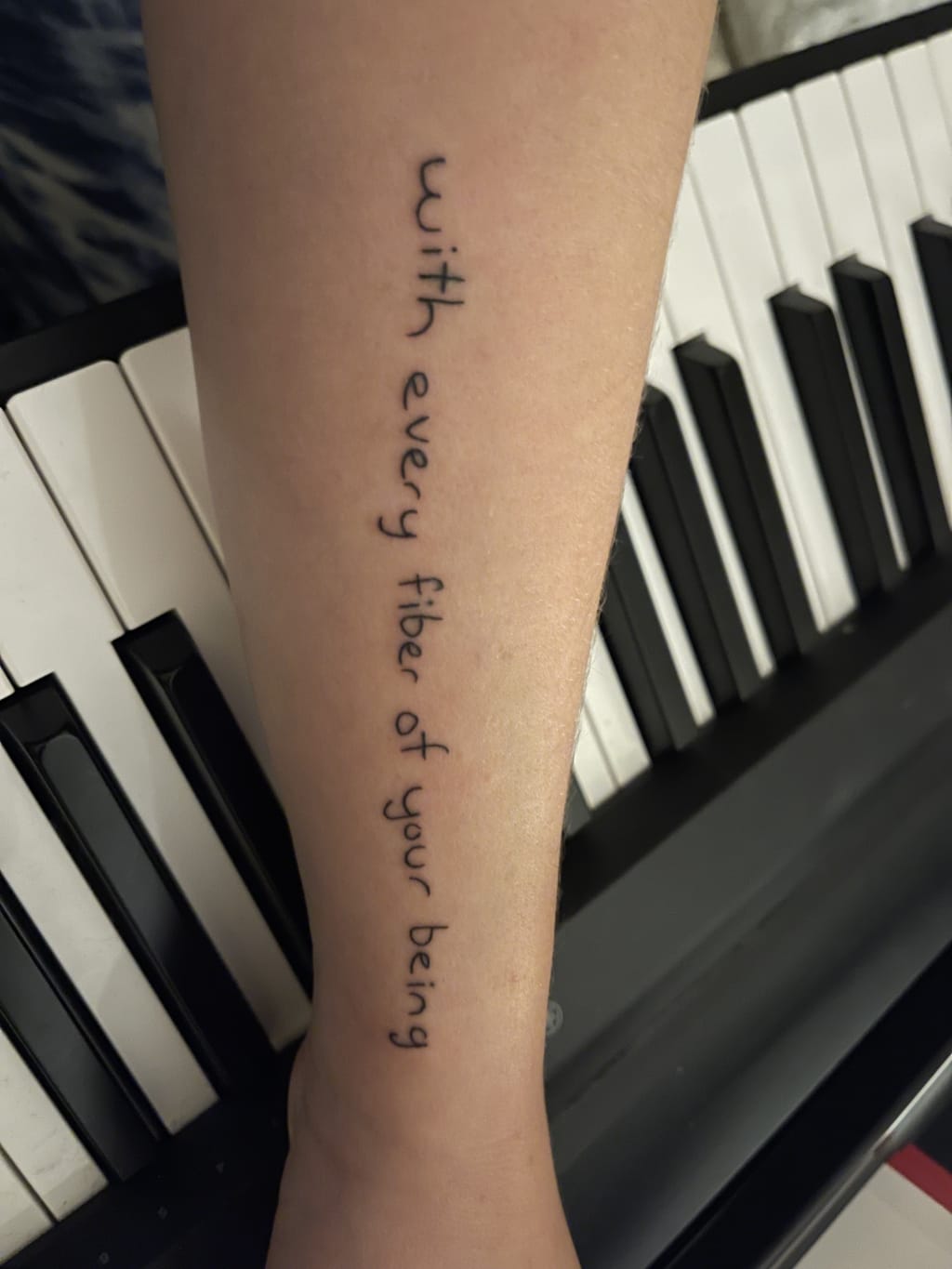 Photo by the author
If there was a chance that you could earn an actual living doing the thing you most love to do in the world…

The thing you would pay to do…

You'd be foolish not to pursue it with every fiber of your being.

#advicetomydaughter
Tweet from the Author - 2021
---------------------------------------
My eldest daughter Emily has a gift. Several gifts.
She has the gift of an extraordinary voice.
She has the gift of a magnetic presence that captivates audiences. 
She has the gift of being able to create an emotional connection from the stage that is seldom seen.
She has the gift of an amazing work ethic. And the desire to accomplish anything she sets her mind to.
But most of all, she has the gift of knowing exactly what she has put on this Earth to do.
---------------------------------------
One of the unfortunate aspects of the COVID-19 epidemic has been the impact it has had on live performances. And this was particularly true in my daughter's case. 
Being a junior in high school when the impact was most acutely felt, she missed out on many opportunities for live performances.
And with her unbelievably rigorous course of study in music in the years since, she has not been able to do what she truly loves - in the spotlight, in front of a live audience - for all that time.
Until yesterday.
---------------------------------------
I wrote the above words in my daughter's senior year of high school after attending a recital of hers, where I saw her perform the song "Someone Like You" from the musical Jekyll and Hyde.
It was at that moment that I fully absorbed the impact that she has on an audience. Holding them in her embrace, enrapt and mesmerized by her every word.
I knew that I had to do everything I could to help her bring her gift to as many people as possible.
At that time, I thought that might mean her moving to New York, which would have certainly crushed me. But that never came to pass, and instead, I've had the pleasure of having her stay at home while she attends college. And witnessing her growth into an amazing young woman.
"If you've never heard her sing, your life is not as good as what it could be."

Alex Ford - Emily's High School theater teacher
---------------------------------------
Yesterday's performance was the culmination of her class titled Opera Workshop. A wonderful experience where she was able to learn from an excellent professor who is himself a brilliant performer - having appeared at the Metropolitan Opera (The Met) in New York - among many other famous venues.
Despite not being an operatic piece, she was able to perform the same piece from that recital - "Someone Like You" - though in a way that made it entirely her own. 
And though I perceived the huge improvement in technique that has come from her dedication to her craft, what was still unmistakable was the magnetic force she exerted towards all who witnessed her performance.
(As I dictate this draft into my phone, I have a great appreciation that I can express my thoughts in written form. As I couldn't possibly make it through the speaking of these words - in a video or otherwise - without producing a river of tears.)
---------------------------------------
In case you haven't figured it out yet, the arm in the picture above is hers. She got that tattoo as a gift to me on my 49th birthday.
The words are in my handwriting, and I could not have been more honored.
To know that she took my advice to heart, and would carry it with her all her life - even when I am gone.
That she believed it so strongly, that she marked it indelibly into her skin.
To know she would look at whenever her resolve was flagging, and it would give her strength.
---------------------------------------
After her triumphant performance, I was talking to her about her future. I asked her what she wanted to do, and she replied:
"I want to do so much. I want to teach children. I want to do choral music. I want to perform in the spotlight. I want to do musical theater. I want to continue my studies and get my master's - and even my doctorate."
While I have seen how much all the effort she has put into her education has taken out of her, I also see how much she has received because of that which she has put in.
She's been able to get actual paying gigs! She had the opportunity to travel - touring Austria, Romania, and the Czech Republic with her classmates. 
She's had the experience of meeting and competing against the very best young people in her field. 
She has started not one, but two podcasts, done vocal coaching for high school students, and even been in commercials for her university!
"I have learned so much about how and why music affects us like it does. I know there is so much more to learn. And I want to learn it all!"
Others may not always see her divine perfection. But I do. And while I know I may see her ability through rose-colored glasses, I also know that she is a perfect Child of God, an integral part of the Sonship, created in grace, and spreading his divine light to the world.
And nothing could be more perfect - or beautiful - than that.
And the way her eyes light up when she talks of her future floods a father with happiness. Because all parents know that the most we can ask for is this - for our children to experience love and to find happiness in whatever they do.
---------------------------------------
So why am I telling you all this?
Well, believe it or not, it's not to gloat or brag. Even if that's what I'm appearing to do.
I do have a message. And this is it.
We all have something that we are meant to bring to this world. Something unique to share that no one else can.
Some only discover it after a half-century of searching.
Some are fortunate to discover it in their youth.
But no matter when you discover that purpose…
no matter what it is…
know that you are only cheating yourself, cheating the world, if you fail to pursue it…
With every fiber of your being.
About the Creator
Husband, Father, Writer, Systems Engineer, Poet and Pickleball Junkie.
Seeking truth and spreading love to all.
------------------------------------
Get My morning routine!
http://bit.ly/the-miracle-morning-mh
Reader insights
Nice work
Very well written. Keep up the good work!
Top insights
Heartfelt and relatable

The story invoked strong personal emotions

Easy to read and follow

Well-structured & engaging content

Eye opening

Niche topic & fresh perspectives
On-point and relevant

Writing reflected the title & theme
Add your insights