Misleading Sex and Relationship Advice Memes
Beware of "experts" who put religion before science and experience.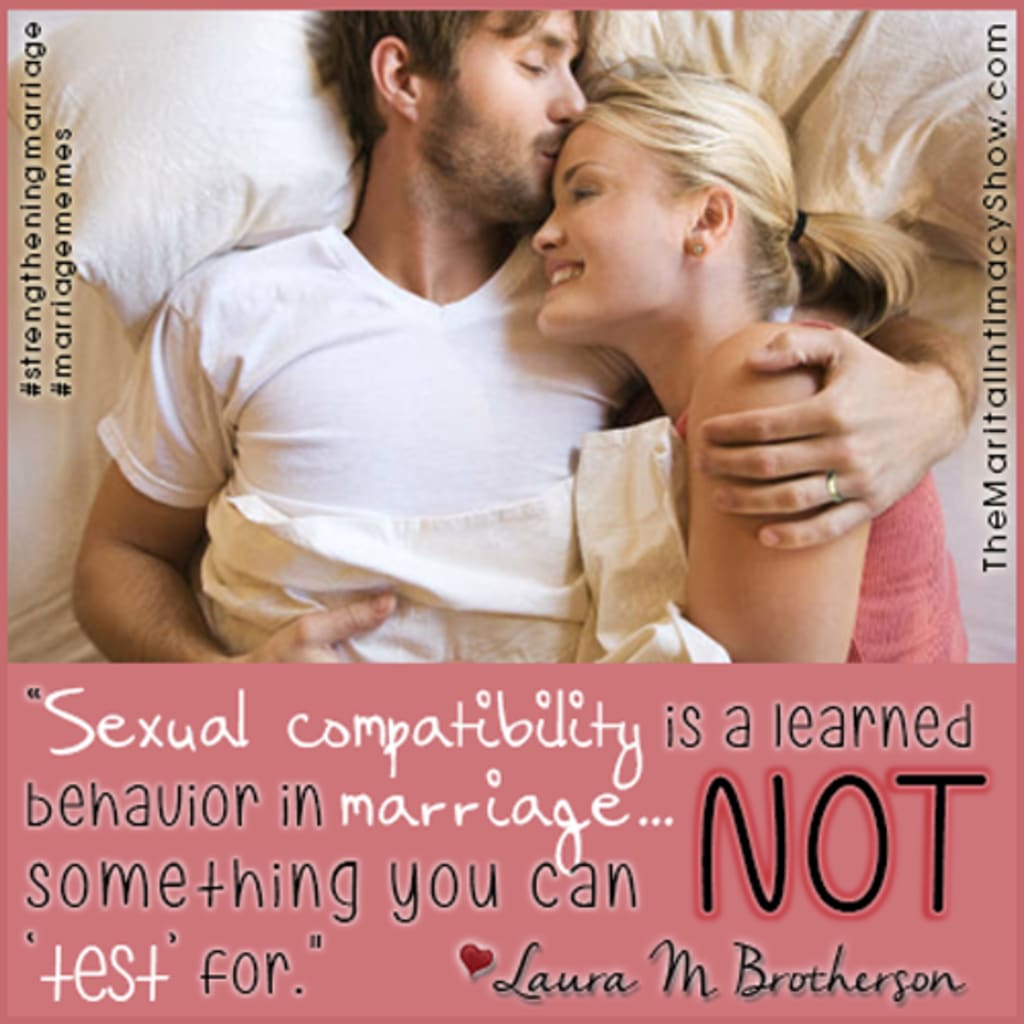 "Sexual compatibility is a learned behavior in marriage, not something you can 'test' for." I wish that this meme was true. There are several reasons it's not. Where should I start?
To see how absurd this assertion is, replace "sexual" compatibility with any number of other important things you two as a couple should be compatible, like personality, values, and life goals. If we should get to know someone fully before committing a lifetime to them, and it's acknowledged the aforementioned aspects of compatibility should be included, why would sexual compatibility be any different? If you go on dates to determine compatibility, why should sexual compatibility be ignored?
What separates a friendship from romantic love is sexuality. Without a healthy romantic and sexual compatibility, a marriage is just a friendship (or as in many cases of divorced couples, who referred to the ex as more like their "roommate").
In order for this meme to be true, one or both of you would have to do some serious compromising when differences come up, differences that could have been discovered and dealt with before marriage. But because you're already married those differences will cause one or both of you to feel stifled, or pressured, or lose your attraction to each other, or any number of consequences that can be soul-crushing. If they had been discovered before marriage, you could have made a better, more informed decision about whether this person is right for you.
How do I know what I'm talking about? I am a sex, dating, and relationship advice blogger at TheNakedAdvice.com, where I've received many letters by men and women who were virgins when they got married very young and are now dealing with serious sexual incompatibilities. Probably because they listened to people like the author of this meme's quote.
And who is this well-meaning but misguided person? I went to the listed website to do some digging around. I suspected Laura M. Brotherson was giving religious-based advice, since I'm aware of what most religions believe about sex before marriage. At first glance, the web page appears to be about a secular and professional marriage and family therapist, but then I clicked on the About Laura tab.
The first thing I noticed in her bio was this tidbit: "Laura sees herself as filling the need for a Family Values Dr. Ruth." Could someone tell me how Dr. Ruth was anti-family? What advice did Dr. Ruth ever give that was anti-marriage, or anti-children?
Then my suspicions were confirmed: "Laura received her bachelor's degree in Family Science from Brigham Young University (BYU), and her master's degree in Marriage and Family Therapy (MFT) from Capella University. She is currently a Licensed Associate Marriage and Family Therapist (LAMFT), and a Certified Family Life Educator (CFLE) through the National Council on Family Relations (NCFR). Laura has almost completed her specialized certification as a sex therapist (through The Institute for Sexual Wholeness) preparatory to becoming a Christian sex therapist where she will fill a vital role in helping couples cultivate greater emotional, spiritual and physical intimacy within a family values framework."
Further along: "Her commitment to the gospel of Jesus Christ is evident in her passion to build God's kingdom by strengthening marriages and families."
For those who might not be aware, Brigham Young U is a Mormon school, Capella U is a for-profit school, and The Institute For Sexual Wholeness is "a non-profit organization dedicated to training Christian therapists and ministry leaders to unveil God's truth about sexuality and bring healing. In the midst of distorted values, unfulfilling marriages and confused single adults, we believe that God has a sexual plan that promotes integrity, maturity, and passionate intimacy. We desire to partner in cultivating a sexually healthy Church through articles, books, research, networking, workshops and classes that are tailored to specific populations and needs."
My intent here is not to personally attack this particular therapist. I am using this as an example of how important it is to pay attention to who is giving the advice and what their background is. You can't trust the advice and opinions of professionals and experts who put their religious beliefs before reality and science. Religious beliefs are not based on evidence, reason, or science, they're irrational, superstitious, and outdated. But to be clear, just because Laura is wrong about this, doesn't mean she's wrong about everything.
And what do most religions believe about sex? There are variations, of course, but most religions teach kids damaging ideas that conflict with nature and promote sexual anxieties, perversions, gender stereotypes that prevent the sexes from relating to each other, and values sexual and biological ignorance over knowledge. This sociologist studied Evangelical teenage boys and wrote about her experiences and findings, read it for an excellent understanding of how religious beliefs affect our sexuality. And for a great example of what Catholic thought crimes and guilt can do to your sex life, read this.
And I can't write about religion's oppressive, primitive ideas on human sexuality without including it's role in passing anti-gay laws and spreading homophobia. There are many LGBT kids being told they'll burn in Hell and teens who come out to their parents and will be kicked out of their home as a result. All of this directly conflicts with what science says about sexual orientation and what human decency says about love. LGBT kids who grow up shamed and made to feel unloved are more likely to have unsafe promiscuous sex and more likely to contract HIV as a result (among other negative health outcomes). Read about those studies here.
I don't think someone who puts their religion before science is qualified to be giving advice on human sexuality and relationships.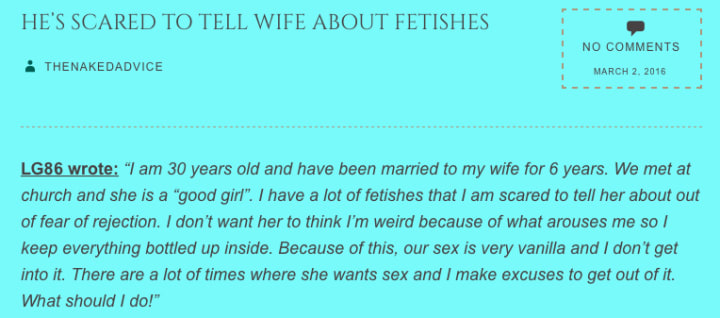 advice
dating
divorce
humanity
marriage
About the author
Liz is a sex and relationship advice blogger on TheNakedAdvice.com. She writes about topics related to politics, culture, feminism, race, and psychology. Her YouTube channel tackles everything from sexual fetishes to trigger warnings.
Reader insights
Be the first to share your insights about this piece.
Add your insights