Love Across the Distance
A Story of Passionate Love,and Fighting for What Matters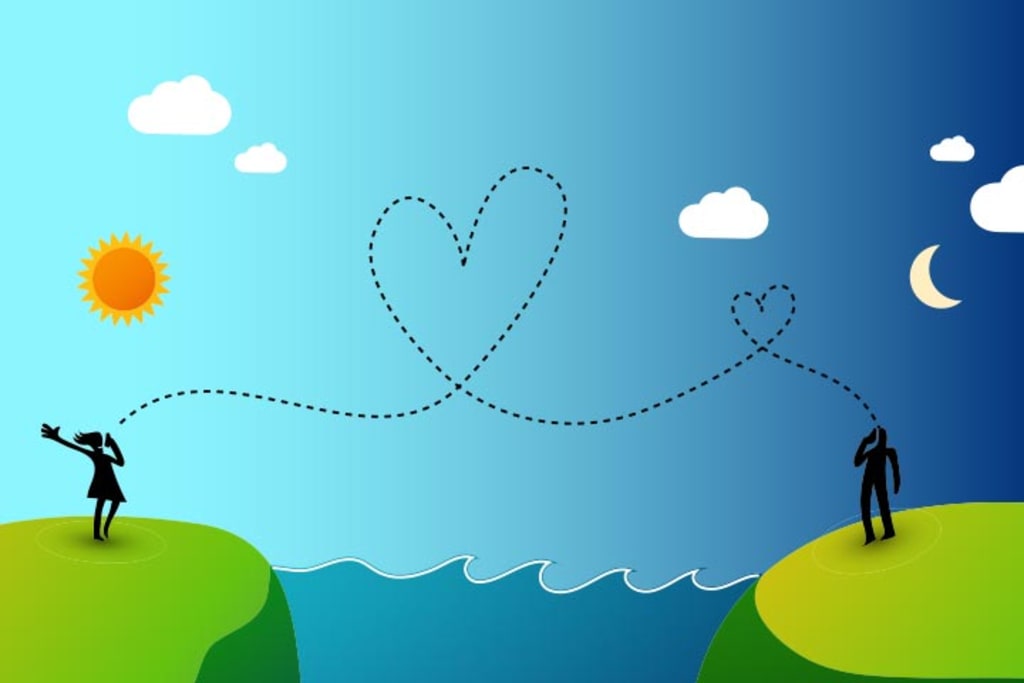 Once upon a time, there was a young couple named Emma and Jack who had been in love since high school. They had a passionate and emotional relationship that was filled with love and joy.
Emma and Jack were deeply in love with each other and they could not imagine a life without one another. They were both artists, and they shared a love of music and painting. Emma was a talented singer while Jack was a gifted painter.
They were both pursuing their careers while juggling their love life. Despite their busy schedules, they always made time for each other. They would often spend long nights working on their art and sharing their dreams and ambitions with one another.
One day, Jack received an opportunity of a lifetime to showcase his paintings in a prestigious art gallery. Emma was ecstatic for him and knew how much this meant to Jack. However, this opportunity required Jack to travel overseas for several months.
Emma was devastated but also supportive of Jack's decision. They promised to stay in touch and talk to each other every day. Jack left for his trip and Emma was left alone, missing him terribly.
The first few weeks were tough for Emma, and she found herself struggling to cope with the distance between them. But with every phone call and message, their love for each other grew stronger. They talked about everything and anything, from their mundane routines to their deepest fears and aspirations.
As time passed, Emma began to feel the distance weighing on their relationship. Jack was busy with his work and often missed their scheduled calls. Emma felt like she was being left behind, and the distance between them was starting to become unbearable.
One day, after several weeks of missed calls, Emma decided to confront Jack about their relationship. She was emotional and hurt, and her frustration boiled over into a heated argument. They both said things that they didn't mean, and their love seemed to be slipping away.
Days passed without any communication, and Emma was left feeling lost and alone. She tried to focus on her work, but her thoughts kept drifting back to Jack. She knew that they had to work through their problems, but she didn't know where to start.
After days of being apart, Emma and Jack decided to meet and talk about their relationship. They knew that they still loved each other deeply, but they needed to address the issues that had caused their fight.
They talked for hours, pouring out their hearts and emotions to each other. They acknowledged their mistakes and promised to work on their communication and trust. They realized that their love was worth fighting for, and they made a pact to never let their distance come between them again.
From that day on, Emma and Jack made a conscious effort to stay connected and communicate regularly. They made plans to see each other as often as possible and to share their experiences and adventures with each other. They continued to support each other in their careers, knowing that their love would always be their foundation.
Months later, Jack returned home from his trip, and they were reunited at the airport with tears and hugs. They knew that they had grown stronger together, and their love was more passionate and emotional than ever before.
Emma and Jack's story is a reminder that true love requires patience, understanding, and commitment. Even in the toughest of times, their love for each other never faded away. They fought for their love, and in the end, it was worth it.
------------------------------------------------------------------
Taha Qadri
Like - if you liked it
Comment - If you want me to add something new, or anthing you want to comment with :)
Share : if you love it :)
About the Creator
Hi, I'm Taha, a dynamic writer whose words have the power to transport readers to new worlds and inspire their hearts and minds. With a flair for storytelling that is thought-provoking, I want to bring scenarios that stay with readers
Reader insights
Be the first to share your insights about this piece.
Add your insights