Zucchini and Red Onion Pasta
or as I prefer to call it, "Squashta"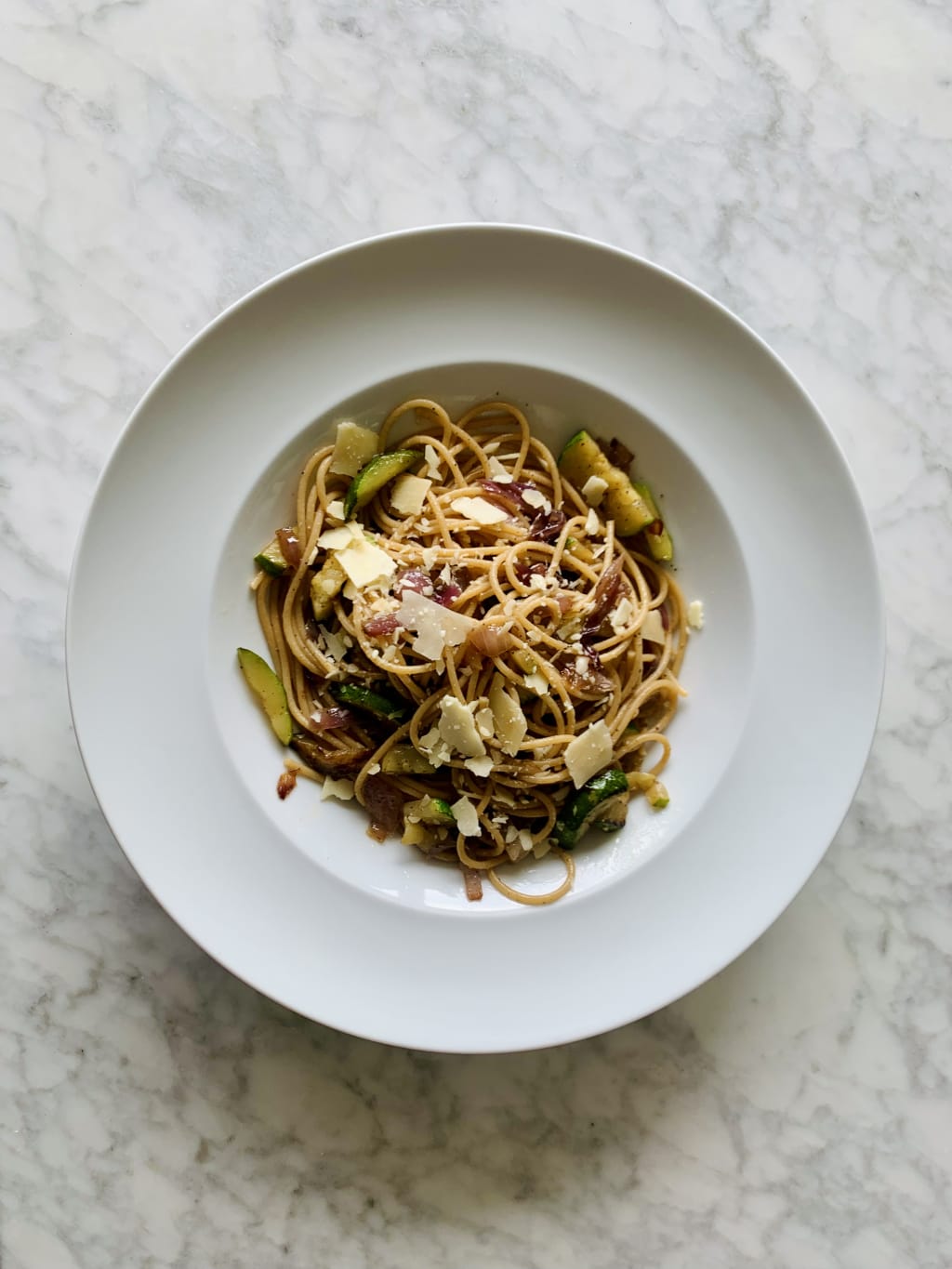 I got these fancy dishes specifically to increase my pasta enjoyment! Yes, it is working!
Hi friends!
Did you know that I have a recipe blog? JK! I don't... I don't even have a lot of recipes hanging out in my brain. I am always embarrassed to admit and slightly infamous for never actually having a recipe to give anyone who asks!
So this one is for Ahna and Gabby. Who asked... and, in a moment of overcaffeinated overconfidence, I agreed and now I am regretting it.
Ok so in the blogs, they always start out explaining their inspiration for the dish, so here goes.
My love for creating delicious and beautiful dishes began when I was a just a little girl, I believe that we eat with all of our senses and thus, the process of preparing our food should also involve all of our senses, which is why I always
Hahaha nope. I always skip straight to the bottom of those articles too so I'll save you the trouble. Here is the recipe. Or close. Something like this...
Donna Renee's Squashta
Serves 2 (or 1, whatever!)
Ingredients:
2 medium zucchini
1 small red onion (yes, red! They are the best!)
2-3 tablespoons of olive oil
Shtons of garlic powder, or fresh garlic if you feel ambitious
Buttloads of black pepper, idk, shake the spice thingy 30 times and then do it some more???
Salt...big flakes if you have that, they are so much more satisfying for some reason!
Parmesan cheese if you want, it still tastes awesome without it though.
1/2 box of Whole Wheat Spaghetti, the texture is so much better!
Directions:
1. Start boiling the water for pasta now...just trust me. Don't forget to salt it!
2. Chop the zucchini and red onion but use a larger cutting board than I did so you don't have to do it in batches. Keep the onions separate since they will go in first.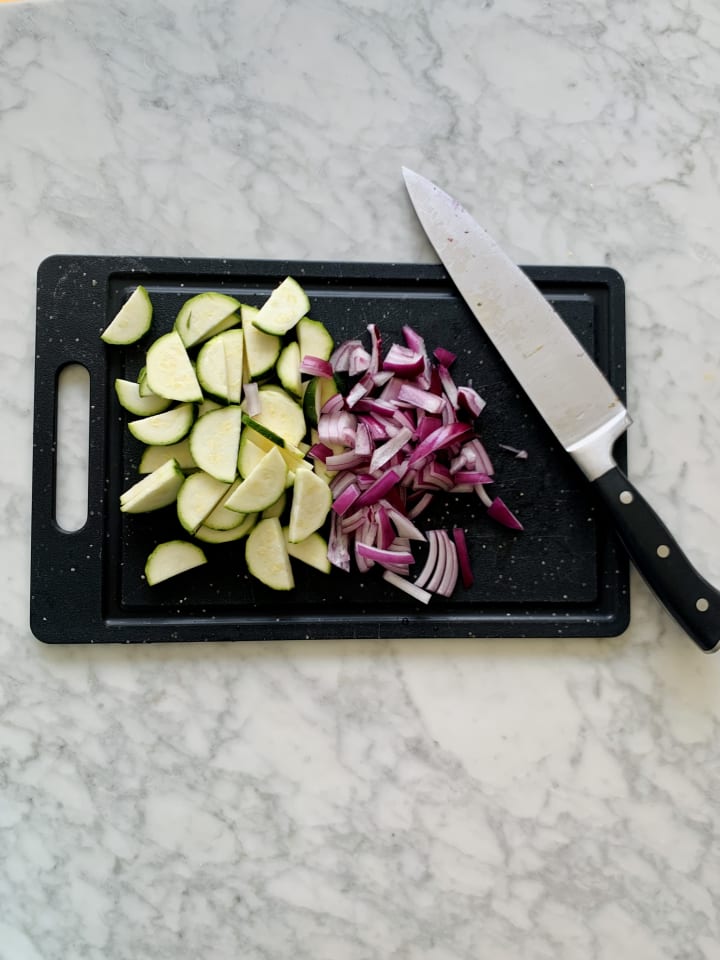 3. Heat the olive oil in a pan, you want it hot but not like, splattering you and smoking.
4. Add the chopped red onion and stir to coat with the oil.
5. Shake a little garlic and black pepper in there now. More later.
6. Let the onions get all caramelized and slightly crispy even!
7. Add the zucchini to the pan and stir it up.
8. Now is your moment to go wild with the garlic powder and black pepper. Just do it.
9. More!
10. Oh. That's um...that's a lot. There is no going back, hope you like garlic!
11. Ok, add your spaghetti to the boiling water. Probably should have done that already but here we are.
12. Let the zucchini and onion mixture cook. Stir occasionally but don't be afraid to let it sit for a couple minutes to brown the zucchini a bit. Like this!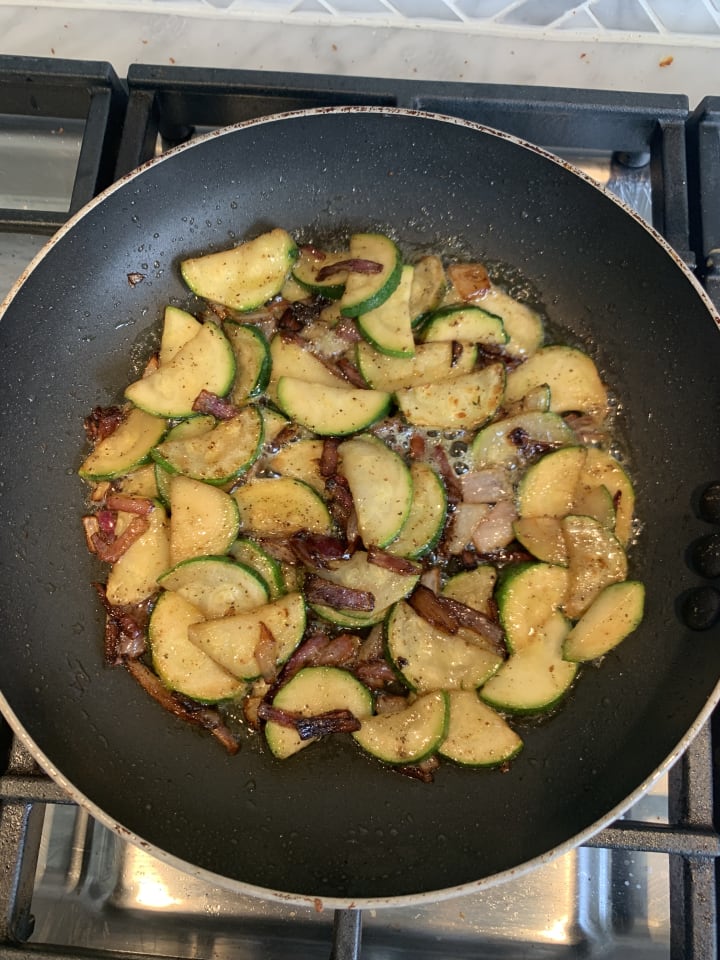 13. Don't cook it into mush. That is gross. If that happens, just add water and call it soup instead. ANYWAY, Turn the heat off, sprinkle some cheese on top to melt and let it sit while you...
14. Drain the pasta and add a little olive oil to keep it from sticking.
15. Mix the cheesy, crispy, oily, garlicky veggie mix with the pasta.
16. Sprinkle with a little of that crunchy salt and serve.
17. EAT!
18. Don't leave behind any of those crispy red onion bits. That is criminal.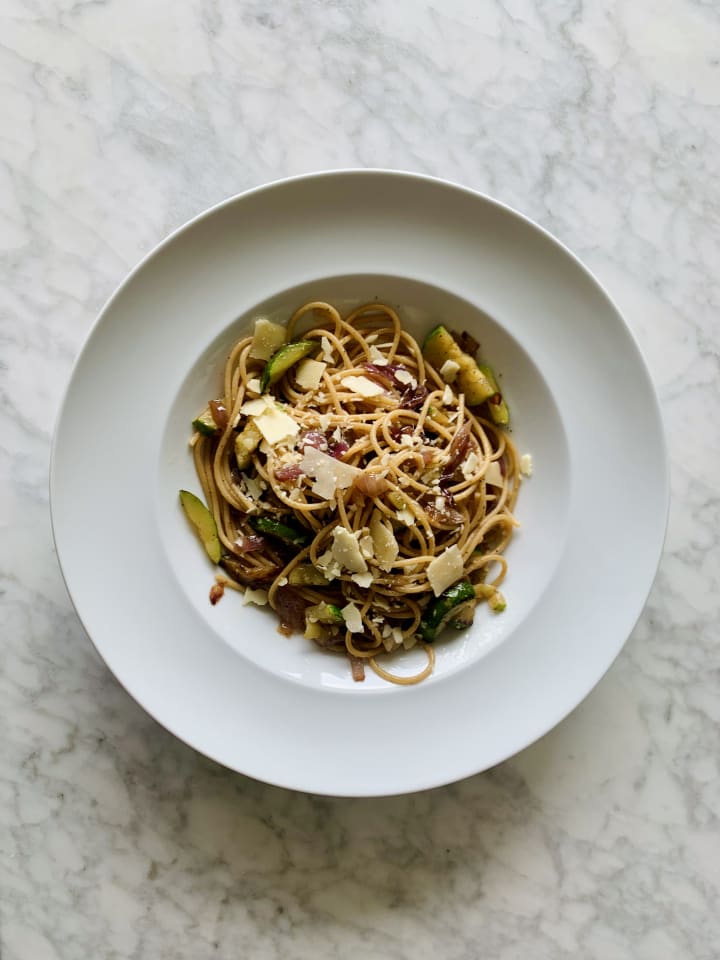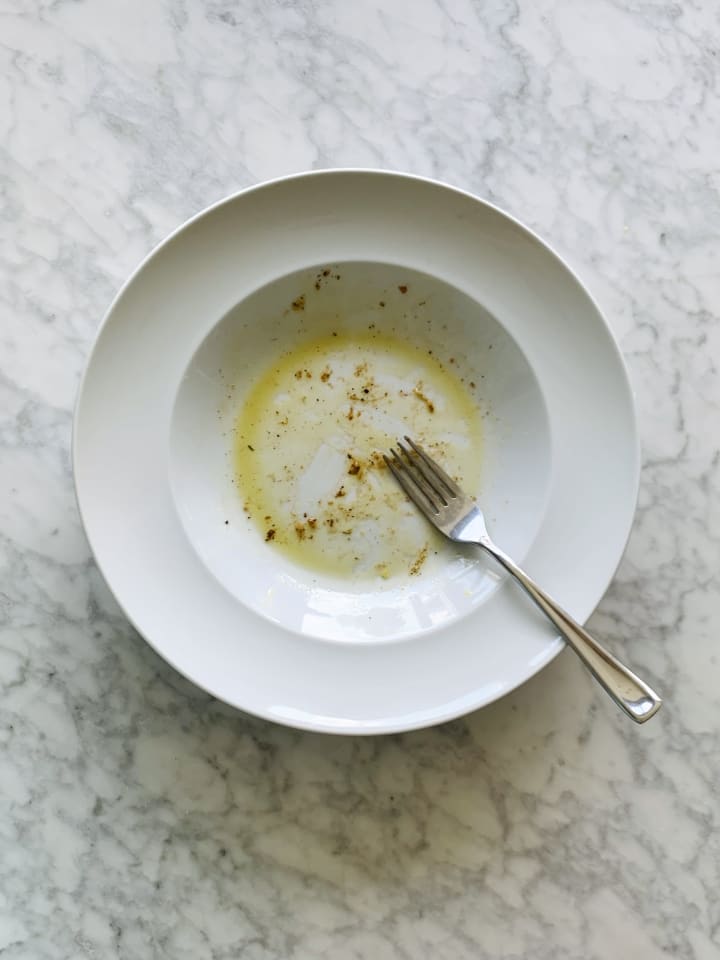 Hey...Remember step 1??? Boil the water for your pasta?
Well, the good news is that if you forget to do that, or you don't want pasta, you can just eat the entire pan of veggies instead. Been there.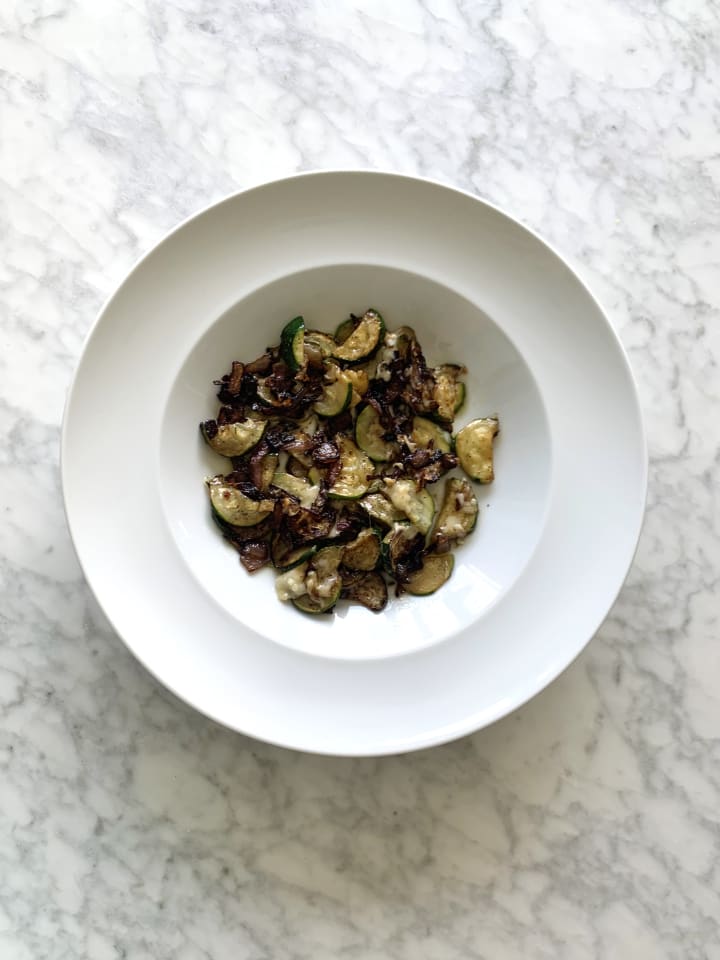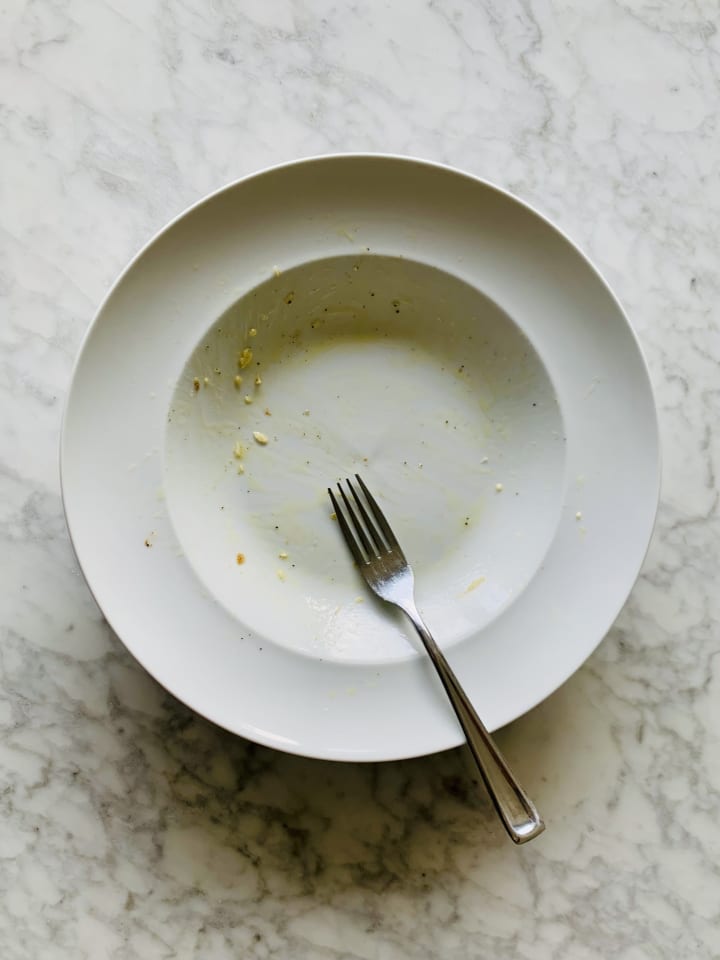 Nutrition Facts:
Uhhhhh. There is nutrition in this, I promise!
Please let me know if you make this!
Except if you hate it, then please don't.
About the Creator
Hi! Thanks for reading! My hobbies include making coffee, drinking coffee, and starting to write a story and then rage-deleting it when I get the slightest bit frustrated.
Reader insights
Outstanding
Excellent work. Looking forward to reading more!
Top insights
Easy to read and follow

Well-structured & engaging content

Excellent storytelling

Original narrative & well developed characters

Expert insights and opinions

Arguments were carefully researched and presented
Add your insights