Vegan Puerto Rican Pastelillos Recipe
Easy and Delicious Puerto Rican Comfort Food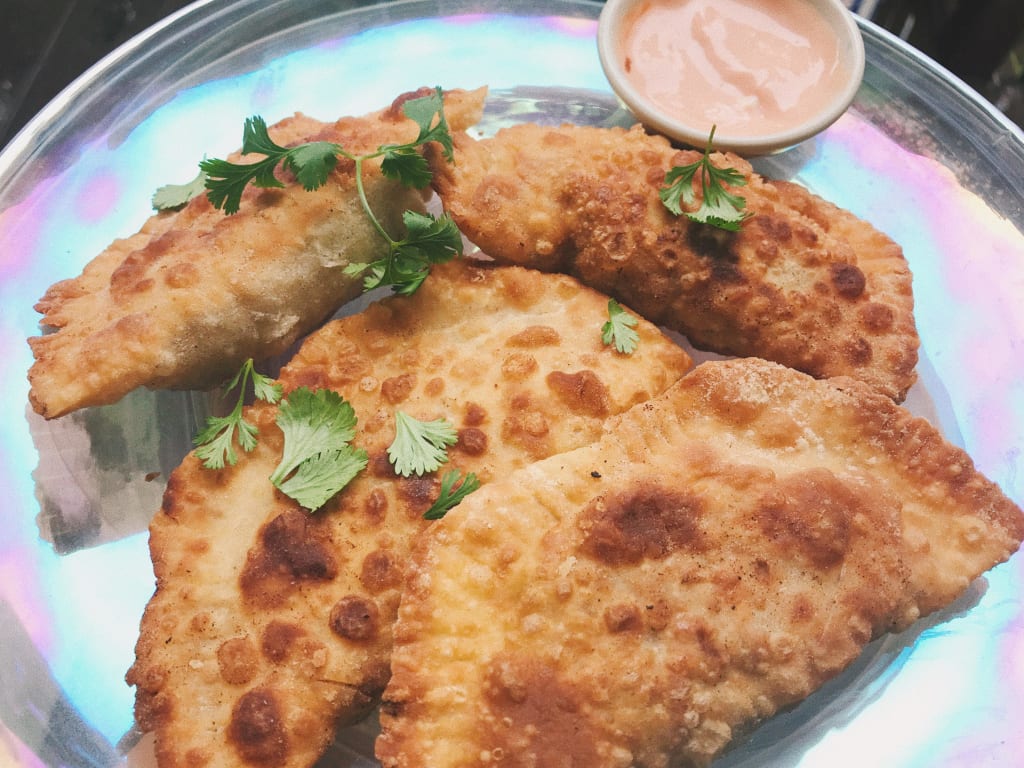 When it came to making pastelillos as a kid, I was always on dough duty. Covered in flour and gaining muscle mass by the minute, I rolled out what must be thousands of discos over the course of my lifetime. I loved every minute of it though. The process of making pastelillos was a fun bonding time in the kitchen for whoever was involved. I love when food brings people together and this vegan version allows me to continue doing so.
Empanadas, calzones, pastelillos. There's many a name for these beautiful dough pockets of perfection, but this Puerto Rican will always know when pastelillos are on the plate. You can tell pastelillos apart from its other fried dough friends when it is abnormally large, greasy, and delicioso. Of course, not all pastelillos are alike and you may come across other variations, but these vegan pastelillos are guaranteed to make you weep with joy.
Coming up with the recipe for this allowed me to make one of the saddest discoveries of my life: Goya Discos para empanadas are NOT vegan. I'm going to promptly write a letter to Goya and plead with them to please remove the dough conditioner from their discos, otherwise, it would have been fine to use. Instead, I made my own dough which was quite easy and made me wonder why I haven't done it before.
It should be noted that pastelillos can be filled with all kinds of different fillings. I am most in love with the meat and cheese version as it is what I enjoyed for many years. Of course, these two ingredients are no bueno when it comes to being vegan, but thanks to some wonderful vegan connoisseurs out there, we have options! After lots of trials, I have found two perfect alternatives that compliment this dish so very well and brings together the iconic pastelillo taste I know and love.
Follow along with my video showing the recipe from start to finish!
Ingredients for Dough:
2 cups of all-purpose flour
½ teaspoon of baking soda
½ teaspoon of baking powder
9 ½ tablespoons of cold water
3 tablespoons of canola oil
1 tablespoon of salt
Ingredients for Filling:
3 tablespoons of sofrito (click here for my sofrito recipe)
3 tablespoons of coconut oil for cooking filling
1 pack of Gardein meat crumbles
1 can of tomato sauce
1 packet of Sazon
1 pack of Daiya Vegan mozzarella cheese
2 cups of canola oil for frying pastelillos
How to Make the Filling:
On a medium flame, heat up 3 tablespoons of coconut oil. Once warmed, add 3 teaspoons of sofrito and allow to cook until color changes to a light green.
Next, add in the can of tomato sauce and packet of Sazon. Once the sauce begins to simmer, add the pack of Gardein beefless grounds.
Stir to combine grounds with sauce. Make sure to break up any frozen clusters. Let cook covered for 10 minutes.
How to Make the Dough:
Begin by mixing baking soda, baking powder, salt, and flour thoroughly.
Add 3 tablespoons water and 3 tablespoons of oil, and mix well.
Add another 3 tablespoons of water and continue to mix dough with a fork until it the clumps become bigger. Add another 3 tablespoons of water and lightly mix using your hands. Add the final 3 tablespoons and continue mixing until everything comes together. (add some flour to the dough is it is too sticky, a bit more water if it is too dry).
Form a ball out of the dough and place in a bowl with a thin layer of flour underneath. Cover in plastic film.
Let dough rest for ten minutes in a room temperature area (right on your countertop is fine)
How to Put It All Together:
Note: Follow along with my video for a visual on how to form the pastelillo.
When the dough is ready, take a small portion of dough (about the size of a ping pong ball) and roll it out until the dough is about a 6-inch diameter.
Place a spoonful of meat and a sprinkle cheese on one half of the disc. Make sure there is at least a half inch border around the filling to ensure space for closing. Flip the other side of the dough over the filling and press down on the edges to create a seal. Using a fork, gently press the tips of the prongs on the edges of the dough to seal the pastelillo completely. Repeat until all pastelillos are made.
Heat the oil on a medium high flame and allow to fully heat up. Place 2 or 3 pastelillo in the pan (depending on the size of your pan) and let one side brown for a few minutes before flipping over. Make sure to monitor the pastelillo to ensure it doesn't get too brown or burn (it can happen so quickly!). Once both sides are brown, remove from the oil and place on paper towel to drain the remaining oil. Repeat with all pastelillos.
Allow the pastelillos to cool down before serving. Enjoy!
Bio
The Bronx Vegan is a blog run by Puerto Rican and Peruvian Bronxite, Alexis Montoya. This blog aims to highlight vegan resources in and around The Bronx through recipes, reviews and more. If you like what you read, please consider tipping below! All tips will be put towards vegan efforts to share with the world.
For more, follow The Bronx Vegan on Instagram, YouTube, Facebook, and Twitter.