Vegan Peruvian Tallarines Verdes Recipe
A Classic Peruvian Dish Made Plant-Based and Delicious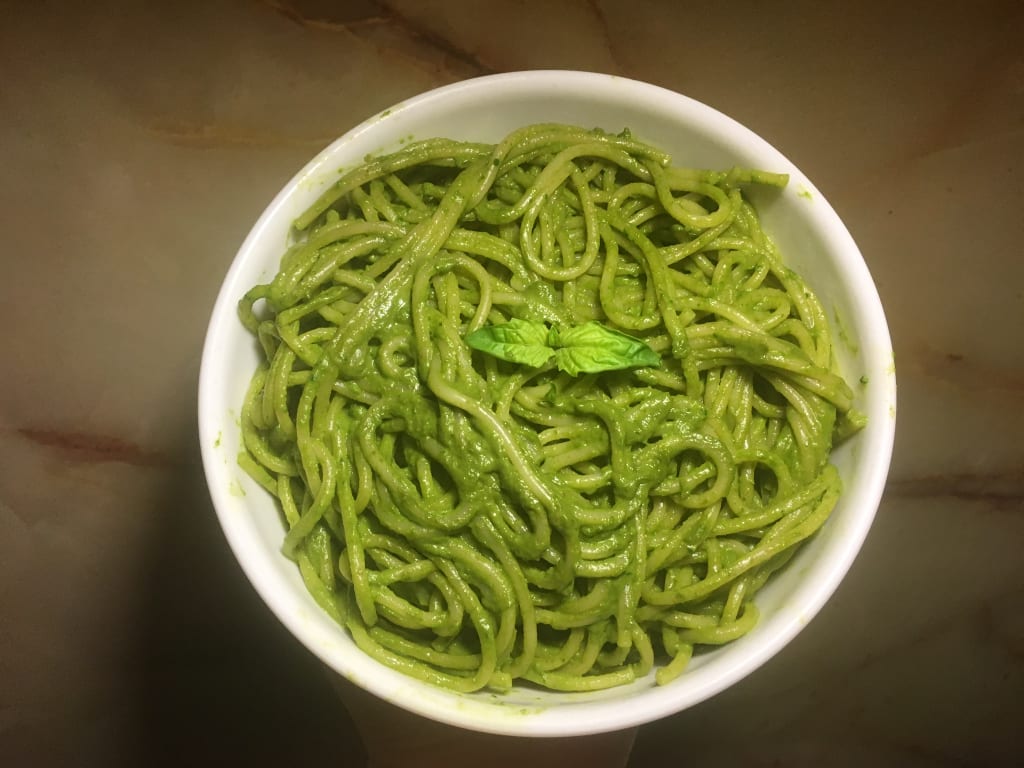 When I first laid eyes on the fluorescent green beauty that is Tallarines Verdes, I was in the middle of my favorite Peruvian restaurant and terrified of what was before me. I had never seen such a green meal in my life! Especially on spaghetti. As a daring young kid, I decided to be brave and try this daunting meal. Best decision, ever.
Tallarines Verdes is a traditional Peruvian dish that has its roots in Italian culture. What is essentially a creamier take on pesto, this meal is a winning comfort food that is quick to make and easy to make in bulk. This fulfilling meal is made right by incorporating coconut milk and vegan cheese in place of evaporated milk and queso blanco.
Surprisingly, a vegan alternative to evaporated milk is incredibly easy to make. Vegan evaporated milk can be achieved by reducing the water content out of nut milk. As such, the easiest way to accomplish this is to boil the ever-loving heck out of the coconut milk. While this process is the longest of any step in this recipe, it is definitely worth the creamy texture you will achieve towards the end.
If you love pesto, pasta, and Peruvian food, this vegan meal is one you are sure to love. Served with fried yuca and your favorite vegan meat substitute, this meal becomes one of decadence.
Ingredients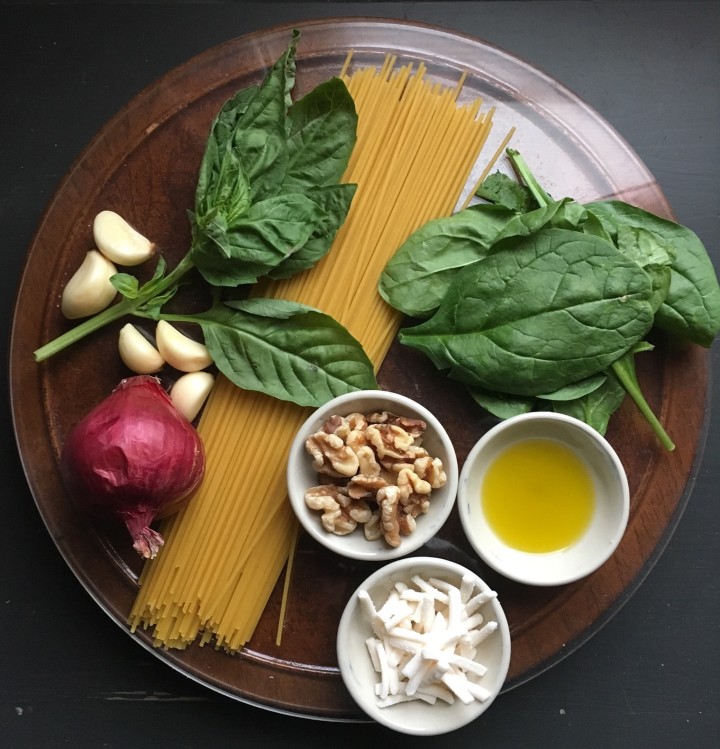 1 box of spaghetti
1 can of coconut milk
4 garlic cloves
½ cup of walnuts
½ cup of red onion
¼ cup of olive oil
1 cup of vegan mozzarella cheese
2 cups of fresh basil
4 cups of fresh spinach
¼ cup of almond milk (optional)
Salt and pepper
Recipe notes:
For this recipe, it is wise to make the evaporated milk first, as it is a lengthier process.
Before blending ingredients for the sauce, your spaghetti should be ready or near completion. The fresher the spaghetti, the better!
This dish is best served with fried yuca and salsa criolla.
To make the vegan evaporated milk:
Place one can of coconut milk into a saucepan. Bring heat to a medium-low flame. Use a whisk to stir often for 30 minutes or until the milk reduces by half. Once reduced, place in a bowl and set aside.
Note: The milk will rise before it reduces. If it looks like it's about to boil over, reduce the heat to a low flame and continue to stir with a whisk.
Instructions:
Begin by bringing water to boil for the spaghetti. Follow the instruction on your box to achieve an al dente pasta.
Rough chop a ½ cup of red onion and 4 garlic cloves. Size of the chop does not matter as it will be blended later.
Heat a skillet over a medium-high flame and add ½ cup of olive oil. Once warmed up, add the onion and garlic to the pan. Cook for 10 minutes or until garlic is browned and onions are translucent. Once done, place in a bowl and set aside.
Next, roughly chop the ½ cup of walnuts. Again, size is not important.
Using the same skillet, lower the flame to low. Add 1 tbs of olive oil if there is little left over from the onions and garlic. Once warmed, add the walnuts to the pan and stir until evenly spread out. Cook the walnuts for 3 minutes then add a cover to the pan a cook for an additional 3 minutes. Once done, place in a bowl and set aside.
Next, it's time to blend! Gather the remaining ingredients (spinach, basil, vegan mozzarella, almond milk) and add to blender. Next add the evaporated milk, walnut, onion, and garlic mixture to the blender. For a smooth sauce, blend for 5 minutes pausing every so often to scrape the sides of the blender. If the mixture becomes too chunky, add a little bit of almond milk or water at a time until smooth.
Once the desired texture is achieved, add salt and pepper to taste and stir to combine.
Pour sauce over hot spaghetti and stir to mix. Serve immediately and enjoy!