Top 9 Romantic Breakfast Recipes
Romance should never leave a relationship.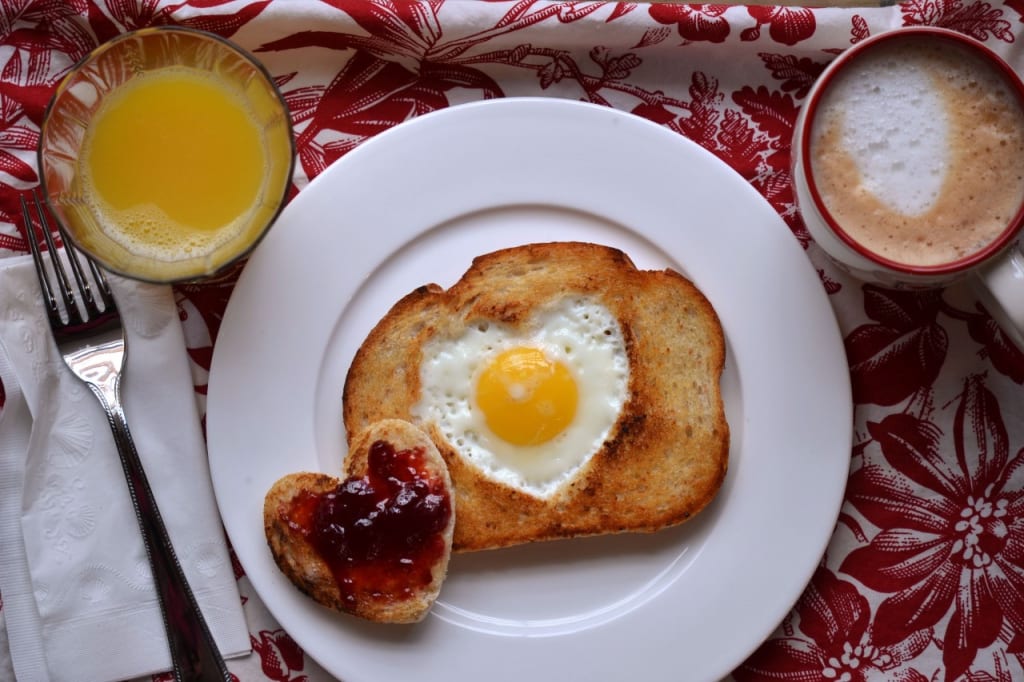 Romance should never leave a relationship. Otherwise, life will become uninteresting, monotonous and boring. To prevent this from happening, you just have to not cool down. It is necessary not to be lazy, give attention to your loved one, give gifts, and so on. We are not talking about global or very expensive things. After all, cute little things are no less important. Breakfast in bed for your loved one is one of these things. It is very easy to do. But your loved ones will be incredibly surprised to see this. With such a simple gesture, you will once again show how much you value them. By the way, if you started dating Russian ladies online, then such a morning would be a very pleasant continuation of your meeting. So, check the list of recipes that you can cook for them.
1. Egg Hearts
Crack the eggs.
Add milk.
Add salt and pepper.
Put the cheese inside.
Pour the egg mass into hearts forms.
Bake it for 20 minutes.
2. French Toasts
First, prepare the filling. To do this, combine sugar, nuts, and cheese.
Take bread and cut into slices three centimeters thick.
After that, cut each of them along but not completely. It should look like a "pocket."
Add some sauce inside the pocket.
Crack the eggs in the bowl, blab them, and pour in the milk.
Dip all the pieces of baguette in the resulting blanket.
Melt a piece of butter in the pan. Fry the toast to golden brown.
Serve with cheese or jam.
3. Sandwiches with Chicken or Fish
If your loved one is on a diet, use rye or whole grain bread.
Cover the top with a leaf of lettuce and place the boiled chicken breast or redfish.
4. Apples in Batter
First, wash the apples.
After that, remove the core.
Cut the fruit into circles.
Now it's time to prepare tempura. To do this, combine eggs and milk. Add some flour. This is necessary in order to get the dough.
Add vanillin there.
Then pick up the fruit on a fork and dip in batter.
Next, fry on both sides in butter until crusting.
Serve the apples with sour cream, as well as fresh berries.
5. Salad with Fruits
Mix all the fruits in a plate. Then add the yogurt, mix, and garnish with raspberries.
You can add any other fruit if a girl doesn't like something.
Sprinkle with lemon juice.
6. Morning Smoothie
You can use any fruits and even vegetables. It depends on your girl's favorite smoothies.
Blend all the ingredients together until it comes together.
Pour it into a glass and garnish with a mint leaf.
7. Cleopatra's Breakfast
The dish is tasty and healthy, named in honor of the Egyptian queen, who, as you know, paid much attention to beauty and health. Moreover, it hints that she is the queen of your heart. It will be pleasant to every girl.
Pour oatmeal with boiling water and leave for five to ten minutes under the lid to swell.
Add the grated apple and honey.
Sprinkle with nuts, raisins, and prunes.
8. Croissant
Croissants came from Paris and this city is associated with love. Ideally, the croissants should be freshly prepared and warm just as in the best pastry shops in Paris. But if you don't have a suitable bakery under your house, where you can run in the morning, buy ready-made baked products in advance and "refresh" them in the microwave. Serve with coffee, tea or juice.
9. Omelet
While a loved one is sleeping, make an omelet for her:
Crack the eggs almost silently.
Add a pinch of turmeric, salt, and add a pinch of soda.
Take a thick-bottomed and voluminous pan so that the prepared mixture spreads on it in a thin layer.
Now shape the dish. The easiest way is to fold it in half.
As a filling, it would be nice to use soft French cheese, for example, camembert.