'Tis The Season For Delightful Treats!
My Holiday Recipes Are All Tied to Memories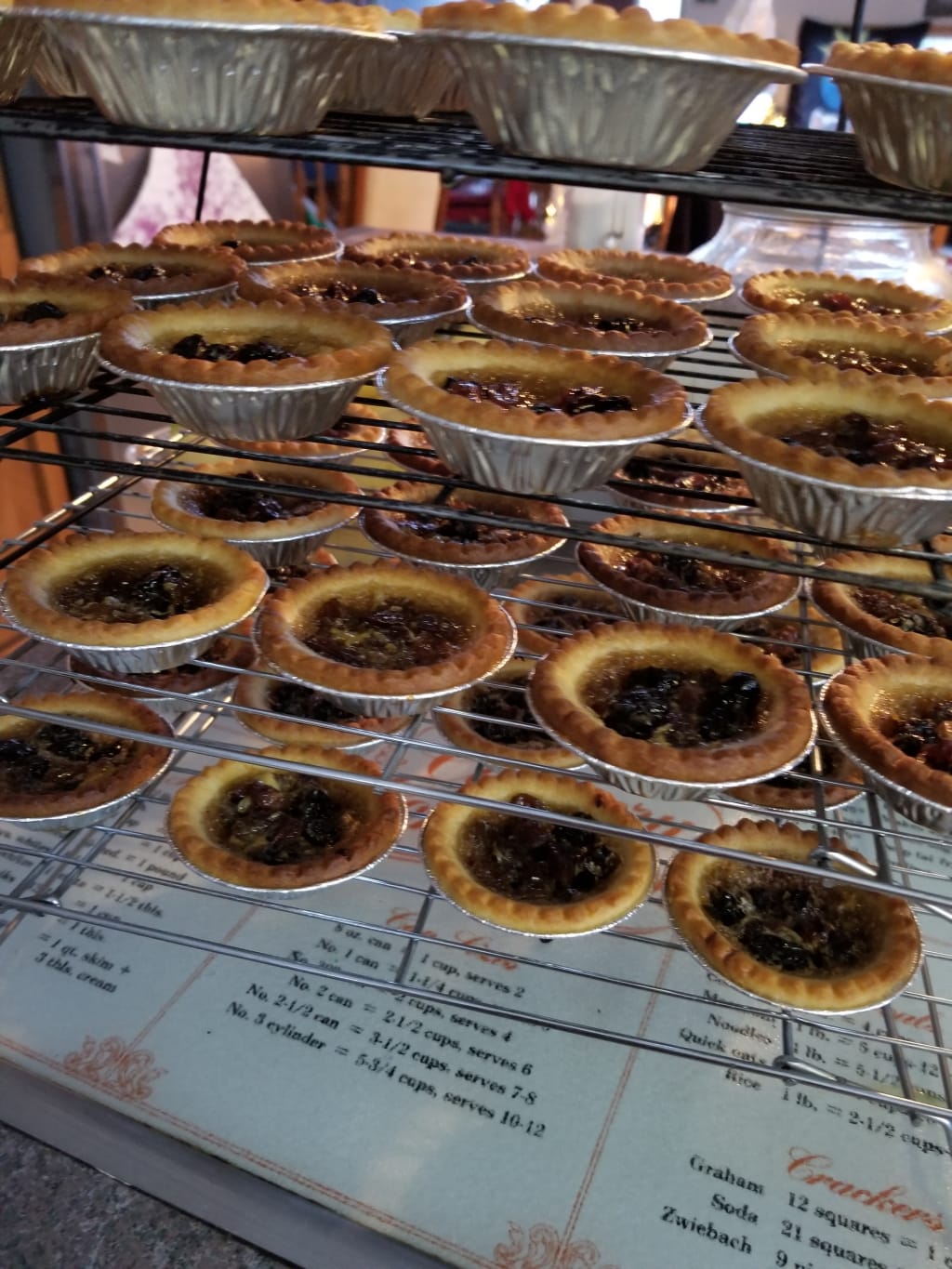 Author owned photo
We've come to that time of year where we give up on counting calories and watching our waistlines. If you're anything like me, you've tucked your bathroom scale away until next year. There are far too many delicacies to be enjoyed right now!
These next few weeks are the ultimate highlight of my year! For me it isn't about eating, it's about 'kitchen therapy'. It's about making those sweet treats and seeing the people I love devouring them. I have a few special recipes that are tied to memories of those I've loved and lost. Making those small delicacies has become somewhat of a ritual. I feel their presence as I bake their treats.
Today I'll share my 'special recipes' and the memories that flood me as I bake.
It may be of interest for you to know that I was eighteen years old when I celebrated my first Christmas. I was raised in a religion that didn't celebrate holidays or birthdays. I spent my first Christmas with my grandparents. Grandma was delighted to have me there to share in the preparation of a bounty of traditional fair. Since that very first holiday, I have done my best to have such a bountiful spread.
🎄🎄🎄🎄🎄🎄🎄🎄🎄🎄🎄🎄🎄🎄🎄🎄🎄🎄🎄🎄🎄🎄🎄🎄🎄🎄🎄🎄
Brown Sugar Fudge:
My mother's favorite Christmas treat was Brown Sugar Fudge. She'd make it often throughout the year, just never in December. It was Grandma that told me that it, along with an assortment of other fudge flavors and homemade candies were meant for Christmas.
I never did have much luck with making fudge on my stovetop. It either didn't set at all, or wound up being more of a rock candy. I'd all but given up on ever being able to duplicate this particular treat, until a friend showed me how to do it in the microwave. I was skeptical, but that first batch tasted exactly like the sweet treat from my childhood!
This is a versatile recipe, that can be easily changed up with a little imagination. Switching out the vanilla extract for another that you like, provides an entire new flavor sensation. Adding nuts or Rice Krispies gives an added level of flavor and texture. want to REALLY kick it up a notch? Melt milk chocolate with a little oil and spread over the top of your fudge once it's set, then garnish with toasted coconut, icing suger, or nuts.
Ingredients:
1 c. butter
1 can sweetened condensed milk
2 c. brown sugar
1 tsp. vanilla extract
Using a glass bowl, melt butter by microwaving for 1 minute. Butter must be completely melted before adding the brown sugar and sweetened condensed milk. Mix well, a hand mixer is easiest, as this fudge requires a LOT of mixing! Microwave in 2 minute increments, mixing thoroughly after each, for 10 minutes. Add vanilla and mix until it begins to thicken. Pour into a 9x13 pan and refrigerate until set.
My friend said to grease the pan, but I prefer to line it with parchment paper.
🎁🎁🎁🎁🎁🎁🎁🎁🎁🎁🎁🎁🎁🎁🎁🎁🎁🎁🎁🎁🎁🎁🎁🎁🎁🎁
Whipped Shortbread Cookies: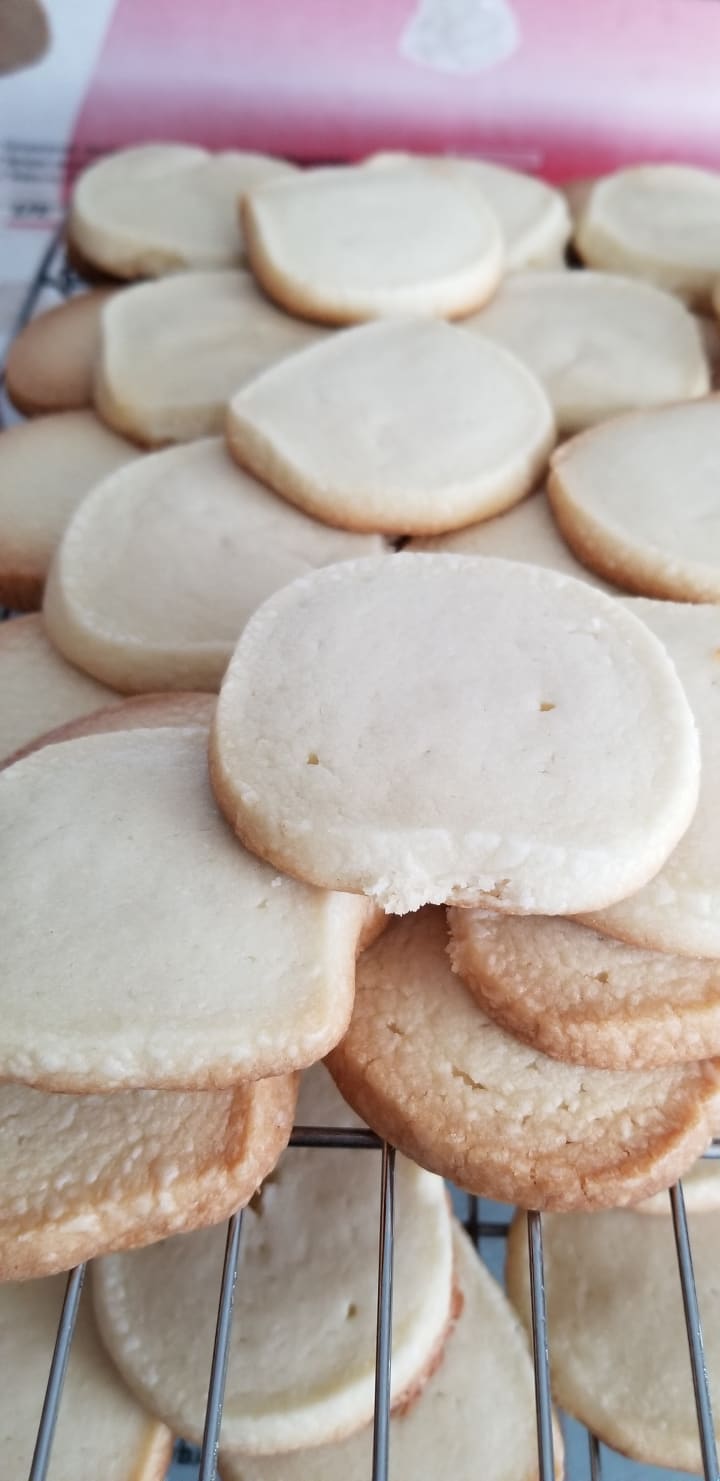 Every year, on November 4th, I bake a batch of whipped shortbread cookies. It's my Dad's birthday and these were his all time favorite. I started the year after I left home. He didn't celebrate his birthday or Christmas, but this is how I have always kicked off my holiday baking. I would bake them on his birthday, secretly honoring him and knowing that it would brighten his day. I always waited until the day after to give him his gift, so as not to raise any suspicion. He passed away on November 30th, 2007, so this has now become a very emotional tradition for me.
There are several variations of whipped shortbread and it took some time for me to find the perfect recipe and technique for melt in your in mouth cookies.
Ingredients:
2 c. butter (room temperature)
1 c. cornstarch
2 c. icing sugar
3 c. flour
Beat butter until it takes on the appearance of whipped cream. Thoroughly whip in cornstarch, then icing sugar, 1 cup at a time. Add flour, also 1 cup at a time. Making sure all ingredients are well mixed before adding more.
I place cookie dough on wax paper and roll into a log the diameter that I want the cookies to be. Refrigerate for at least 30 minutes. I typically make double or triple batches and refirgerate overnight.
Preheat oven to 300 degrees fahrenheit. Cut cookies 1/4 of inch thick. They shouldn't spread out too much while baking. Bake for 10 - 12 minutes. Times may vary depending on your oven. Monitor cookies closely. If you want a melt in your mouth cookie you'll want to remove them from the oven when they are just starting to brown. (It seems my first batch every year is slightly overdone - golden brown, but not burnt. This was how my Dad liked them best.)
🎉🎉🎉🎉🎉🎉🎉🎉🎉🎉🎉🎉🎉🎉🎉🎉🎉🎉🎉🎉🎉🎉🎉🎉
Butter Tarts: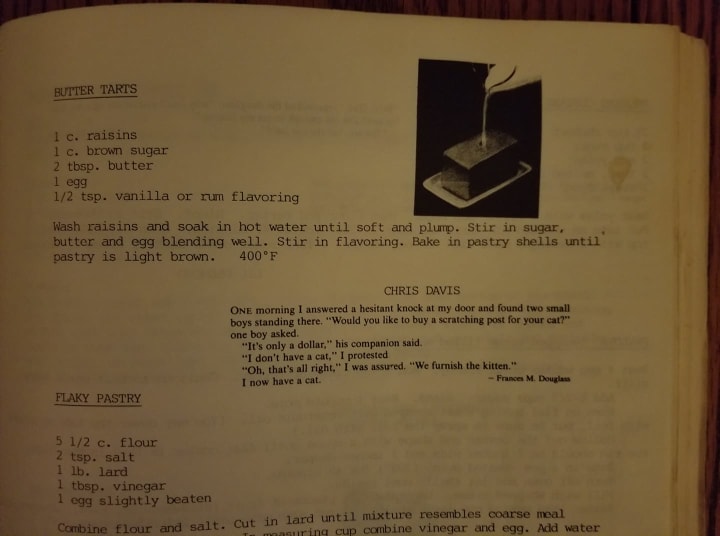 The cookbook lost its cover years ago, so there's no title or copyright information available. I can tell you this much, it was published by the ladies that worked at AGT (now known as Telus), sometime in the late 70s or early 80s. My sister worked there and butter tarts were one of her specialties.
Some folks omit the raisins or add pecans. For me, nothing beats the way my sister made them.
She passed away on September 20th, 2018. That year when I pulled out the cookbook and saw her name at the bottom, I sat and wept for hours. I couldn't simply NOT make them though. I had to tell myself that it would be truly bringing a part of her into our celebration.
Now I feel a warmth when I look at her recipe and make her tarts for the family for the holidays.
🎄🎄🎄🎄🎄🎄🎄🎄🎄🎄🎄🎄🎄🎄🎄🎄🎄🎄🎄🎄🎄🎄🎄🎄
I didn't grow up with Christmas. It isn't steeped in generational traditions for me. I've had to learn them as I go. One of the ones that I enjoy most of all is creating trays and gift boxes filled to almost overflowing with sweet treats. There's usually more variety than just these three, but these are how I bring my family into every celebration. There isn't a tray or gift box that leaves my kitchen in December without these 3 treats.
I hope that you enjoy them too! Merry Christmas to you and yours!
If you have enjoyed this article and would like to read more of my work, please feel free to check out my other work at https://vocal.media/authors/analise-dionn
If you would like to enjoy opportunities to earn more for your writing and participate in great challenges with cash prizes, sign up for Vocal+ here
Tips, hearts, and subscribes always help to keep me motivated to keep writing and are appreciated.
recipe
About the author
This life began with trauma. Now married, with 2 adult children and raising a grandchild with FASD/PTSD/ADHD. Navigating this very personal journey of healing with ADHD, thriving after a lifetime of abuse... all through the grace of God.
Reader insights
Be the first to share your insights about this piece.
Add your insights